Raised By Jaguars: The Apex Interviews William Heynes
Our guest this week is Jaguar E-Type specialist and restorer William Heynes, widely considered to be one of the most knowledgeable E-Type restorers on the scene; hardly a surprise when you realise that William can trace his connections with the Jaguar marque all the way back to his grandfather Bill Heynes, Jaguar's legendary Chief Engineer and Technical Director from 1935 - 1969.
From the ideal E-Type spec to what to look out for on the concours lawn, if you're curious about what it takes to restore and preserve one of the most beautiful cars ever made, you'll want to take this week's interview for a spin!
Hector Kociak interviews William Heynes for The Apex by Custodian. Recorded and Produced by Jeremy Hindle and Guillaume Campos. Transcribed by David Marcus. Edited by Hector Kociak & Charles Clegg.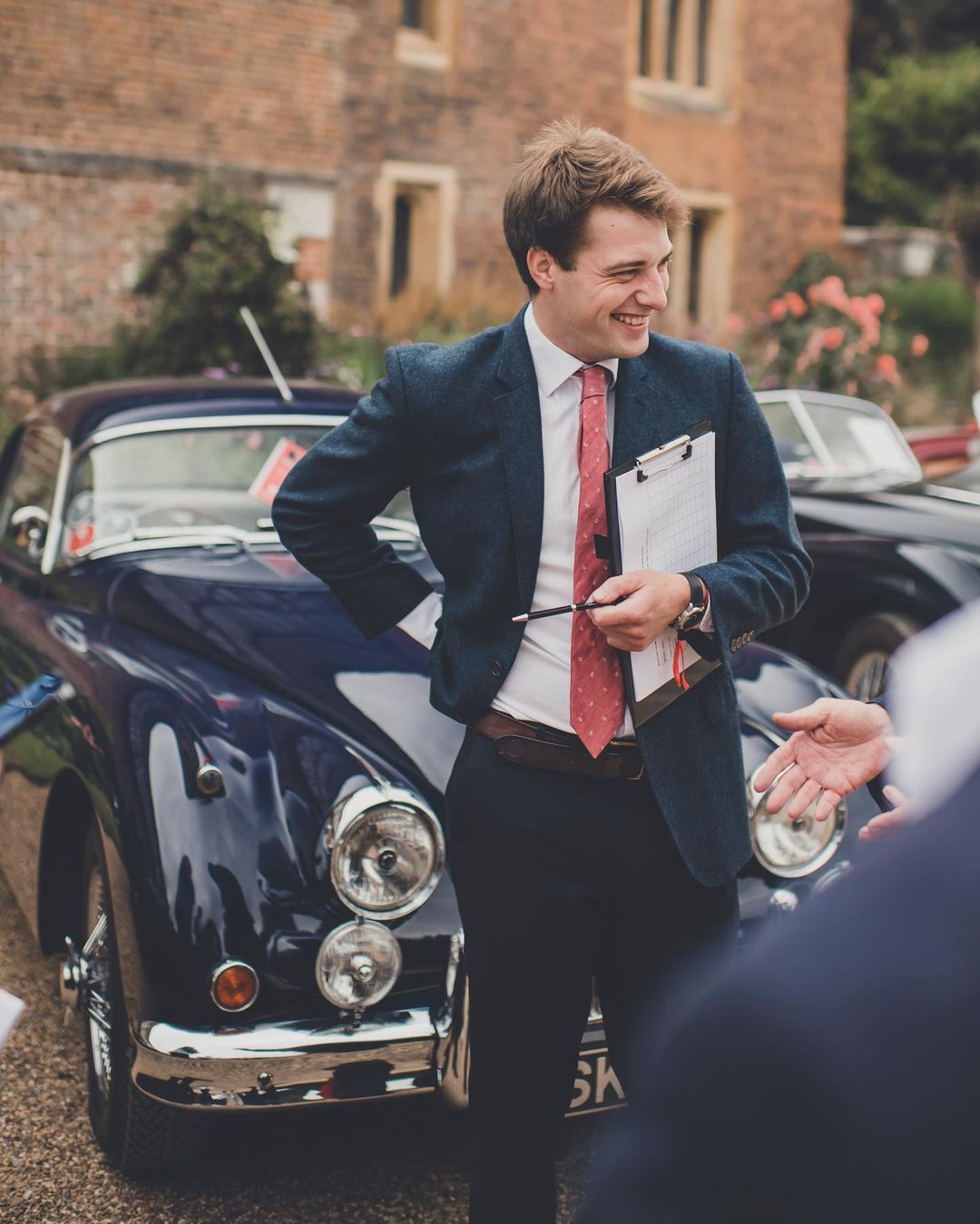 Could you tell us a bit how you got into cars, and your first memories of Jaguars?
I think I was just incredibly lucky. My father worked for Jaguar for a long time - 20-odd years - and having left Jaguar, he became quite a successful businessman in his own right. Over the last 30 years he's managed to procure every car my grandfather, Bill Heynes, designed. So ironically, we had this insane Jaguar collection tucked away in barns, sheds, and grain stores on the farm. Sheep were rambling around them on one day, and the next we'd be driving them! The cars weren't very well looked after, but we just enjoyed them. They were cars we just got in and drove, and if they broke down, that was a Sunday afternoon outing where Dad and I would go sort it out, trawling around the Warwickshire countryside.
How old were you when you got behind the wheel for the first time?
Well there's a story that when I was about three, I took the hand brake off one, put it in gear and started it! In reality I've been driving XK120s and E-Types around the garden since I could hit the pedals, about seven or eight years old maybe, and learning how to be a little bit silly with them on grass fields around the farm. When I was 10 or 11 years old, I used to come home from school and start them with easy-start sprays, getting them going in sheds and just having fun. As a bonding exercise, Dad and I would do a father and son thing every weekend and try to get at least one of the cars out. It still is a thing we both do, which we're very fond of.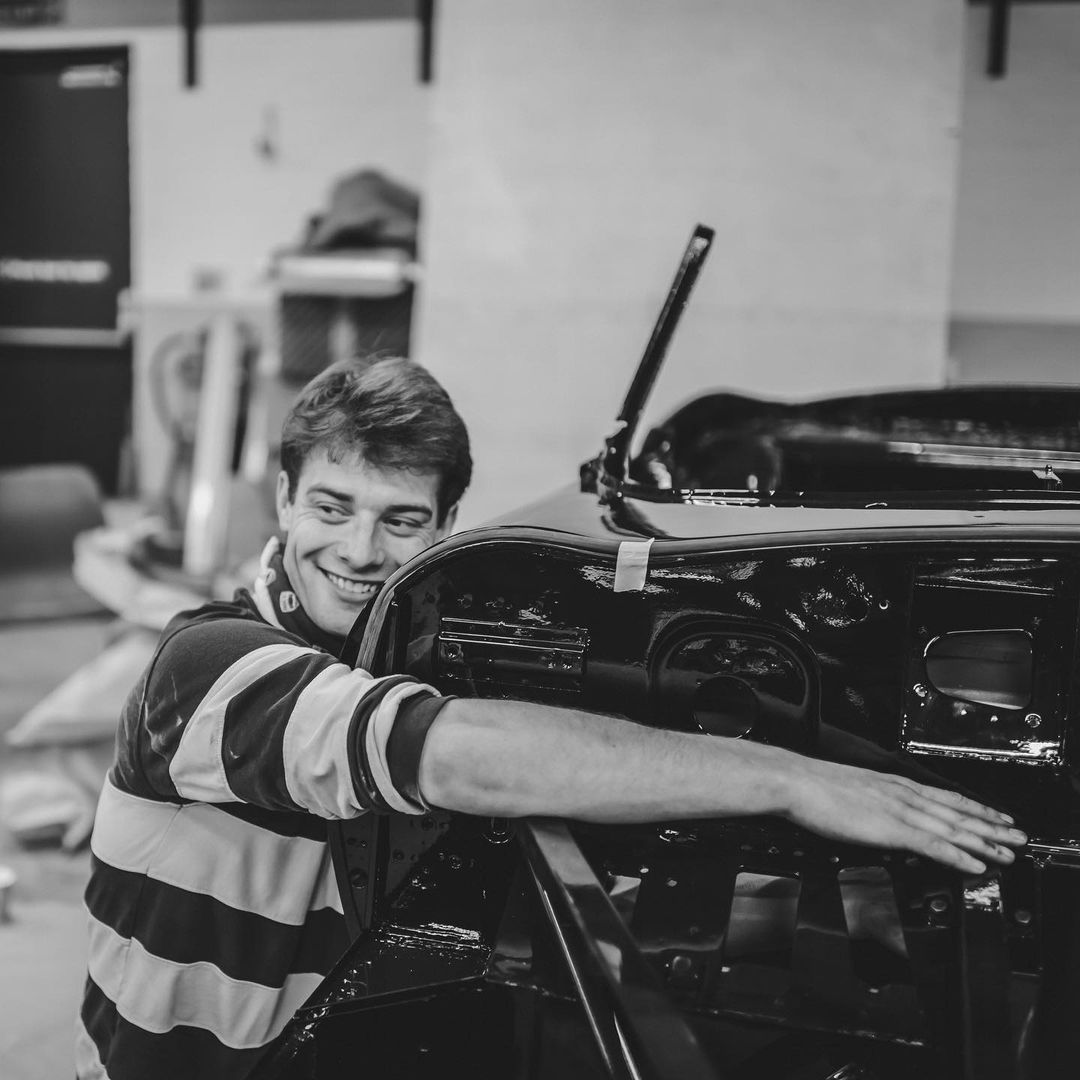 Some listeners might not be aware that you've got a deep family history with Jaguars.  Could you tell us more about that and your grandfather Bill Heynes?
I'm totally privileged in that my grandfather was probably one of the world's leading engineers back in the day, completely ahead of his time. He actually wanted to be a vet, but then obviously the war came along and changed things. When he was young he worked at the Humber Car Company, and he was just pulled through the system. He was a huge success story, and through his work as Chief Engineer at Jaguar later on became friends with Alec Issigonis (who developed the Mini) and the like. Jaguar is a history of people, not individuals, and the leading designers and engineers of the time were all very close friends. The Issigonis torsion bar, the Morris Minor torsion bar, the Jaguar torsion bar - a lot of the ideas and automotive developments of the time were interlinked.
Around the time that Rootes Motors took over the assets of Sunbeam-Talbot Group from under the noses of SS Cars in the 1930s, my grandfather joined Sir William Lyons (or Mr Lyons, at the time) as his chief engineer. My grandfather persuaded Lyons they should try making their own engine and their own suspension setup; the SS Jaguar really was the defining moment where my grandfather was given resource and good people behind him, and was allowed to use his own creative mind to create a product. That's really where Jaguar Cars started, and without that moment in time, there would have been no XK engine.
And maybe no Le Mans for Jaguar...
Absolutely. It was basically sheer luck that he got a job working for Sir William Lyons. He was at the right place at the right time - but he was the right man for the job! So from that he developed the XK engine. That led to him becoming chief engineer from SS100 to XK120, then working on the disc brake development with Dunlop, and then taking the XK120 to Le Mans. Afterwards you had the C-Type, XK140, D-Type, MKI, MKII, all the saloon cars in between, and then obviously the big stuff, the D-Type 1965 long nose and E1A, E2A (all prototype E-Type), and then the E-Type program.
I think the most overlooked car my grandfather was actually involved with was the XJ6. I think it's still probably the best saloon car ever made, and the fact it came out in 1968 and had about a quarter-inch higher profile than an E-Type, well, the men involved with creating that car were world leading. I think the XJ13 is a real testament to my grandfather's work as well.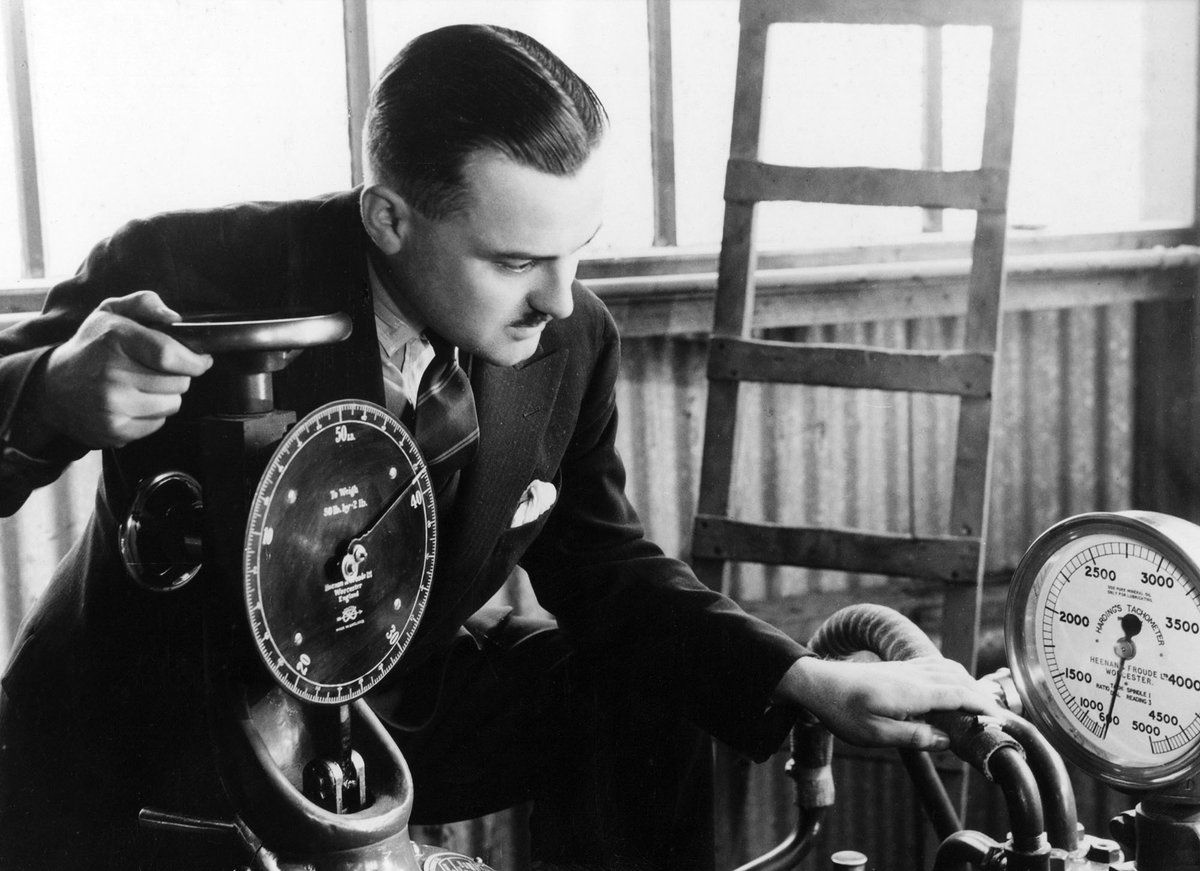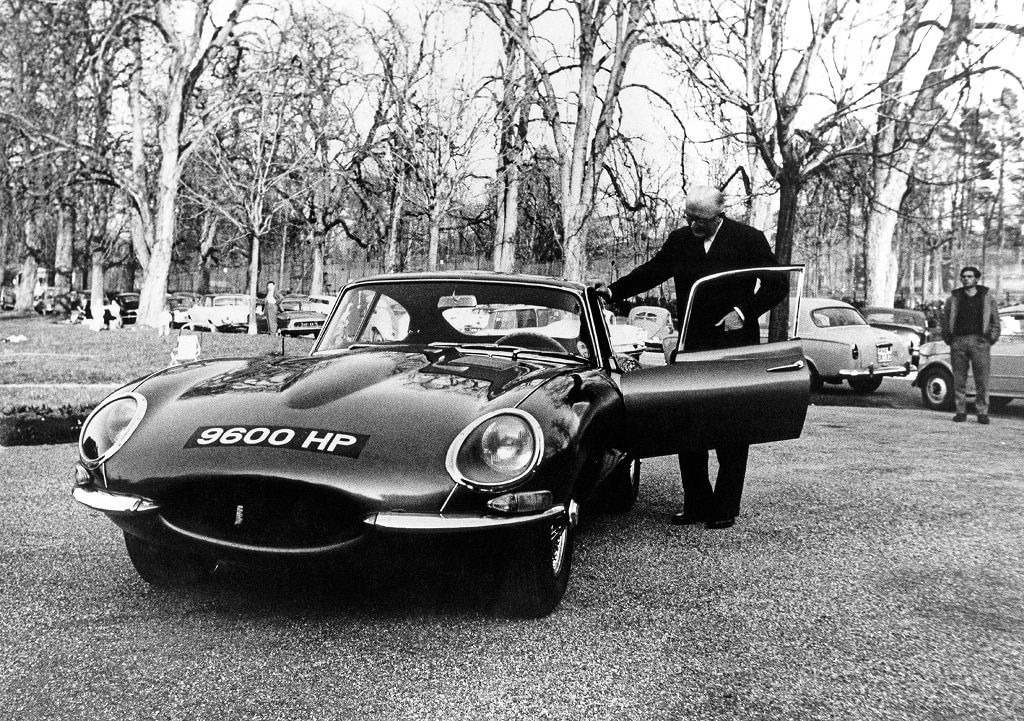 That's an extraordinary CV, and an extraordinary history. So let's talk about you! Tell us about your business and what prompted you to start it, and maybe what it's like continuing the legacy of Bill Heynes?
I've always wanted to work on cars. For me it was either that or becoming a farmer. I came home for a week after going to Cirencester University, and thought, well - that's a waste of time! I do love farming, it gives me an awful amount of joy, but it's terrible if you want to make any money. I think Jeremy Clarkson has sort of sussed that one out. I was very lucky however in that I got an apprenticeship with RS Panels. That led in a roundabout way to creating William Heynes Ltd, which is quite a new business.
A while back I had decided to create a new company with my father called Heynes Heritage, which is based on the family farm. It got to the point in the last year or so with Covid that we both wanted to go in different directions, completely for the most positive outcome. Dad had embellished himself with a lifetime amount of restorations - more than any company could possibly want. He's got 10+ Jaguar restorations on the go, and they're all really high calibre, lovely cars. I therefore decided to split the business, where I do the professional, customer-facing side of the restoration game, and I help my father and provide support in his own endeavours. Both companies support each other under one umbrella, but the exciting bit for me is also going into business with Amy [Shore].
It's an amazing opportunity for both of us, although completely terrifying! We've started William Heynes Ltd where we are working on a number of very low numbered 1961 cars and some very early 1962 cars, where we're trying very hard to get the job right. We've managed to get a lovely premises in South Warwickshire, and we've got some amazing staff on board. The whole principle of what we do here is that being good at your job is irrelevant unless you've got a great team. You're only as good as your last job too, and you're only as good as the people you surround yourself with. So as far as restorations go, I will never say that we can do everything in house. That's certainly not the case, and although many restoration shops say that, I always double-check the facts on it. There's no point in us doing all the machining in-house when I can go to Chesmans in Coventry, for instance, who are in my opinion the best machinists for Jaguars. For fabrication, paint, trim and so on, I outsource work only to the best. I pull that resource of fantastically talented people in our sector together to create, in my eyes, the best product.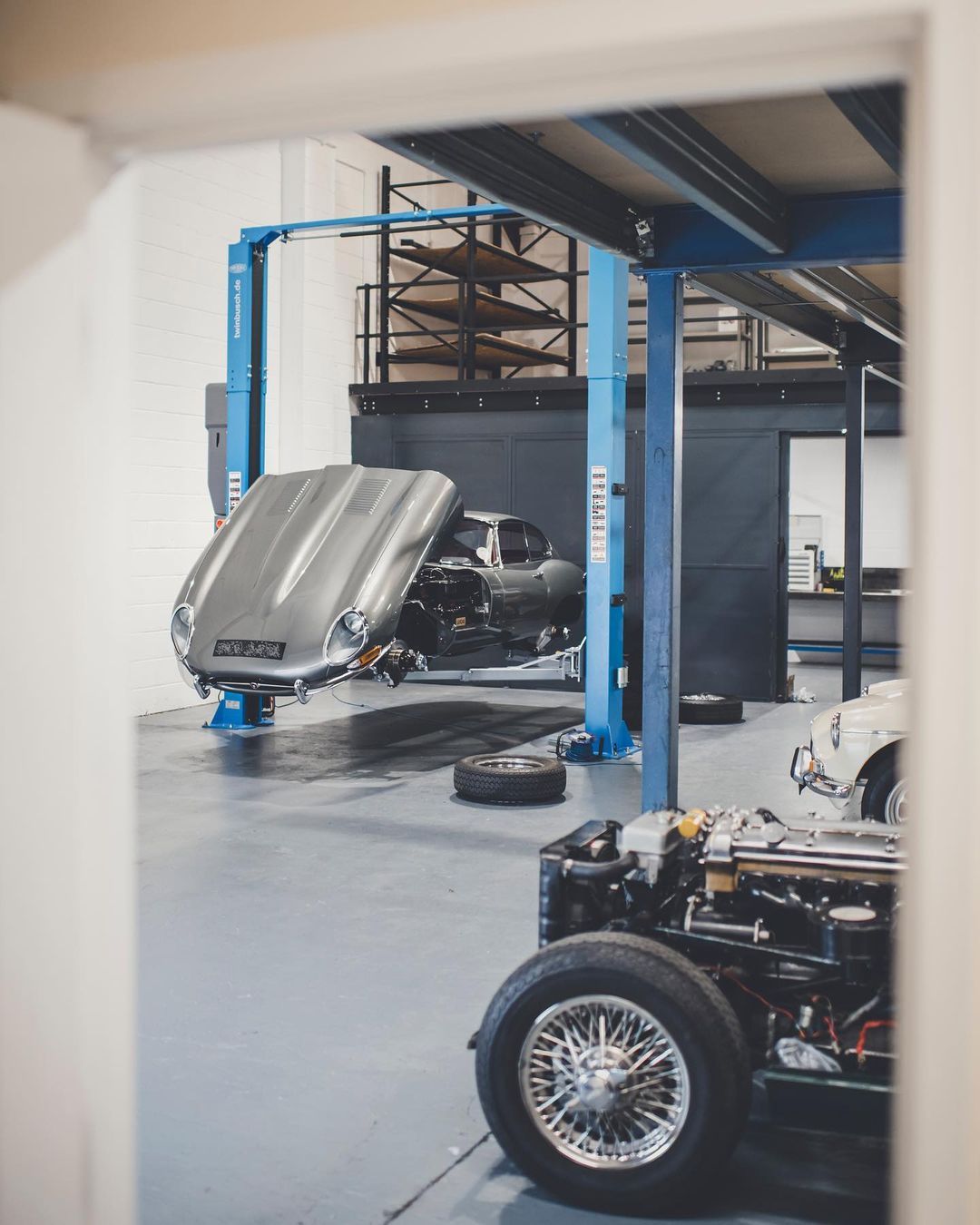 That quite neatly leads me onto my next question: what distinguishes a William Heynes restoration from others?
I'm very lucky that the cars we have built so far are kept under the radar, which is helpful, especially for the concours side of things. I think what defines us is that I've spent the last five or six years of my career de-constructing a car from every month of 1961 and 1962, archiving every screw and bolt. I measure every spot weld and the distances between them, the flange depth and so on. People think I'm totally over the top and probably don't really have a life, but I thoroughly enjoy it. The main reason why we care so much about that is unless you pour your heart and soul into the product, how can you possibly build and recreate something like it?
Take the car we're looking at at the moment. Amy and I are documenting it over on Instagram - a really low numbered flat-four road car which came from God knows where in Canada. It was found in snow, and it was a hell of a trip to get it back. I'm pretty certain it's a two owner car, and was used for ice racing. It was completely totaled, but the head gasket went in period, so I think the car came off the road in the late 1960s and literally just sat outside for its whole life. The engine has never been out, and the wheels have never been off. It's just the most amazing archive to dive into, if you know what to look for. I did another huge preservation job with my father too recently, a car which is going to Pebble Beach next year. We were weighing mouse droppings out of rot...the whole thing got a bit over the top, but what we are trying to do is build the best product by knowing exactly what the car was in the first place. That gives me a fantastic platform to reinstate originality, whereas other companies lose that by not paying as close attention.
More broadly, the car is only as good as its body, so a lot of time is spent discussing things with RS Panels. James Smith has done an incredible job over the last two years scanning and recreating early panel work, and we bounce ideas off each other about it. I think if you have a William Heynes body shell now, it is probably one of the world's best; the closest you can possibly get to how it left the factory. This approach is mirrored in everything from paint to leather to vinyl, even to self-tappers and chrome screws. We go completely over the top, but for all the right reasons. Really, nothing is over the top, because I'm just getting the job right.
As you say, you worked at RS Panels for a while. What did you learn there about the construction process and the engineering that goes into E-Types? How do you actually get the bodywork on a restored E-Type correct, and how manual is the process?
Well it takes over a thousand-plus hours to build a monocoque! The problem with E-Types is that it costs the same amount of money to build an Aston Martin DB4 as it does an early E-Type, but obviously there's a massive price difference at the end. With Jaguars, especially E-Types, it is all monocoque and spaceframe. Most older cars have a ladder chassis and a body which bolts on top, like an XK120, early Aston Martins or Ferraris. I didn't really understand the bodywork process. I thought I knew a lot, and then I went to work with Bob Smith and his son James. What I realised in the first couple weeks with them was that this is not something you learn in a two year internship; there was a lifetime's worth of knowledge in the room, spread between 10 men who are probably the most highly skilled bodywork people in the world.
In my time spent at RS Panels, I was just a sponge of enthusiasm, and James gave me the wonderful opportunity to spend time with every guy there, asking them the most ridiculous questions - let me hold that panel for you, let me hold that weight for you, let me knock those spot welds through with you... I learned the details of every single E-Type panel that way. Not just that, but every single sub-panel, to be able to look at the panel work of any E-Type and be able to know where it came from and how it could be refurbished. I can't praise them enough - what James and RS Panels don't know about bodywork isn't worth knowing. If you don't know who they are, you must go and say hello to them!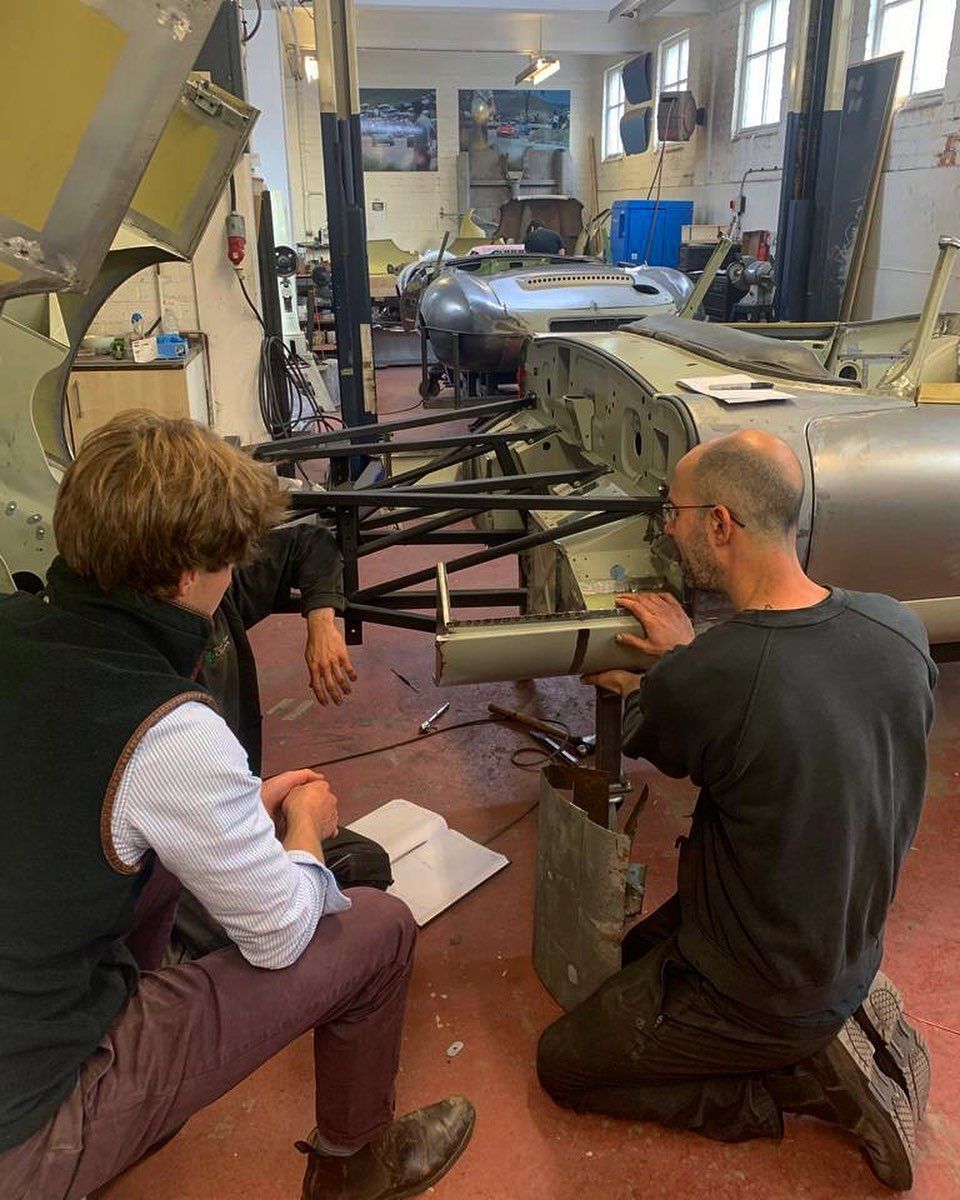 I learned so much there, from the deconstruction of cars to the body reconstruction of cars, jig-work, the procurement of parts, even knowing how Coventry works - where to get things from, who you need to speak to to get things done, what a bap is - I had no idea! What I learned from James and Bob was completely career-defining. I was there with the lightweight program for Jaguar Land Rover, and that was incredible. An aluminium constructed car as a real lightweight, or an Eagle product (what Henry Pearman does) are mind blowing. So to have the opportunity to witness and be involved with that, as well as doing detail work and many other things I can't really talk about, was a fantastic opportunity. It allowed me to get my ear to the ground and understand what the essence of craftsmanship is.
Something to get across is how artisanal this all is. It's really handicraft and working knowledge that I don't think you can Google. It's just fascinating to think about.
What's really alarming is that I'm 28 years old, so I'm not old at all, but the people I'm learning from are now at retirement age. We have to learn from these amazing people who are all artisans in their own right, and you have to sit and watch them and ask the questions. I'd say, why don't you do it this way because I've just done it like that - and they would say, I know William, but your hand will get cramp after three attempts! Every day is a school day, and these skilled people will tell you the things that only come with 40 years' experience. By balancing my business with James and other people, it allows me to develop my knowledge and understand how and why I want to conserve and reincorporate an original panel with a new panel. I can look at every panel off an E-Type over a 10-year production line and tell you what year it came off. That's my skill set, whereas James' skill set is making that panel fit correctly whilst infusing it with an original and hiding all the weld marks. That is a skill set I don't think I will ever have, personally. I don't think as a company we would ever have it, because you need the experience and the knowledge from these people.
When people hear about restorations being quite expensive and taking an extremely long time, they wonder where the costs come from - but I guess that's the answer.
We did a preservation project for this Pebble Beach car, which I can't say too much about (next year we can all rave about it!). That was 3,800 hours of preservation work! Now to cut a floor out of an E-Type and replace it with a Martin Robey or RS Panels floor panel is quite a straightforward job. To save part of the body shell and fuse that with the old, that takes double or triple the time. Sometimes it's a matter of someone saying they want a new E-Type, and you have to say okay sir or madam, what's the budget? Because that determines what we can do.
Fabrication is expensive. The average rate for fabrication is about £65 an hour; mechanical, we're sitting at about £55 an hour. I'm really open about that, but it's only because it takes me 3,000 hours to build the thing. It suddenly comes to it that an E-Type restoration is now heading north of £200,000. And so it comes down to the time we have to do it. The more and more we do it, in collaboration with the industry, the faster we get, but then it still takes time. Some of the cars we're now finding are probably the worst representation of rot we've ever seen, so they are expensive, because it takes a long time to fix it! I find that hard to explain to people, but you have to come and see what happens in the workshop to understand why the hell am I shot-blasting bolts to put them back in because they've got a certain number on them; but that's what the world wants.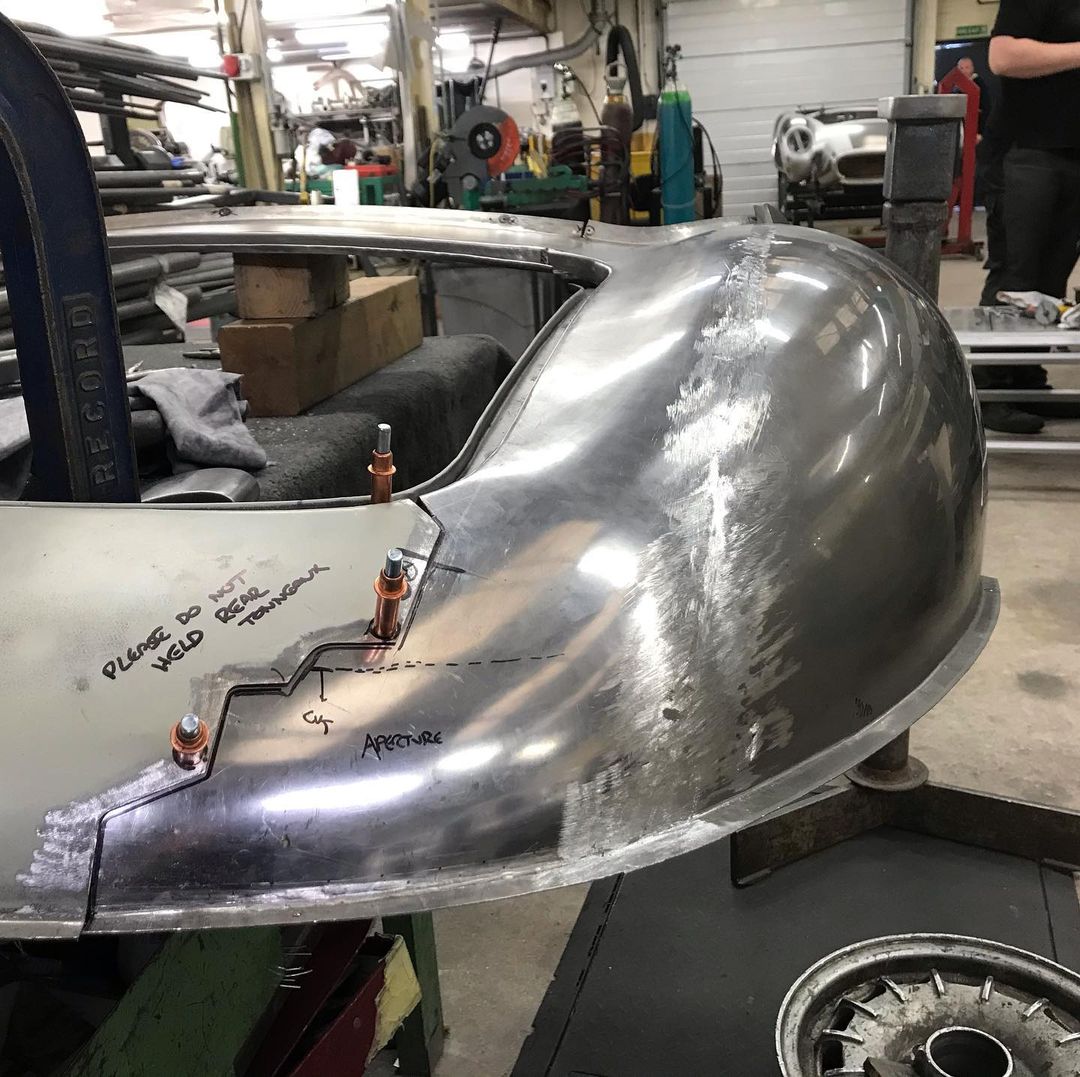 You spoke about your in-depth knowledge of the E-Type earlier; for you personally, what is the model or version of E-Type that epitomises the car for you? What's the one which for you is 'peak' E-Type?
Am I allowed to do two?
Of course you are.
If I was going to thrash down to London, see some mates, and come back, I've got a huge soft spot for a semi-lightweight E-Type racer. I think factory original monocoque, probably a 1962 car - February or March 1962 - with the first rendition of the dropped floors but lots of lovely early features. I'd run that with an RS Panel aluminium bonnet, factory aluminium hard top and doors, and probably go all out and have the air vents in the boot lid and the roof, on raw magnesium wheels and I would bore it up to 4.8l. Basically I'd do what Henry Pearman hits in a nutshell, but I would want to put my own spin on it and keep a lot more originality in there. That's my personal preference, but I think that's the ultimate GT spec car for you to hoolie for three hours!
If I was going to take Amy and I down to the South of France on holiday, I would probably want a really lovely 1965 4.2l Fixed Head Coupe on factory offsets, probably on Pirelli Cinturatos, and I would just want to get on with it. I've got an arm rest, I've got comfier seats, I've got a full synchro 'box, and I can probably plug my phone in there! I've done hours and hours in E-Types, original ones, modern ones… you have to have the hooligan car with straight-through exhausts, noise and excitement and in which you're living on the edge. And then I want the car I can go to a McDonald's drive-thru in and not worry about too much.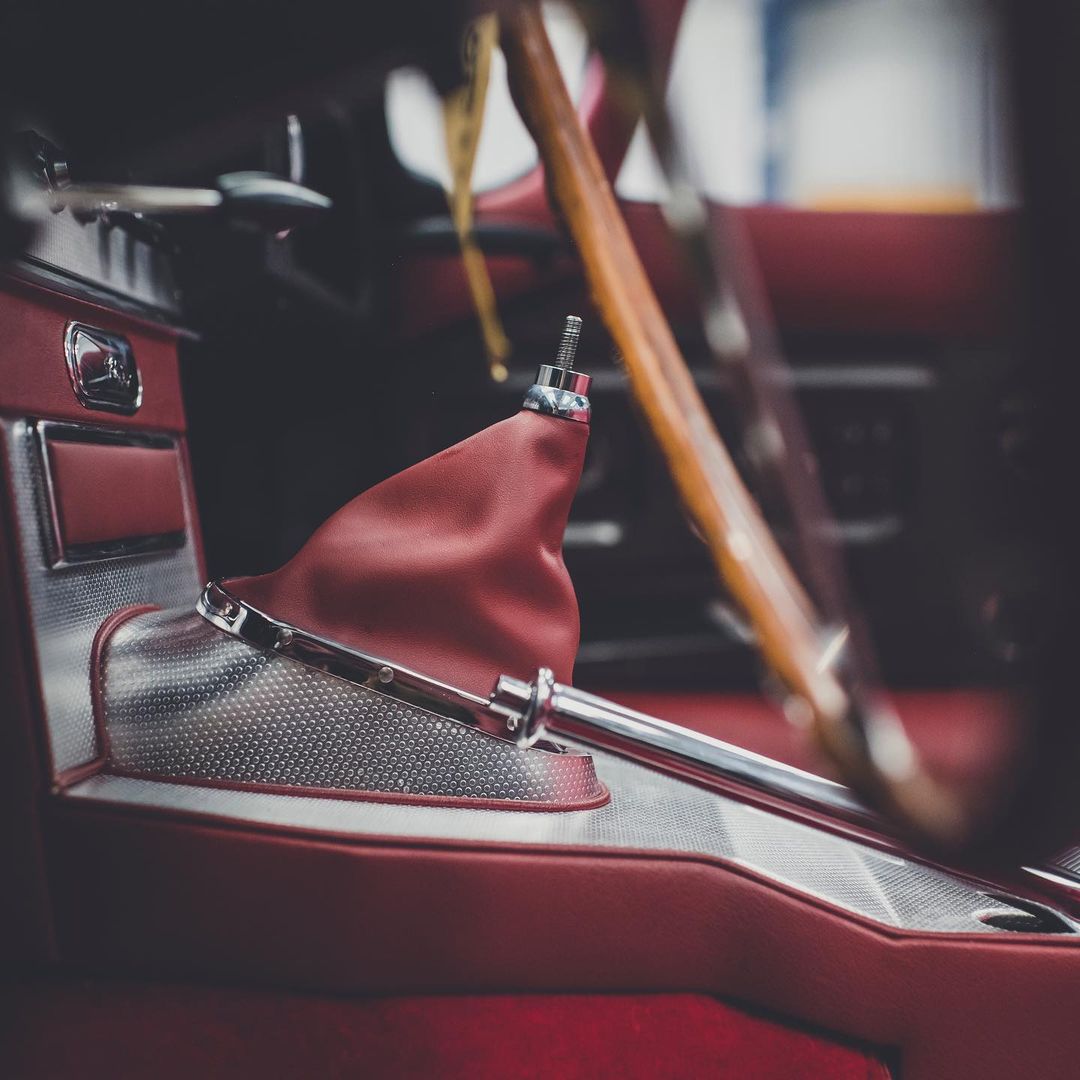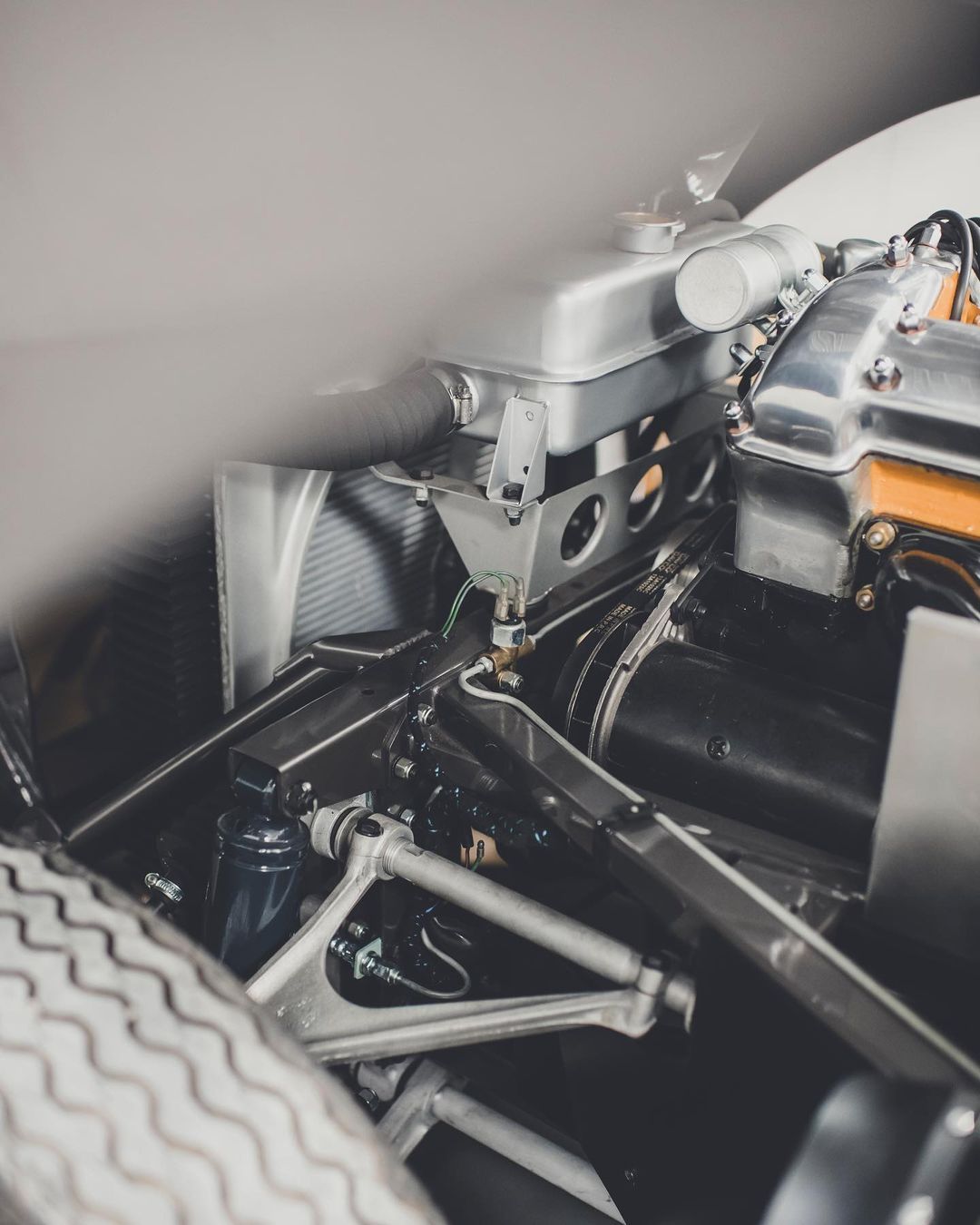 I can hear listeners furiously taking notes in the background!

You're in quite a rare position of being both a workshop mechanic and a concours judge. What impresses you when you're inspecting a concours E-Type?
Hampton Court this year was amazing. There were probably more E-Types in attendance than I've seen for a while. There are some fantastic restorers out there and we all do things individually; some people do things differently to me, and some people think what I do is completely crazy because it's gone too far. Nobody can restore a car perfectly, because there's so much competition out there. You have to respect that, and often nobody is right or wrong in how they go about it, it's just budget at the end of the day.
What I look for however is originality. There's so many shiny cars out there. My gut feeling is that they're becoming a bit lost and a bit overly done, so to speak. However if you can infuse a brand new restoration (which is probably the car's second or third restoration) by incorporating original features, all the better. So glass, for example - headlight glass. It is very rare to find original headlight glass with the right watermark etching on it, and most people just pull them out, as they have stone chips and are scratched. They will chuck them in the bin and put brand new ones in from a supplier. I would always, as a concours judge, value a car greatly if it's got the original glass in it: the side glass, rear tailgate glass, headlight glass. For me that is original, and it tells me you have the balls to put the original glass out there, warts and all, and I think that's a lovely thing! If somebody has gone to the effort of cad plating instead of nickel plating or zinc plating, it's very hard to come by, but if you put the research time in to do that, it's great. Where engine frames have been painted correctly or bracketry isn't painted but plated and in the right colours - that sort of thing.
There's so much information out there, so the way I see it is that if I've got an original body shell, or they've done a lot of work on it but hidden it correctly, and reinstated a lot of original features into a new reconstruction, that's what I like. I think what I'm trying to measure is the thought process behind it all, and a thought process which looks to preserve a car, not make a new one. This year we awarded the overall prize to chassis 26 RHD, which was the 26th right hand drive roadster made. Owned by the Finburg family, it's never been touched really; it's a completely original car, and probably the most original outside bonnet lock car I have certainly seen, so I awarded it just for originality. These cars are only on this planet for a certain amount of time, and every custodian may want to restore it, but the longer these cars are preserved, the history and the provenance of the product are saved.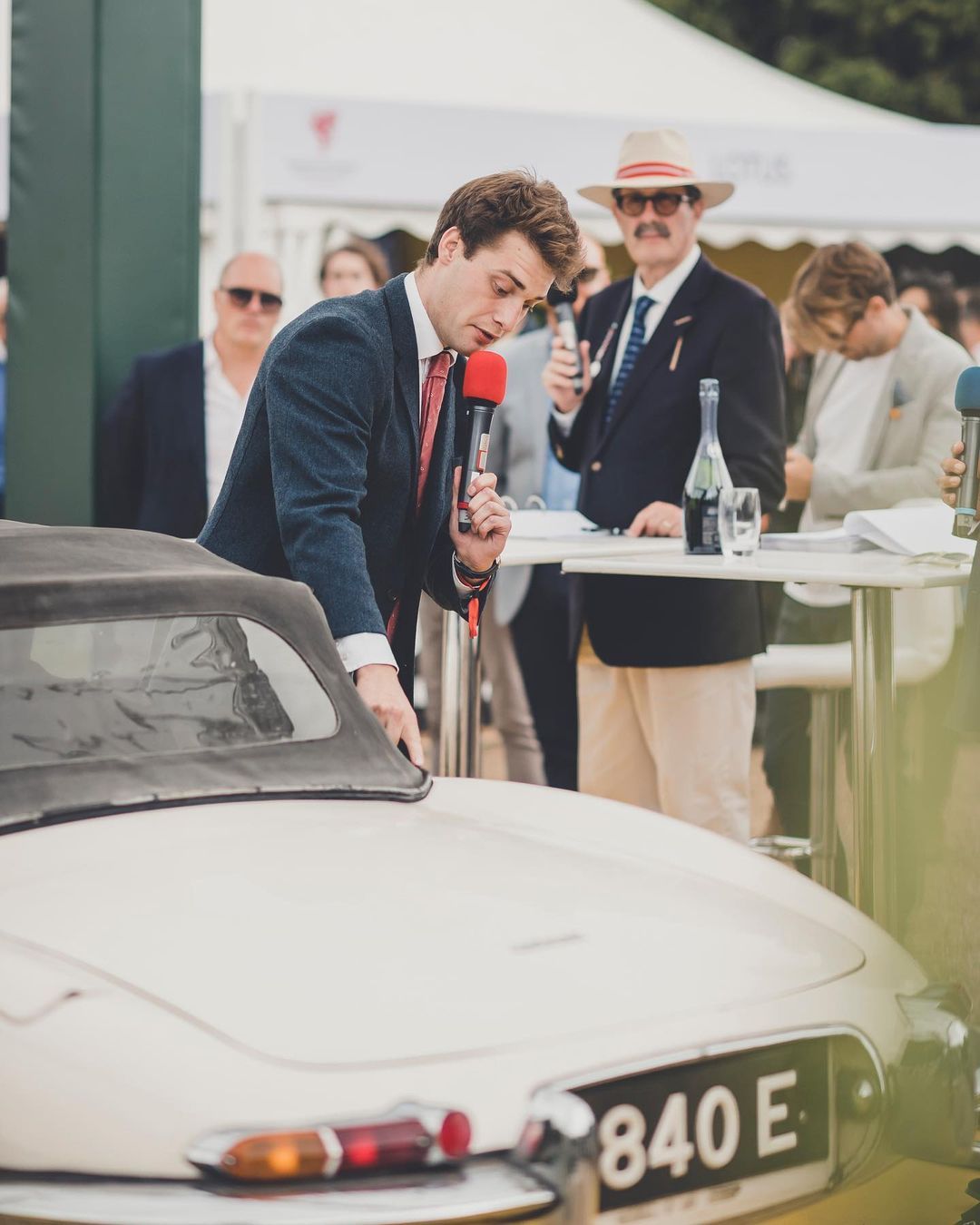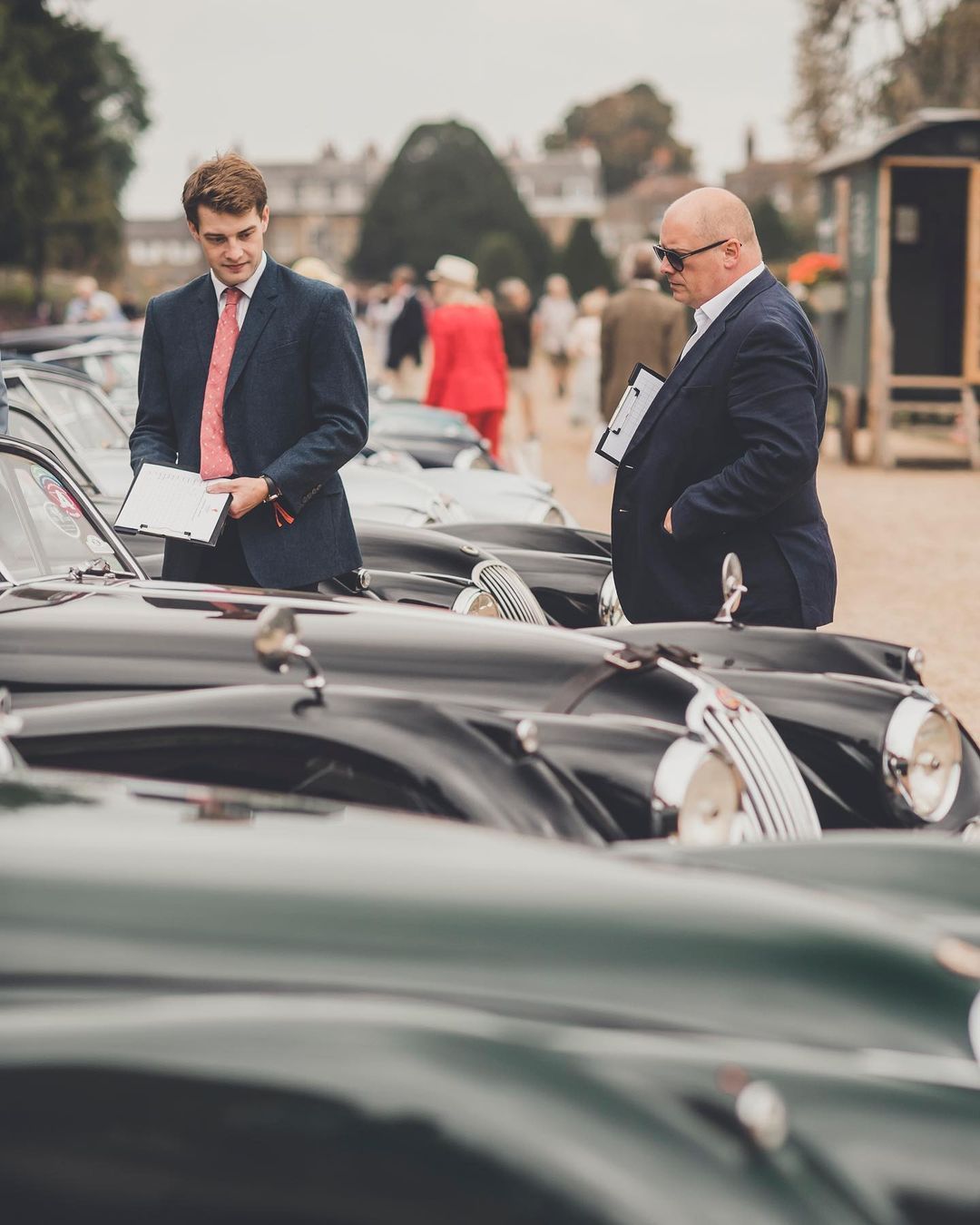 That's fascinating. It's not just a shiny car, as you so elegantly put it.
Hah! If I built a car for concours, I would probably hit 50 MPH down farm tracks and stone chip it to hell, because I just love patina. Use the cars, don't trailer queen them, do your job right and enjoy them. I think that's what I'm trying to put across in the preservation on the cockpit side.
Let's talk about collectors, because I think anyone listening to this will be super fired up about E-Types and Jaguars and so on. What are some of the common pitfalls that you see potential E-Type owners falling into when they finally get into the position of going out there and looking for a car to take on?
I have had a few people on the phone recently about this! There are so many cars out there, and it doesn't take long to find an E-Type for sale on Google. You'll find probably 30 within budget and they all look great, all from reputable people. I think my advice to anybody looking for a car is that you have to break it down to three things:

A) Why are you buying an E-Type, have you driven one? Go out and drive one first and find out if it's for you, because you may get in it and say actually, I don't want a 1961 car, I want a 1970's V12 E-Type, or I want an XK120 instead. Don't ever buy anything you're not going to enjoy, because they're a lot of money and ultimately there to be used. I don't really want another car to be stuffed into an underground car park somewhere gathering dust. So find the right car for you.
B) Is this an investment or are you going to the pub in it? Those are the two big ones. If you want to go to the pub and use the car for five years and after that perhaps restore it, that puts us in a completely different ball park, because we're now trying to find a car which has got great features, is very mechanically sound, and any money put into it over the next five years will enhance the value. On the other hand you have a lot of people who I suppose are on my end of things where we have to try to find and build cars to the ultimate specification, either as a modified hotrod or complete preservation of originality and restoring cars as they came out the factory. Those are two very different price brackets.
C) What I'm really saying in all this is: don't just go for the big shiny expensive one. Always pick up the phone to somebody like myself. There's loads of us out there who know what we're talking about. Come and find one of us, Instagram us or drop us an e-mail or whatever, send a voice note. Go and look at a couple of cars on your own, and then phone us, tell us what you think, and we'll tell you what to look for. This is how you open the door, this is how you open the rear tailgate, this is how you check the oil; don't buy it if it's got red antifreeze in it, not blue, all that sort of thing. Find advice from us first, and then if you want to actually pursue the purchase, always find restorers or people in the trade to find you a car and hold your hand through it all, because it might cost a couple of hundreds pound to do that, but it will save you thousands of pounds buying the right car, not the wrong car.
At the moment there's a natural swing to early chassis numbers, and early year numbers like 1961, '62, and '63. They are getting so hard to find now, so you have to have quite deep pockets to find a true barnfind and restore it - but that might not be your thing. You might want to fit the children into the car and take them to school, go to the pub, or drive up to Scotland with it. You can get a Series 1, but 4.2l, for considerably cheaper. I mean there's some brilliant cars out there, really lovely usable Series 1s for about £85-90,000. You'll get the same amount of joy out of one of those cars as spending £300,000, but one is concours and one is user-friendly. I think I'm rambling, but basically you have to decide what you want, pick up the phone and let us hold your hand. We'll find you the right car.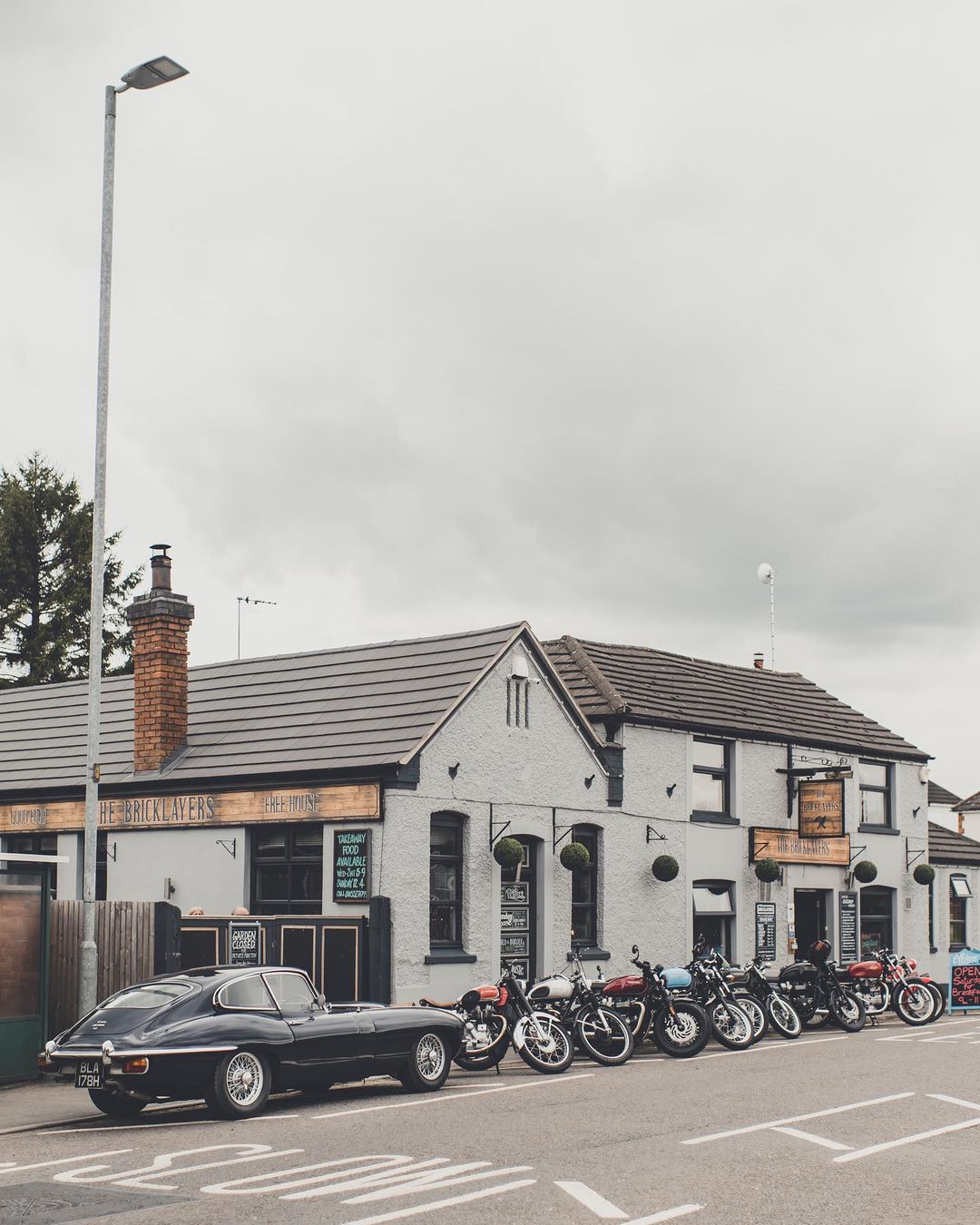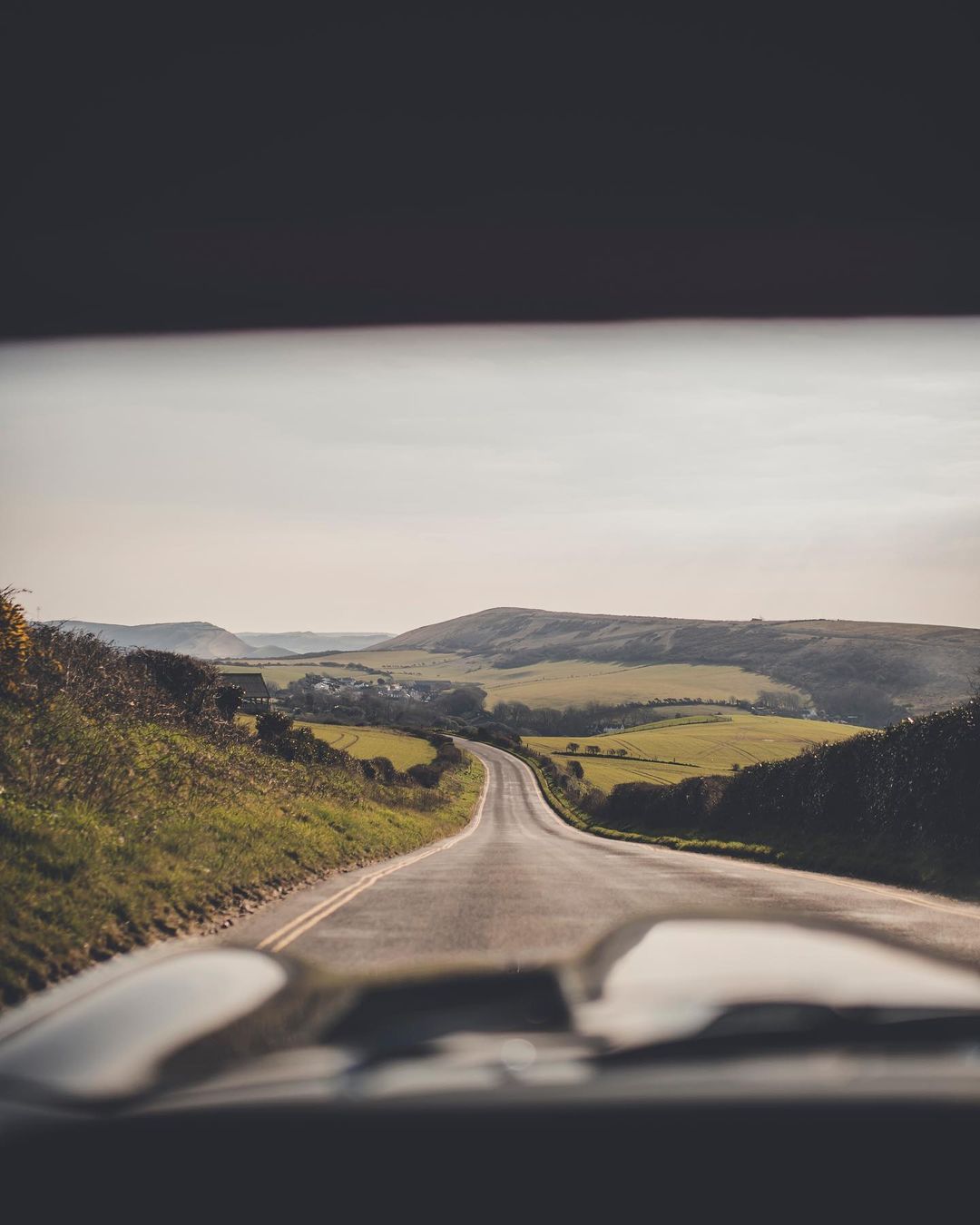 That's brilliant advice. I've got one more cheeky question before we move to our traditional quick fire round. Do you think there are any components or engineering quirks of the E-Type which could be improved? You mentioned small tweaks you would make to your car of choice earlier; do clients ever ask for a small change here and there, or God forbid maybe someone wants to subtly plug a mobile phone in somewhere?
It's a question we get asked all the time, and there's a massive restoration market out there. Of course there's loads of things you can do. I like to do the clever hidden things, for example we take the sills off the car and there's a strengthener under the A & B posts, we rip those out and we put a triangulated RSJ inside the inner sill. We stiffen the car up by a huge amount. Let's say we're doubling or tripling stiffness in the sill, and then reincorporating the old bit with a new sill on top. Now that, especially in a roadster, stiffens the car up so you can hit a corner and you're cocking a wheel up like a Golf Gti - in an E-Type! So I like doing things like that.
There's so much engine and gearbox and differential work you can do as well. The world is your oyster. So if you want to make loads of noise, bore a 4.2 out to a 4.8 and put on Webers in… you can put lightweight front geometry on it like a race car, there's loads of things like that. Basically just drive a standard car, and then drive a car with bits on, and work out what you want. I'm always up for it. For anybody who actually uses these cars I think a USB port is great, you can also put in a DAB radio and hide the aerial under the dash. I'm all up for modernising these cars and making them usable, as long as it's done tastefully. A lot of it is hidden, and can be removed if necessary.
I couldn't disagree! We're up on time, so I've just got some quick fire questions to ask. Controversial first one is: what's your favourite non-Jaguar classic car?
Crikey! Land Rover. I love Land Rovers. If budget was everything, I would want a SWB 250, or a DB4 Zagato or an MGB, I don't know, one of those!
Second question: what's been your life's best driving experience?
I'll rattle two off really quickly. I was very lucky to drive one of Eagle's custom aluminium cars a few years ago, straight out the box. I did my test route of seven miles and I got back to the customer's house, and I actually cried with emotion. It was just the most amazing driving experience. I've never driven an E-Type like it. What they do down there is just mind blowing. That was one of the cars I drove thinking that if I ever build a car to that calibre, I would be very happy.
I think the most emotional drive for me was on my birthday this year during Covid. Amy and I were lent a car by Jaguar Classic, Purple Haze, and we did a 1,000 mile drive down to Cornwall and Devon. We weren't hanging around, and it was just one of the most amazing personal experiences in an E-Type, thoroughly using the car as it should be used. I don't think I could ever recreate that - no traffic on the roads, being told to slow down by a policeman, but given the thumbs up at the same time... it was just great!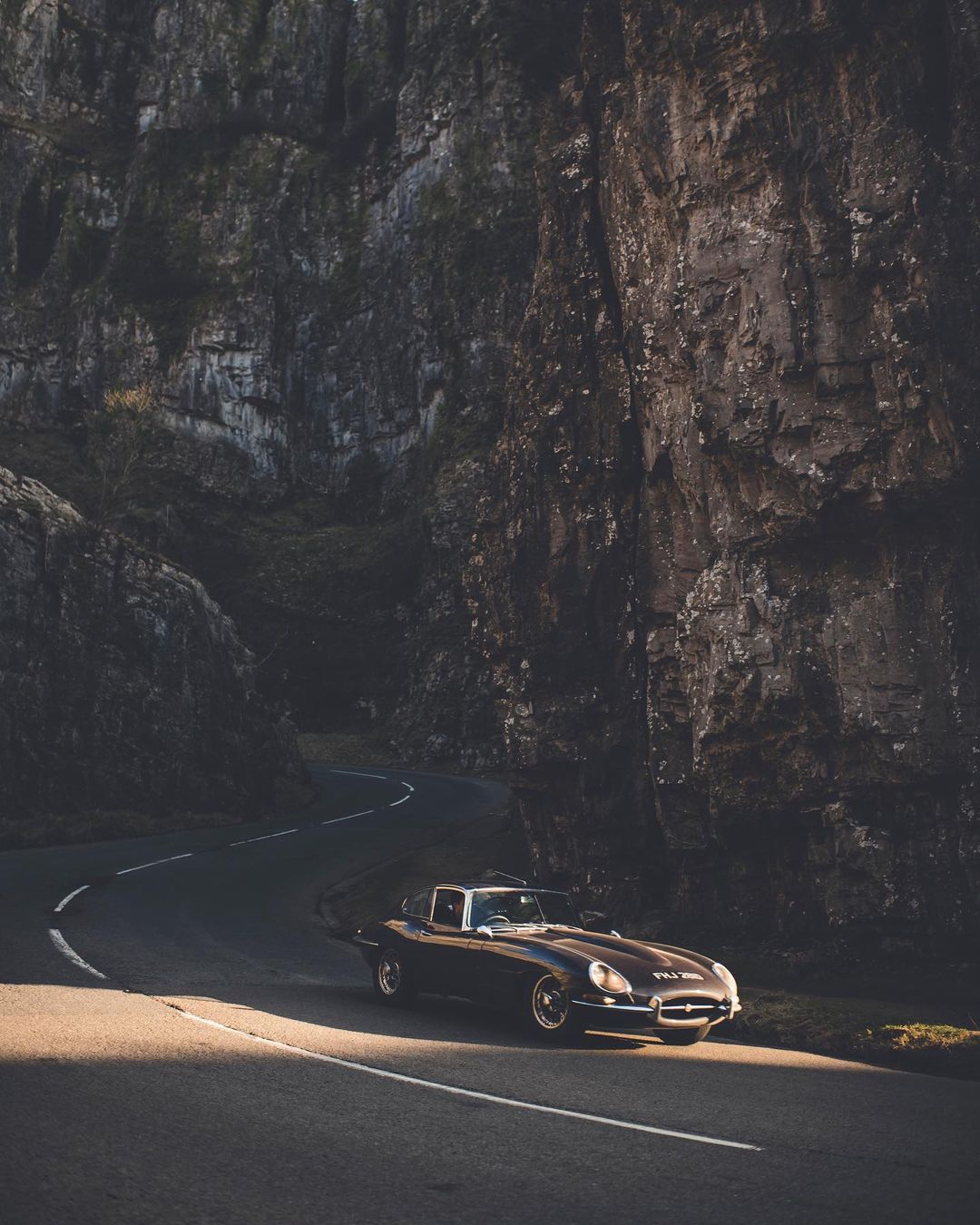 That sounds incredible. Last question: what's your final piece of advice for anyone looking to get into classic Jags?
Just do it!
And on that note William, it's been an absolute pleasure. Thank you so much for your time, and best of luck in the future.
Thank you.
To find out more about William and his business, William Heynes Ltd, please visit their website at https://williamheynes.com/ or you can follow them on Instagram at https://www.instagram.com/william.heynes/ . Also if you don't already follow Amy Shore on Instagram we strongly suggest you do! You can do so at https://www.instagram.com/amyshorephotography/.
---
---