The Fast And The Curious: Land Speed Record Breakers
There is something inherently fascinating about going faster than anyone else. Since the very dawn of the automobile, a certain kind of purist has eschewed competition on track to chase after the raw thrill of maximum velocity, ideally defeating other pretenders along the way.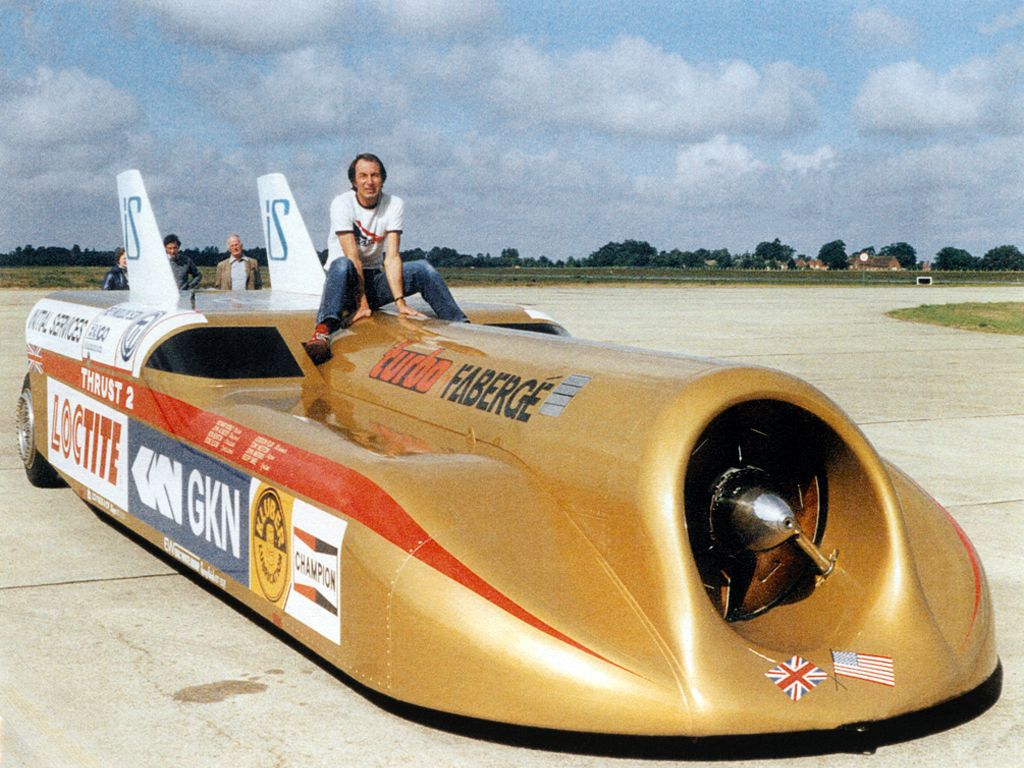 As the ongoing controversy around the SSC Tuatara's claim to the title of world's fastest production road car suggests, speed records of any kind are an emotional, alluring thing, drawing together visionaries and engineers in a relentless quest for performance. In honour of this pursuit, this week the Apex team has picked out the historic land speed record vehicles which capture our imagination. By no means a complete list, the stories they tell are nonetheless a record of human ingenuity and absolute courage.
Written by Hector Kociak for The Apex by Private Collectors Club. Edited by Charles Clegg. Produced by Demir Ametov.
'La Jamais Contente' - 1899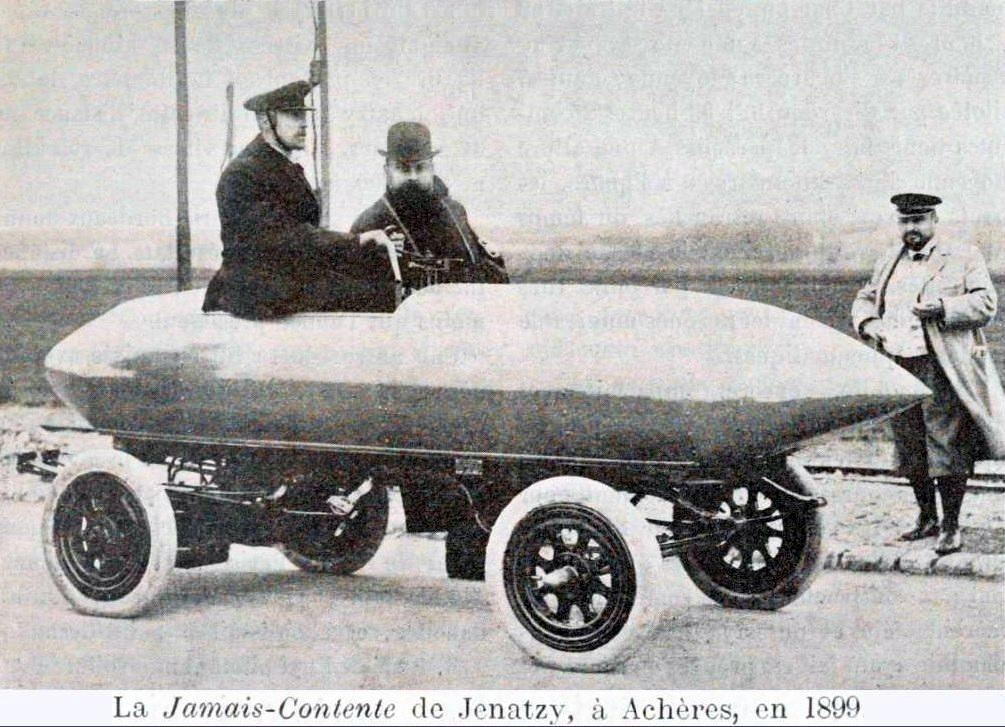 On 18 December 1898 at a competition organised by La France Automobile, Count Gaston de Chasseloup-Laubat hit 39.24 mph in his electric Jeantaud Duc on a 2km stretch of road. Soon afterwards a jolly Hungarian by the name of Camille Jenatzy challenged the Count's record in a blocky electric cart of his own, topping out at 49mph. The duels continued into the following year before Jenatzy hit the magical metric figure of 100kph in 'The Never Satisfied', the first purpose-built land speed racer with state of the art technology in its pneumatic Michelin tyres, alloy bodywork and 124 amp electric motor.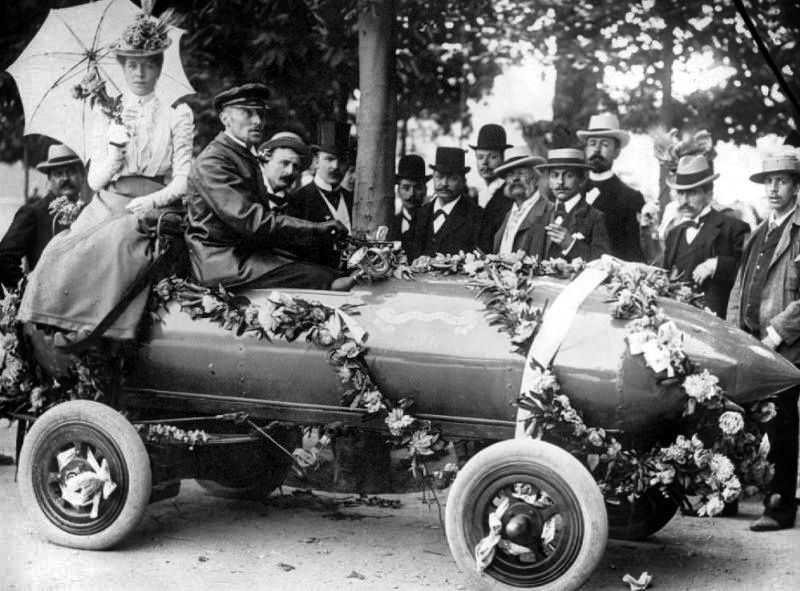 The news of his sensational success spread beyond France, firing the starting gun on a century of competitive speed record attempts in Europe and the USA. In a cruel twist of fate, Jenatzy survived a racing career to come to an unfortunate end at a shooting party in 1913; imitating a wild boar while hiding in a bush, he was shot by one of the guests, and died on the way to hospital in a Mercedes.  
The 'Blitzen Benz' - 1911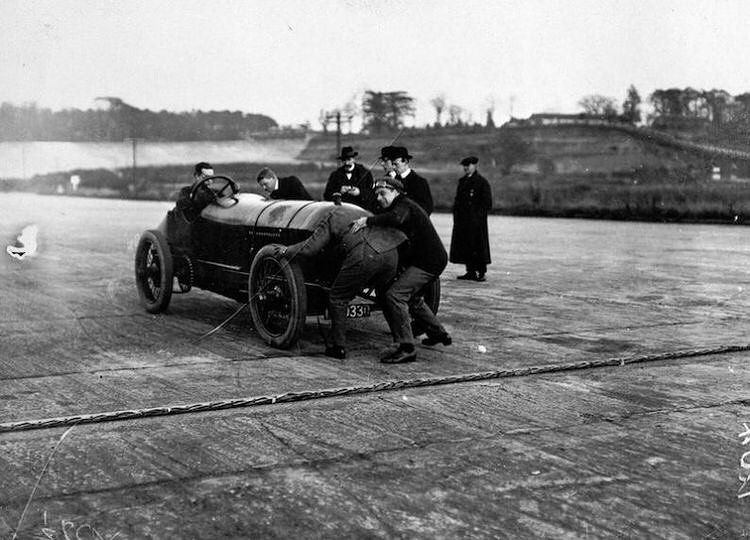 As the search for speed gathered pace, manufacturers began to pour resources into building ever faster cars. With only six examples produced, Julius Ganss's chain-driven Blitzen Benz was based on the 150hp Grand Prix car of the time, with bored-out cylinders giving the engine a capacity of 21.5l and 200bhp. Driven by racer Victor Hémery it set an average speed record of 125.95 mph at Brooklands in 1909.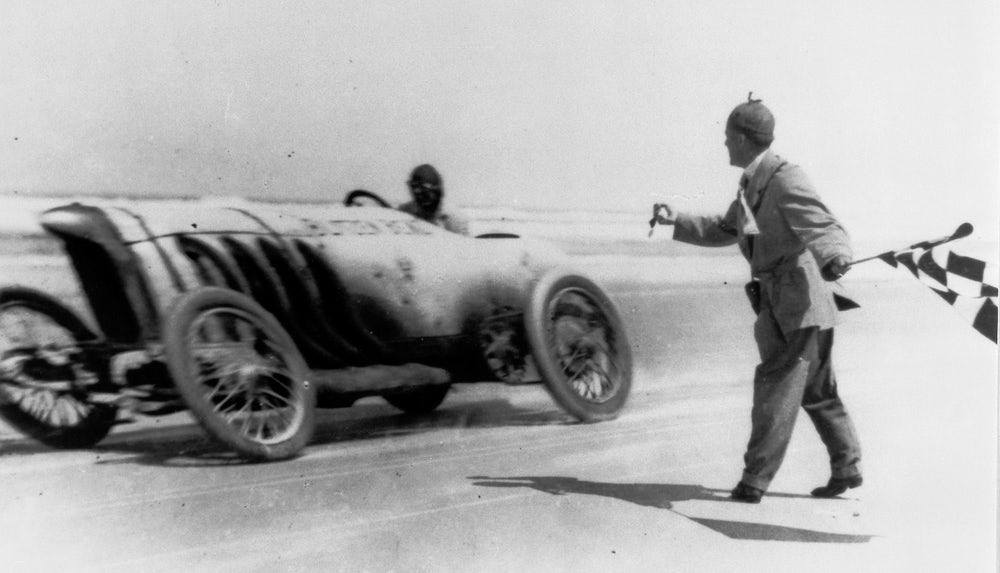 Shortly afterwards the car was shipped to America and raced by Bob Burman, who in 1911 went on to top out at a monstrous 141.37 mph on the beaches of Daytona, beating the 136mph unofficial absolute speed record (land, sea or air) set by the brave Glenn Curtiss in 1907 on a V8 motorcycle(!).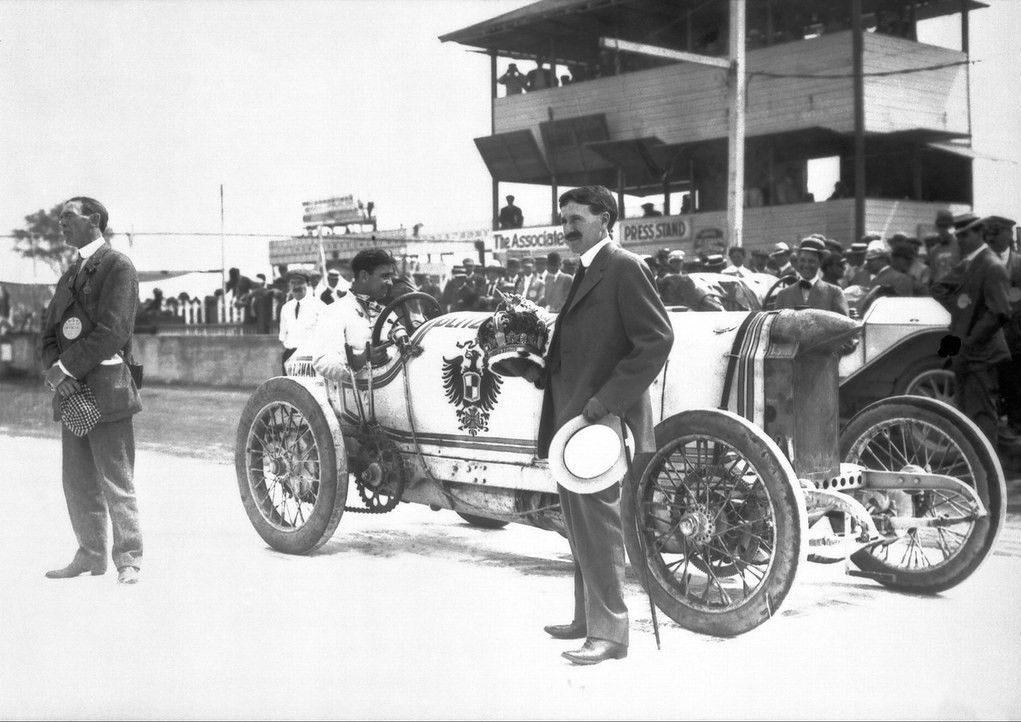 By this point the Blitzen Benz had become internationally famous, and would be toured around the USA by Barney Oldfield, competing against any vehicle which dared take it on.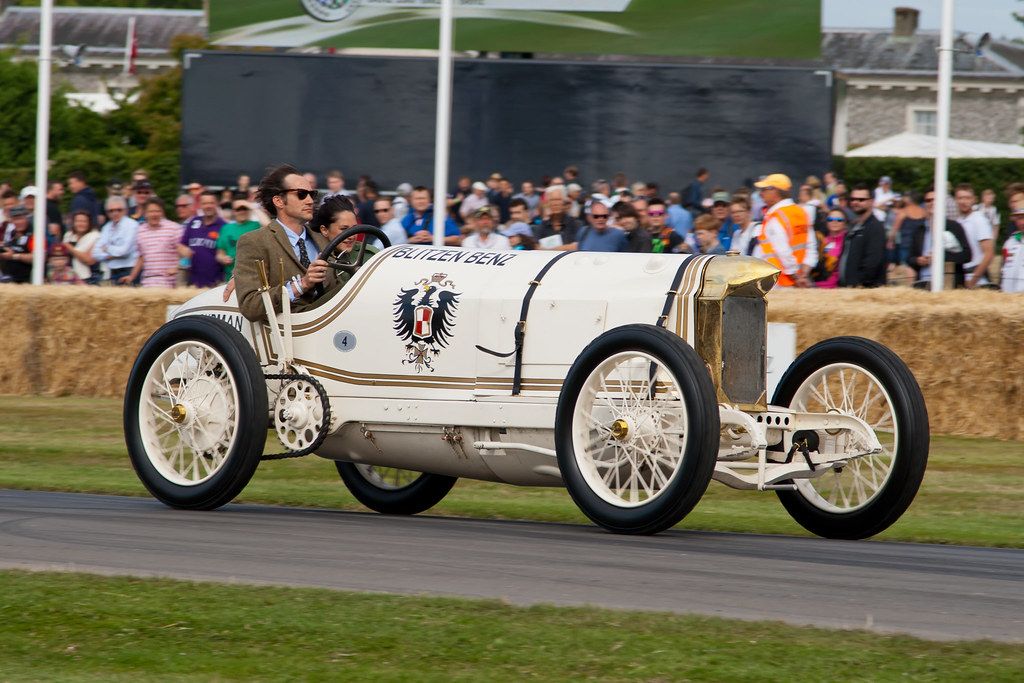 Two examples survive today, and regular attendees at Goodwood Motor Circuit events enjoy watching the much-loved Blitzen destroying opposition in a straight line down the back straight - before things get excitingly iffy in the corners!
Sunbeam 1000HP - 1927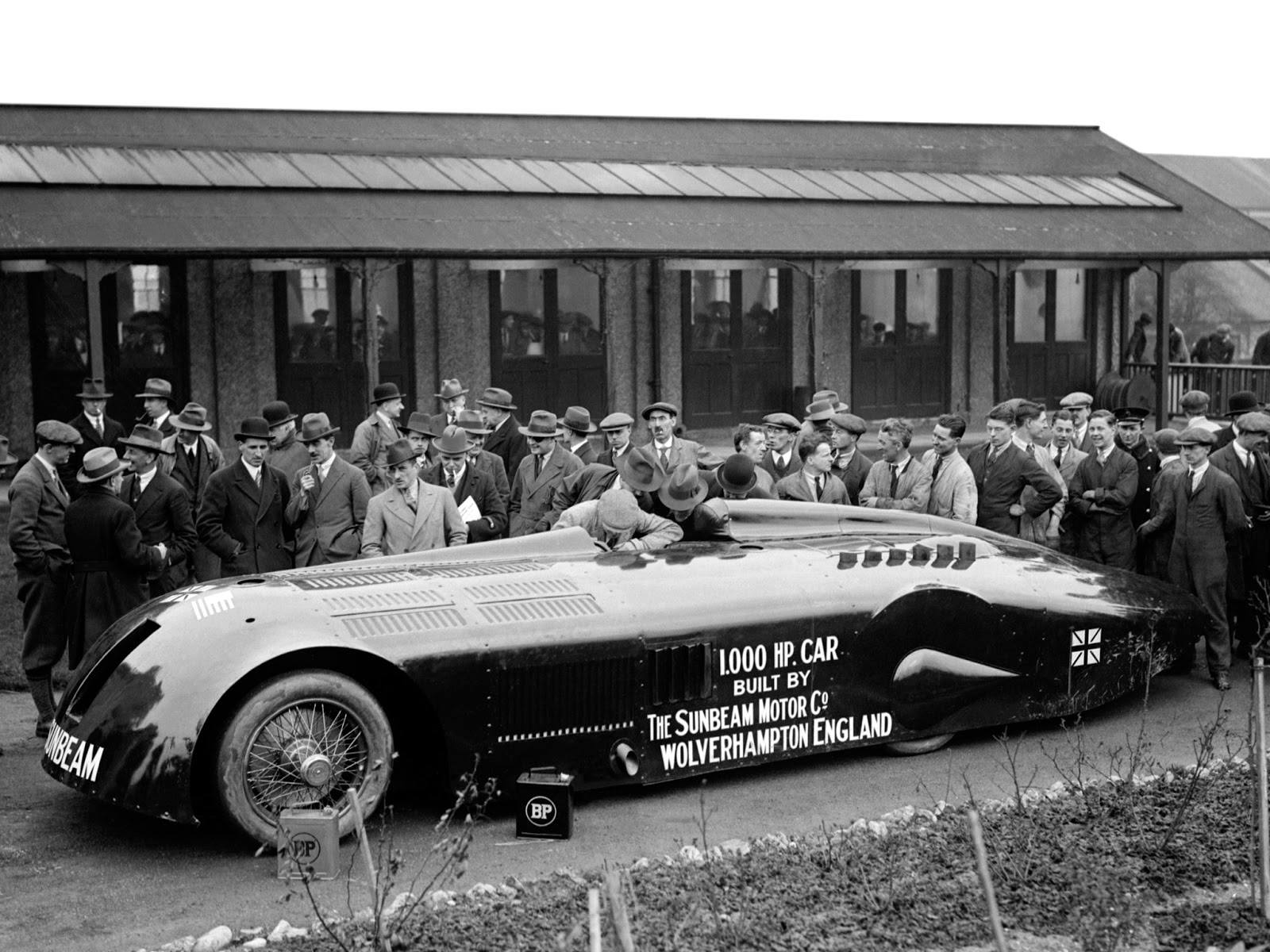 With its two axles powered by a pair of 22.4l V-12 Sunbeam Matabele powerboat engines, the red behemoth of the 'Mystery' Sunbeam (or the 'Slug', as contemporary papers had it) demolished the existing speed record by 30 mph at Daytona on 29 March 1927 with Sir Henry Segrave behind the wheel, becoming the first car to breach the 200mph barrier with an average top speed of 203.79 mph.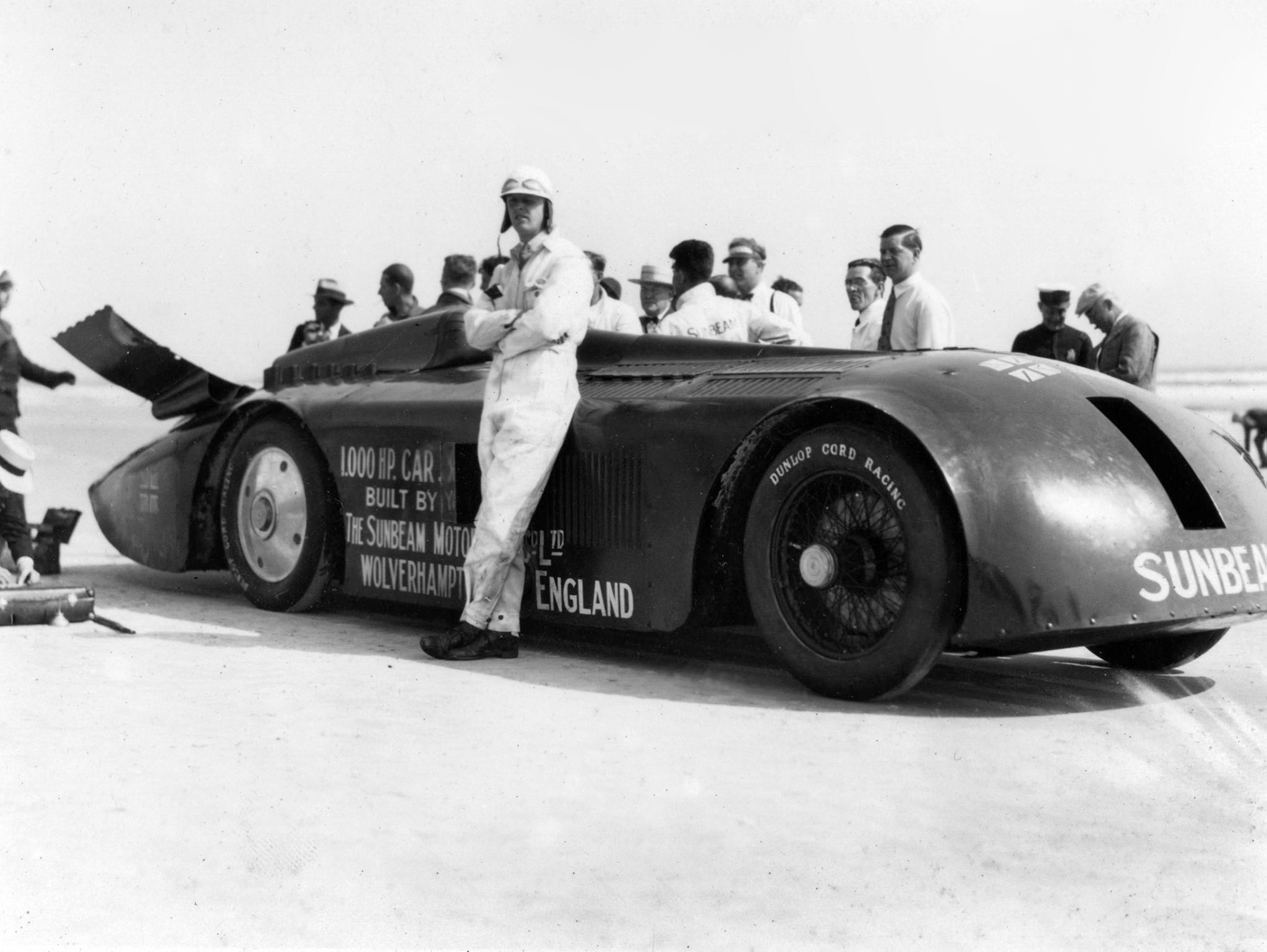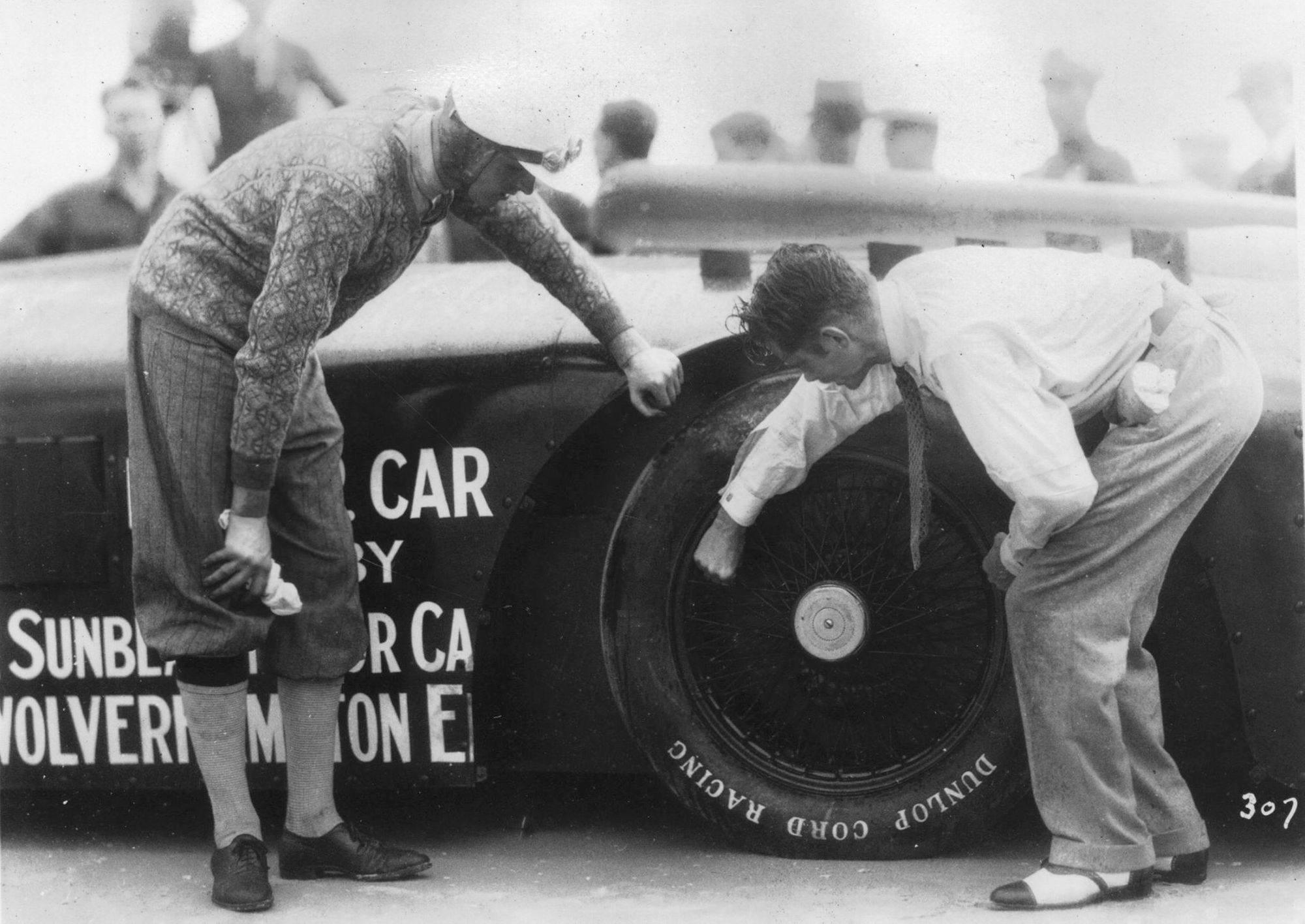 Leaving Malcolm Campbell vowing revenge with an upgraded Blue Bird, Henry Segrave's success in a vehicle which proudly boasted its power and provenance on its side was the first for a British driver or British car at Daytona, and proved the effectiveness of the nascent science of aerodynamics (as well as the importance of specialised tyres, in this case from Dunlop and rated for 3.5 minutes at 200mph).
The Sunbeam Company, having been involved with five land speed records in the early 20th century, would sadly fall into receivership in 1934; the Mystery Sunbeam resides today in need of a rebuild at the National Motor Museum at Beaulieu.  
Campbell-Railton Blue Bird - 1935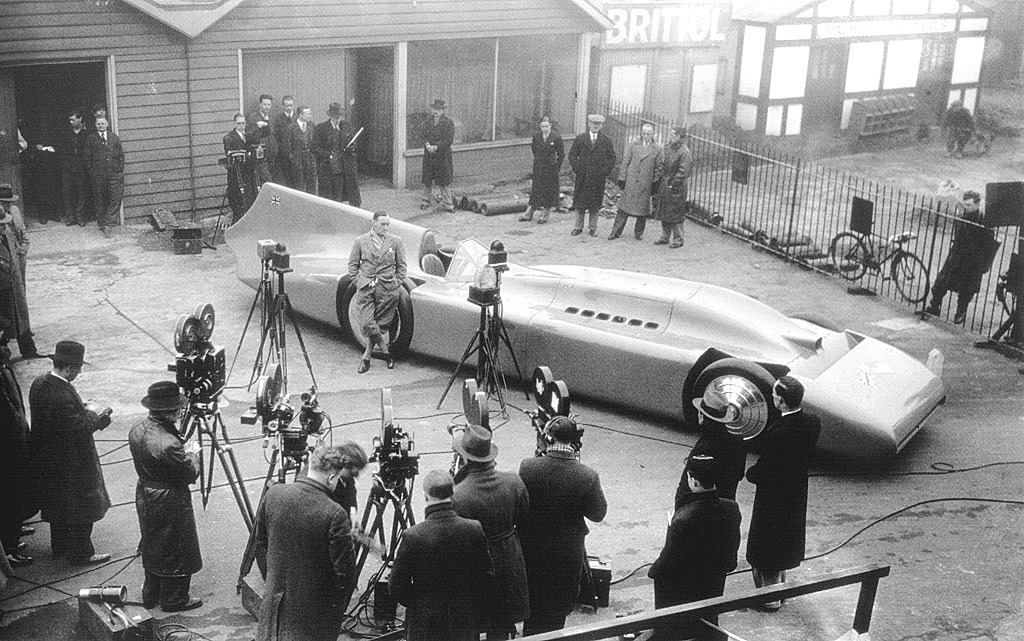 When you wanted to hit 300mph in 1935, a 24l Napier broad-arrow engine was not enough. Malcolm Campbell went for something more impressive: a supercharged Rolls-Royce R V12 aero engine, putting out 2500bhp as it guzzled a mixture of 30% benzole, 60% methanol and 10% acetone.
On the drawing board, Reid Railton modified the previous Blue Bird to use dual-shaft drive into a pair of double rear wheels, with updated bodywork making the car look decidedly other-worldly.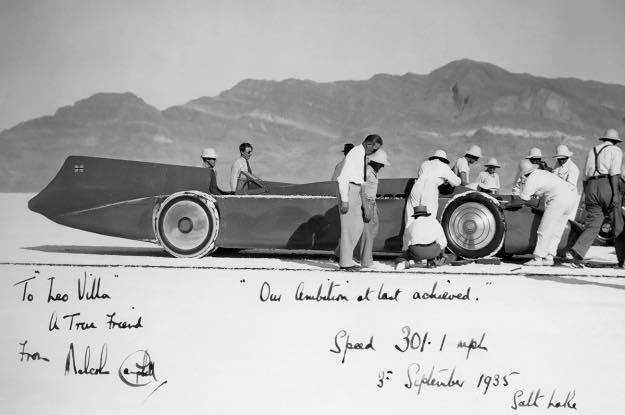 By the early 1930s Campbell's tests at Daytona had revealed that wheelspin at vast speed was problematic, so operations were shifted to the Bonneville Salt Flats in Utah, whose compacted salt provided a superior driving surface.
Previous testing experience at the salt pan at Verneukpan in South Africa helped Campbell optimise his aero engine setup for the altitude of 4,000 ft above sea level, and on 3 September 1935 Blue Bird consigned the Daytona beaches to history with a record average speed run of 301.129mph, securing Campbell's legendary status in his final outing on land and establishing Bonneville as the prime venue for future speed records until the jet age.
Railton Mobil Special - 1947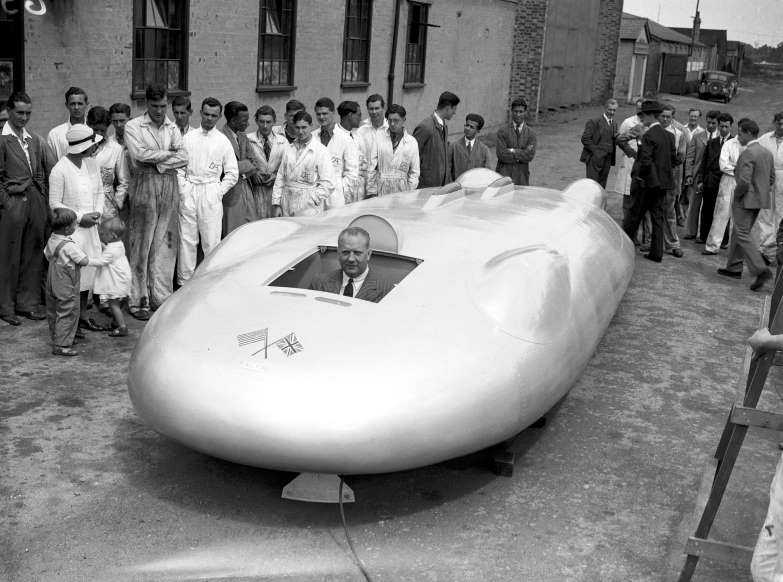 John Cobb was no stranger to fast cars, having commissioned the legendary silver Napier-Railton racing car in 1933 which he would drive to 47 speed records including the fastest average speed around Brooklands of 143.44mph. The Railton Mobil Special was something else, however. Reid Railton was asked to channel all of his genius into redesigning the 1938 Railton Special, which had conquered George Eyston's imposing Thunderbolt, to produce the ultimate speed machine of the day.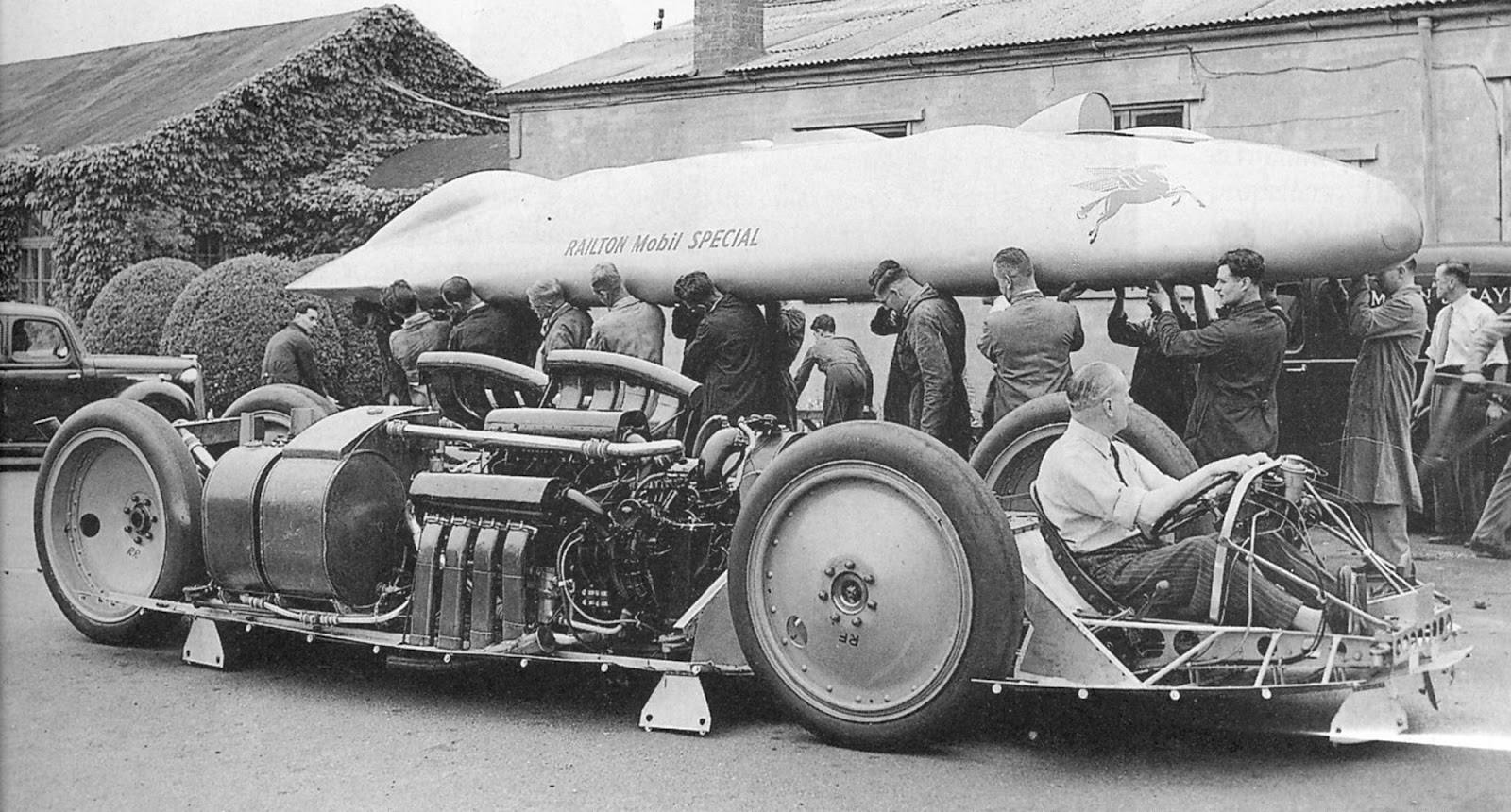 An innovative S-shaped chassis supported two supercharged Napier Lion VIID engines each driving an axle and modified to rev to 4,000 rpm, with the entire setup covered in a teardrop alloy shell shaped by extensive wind testing. In a fitting goodbye to the Napier Lion engine, on 16 September 1947 Cobb put in an average of 394.194mph on the Utah salt, hitting a screaming top speed of 403mph.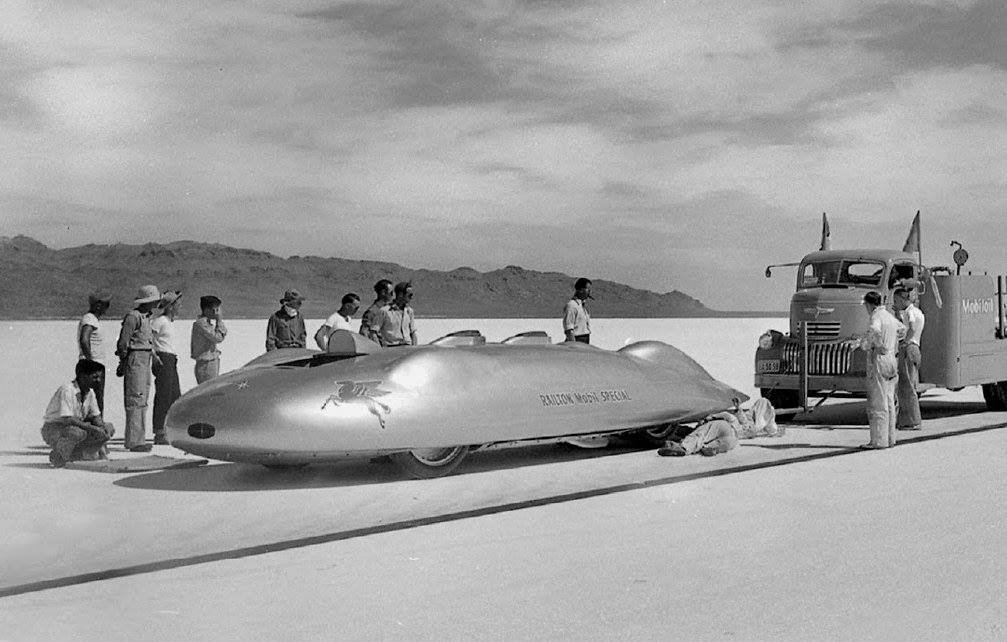 The Railton Mobil Special was the last piston-driven car to hold the absolute land speed record, and would only be bettered in its category 18 years later by the Summers brothers' streamliner Goldenrod, which itself would retain its wheel-driven record for over 42 years as absolute speed records began to be set with jet turbine power.
Sadly John Cobb would die in 1952 attempting to secure the water speed record on Loch Ness; a devastated Reid Railton would never take part in land speed record challenges again.
MG EX181 - 1957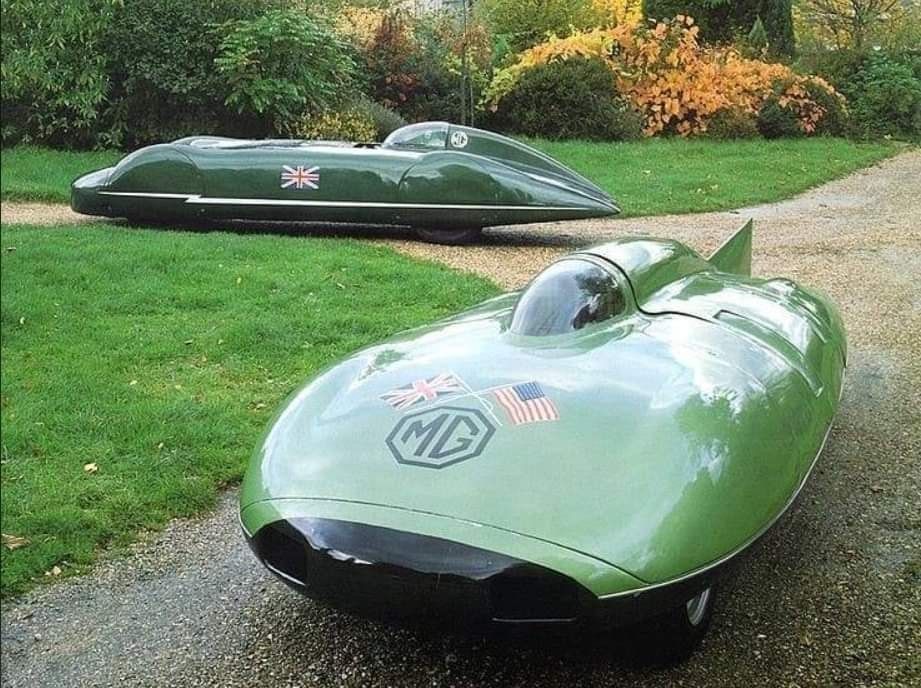 Despite appearances, land speed records were not just the pastime of bored millionaires and obsessive designers. In the 1950s, amateur hot rodders in America would get in on the fun too, building 'belly tank' racers by dropping flathead V8s and other large capacity engines into anything they could find, including P-51 Mustang fuel tanks. The MG Car Company was inspired by these heroics, and a need for publicity, to continue their pre-war speed programme which had culminated in the Reid Railton-designed 1.0l MG EX135 hitting over 200mph.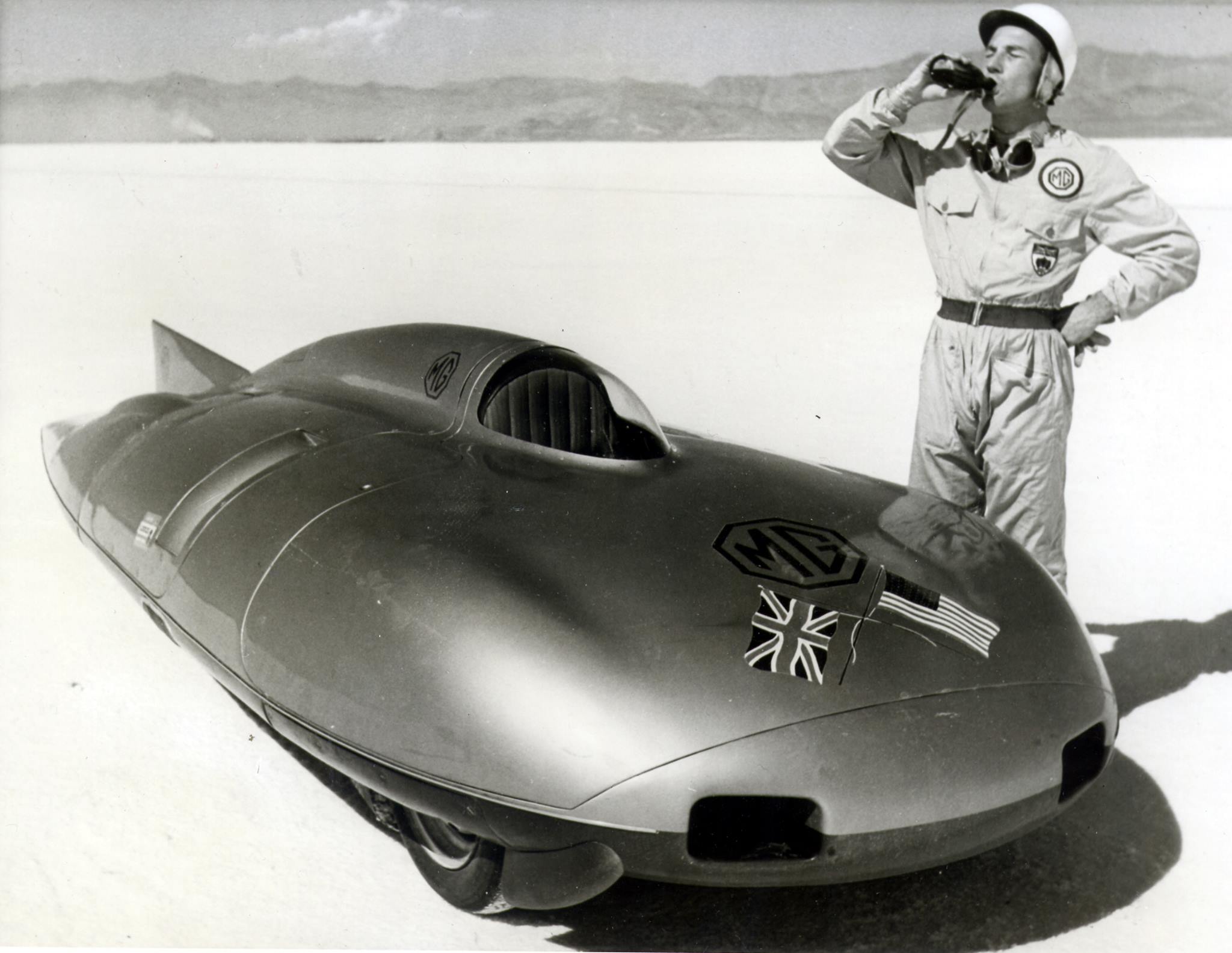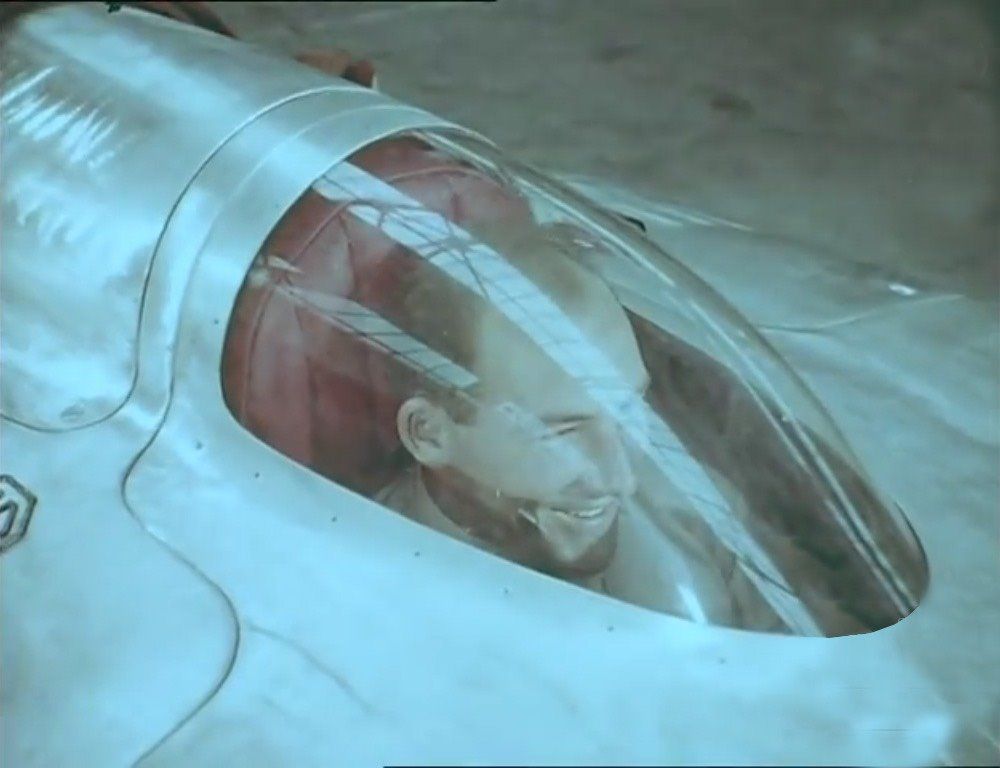 Syd Enever and Terry Mitchell went into the wind tunnel and emerged with the elegant teardrop of EX181, to compete in the 1.5l engine class. With a mid-mounted 4-cylinder engine based on the standard factory block, the fun came from a Shorrock supercharger rated at 32psi. The small package therefore packed a punch - 195bhp per litre, which eclipsed the 65bhp per litre of the Railton Mobil Special.
Phil Hill and Stirling Moss, who knew a thing or two about driving at speed, were called up to break class records at Bonneville, with Moss recording a flying kilometre at 245.64mph in 1957.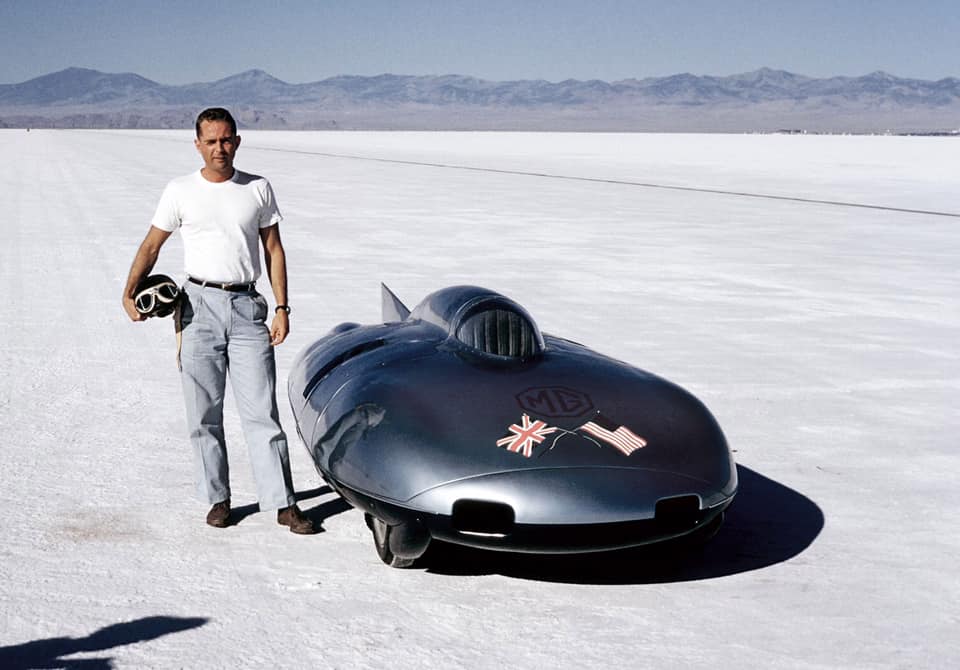 Phil Hill returned two years later in 1959 with a bored-out engine to take it at 254.91mph. Today the MG marque no longer makes fast cars of any description - more's the pity.
Thrust 2 - 1983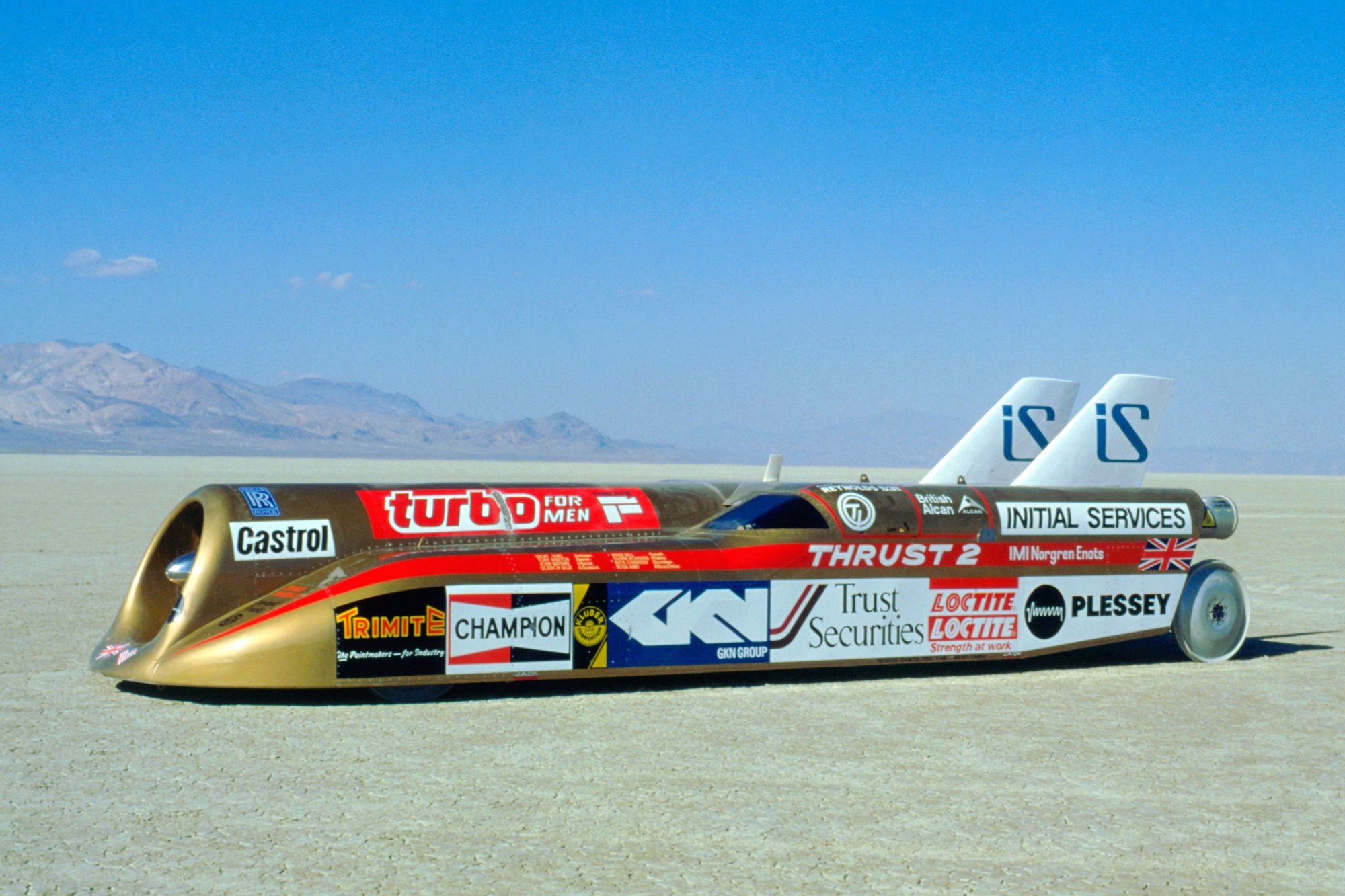 In the '60s and '70s, pistons were no longer cool in the world of outright land speed records. Jet engines and rockets were the shiny new toys everyone wanted to deploy - and not without controversy, as Hal Needham's Budweiser Rocket team would find out in 1979 as they sought acceptance for their claimed supersonic run (and a large reward from Budwieser) at the USAF Edwards Air Force Base in the Mojave Desert.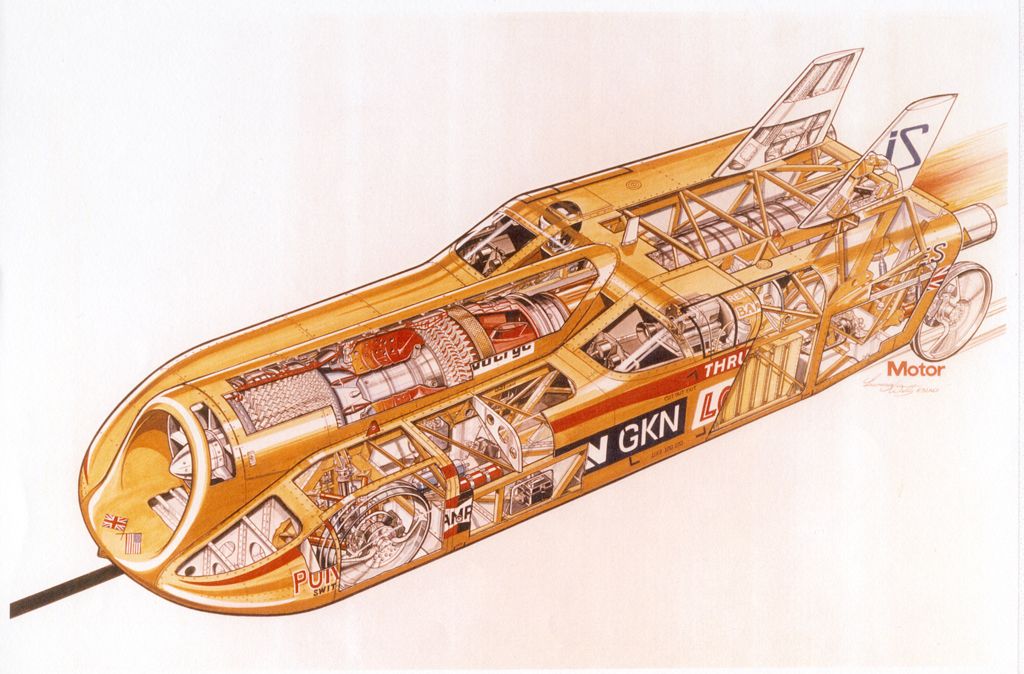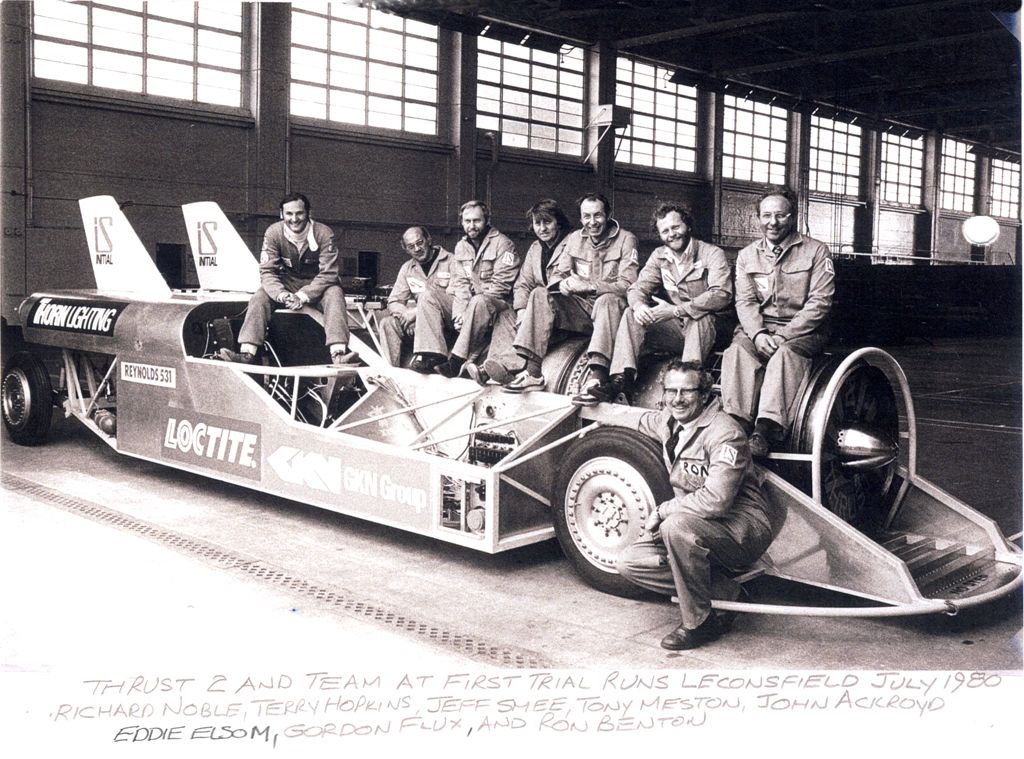 Richard Noble, a British businessman, had been watching from afar; instead of taking a chance on a solid fuel rocket engine with a booster from a Sidewinder missile like the Budweiser team, he sold a sports car and his scrapped jet dragster Thrust 1 and bought (of course) a 16,800lbf Rolls-Royce Avon turbojet from an English Electric Lightning jet fighter for his own attempt at glory.
Engineered by John Ackroyd and with bodywork by Ron Benton designed to maintain stability at transonic speeds, the glorious golden wedge of Thrust 2 attracted sponsors and well-wishers (including Rolls-Royce themselves) almost as fast as team members.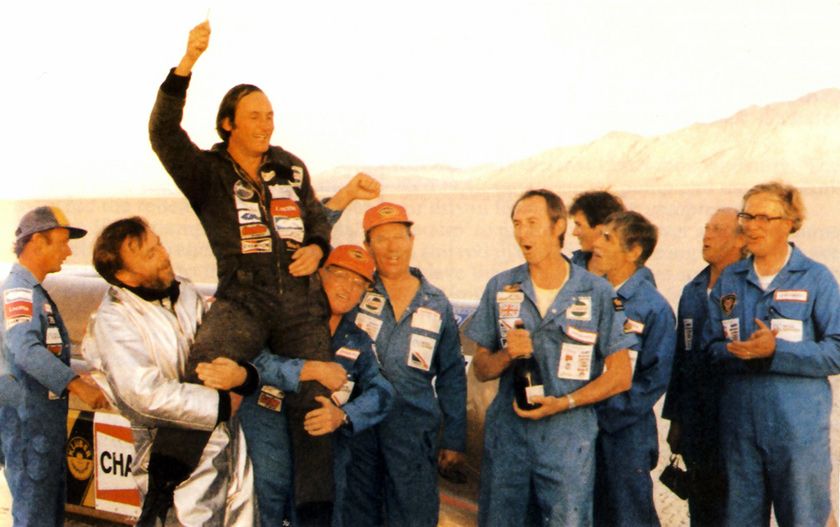 Despite being ready by 1981, multiple interruptions and engineering challenges meant that it was only on 4 October 1983, after a change of venue to the Black Rock Desert in Nevada and with bad weather and financial troubles weighing on the team, that Noble managed to put away two record-breaking runs to achieve a record of 633.468mph and bring the land speed record home to Britain.
Thrust SSC - 1997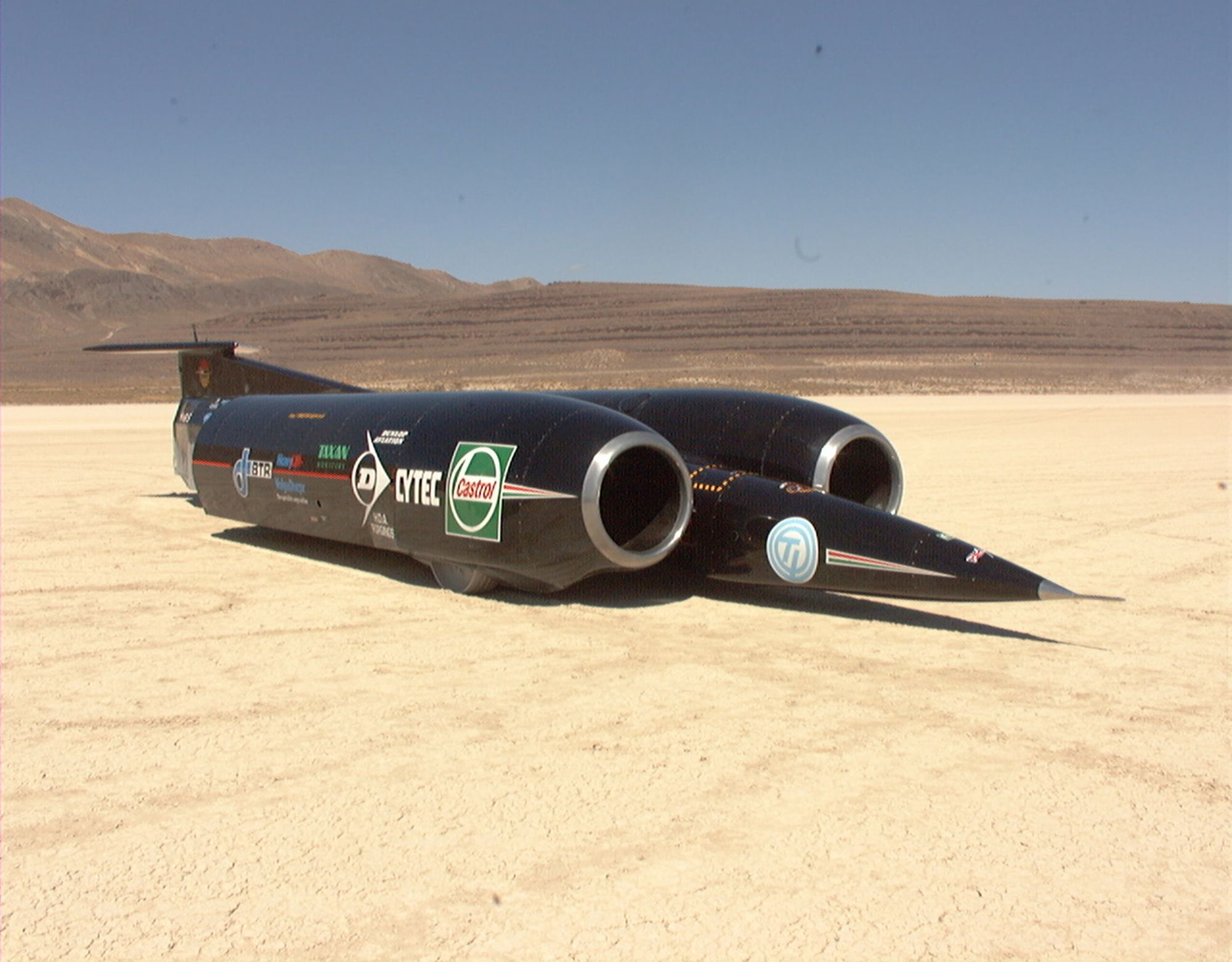 Sometimes one jet turbine is simply not enough. With rumours that jet car pioneer Craig Breedlove was looking to go supersonic in his next creation, Richard Noble decided to preempt humiliation with Thrust SSC.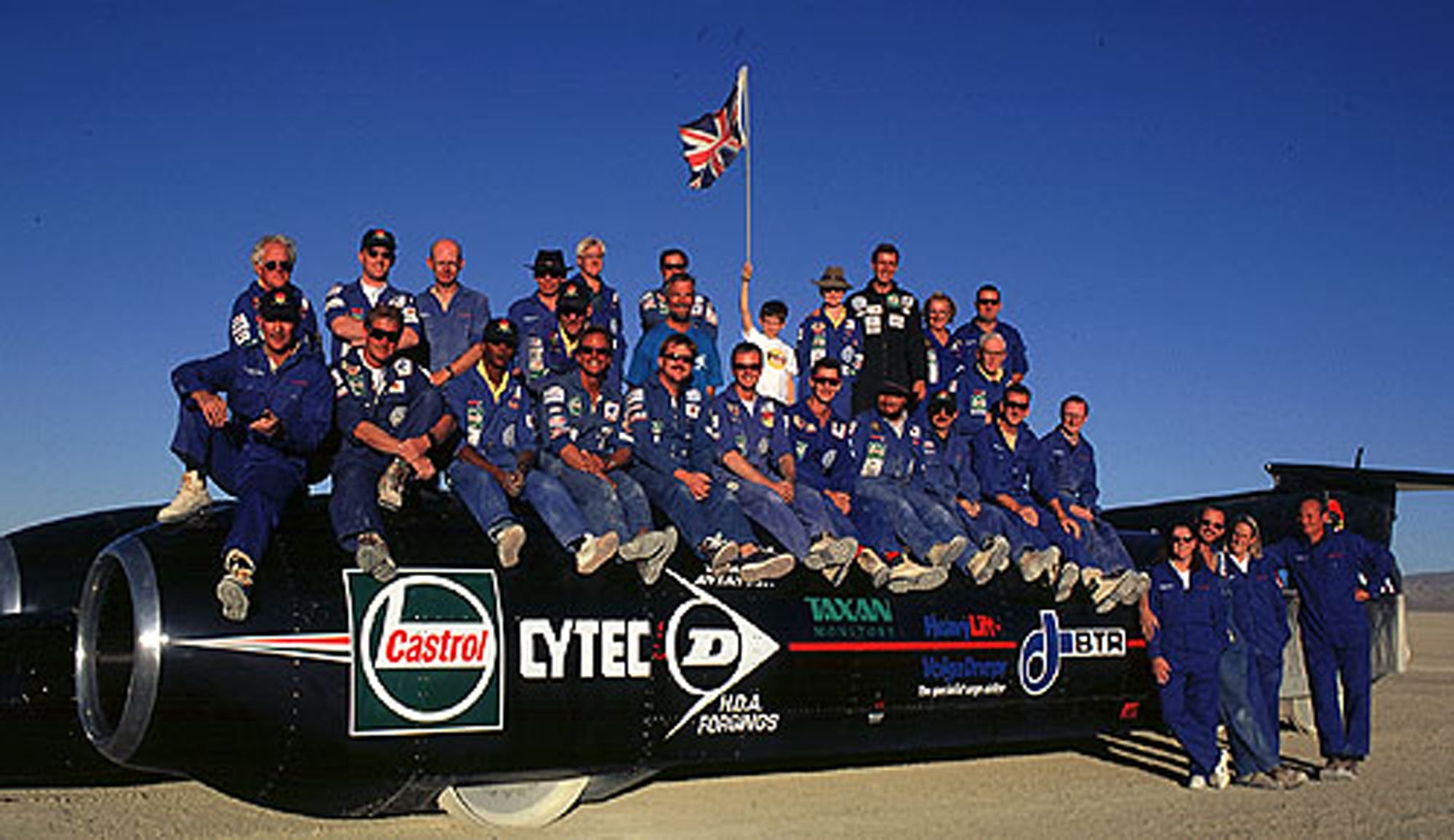 Two Rolls-Royce Spey turbofan engines (from the F-4 Phantom II jet fighter) would provide three times the output of Thrust 2 for a 20% increase in speed, mounted on an imposing black body equipped with rear-wheel steering and stuffed full of sophisticated electronics designed to prevent unwanted lift. No wind tunnel could assist with the design of the car, and so computers running computational fluid dynamics models were used to design the shape of the bodywork.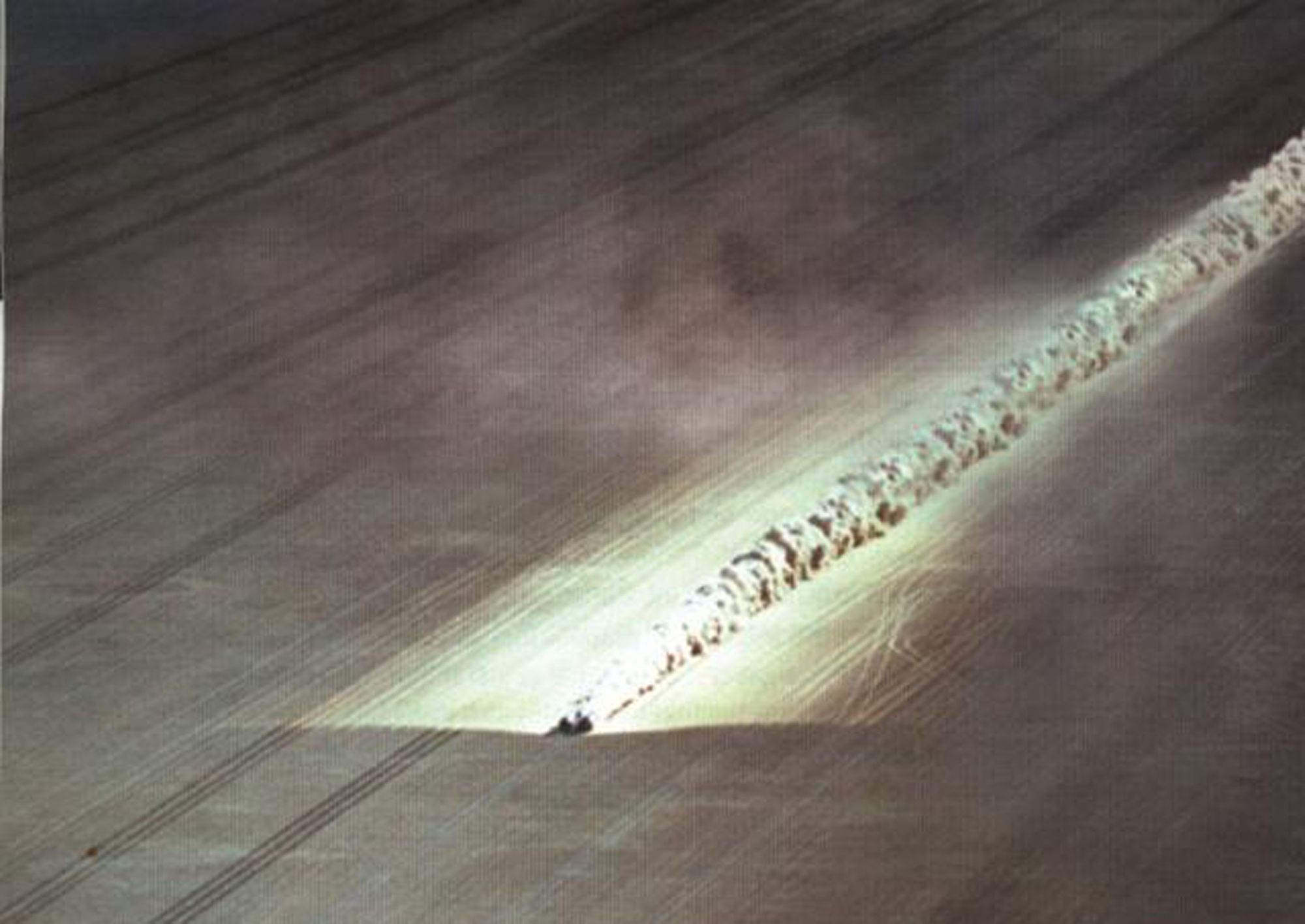 After extensive testing in the Al-Jafr Desert in Jordan, the car was taken to Black Rock, Nevada. On 15 October 1997, exactly half a century and a day after Chuck Yeager broke the sound barrier in the Bell X-1 rocket plane, Wing Commander Andy Green piloted Thrust SSC in two supersonic runs at an average speed of 763.035mph - the first time a land vehicle had exceeded the speed of sound. The sonic booms were heard for miles, only just louder than the cheers of the victorious Thrust SSC team.
The record-breaking car now lives at the Coventry Transport Museum, inspiring a new generation of speed freaks.
Bombshell Betty (2013) And Other Stories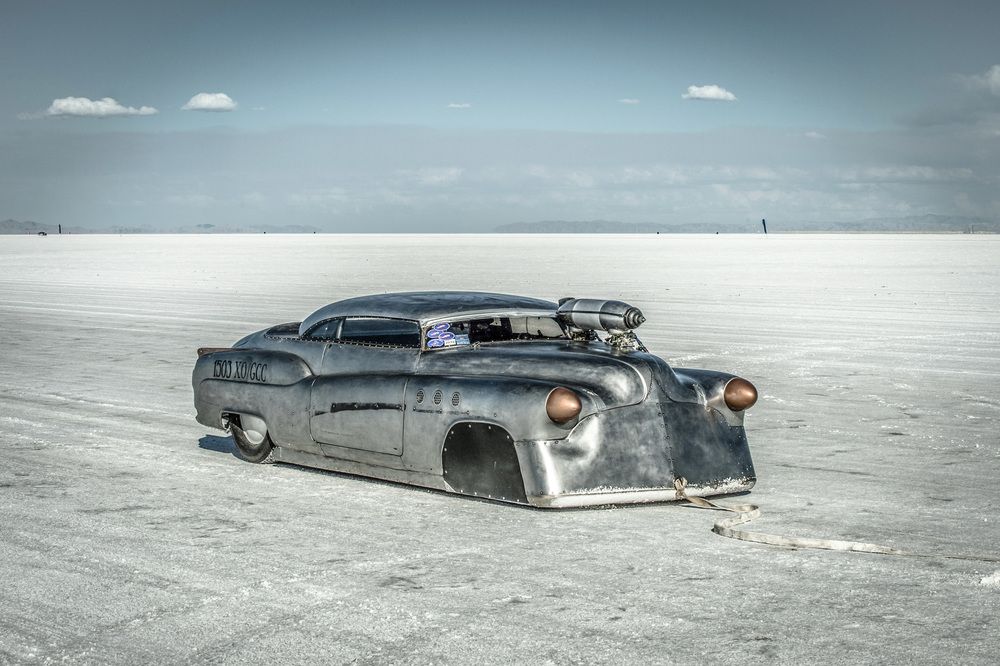 For every extraordinary land speed record vehicle, there is an equivalent amateur effort. Whether pushing the boundaries of aesthetics, speed, or merely taste, some of our favourite vehicles are those welded up in a garden shed and dragged to the Bonneville Salt Flats every year to take part in Bonneville Speed Week and have a go at some records. For sheer Mad Max beauty in a sea of brushed aluminium, Jeff Brock's 2009 Bombshell Betty, a 165mph Buick Super Riviera, is this author's post-apocalyptic conveyance of choice.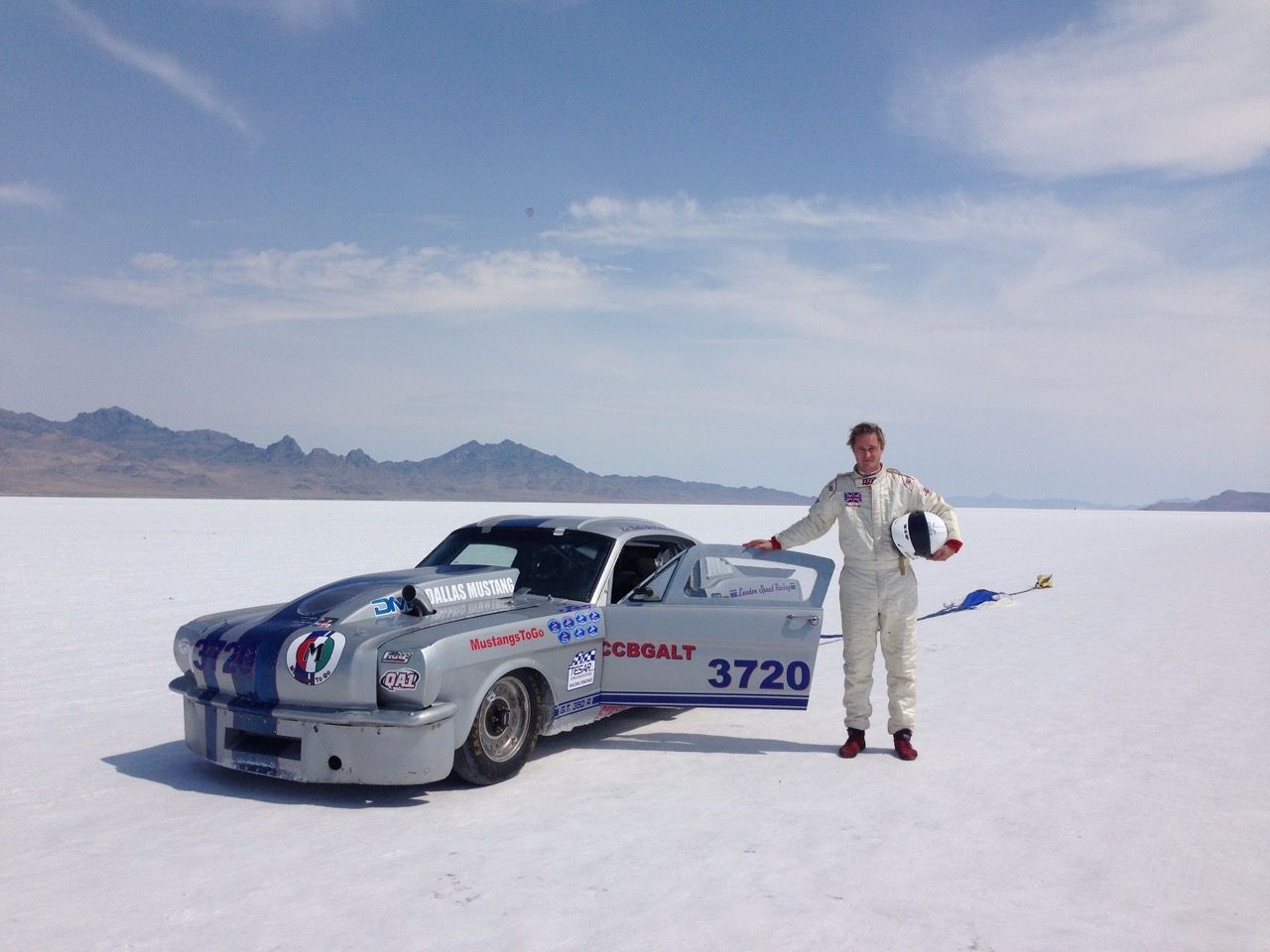 It was, however, bested on pace by our very own co-founder and CEO, Charles Clegg, in Todd Landon's Silver Bullet, a 1965 Mustang Fastback reincarnated as a speed racer. No, Charles didn't quite reach 200mph back in 2016 (199.165mph), and yes, that remaining 0.835 mph is very much unfinished business for the future.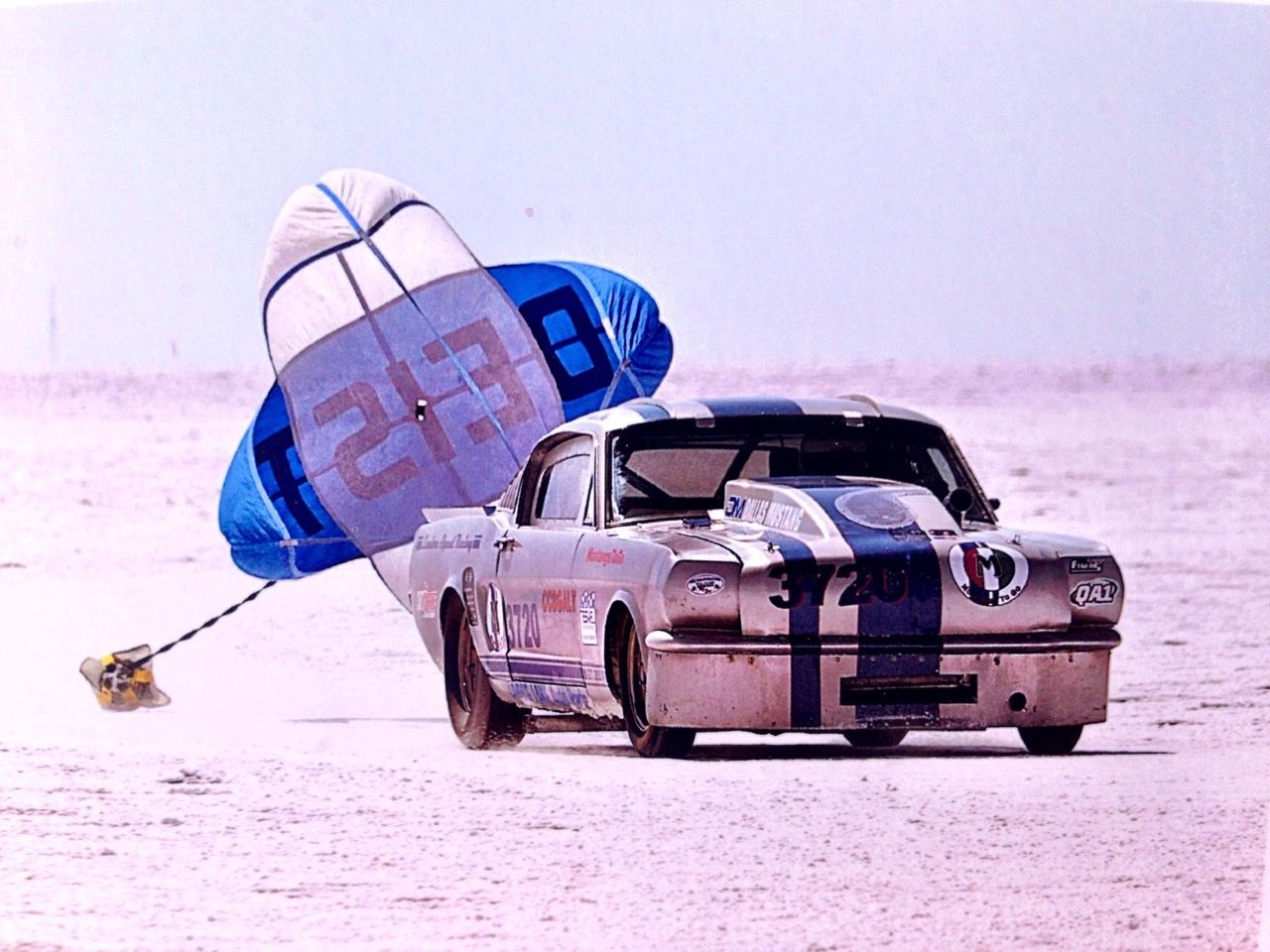 The Apex is confident however that as long as enthusiasts have access to welding kit, vintage cars and a lot of brushed aluminium, we will continue to see some truly extraordinary creations driven very fast in a straight line the world over.
We are also truly excited and hopeful for Bloodhound LSR and their efforts to set a new world land speed record, despite the challenging timing for the project. More details of their remarkable quest can be found here: https://www.bloodhoundlsr.com/.
---
---