Speed King: The Apex Interviews Oli Webb
On this week's episode of the Apex, we have the pleasure of welcoming a seasoned racing driver, coach, stunt driver and commentator. Having competed at the top level of the junior formulas, Oliver Webb has gone on to win the European Le Mans Series, the Dubai 24 hours and the Gulf Historic Grand Prix in James Hunt's race winning Hesketh.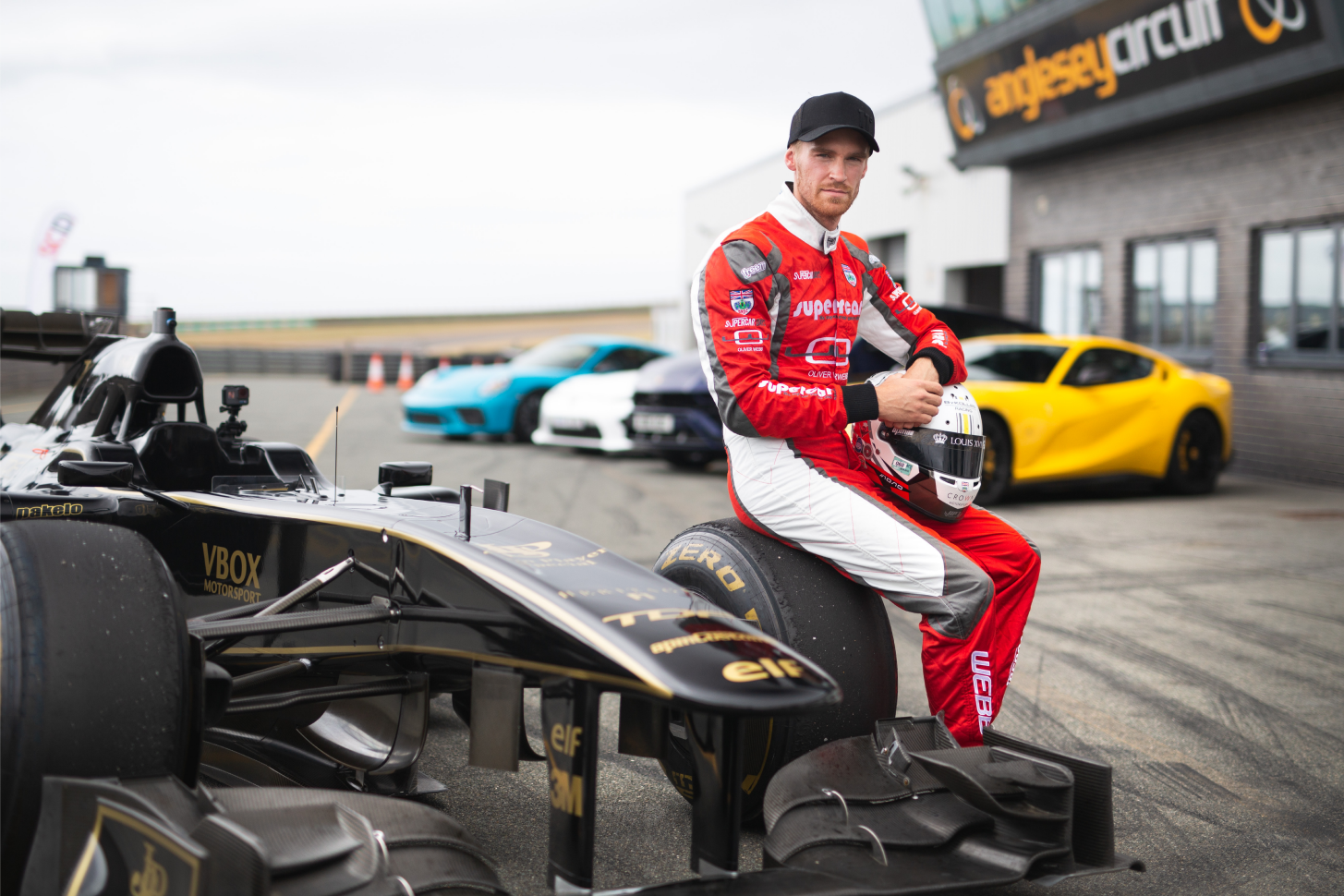 He joins us today to talk about his career highlights, his involvement in historic racing, and what it was like being a stunt driver for the Mission Impossible movies.
Archie Hill interviews Oliver Webb for The Apex by Custodian. Recorded and produced by Archie Hill. Transcribed by David Marcus. Edited by Archie Hill, Jeremy Hindle & Charles Clegg.
Is it true that when you were younger, you were a big Stirling Moss fan, and you wrote a letter to him when you were 13?
Yes, I did. I must have been about 13, I can't remember the age, I was super young. I was a fan not only of him, but of quite a few different other people of similar ilk and era. I will be honest, as much as it would be nice just to say it was just the one letter, I definitely hedged my bets. I remember spending that week sending quite a few letters to various different people, including Nigel Mansell, and of the ones who replied, I even got letters back from Max Mosley and I think I got one from Bernie Ecclestone at the time, so I was certainly spreading out, hedging my bets to try and get a reply. I still have them today, I actually keep them in my laptop folder with my laptop that I take everywhere with me, just to remind me and look back on every now and then. But yes, I got hand written replies from a lot of those people, which I was amazingly grateful for.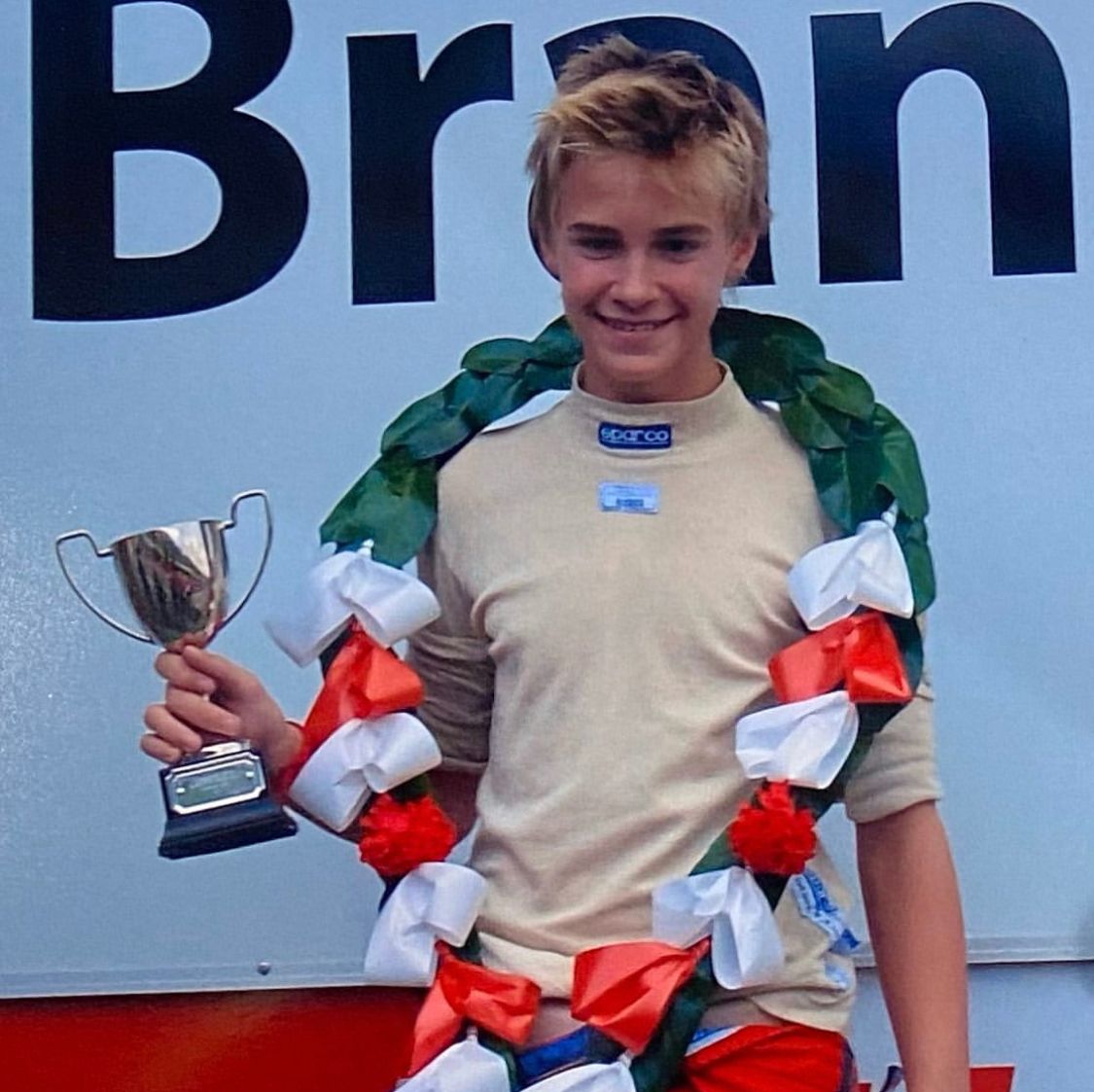 That's incredible, and Stirling actually wrote back to you, can I ask what he said?
I asked the usual typical how do I get into motorsport and what do I do, and he was very polite and very to the point, in terms of this is what you have to do to get into motorsport and these are the things you need to do on the side of it, and told me it was all about contacts and who you know, as much as how quick you are. He corrected me on my grammar, which was the most embarrassing thing ever. I remember being bright red reading that letter, even though I was totally alone, can't remember what I misspelt but it was something he corrected my grammar on, so let's pretend I was really young.
Was that a big influence on your desire to then go racing? It must have given you quite a bit of motivation hearing back from someone like that.
It did, yes, because it doesn't run in my family, it's not something that I connected through motor sport through generations of history in racing or karting or even friends at school. So having a connection to people replying to me like that, of that ilk, was incredible. It definitely stirred me on to think there was hope to move forwards.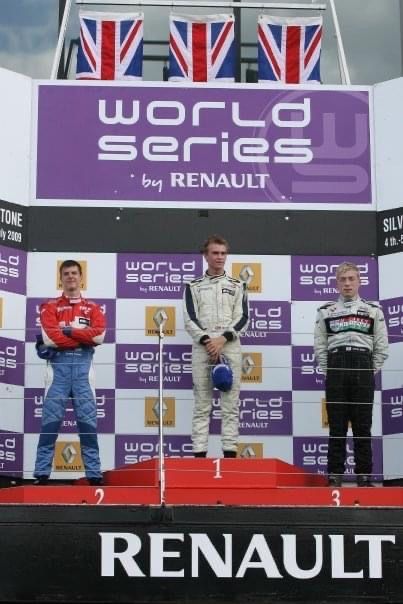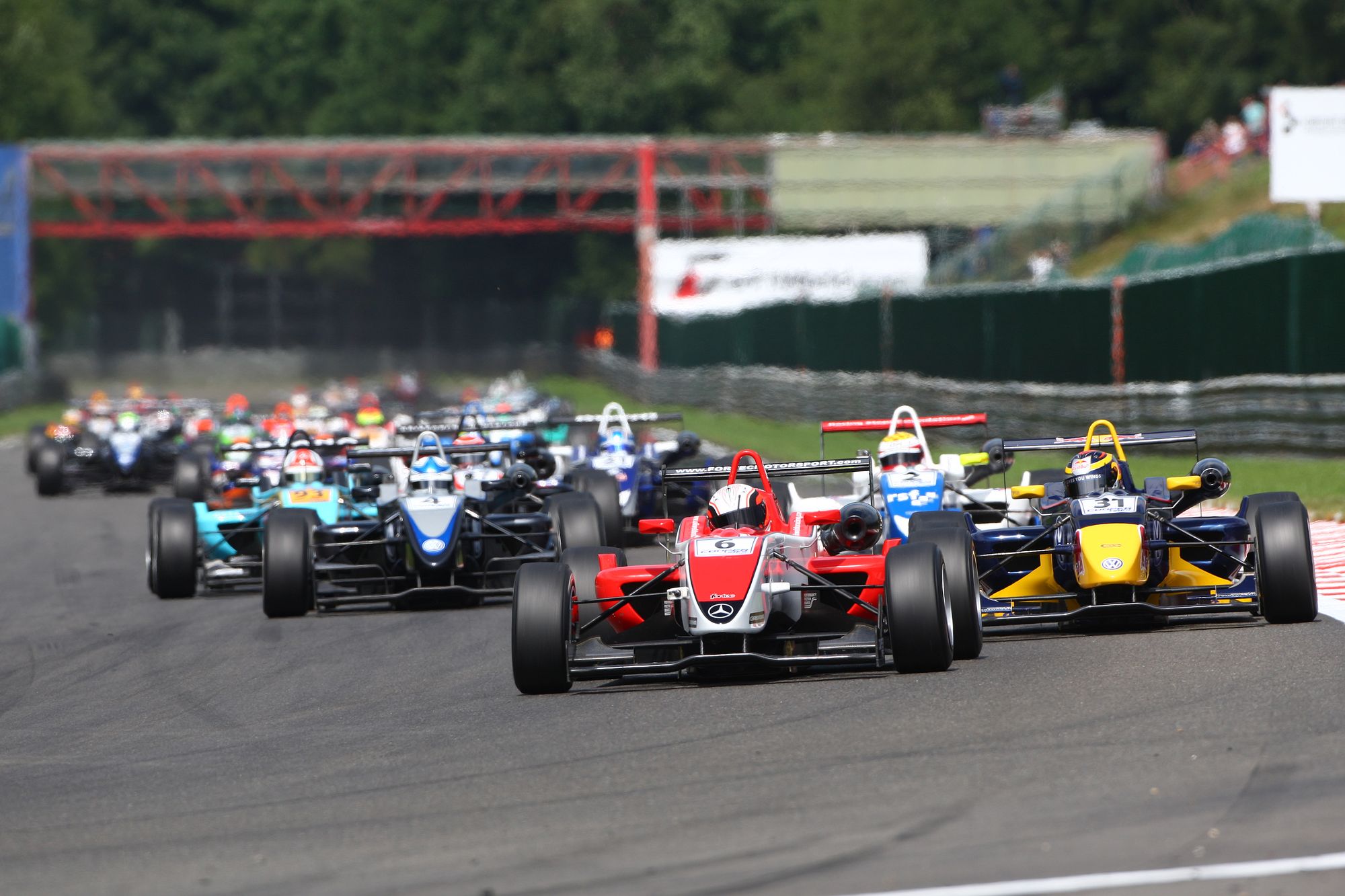 And then from there you have gone on to do some incredible things. You won the European Le Mans Series in 2014, and the 24 Hours in Dubai in 2015, as well as competing in a whole host of other endurance races, what is it about endurance racing that is so special to you?
When I left the single seater world, after having raced in most junior formulas all the way up to Formula 1, I ended up in endurance, I wouldn't say by accident, but by naivety of when you are coming up through the ranks, Formula 1 is your goal, and it has to be that drive, that pinnacle focus, and then whatever happens when you fall off that single seater ladder, is where you typically end up, and that happens normally for most people to be in endurance racing. That has changed a little bit more these days where people start off aiming to drive in endurance racing. But ignorantly at the time, I was so focused on F1, that when I then got this opportunity to test for Alpine and go into endurance racing, it totally opened my mind and I never looked back towards any single seater racing, not that I had the opportunity at that point, but I enjoyed the camaraderie, the first time in my career ever from starting racing to actually want another driver to be as fast as you, i.e. your team mate. It was the first time I had teammates that weren't racing against you in the other F2 or World Series car across the garage, so it was a different form and mentality of racing, and you got loads of seat time.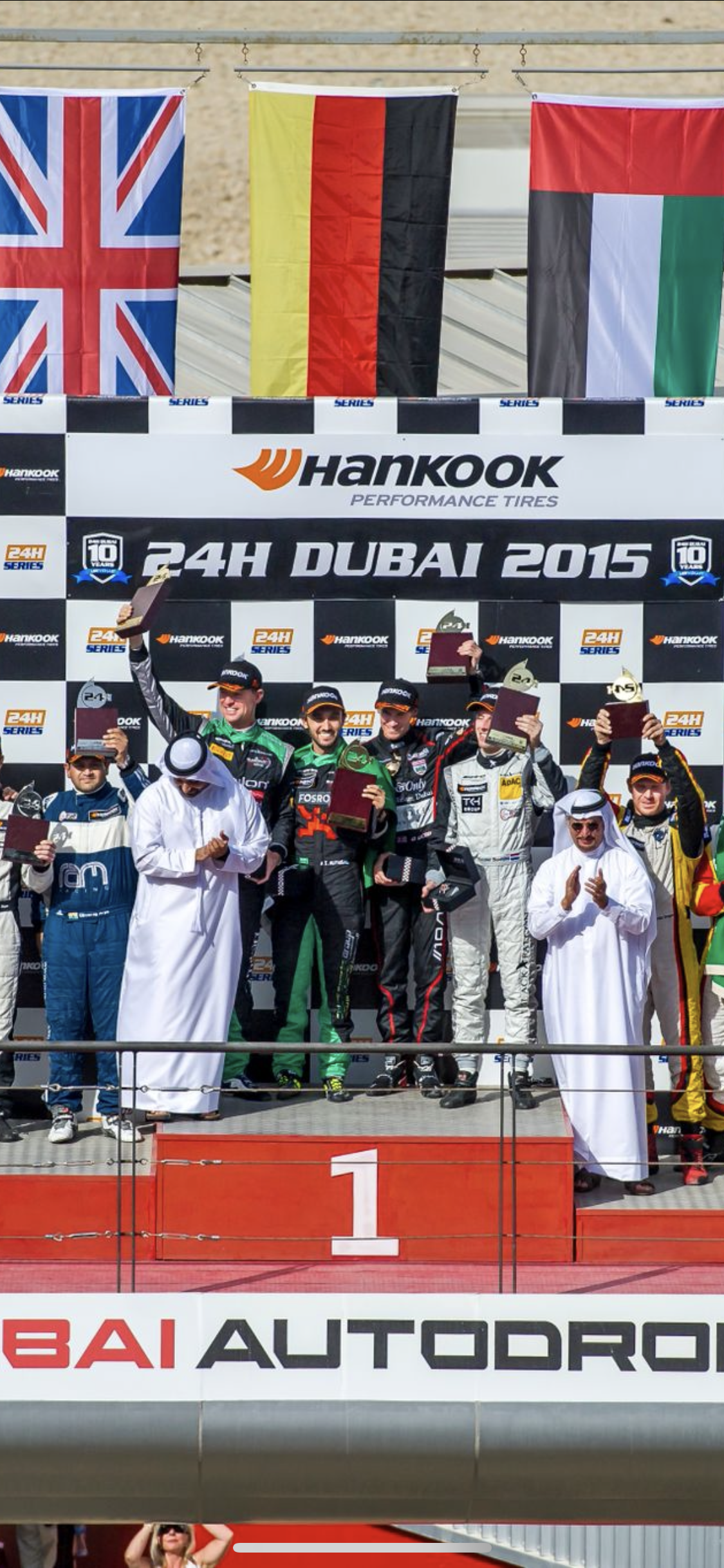 You have also competed at Le Mans, can you talk us through that experience and how that particular race compares to other endurance races?
The first time I went to Le Mans, I was racing there, so I had never been to watch. I don't think I had ever watched a full Le Mans before that, I had seen bits and parts and watch it if I could in between other events going on, so to actually be there for the first time and realise how out of my depth I probably was first going there, and how crazy an event this was, the whole thing lasts so long, it starts a week before the actual race on a Saturday or a Sunday with scrutineering in the town, and you do your media interviews and you do your team photos, the scrutineering of the actual car, which is famously done in the town of Le Mans, an incredible feeling to do that there, and yet really hit home as well, being with a French team with Alpine, who has launched the car I think that year in 2014, they were effectively becoming a subsidiary manufacturer of Renault, before they had then gone to Formula 1, so it was a big presence for them there, having fully French speaking team mates, I was the only English one in the team, and obviously being in France and everything, it was straight in at the deep end, at a French race with all the French history of the brand and everything. So it just was a whirlwind of emotions and feelings and physicality in and out the car, and the track itself being incredible, especially at night. It was the last year or two of the open LMP2, so it was just incredible, every single part of it was amazing.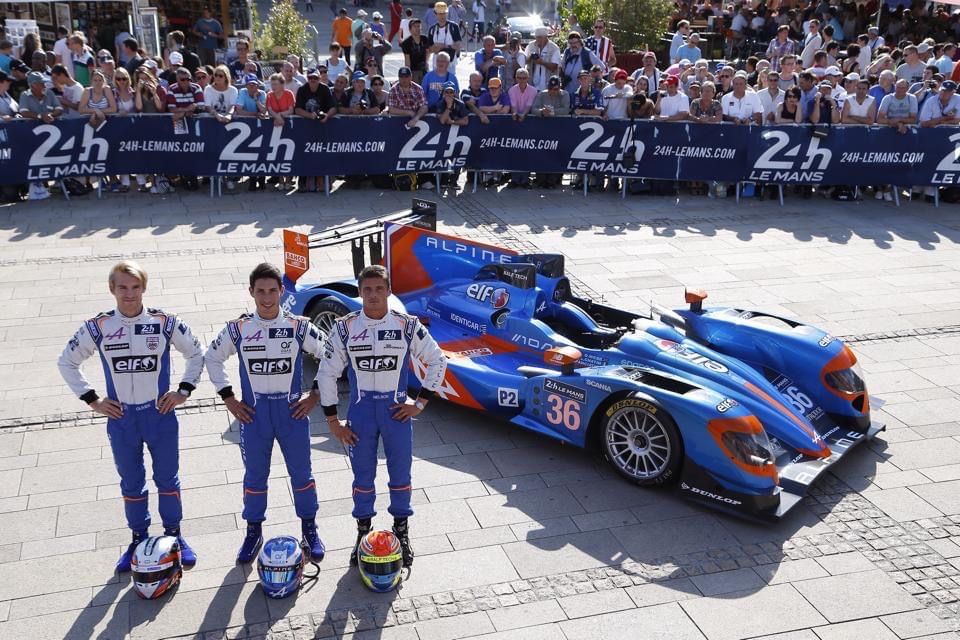 I suppose on the physicality point, is it a harder circuit to drive, because part of it is on the road as well, does that make any difference?
No actually as a physical track to drive, if you were to drive Le Mans for half an hour versus drive Suzuka or somewhere else for half an hour, it's probably one of the least physical tracks. It's the one that has the most straights, other than the Porsche curves, most of the corners are braking, stop, turn, go, and there is not a lot physically to it, but the fact that you do so much running over the week, it tends to be super hot in summer, and they are now closed cockpits, and for the eight of the years that I raced at Le Mans, they were all no AC, no aircon cars or whatever in there, so it was extremely hot. It is more the mental challenge Le Mans than anything else. Yes you are physically tired because you have been in the car most of the week and these night qualifyings go on until midnight and you are up late every single day, pretty much up until the day before the race, but it's the mental side of it, it's keeping that mental energy for those eight or nine days, with everything that's going on and trying to distract you outside of the race as well.
And then moving towards the historic racing that you have been quite heavily involved in, it looked like you were having a lot of fun at Revival a few months back in that 2.0 l Porsche Cup Car sliding it around the circuit, as a driver, are you able to enjoy driving those cars a bit more than some of the more modern cars because of their rudimentary setup?
Yes, totally, it is exactly that, and I have to say, I have just fallen in love with the classic racing in the last two years. I literally came into it two years ago, through meeting, well I did one Cortina race a while ago through a contact, it was just a total one-off, and then properly got into it through meeting a now friend called Guy during a supercar trip and we were in Barcelona and we were just sat next to each other at a Black Tie event, and we ended up doing a coaching session and racing session together, and ever since then have been driving a few different classics, from the 2.0 litre Cup to the E-Type to Endurance Racing Legends and even classic F1 cars, but the time you have got, I think the baseline of knowledge of driving all these different cars over the last 20 years or so, means they are not easier to drive, you just have more time to think. In a little 2.0 litre Cup car you are not quite going the same speed as a F1 car, so you have got more time to think and play, and I just love the lack of grip that they have got compared to slicks, it is just so enjoyable.
The POV that you put on your Instagram looks fantastic, turning left to go right and everything, it was brilliant.
They are not the quickest laps normally! We picked the quickest lap which looked the best.
You touched on it there, racing the historic F1 cars as well, and you actually won the Gulf Historic Grand Prix in Dubai, driving James Hunt's race-winning Hesketh, could you tell us a little bit about that experience and overall race weekend?
That is an incredible event. It has only been going two years that one, and again, a chance meet turned into a drive opportunity for the owner who runs that event, Fred, and has that original car, his first ever race-winning Formula 1 car, so it was very cool to see my name put as a sticker under his name, with the British Flag, and having the same middle name, and maybe that's why I ended up in it, he just thought it would fit, but it was an amazing car to drive, an amazing event, which is run so well. I think it is one of my favourite historic, if not my favourite historic event to go to, equal to if not more than the Revival, just because of the relaxed atmosphere of it and the high quality nature of the cars that are there, the way that it is run, the events that go on in the evening and the people that come. It is so fun, so warm, so welcoming, that Gulf Historic, but yes, purely driving that car, it's just a go kart with a load of power. The aero does some effect, but for the amount of wing that you see visually, it doesn't do too much, so you can really slide that thing around, which is quite crazy to think, but anything I get into, I will try and drive it as quick as I can, and as safely, looking after it for the customer as I can, but I tend not to think of the history too much, once I am in the car, I just want to drive it as quick as possible.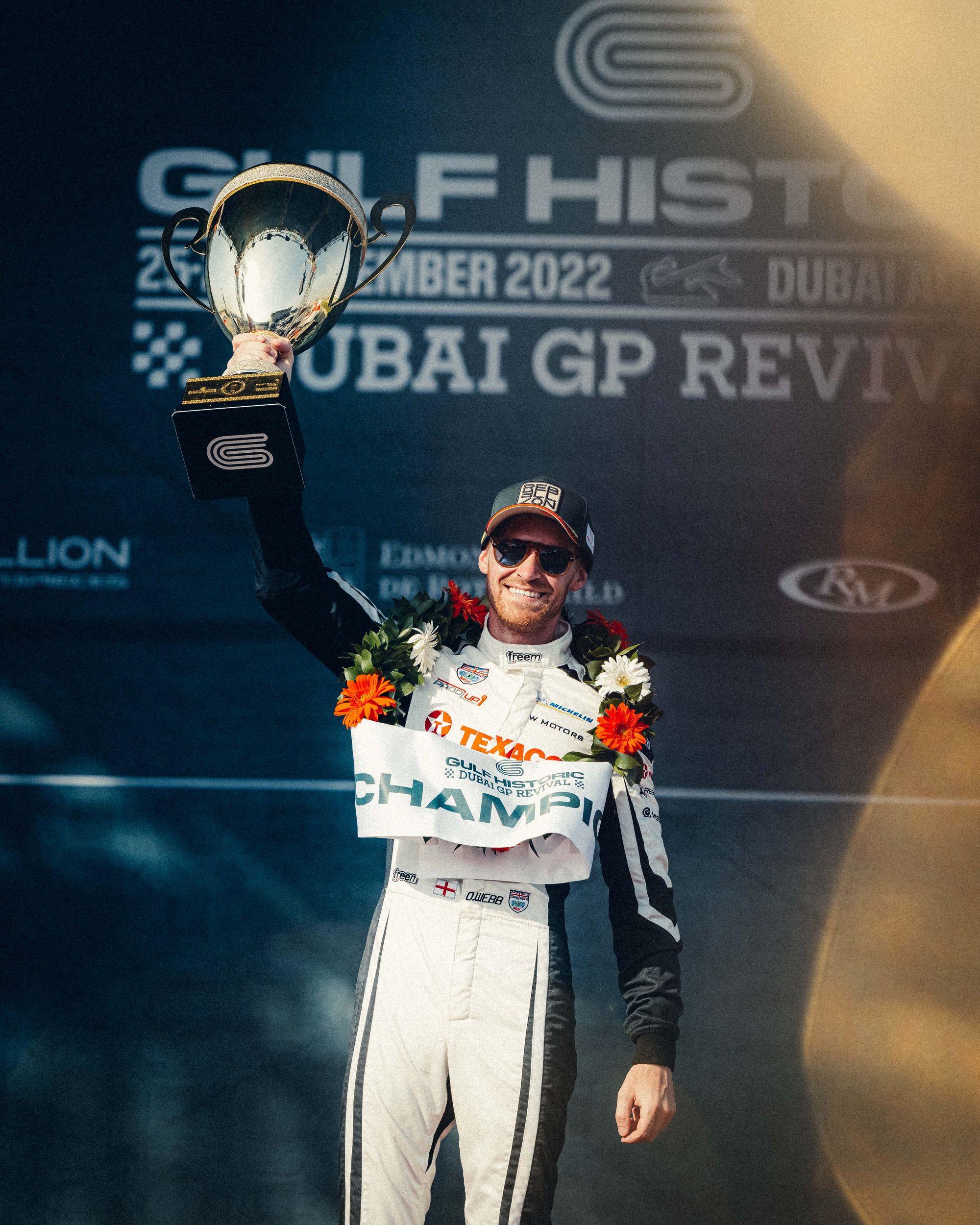 Yes I can imagine that can cloud things a little bit when you are so worried about the significance of the car you are driving and your ability to then push it to the limit.
Yes it does, you see that a lot in the Revival with these 250 GTOs and these $60 million cars there, you wonder oh my God, how can he be going side by side with him driving that car, but to a point, you have to drive it a little bit subconsciously and rely on your talent. If you start driving it at 80%, that's normally when mistakes come in, so I think that's why you see at the Revival, such crazy racing, because generally the drivers that are in them are incredibly talented, and on top of that, generally the owners are quite encouraging, they want to see their car at the front, so they tell us to go hell for leather.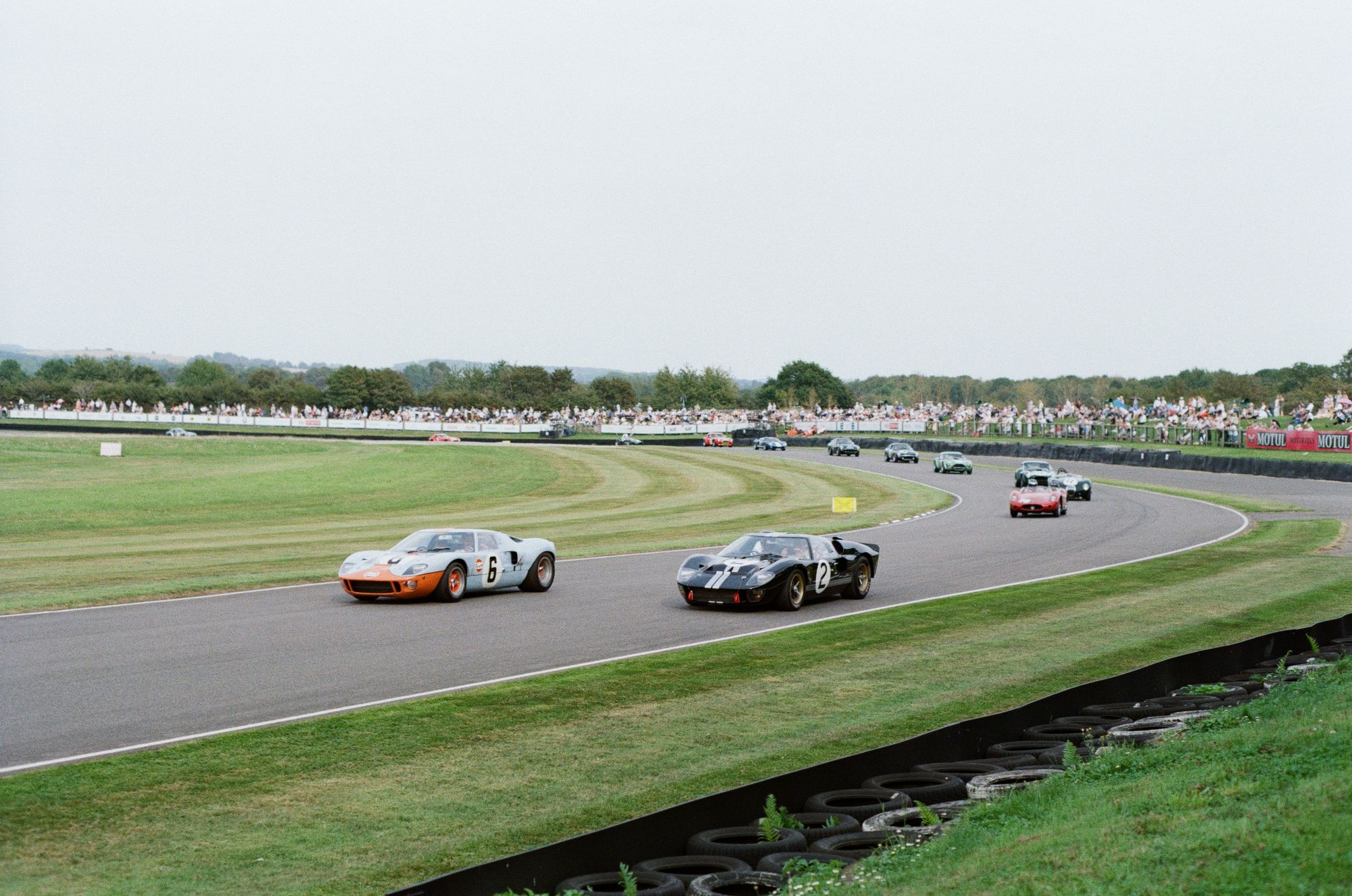 Absolutely, I think that's the magic of those events as well, is the fact that they are not being driven at 80%, they are being pushed so hard. As a spectator that's exactly what you want to see. Going back to more modern motorsport, obviously technology and innovation play such a huge role, what are some of the latest advancements that have had the biggest impact on your racing?
In terms of the actual cars themselves, they are always evolving, it's regulation dependent on what we can and can't use. There are a lot of things that are out there, electronic system wise and hybrid deployment wise, that totally depend on the Series that you are racing in. Certainly Formula E is quite a good place for testing those new innovations, with the amount of power they get from such a small energy block on the front of the car, powering the front wheels, and then using that also for the breaking and recovery systems, the last three or four years I would say of Formula E, the technology there is incredibly advanced, in how quickly their lap times have grown. It wasn't that long ago that they were having to use two cars for one race, and now they can use one and make the race three times as long as it used to be.
I would say the development also on the side of things such as, I know it sounds silly, but it's maybe not performance enhancing, well it is, it is the quality of the cameras and data and speed of which that transmits around the world. For instance the simulators, the F1 guys will have someone live on the sim in the UK while the drivers in the actual F1 cars are the other side of the planet going out for qualifying, and they will live trace the simulator data over the actual live trace of the car video, and cam data coming through at the same time. One of those guys on the pit wall's job is to see if it is worth doing a gearbox change on the sim to make sure it is worthwhile changing it in real life if they have got time between qualifying or practices at the track. From a coaching side as well, things such as VBOX have come on incredibly well, so the data and video you can get as an "amateur racing driver" is unbelievable. The old school days of coaching standing on a grass bank with a stopwatch and watching one corner at a time, now you can see absolutely everything for minimal investment, which is incredible. The VBOX software that Julian and the guys at VBOX have created are so helpful for these guys finding the time and accelerating your progress of learning.
Then you have also done quite a lot of testing and development work for manufacturers as well, such as Koenigsegg, BAC, how involved were you in those projects and what kind of work does that entail?
Not so much Koenigsegg but definitely with BAC and some speed runs with SSC Tuatara in the past. I have done a lot with, and continue to now, with a brand called W Motors in the UAE, who make police vehicles and their not so exciting road car electric vehicles that you see, all the way up to their HyperCars. With BAC I was with them for I think six or seven years and continue to every now and then when they have a speed run or record they need to do, do some driving for them. At one point, I am not sure how many cars they have got now, but the first six or seven years I was with them, I had driven all 130 cars that had been produced world wide at that point.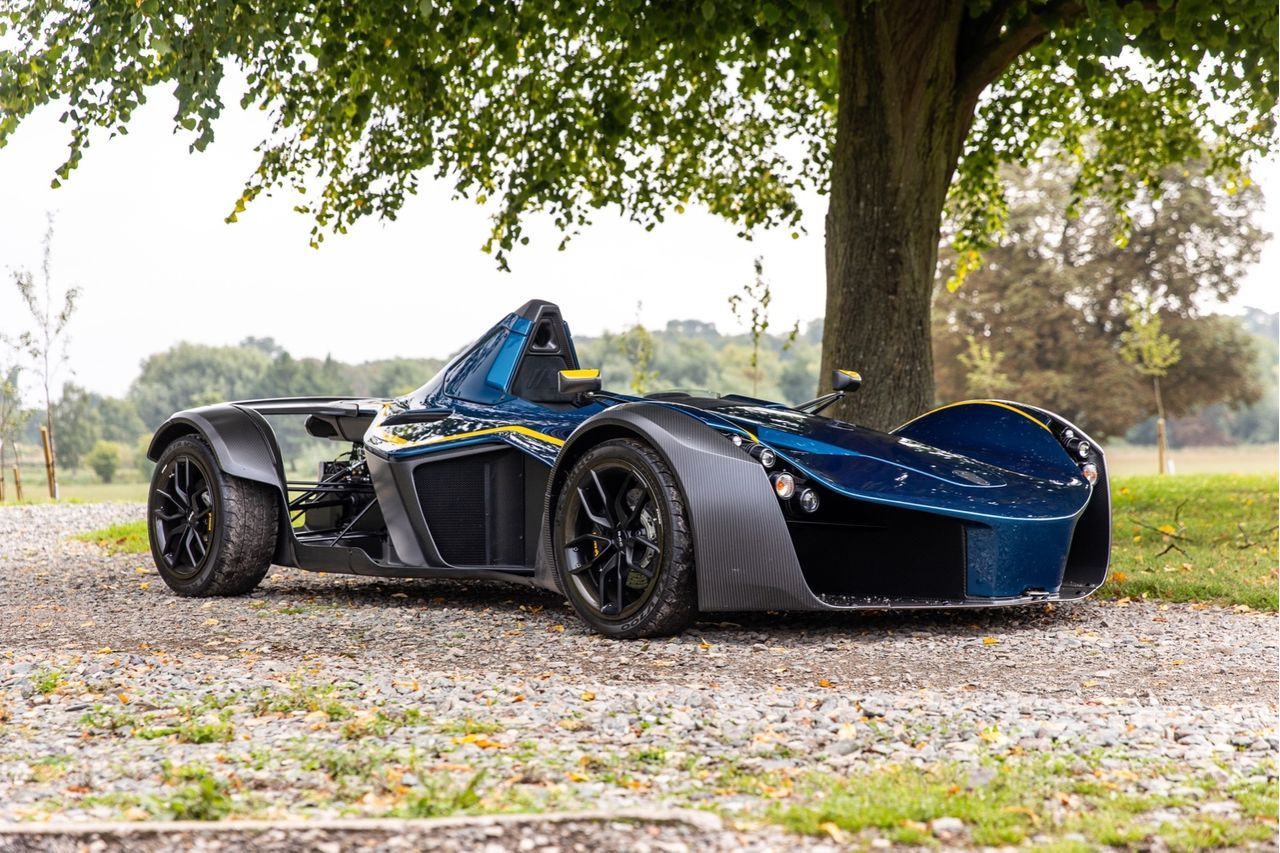 Every single one that came off the line, we would do a shake down on. We would take it to Liverpool Airport, we would get to drive up and down the runway on there to bed in the brakes and the electronic systems and check everything was working, then do their road test drive, before they then get shipped around the world, so very heavily involved on that side, which was great fun, and BAC are a great company making great cars. Now with W Motors brand in the UAE, whose famous car in the Fast and the Furious, jumped out of the side of a building, is what they are most well-known for.
I know the one, is it a Lykan?
That was the Lykan, yes, and now they have the Fenyrs which get shipped around Asia, and now something called the Ghiath which are their big SWAT, VIP and Police Cars. I find it quite interesting getting involved on the non-supercar side of test driving as well, because it's not something normally you dabble into, and you always learn something new.
Absolutely, and then you also did some stunt driving as well, for the Mission Impossible movies, could you talk us through some of the most memorable moments from being on set?
It always sounds more glamorous than it is. There are some funny stories. I have done stunt driving for a couple Mission Impossible films, Men in Black, The Mummy and a couple of other of these films. Sometimes you wouldn't even think you need stunt drivers for, you think why does The Mummy with Tom Cruise need a stunt driver, but a lot of these vehicles or alien style vehicles, beneath the seat is an actual car or stunt driver doing stunts. One minute we can be drifting through the streets of London in a car, and the next minute we are in a London Taxi Cab going 5 mph up and down a road for a week straight, so it's not always the exciting, driving backwards down a set of stairs and flipping and exploding.
Ignorantly when I first came into that world of stunt driving, it was right, okay, where is the ramp, what jump are we going to do first, and of course in a film set or a scene that has let's say for instance in The Mummy, you are driving over London Bridge, and every single human vehicle, everything in the water in the air, has to be a stunt vehicle, which when I watch a film, or watched in the past before being involved in that side of the world, you just think oh that's the chase car and that's the stunt film, and you don't even think about everything else and all the cyclists and people around, but of course there are hundreds of stunt drivers and stunt people involved in these films.
Sometimes you end up in a cool car doing the cool jobs. Sometimes you end up as one of the background people making sure that you don't hit a London bus in your London taxi cab, wearing a funny wig. I remember one of the Mission Impossible scenes was six figures a take, and it was Central London and we only had three takes to do it, because we were using London Bridge at the time. We did all three takes, amazing, we all went to go and watch the film, and it wasn't even in the film, and we just thought wow, the investment that goes into making, there was three helicopters in the air, two boats in the water, taxis and buses and stunt cars all over the bridge, but yes, unless it's perfect, they don't put it in.
What is it like taking direction as well? You go in being the racing driver and then all of a sudden you are being told how to drive?
I am all for taking direction, especially in a new world like that. It is so different in the accuracy that you have got to have, especially for the guys doing the main stunts in the hero cars, for instance chasing, let's say Tom Cruise is on a bike and you are chasing in a hero vehicle, the main vehicle, you are sometimes in, let's say for example London again, you are in a main city and you are driving and sliding around a street that literally in four or five hours, because they tend to be in the middle of the night when they are closed down, will be a Pret a Manger which will be open at 7AM and needs to not have its window smashed in by a Lexus. It is a lot of pressure there, so you definitely take direction from the guys that have been doing it over the years, and there are some incredible people that are involved in that. So although a lot of racing drivers now do it, we definitely take direction from these professional stunt drivers and stunt directors that have been doing it for years. Because yes, we have got the reactions and the skills to be quick, and normally very good car control, but it's applying all of that in these specific situations that normally you only get one or two chances at.
Especially if it is at hundreds of thousands per take, you want to make sure you get it right.
Yes.
I think I am right in saying that your dream car was a 1967 Shelby Mustang Eleanor, why do you love that car so much, and was it everything that you hoped it would be…and does it have anything to do with Gone in 60 Seconds?
It has everything to do with Gone in 60 Seconds. It was on my list of favourite films, along with a load of other incredibly corny films such as Driven, I don't know if you have ever seen that, with Sylvester Stallone, which is renowned for being hilariously inaccurate, and crashes that last 30 seconds, flipping into rivers 10 miles away from the track and all sorts, but yes, back to the car, it became an absolute dream car of mine, just from seeing, a little bit from Bullet, but it was before my time, but more Gone in 60 Seconds. It visually absolutely lives up to it, to drive it is absolutely diabolical, but just what you would expect from drum brakes, leaf spring suspension and sitting in the garage for 90% of the year. But it is just a gorgeous looking thing.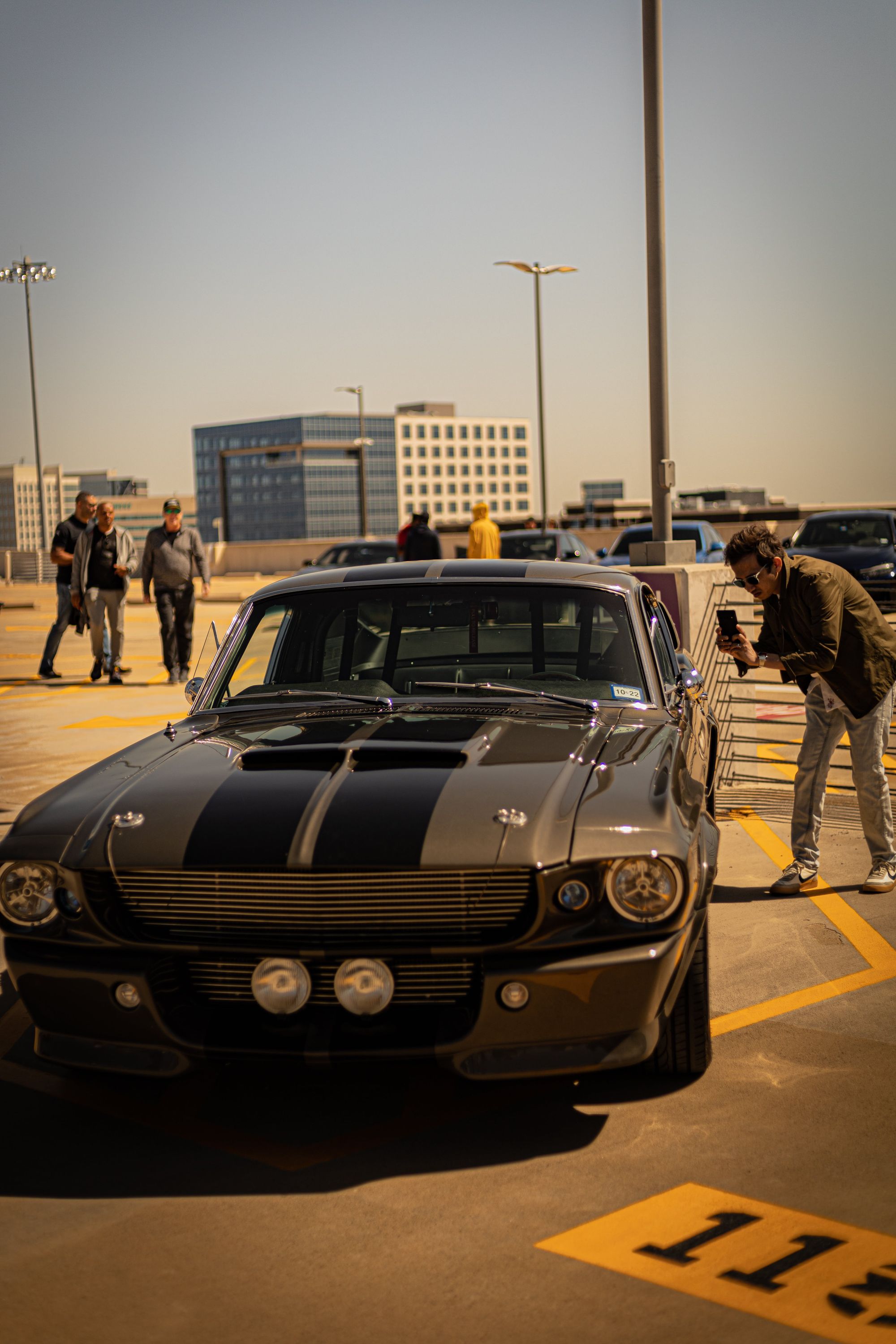 Is that a lifer car, you are not going to get rid of that one any time soon?
No, not any time soon, I think it is going to be a lifer car really. It's funny because it's not like any other cars that I particularly like, and I am not a massive American Muscle fan towards any other cars, but that one just has its own unique spot.
It does look fantastic, I have seen the pictures on your Instagram, there is definitely something about American Muscle cars that does appeal for sure, it's a cool car. Looking back on your racing career, what do you consider to be some of your highlights and why?
It has been an incredible journey and continues to be. Highlights wise, Formula 3 was one of my favourite years racing, that particular car, and you always think at the time when you are in it, that you are in the best year with the best car, but actually reflecting 10, 15 years on, and speaking to other people who did F3 before, during and after that time, it is actually an honour to know that actually in that year, in that era of F3, everyone still recognises those 2010 Dallaras as being the best F3 cars that were just the last year of open engines with Mercedes and VW fighting. Open aero, people developing their own aero parts on F3 cars, and the year where British started going to tracks such as Hockenheim and Spa and Nurburgring and having grids of 30, just incredible people on the grids as well, from Jean-Eric Vergne to James Calado, Felipe Nasr, Eriksson, full of amazing names, Alexander Sims, the whole depth of the field was unbelievable.
That was probably one of my favourite cars to drive, and also favourite years in terms of success and enjoyment, and it was right on that cusp before it became a living, so it was still enjoyable and had a little bit less pressure and there wasn't any factory contract, although Mercedes supported with engines, there was no factory direct link, and it had that relaxed, you are still a kid, racing type feel. The first time racing at Monaco in a World Series, that was incredible, definitely a pinch myself moment. Indy Lights at the Indy 500 weekend, getting to drive that track as well. Doing ovals, which I don't think I would do again, but then again if someone called tomorrow and said you've got an Indy 500 seat, I would be there.
What's wrong with the ovals, why not?
Look, if it was in a top team with a top car with a chance of winning, then yes. There is a little bit of a sense of helplessness with the ovals when you have not got the right car underneath you. There is no other time where I have been in a race car, other than top speed runs, in a race car where I think about the risk benefit. Cars are safe, tracks are safe now, I am happy with the amount of risks there are, I just do not think about it, I just race as quick as I can, but I found when I was doing the ovals, I was thinking about the risks, therefore all of a sudden I am driving slightly more consciously, and if you leave a hundredth on the table, then that's going to be two rows at the Indy 500 for instance. So the risk became more of a factor for me. So if you are in a car that can't do it, or you are a driver that isn't that good on ovals for instance, then the risk versus reward scale completely changes, and for me, my first ever oval was at Vegas when Dan Wheldon passed away, and he was an English guy trying to do, already doing what I wanted to achieve, when I moved to America and went into Indy Lights.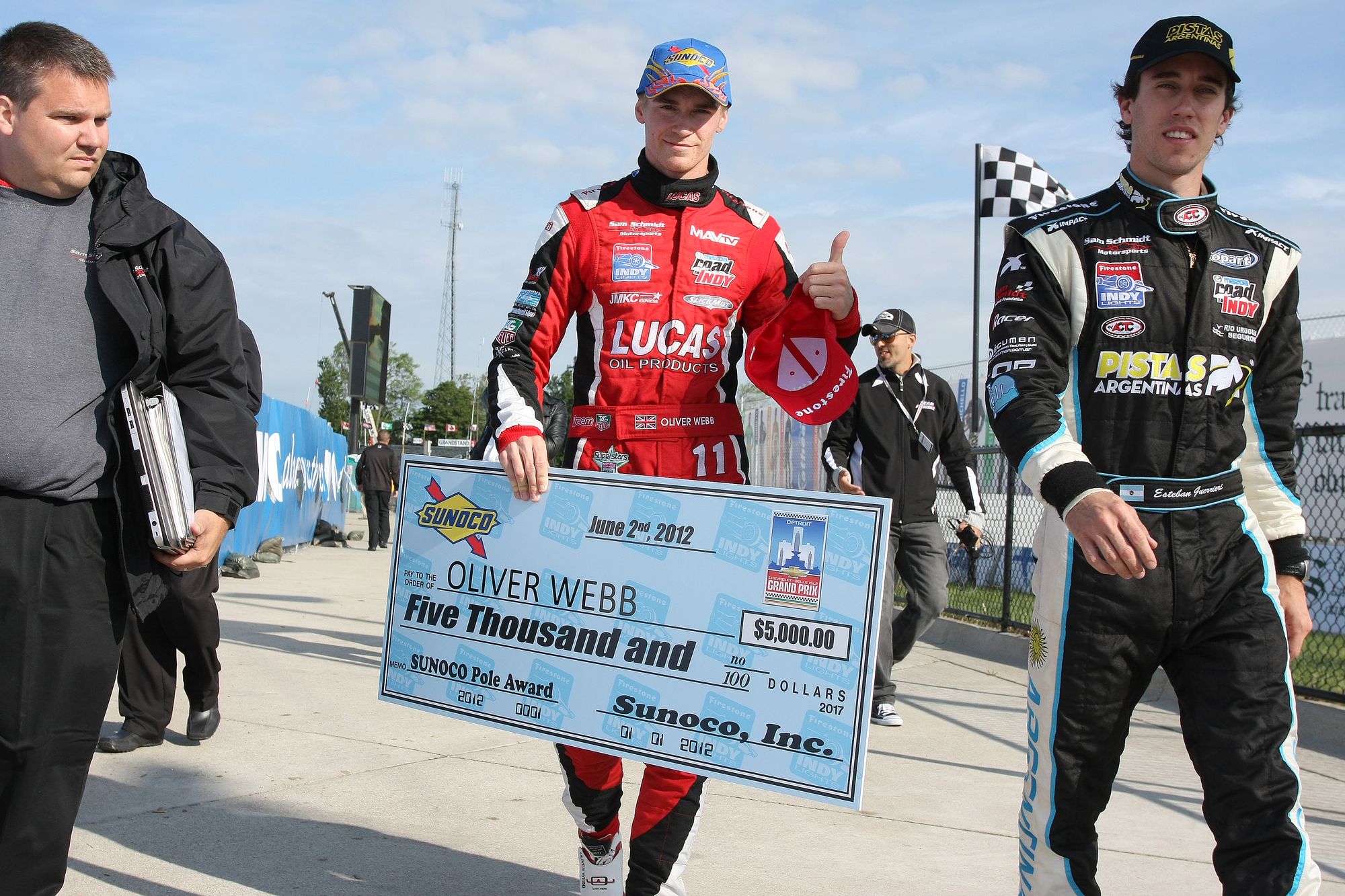 I then had a couple of bad crashes on ovals as well, didn't break anything crazy, but enough to smash the car up and set it on fire and have a few wake up calls to think, do I enjoy the oval reward versus the risk, and the answer ended up being no. The great thing about Indy Car is people still do road course packages, where you share with, for instance Ed Carpenter sometimes share with a Connor Daly, and he will do the ovals and one will do the street courses, so that part is really cool, so that I would still do I think.
Looking ahead, what are your goals and aspirations for your racing career in the coming years, are there any specific races or achievements you have got your sights set on?
I think Le Mans is still the main goal to try and win. I have been lucky enough to get a podium there and we won the European Le Mans Championship like you said, but we ideally need to be winning the actual races, a little bit like the IndyCar Series. People remember the Indy 500 winner sometimes more than the actual Series winner, and you ask a lot of people what would you rather win, Indy 500 or the Championship or Le Mans or the Championship, the answer tends to be the stand-alone race. Interestingly enough it doesn't happen with Formula 1, whether you ask them about Monaco or Formula 1, it is definitely always the World Championship in Formula 1. The aspiration is to stay in the top level of motor sport, being Le Mans and Endurance racing for as long as possible. I get to do all these amazing classic races and GT races on the side, because of being at that top level and doing well, but we have got to make sure that we have got a team to do it with. So I have taken a year out of the World Endurance Championship and trying to make sure that when I do get back into it, I am in a team that is capable of winning.
We are coming up on time so I am just going to ask a few quick fire questions if I may. Do you have an ultimate driving road/car combo?
Driving road, if it was one of two, Ras al Khaima Jebel Jais in the UAE is an amazing road. We have had that closed down a few times and it's like you can see all the way through the corners. It's got hairpins, it's got fast turns, it's like 20 kilometres long, so it lasts a long time all the way to the top, and it's three or four lanes wide, brand new tarmac that's amazing. Also Red Rock Road which is a beautiful road which we sometimes take on the supercar tour towards Monaco is stunning. In what car, maybe a 458 Speciale because it sounds amazing, it can drift really nicely, it's modern enough to still have quick gear changes and be comfortable to drive, but also delivers when you need it to.
Do you have a favourite circuit?
My favourite circuit is probably always going to be Spa. In terms of unique circuits, the Macau Street Circuit we did in F3 is my favourite street circuit and probably the most unique side answer, but as obvious as it sounds, I think I must have driven almost 200 tracks now, and Spa is still number one, so we are incredibly lucky in Europe and in England that we are this close to that track.
We have had that question asked to a few of the guests and pretty much everyone who is a driver has said Spa.
Right, interesting!
Then as a driver coach, is there one stand out technique for alteration of driving style that is most effective at making someone a better driver?
Yes, braking later. It's the hardest thing to do and the thing that most people don't tend to want to do, because it's easy on a simulator to brake nice and late, but tends to be when you actually get on the real track, you brake a bit early, you see where the car stops, you safely get on the throttle, you then induce a load of pitch into the car, you create this consistent 20% throttle through the corner which gives a balance which actually isn't inherently in the car, but you are inducing it, and then you feel like you can't make it through the corner because have driven through it too quick, so then you brake even earlier the next lap. Unfortunately the hardest part to fix is also the most dangerous part. Everything is solved when you get the braking right, the rest of the corner becomes a bit easier.
Is it a case of every lap, just braking a little bit later, if you have made it the lap before?
A lot of it is self teaching, so that you don't spend the whole session doing the same thing. Motor sport is expensive so you have to make use of every lap. Obviously enjoying it is a big factor, but if you want to learn, you have to push yourself every lap, and picking tracks that are nice and safe like a Silverstone where you have got a lot of run off, and picking a corner, let's stay Stowe at the end of a big straight with a big braking zone, but you have a load of tarmac and gravel after it, that's probably one of the best places to try really heavy braking, as long as you are in a safe environment and car to do it in, because then if you get it wrong by 50 meters, you are still not going to end up in a wall, so you just can't get too stuck in the same place, otherwise you will waste the whole day braking in the same point.
Finally, if you could pick any two drivers to race Le Mans with, who would you pick and why?
Tom Kristensen. The rest are all as qualified and good as each other. I have a Tom Kristensen who has got history and we have ticked a famous box now, if I am now picking someone that I have raced with, I would probably pick my team mate from Alpine LMP2, which was Paul-Loup Chatin, who at the time was a silver driver, but ever since then has done incredible things in prototypes. He is also a friend and really good with data and learning, and someone that you would enjoy driving with, and would be very reliable and fast, so probably those two. You have an old statesman who knows his tricks and an up and coming or already there driver.
To put a bit of a spin on that, is there an era as well that you would have liked to have raced in, if you could pick any era to compete at Le Mans in?
For Le Mans if I was in the GT category, then probably the 2000s. For the LMP category, I would probably say that I have been incredibly lucky that I have probably already been in the era that I would want to race in, looking back on all of them, in terms of safety versus speed, just on the cusp, around and before and just after the hybrid era of these LMP1 cars, before it became HyperCar, I think was the best era, coolest looking, most rocket space ship poster wall looking cars you can drive. If it is GTs, then probably more 2000s, but yes, I think modern current LMP1 cars and 2000s GTs.
Fantastic. Thanks so much for coming on Oli, it's been great to chat, thank you very much.
No problem, thank you so much for having me, it was great fun.
---
---