Sand Racers: Dakar Rally Stories
Lost and alone in the dreamlike surroundings of the Ténéré desert while competing in the 1975 Abidjan-Nice Rally, Thierry Sabine decided he had to share the enchanting, endless landscape with the world of motorsport. He imagined an event which would put competitors and their machines - cars, trucks, motorcycles - through the extreme challenges of a wild, unforgiving environment. A challenge for those who go, and a dream for those who stay behind: that is the spirit of Paris-Dakar.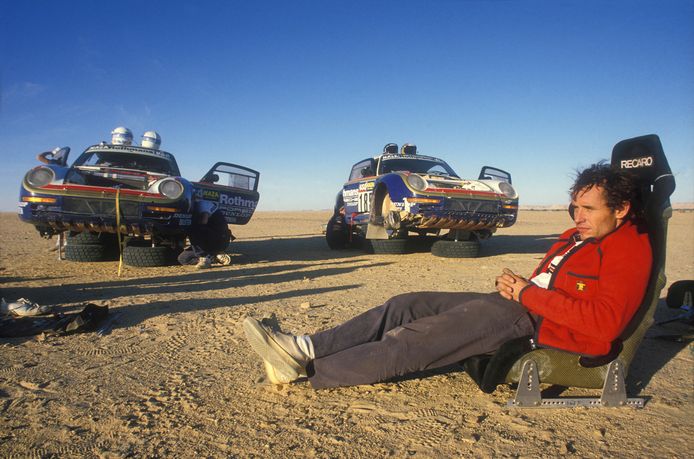 Held almost every January since the inaugural race in 1979, and having moved away from a strictly African focus to include editions in South America and the Middle East, the Dakar Rally (as it is now known) attracts everyone from professional drivers to headstrong amateurs, competing in an array of advanced machinery across thousands of kilometres of desert, dunes, and rocky plains. To celebrate this event and the 2021 edition of the race from 3 - 15 January, we looked back through early Dakar rally history to bring you our favourite stories, vehicles and characters from a colourful period for the world's definitive endurance rally.
Written by Hector Kociak for The Apex by Custodian. Edited & produced by Charles Clegg.
Range Rover Leads The Way, 1979
If you tried to turn up to the Dakar Rally today in a wholly stock car, truck or motorcycle, you would probably be laughed out of the starting pen. As the years have gone by, the amount of specialised engineering and expensive componentry needed to remain even vaguely competitive has increased dramatically. Back in 1979 however a lightly modified factory car stood as much of a chance of winning as any other vehicle. And so the first winner of Paris-Dakar turned out to be a second hand 3.5l V8-powered Range Rover, driven by the French trio of Alain Génestier, Joseph Teribaut, and Jean Lemordant. Running on the standard Rostyle alloy wheels and simply modified with a steering damper, extra fuel tank  and matte black bonnet, car no.162 apparently only failed to beat faster motorcycles due to a delay while the crew purchased a shovel not far from Agadez in Niger.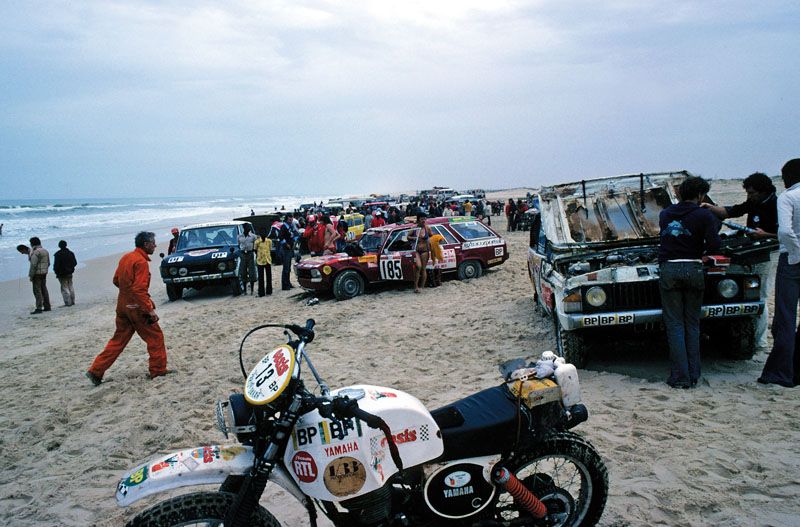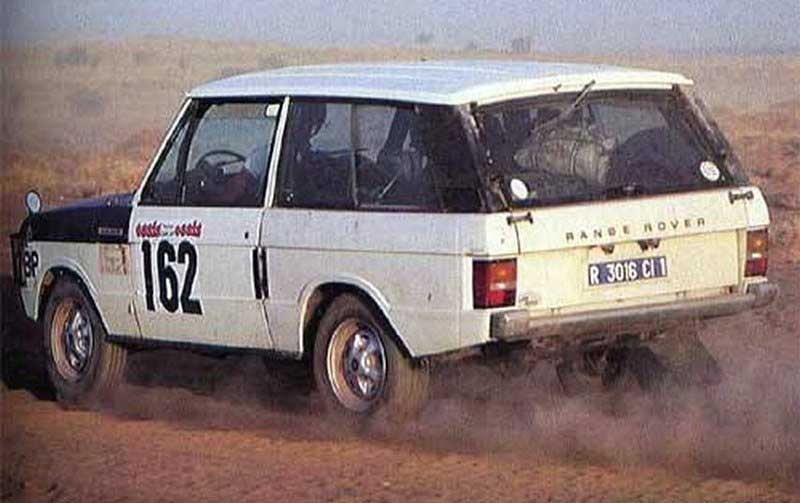 This pioneering car was the first of a large number of Range Rovers and Defenders entered into the Dakar Rally over the years - even René Metge found himself piloting one in 1981 before opting for the somewhat more capable Porsche 959 in later editions. While it's not much compared to the carbon fibre-clad feats of engineering raced in the modern Dakar, we consider surviving 1970s air conditioning in the desert worthy of a prize in of itself!
The Montcorgé Rolls-Royce Corniche, 1981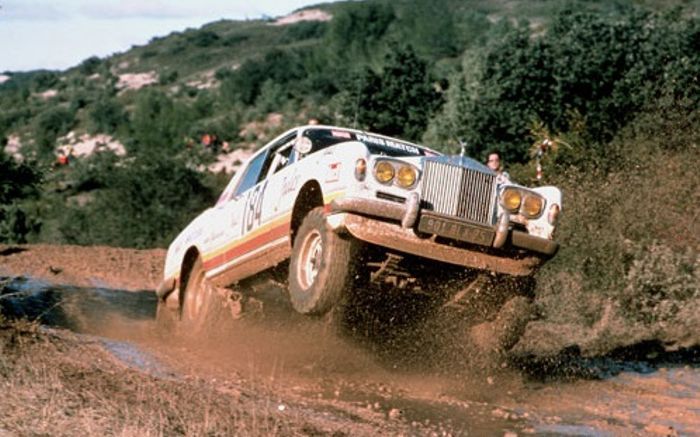 Gambler, playboy, buggy builder and dreamer Thierry de Montcorgé was never a man to refuse a preposterous bet. Consequently the entry list for the 1981 edition of the Dakar rally featured what looked like a Rolls-Royce Corniche Coupé, piloted by de Montcorgé and with Jean-Christophe Pelletier as navigator.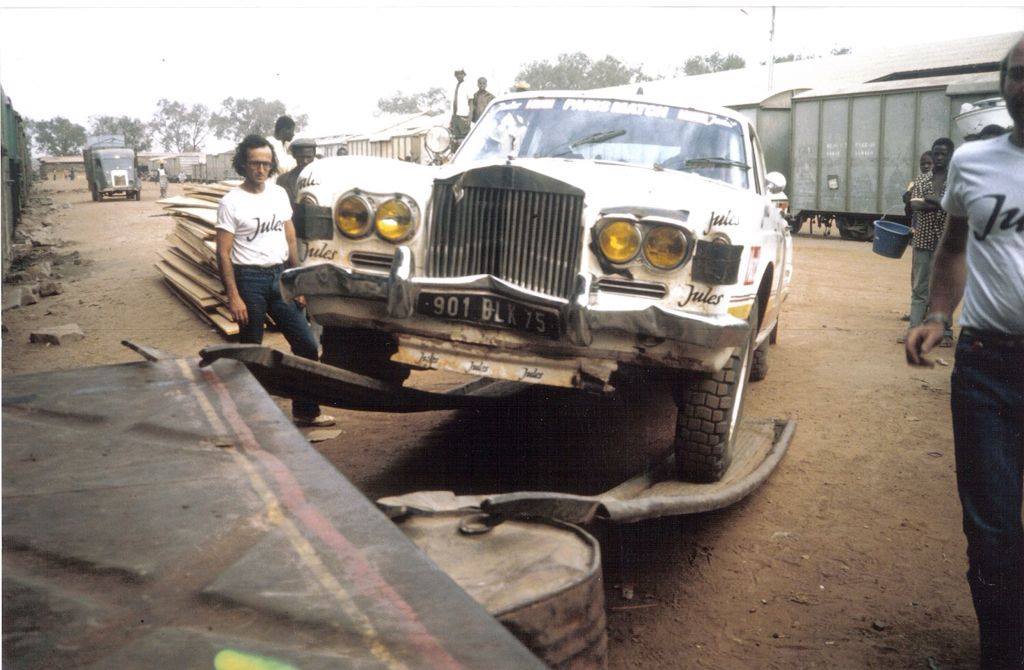 Of course, there was more going on under the fibreglass shell to ensure the bet paid out - namely, a 5.7l Chevy V8 connected to a Toyota gearbox, mounted in a specially designed tube frame chassis. To say that onlookers were surprised to see a Corniche rocketing up sand dunes and smashing through riverbeds would be an understatement, although none were happier than the executives from Christian Dior who had struck a deal with swashbuckling Thierry to promote their new fragrance 'Jules' on the car. A surprisingly competitive Rolls-Royce was therefore added to a promotional arsenal consisting largely of designer René Gruau's drawings of suave men in leather jackets, prompting generations of rally fans to continually ask '...who or what exactly is Jules?'.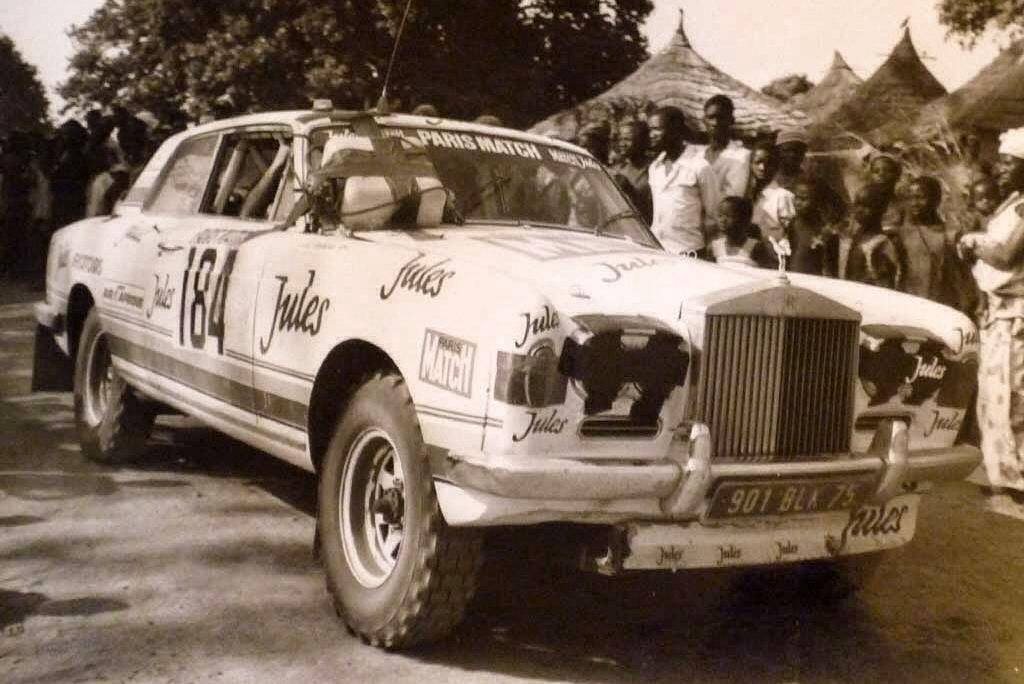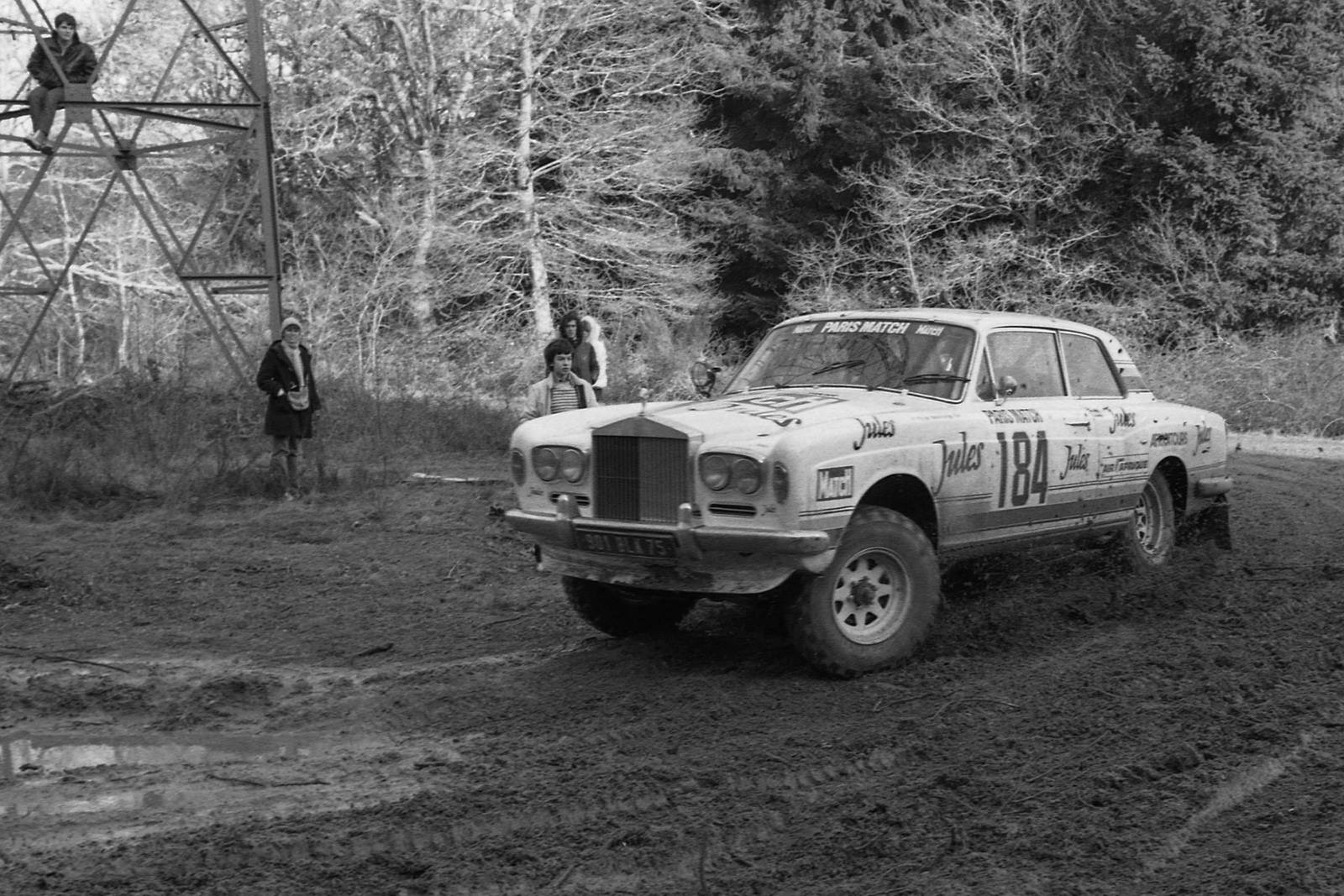 Despite finishing out of classification, the Jules Corniche remains an iconic symbol of the swashbuckling spirit of early Dakar pioneers. De Montcorgé would later turn up at the 1984 Dakar in an even more extreme six-wheeled vehicle (the Jules II Proto 6x4) powered by the same Chevy engine, originally designed for what turned out to be an unsuccessful re-run of the 1907 Peking to Paris rally. Unfortunately Jules II was to suffer a race-ending accident in Algeria, with a sheared rear section of the chassis clouding de Montcorgé's Dakar efforts in anything but the sweet smell of success.
Jan De Rooy's Monster Trucks, 1982-'88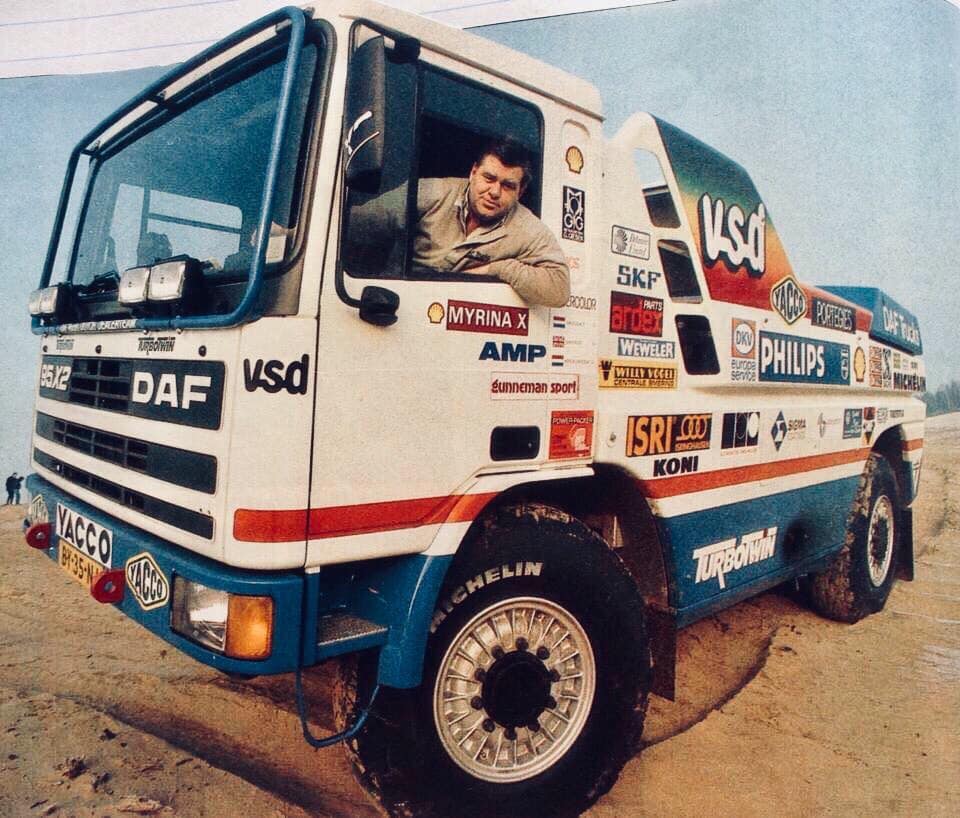 The early 1980s were a time of excess in motorsport, when Group B rally cars and Group C racing prototypes redefined what was possible both on trail and on track. Watching these developments was wealthy Dutch businessman Jan De Rooy, part of the De Rooy logistics dynasty. He dreamed of racing his trucks against these machines in the desert, although his entry in a regular 200hp truck in the 1982 edition of the Dakar ended with retirement. As Group B rallying came to an end in the mid 1980s, attention turned to the wild, as yet unrestricted endurance racing of Dakar. De Rooy was not done yet.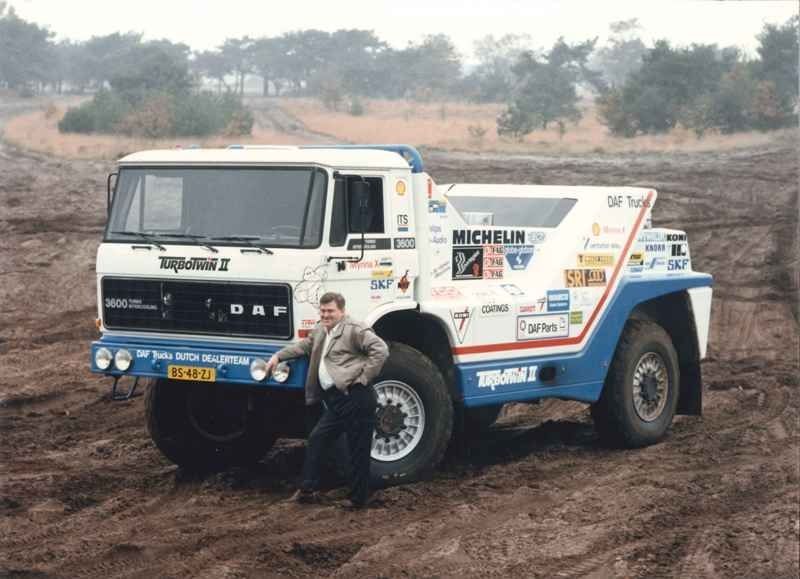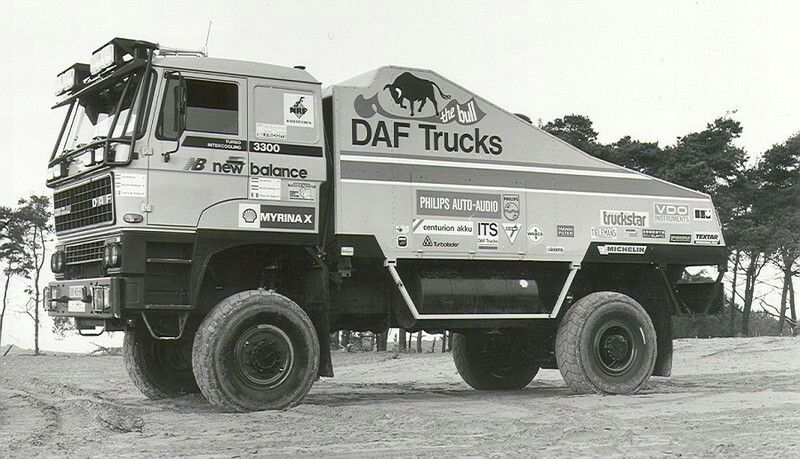 He entered increasingly powerful vehicles in successive years - the extravagant twin-engined two-cab DAF 'Tweekoppige Monster' came in 1985, and 1986 and '87 saw him enter a number of 'Turbo Twin' competition trucks. However the apogee of De Rooy's efforts came in the form of the monstrous 1200hp DAF Turbo Twin X1 of 1988. Two 11.6l diesel engines, six turbos (of which three had variable geometry), and 4700 Nm of torque meant that De Rooy's truck could exceed 125mph on flat sections, at one point famously passing Ari Vatanen's Peugeot 405 T16 to provide an iconic piece of Dakar footage.
Sadly De Rooy's plans for an overall win in 1988 were dashed soon afterwards by a tragic accident involving his team mate Theo Van de Rijt in the X2 sister machine, prompting the DAF team to withdraw from the competition and organisers to revise the truck regulations with an eye to safety in later years. Rally trucks soon returned to popularity on the Dakar Rally however, with the category dominated since the turn of this century by the Russian Kamaz marque and drivers like Vladimir Chagin, the 'Tsar of Dakar'.
The Porsche 959: Group B Comes To Dakar, 1984-'86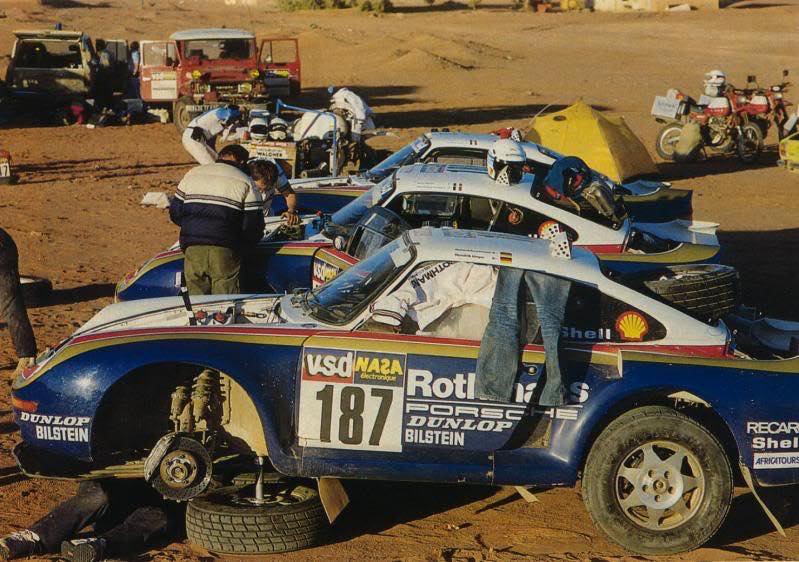 Arguably the most memorable outing for Group B technology in the Dakar Rally was the Porsche 959, which raced in the event between 1984 and 1986. Having unveiled the 959 concept car at the Frankfurt Motor Show in 1983 as a statement of intent to participate in Group B, Porsche actually constructed early examples of the rally model on a highly modified 911 SC chassis with a naturally aspirated 3.2l Carrera engine.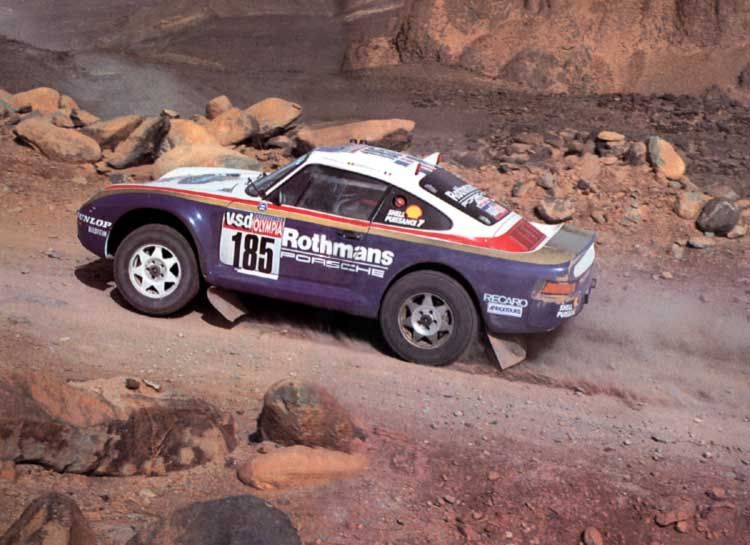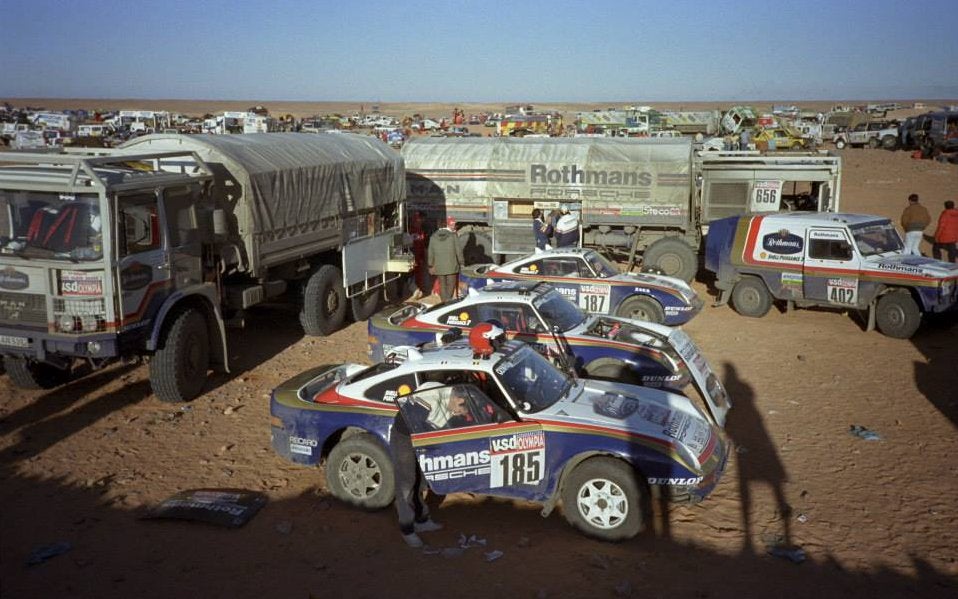 Three cars in this specification participated in the Dakar Rally with the Rothmans team in 1984, driven by no less than René Metge and Jacky Ickx, with Metge taking outright victory. After a rocky edition in 1985 in which all three Rothmans cars retired with mechanical issues, it was only in 1986 that the 959 platform competed as originally intended with a fully turbocharged engine unit. Despite engines downtuned to be able to run on the low-octane fuel available in the terrain from Algeria to Senegal, Metge and Ickx punched in a 1-2 victory for Porsche, cementing the reputation of the 959 as a competition-proven realisation of Helmuth Bott's all-wheel-drive, high performance Porsche concept.
The Strange Disappearance Of Mark Thatcher, 1982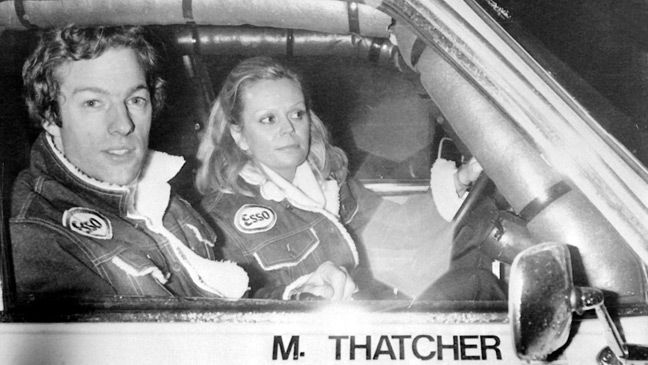 Having set up a short-lived racing team in 1977 and competing at Le Mans in the early '80s, in 1982 Mark Thatcher was invited by a business connection to drive a Peugeot 504 wagon in the Dakar Rally. Having undertaken no real preparation for the race, a short while later he found himself driving in a convoy near the Algeria-Mali border with his co-driver and mechanic, when the trailing arm links on the Peugeot broke.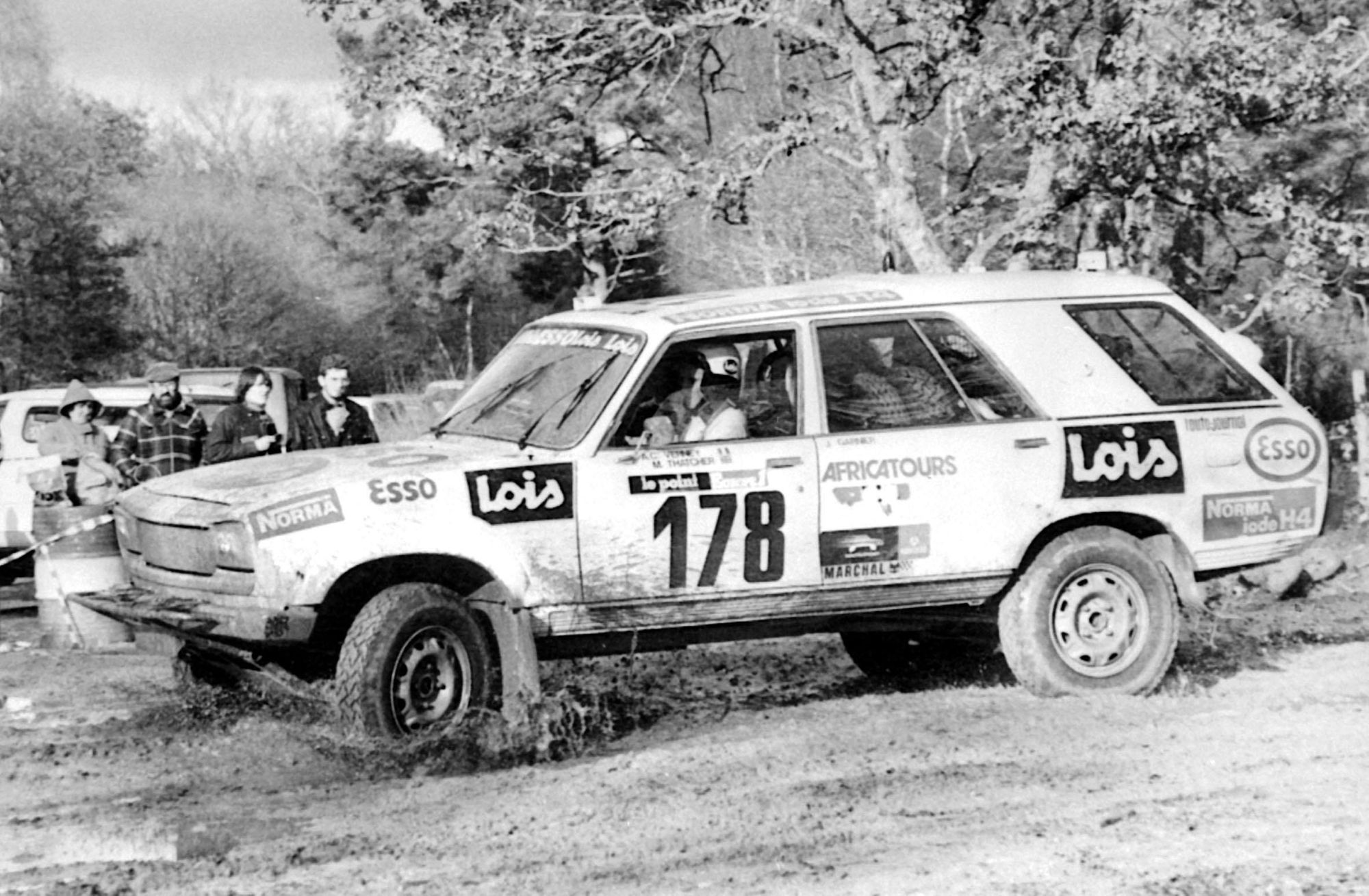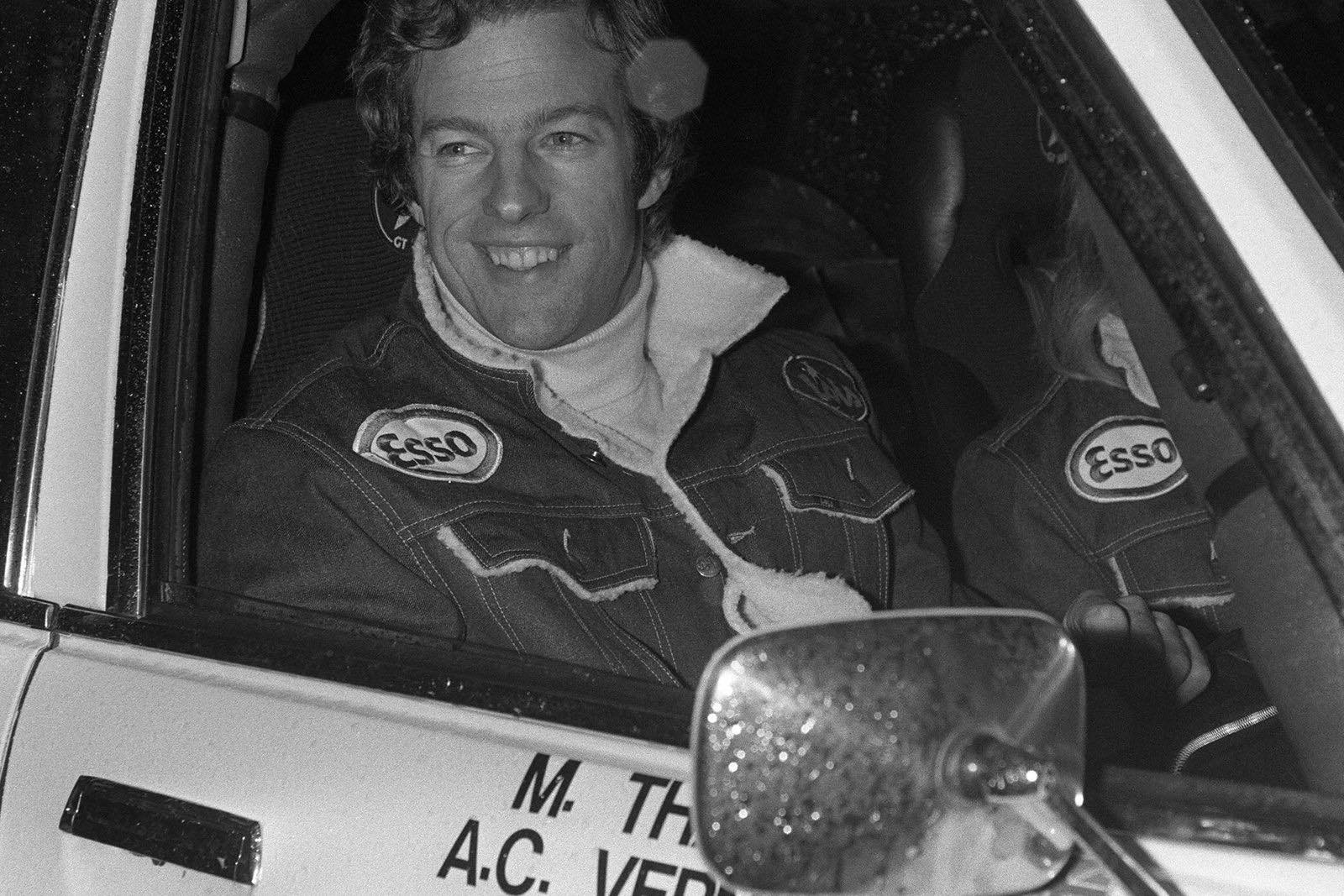 The other team cars carried on, unfortunately misinforming rally organisers as to the location of Mark's broken-down car. With searches proving fruitless, the Algerian ambassador soon received an irate phone call from mum - namely Margaret Thatcher, the British Prime Minister at the time! Four Algerian Air Force planes, a helicopter, three French aircraft, a diverted RAF Hercules, and Mark's father Denis were immediately sent to the area at vast expense to look for the wayward British adventurer. After six days of global press speculation, Mark and his crew were finally discovered by a passing aircraft and rescued. Rumour has it that the dinner celebrating his return was so extravagant that the Foreign Office billed it directly to the Prime Minister.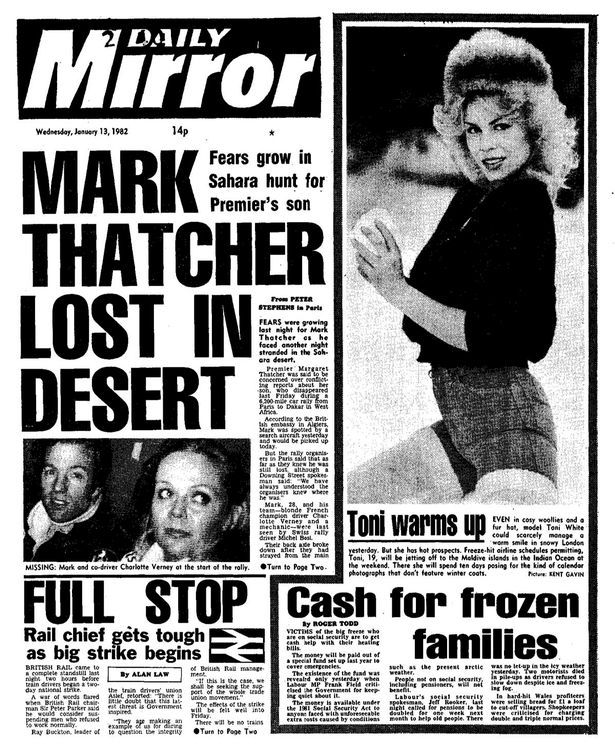 Mark Thatcher never did return to the Dakar Rally, although his taste for adventure clearly did not desert him. In 2005 he received a four year suspended sentence and a fine of over $500,000 in South Africa for helping finance the so-called Wonga Coup attempt in Equatorial Guinea - but that's a story for another time, and another publication!
To find out more about the current iteration of the Dakar Rally you can visit their website at https://www.dakar.com/.
---
---