In The Driver's Seat: The Apex Interviews Matt Prior
Most if not all of us got into cars and car culture through magazines, almanacs and car reviews written by talented writers. Fittingly, our guest this week is Matt Prior, who holds the enviable title of Editor-at-large at Autocar magazine. Autocar has been going since 1895 and is one of the world's oldest car magazines, with a rich history of publishing demanding car tests from the finest automotive journalists.
Having been in the industry for over 20 years, it's safe to say that Matt is one of the leading authorities on anything and everything to do with the consumer automobile in all of its guises. He's also a car guy through-and-through, and spoke to us about the automotive media scene, life at Autocar and some of the unlikely candidates for the best cars ever...
Hector Kociak interviews Matt Prior for The Apex by Custodian. Recorded and Produced by Jeremy Hindle and Guillaume Campos. Transcribed by David Marcus. Edited by Hector Kociak & Charles Clegg.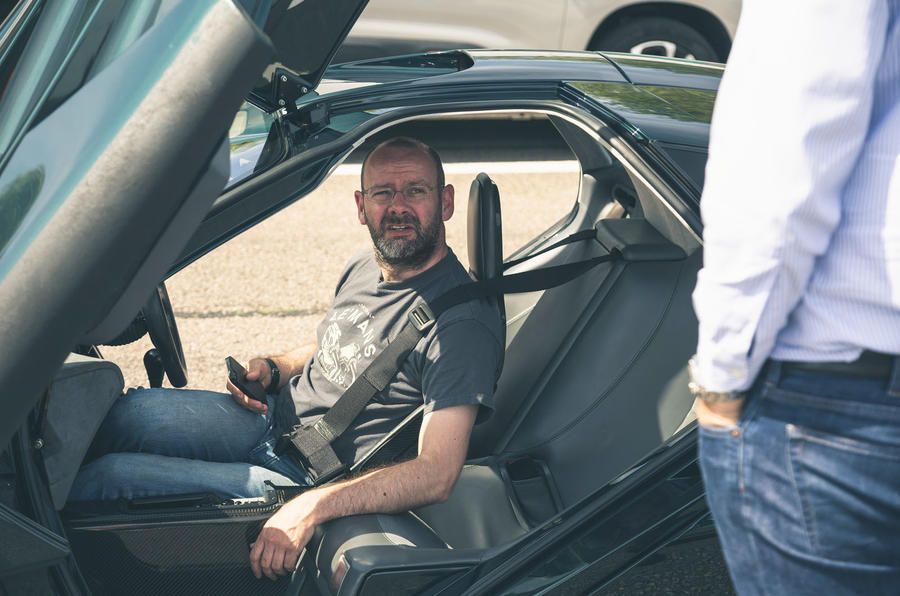 To begin, could you tell us a bit about your early life in cars and how you ended up at Autocar? What made you decide to climb all the way up to Editor-at-large?
Thanks - I was slightly alarmed when you said in the introduction that I've been in the business for more than 20 years! I still think I'm quite a young man, but clearly not...
Like a lot of people, it was family. My dad was a mechanic when he was younger, and he worked for the Ministry of Defence, running training courses for soldiers on how to fix Land Rovers, tanks, Alvis Stalwarts, armoured vehicles, and so on. They used to have a 'take your child to work day' during the summers, and I remember that one of the large oil companies used to run a 'build a car' competition for students too; I was fascinated by that sort of stuff. A bit later I started messing around with Tamiya radio controlled cars, and then reading performance car magazines. I used to read a lot of mags, and in the end decided I wanted to work in cars. I did an automotive engineering degree, which I thought was going to be rather more design based than it was - it was a lot of maths, and a lot of physics, and I realized at some point that I was better at writing!
I was going to go and work in a plastics company, but then saw an advert on the university notice board saying: 'I run a car magazine and I want a researcher for six weeks'. It was a local motoring journalist, and a couple of weeks in he asked whether I wanted a full time job - that was that, and I stayed with him for three years. It was a little company called Motoring Research, and then I met a guy called Richard Bremner, a very well-known journalist, on the Audi A2 launch in 2000. I ended up working with him on Channel 4's '4car' website; he then moved to Autocar in 2004 and I followed him about a year or so later.
How I became Editor-at-large is persistence, really. When I started, Autocar had a lot of retained freelancers and senior staffers. Its turnover on the road test desk, which is where I moved to, was pretty big. People would come in, do it for a couple of years and clear off. I thought, well, if I just stay here, eventually something would happen… and 16 years later I kind of do the same thing! They've given me different job titles over the years, but I still basically drive cars, write about them, and talk about them. There's more of the latter these days because we've moved into video too - and it's great, I love it. As you said, Autocar's been going since 1895, and if you care about cars and thrive on the deadlines and the writing side of it, I'm not sure there's a better staff job in the business.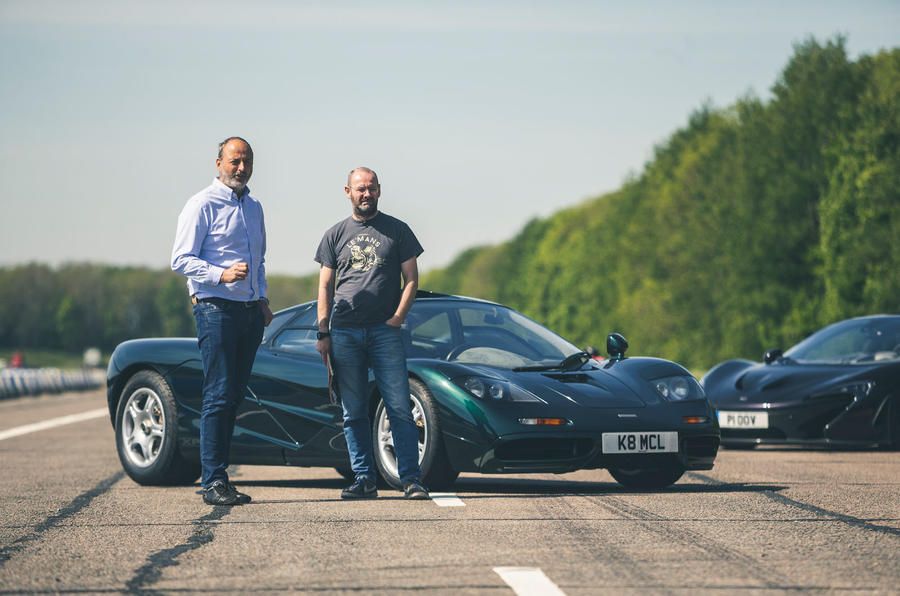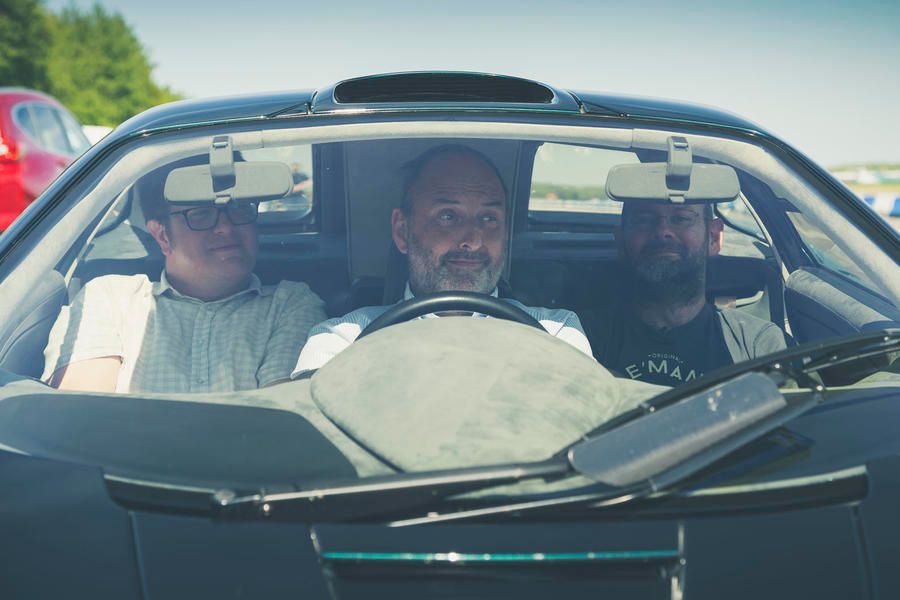 Talking about the car media space, as we all know, it's undergoing constant change - perhaps even entering a 'post-influencer' phase. What's your take on the state of it? Do you think there's still a role for the authoritative auto test, or as some would have it, is it now all about lifestyle content?
Really, the audience is so much bigger than it was before. 25 years ago, people had to go out and buy something in print, and that was the end of it. So the barrier to entry was high; you had to have the ability to produce a print magazine and get it distributed. Entering the space is much easier these days, so more people are publishers and have built an audience because they've got something worthwhile saying.
The nice thing is that it's easier to find automotive content than it was. You don't have to go to the news agency all the time. You just open your laptop and it's there, and whether you get it from a YouTube video or an established magazine, there's an audience for everybody. I would imagine more people are consuming Autocar's content than at any point in the past 126 years. The difference is that fewer are paying for it on the news stand, if you like. I think there's space for everyone, and we all do different things. There is still unequivocally a place for the independent, impartial, authoritative review, because we know people are prepared to pay for it and go out of their way to find it. Haymarket, which publishes Autocar, also publishes What Car?, which is kind of the UK's definitive 'buyer's guide'. It's more popular than ever.  
It definitely feels like it's a bit different to a few years ago when the emergence of influencers was seen as a bit more of a threat. As you say, if I'm looking for something I'll look at Autocar, look at a video, find some pictures online. I think people consume a variety of media now.
I certainly think you're right. When the new stuff first started appearing, traditional old school hacks like the ones on my side of the business would look around going, 'who are these people, what are they doing, what does this mean and how does that threaten us?'. It's a pretty natural thing. There's room for everyone, but I think if I did have a concern (and it's a justified one), it's that editorial independence and integrity of journalism is key, and sometimes you see content where the nature of the relationship is not necessarily straightforward, because there's money involved. Funnily enough a mate of mine texted me yesterday, and he asked when we would be testing the new Lotus Emira. I said well, it's going on sale next spring, so we'll probably get it in around the turn of the year. He said 'but Jenson Button has done a review already!' - I said yes, but that's not a car review, because Jenson Button is working with Lotus, so it's not all true! So there is that sort of thing; I do still have concerns about that, because people should be aware of what they are actually watching. By and large however I think there's absolutely still a place for us. Because of the proliferation of content, now more than ever there is a need for an independent, impartial voice.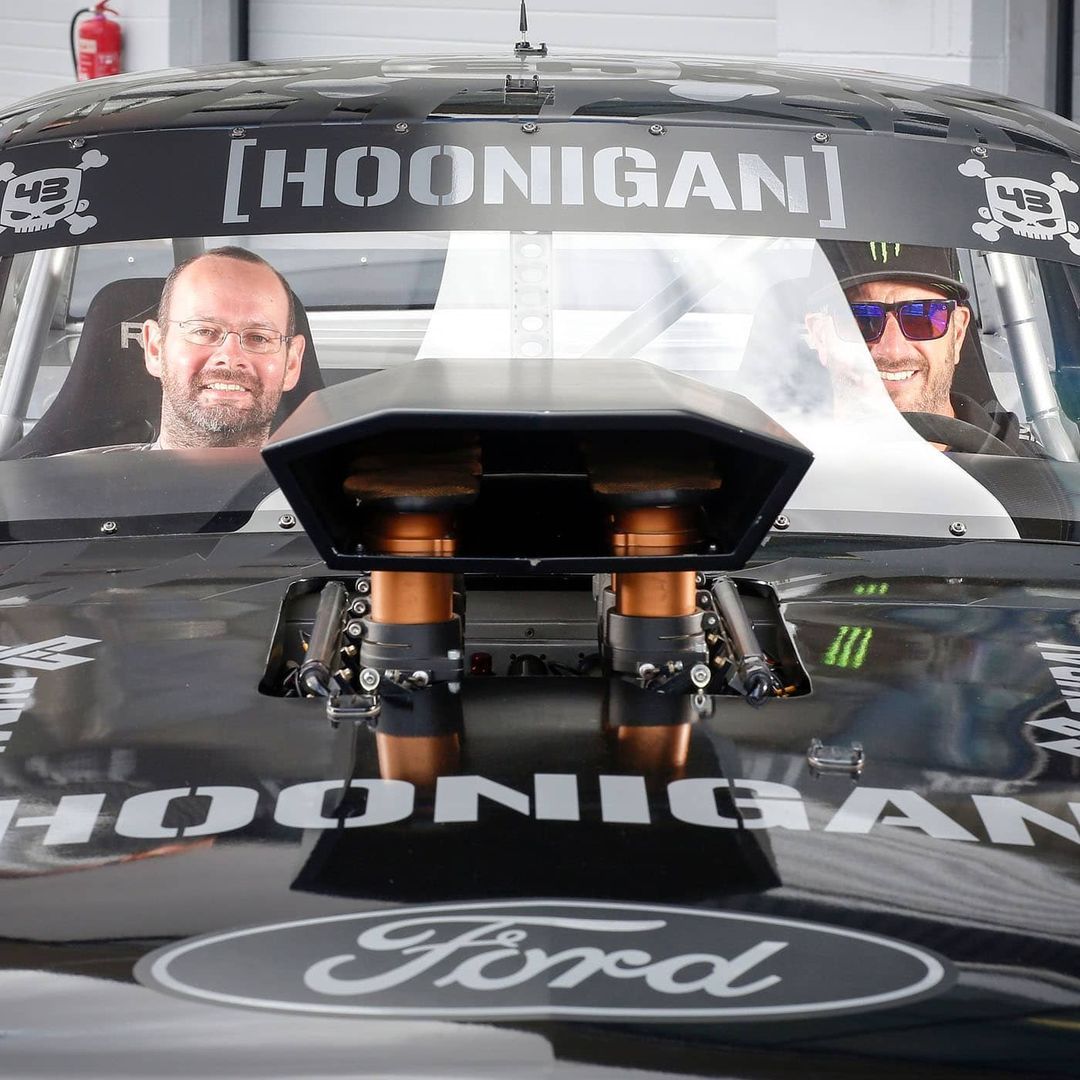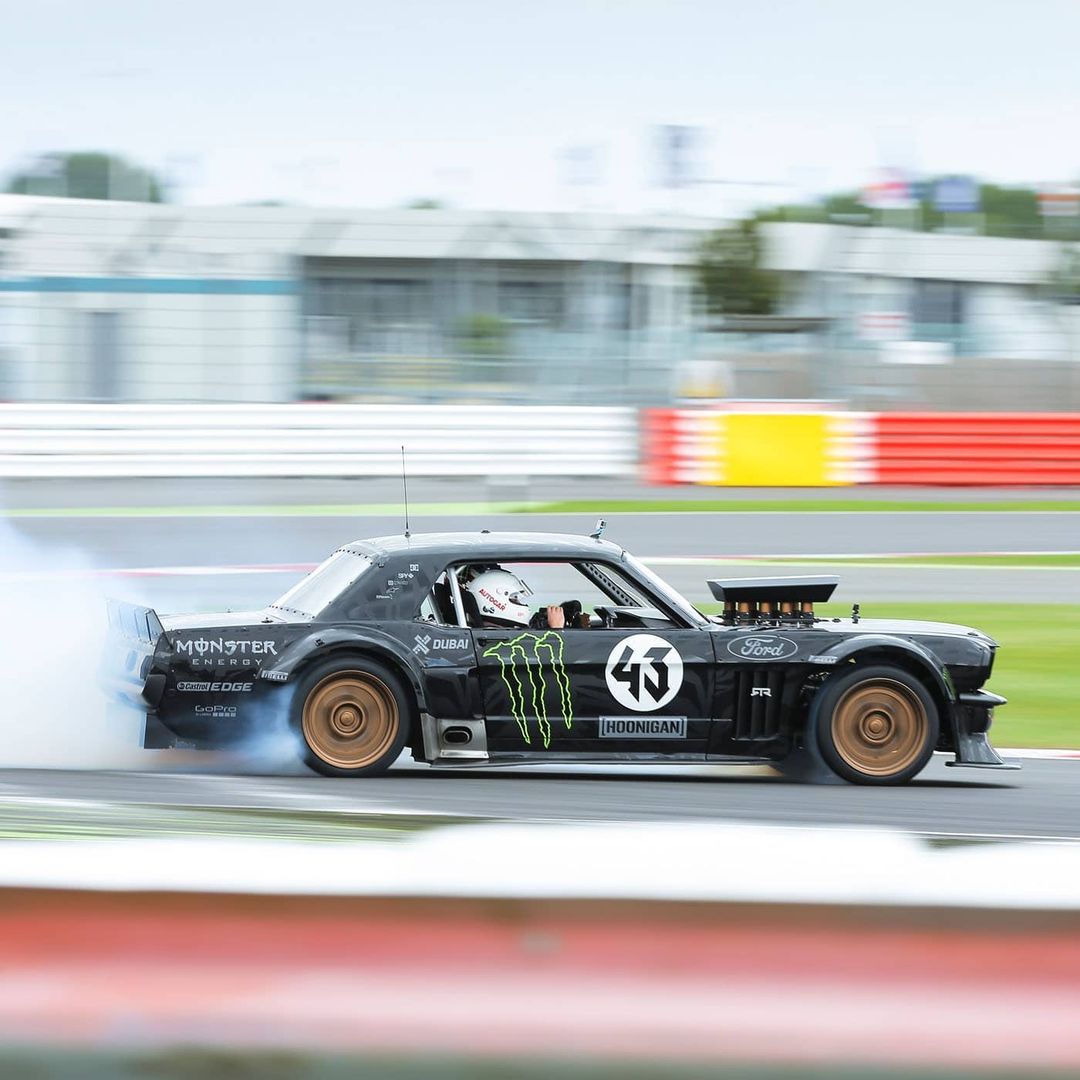 Looking at it from the other angle, what is the relationship actually like between manufacturers and a publication like Autocar? Do they see YouTube and Instagram as an easier ride? Do you have to manage the relationship a bit if they send you a car and you think it's not really up to scratch?
Yes - if it isn't, we try to let them know in advance of it going on sale. What sometimes happens is that somebody in the communications team will say, we've lent you this car, that's fine, and then the review will come out and somebody in engineering or senior management will see it and suddenly go 'crikey!'. We tend to let them know in advance if a review is particularly bad. The relationship largely depends on how good we think their cars are too. If somebody gives us a car and we think it's great, that's quite easy. It's when we're telling the audience something the manufacturer doesn't want the readers to know about upcoming products, or if you're reporting on financial difficulties, then the relationship gets tricky. It's usually fine and mostly cordial; people in communications realize that they are helping us to put out independent reviews which helps buyers make decisions. But with some manufacturers it's rockier than with others, and it goes through phases.
As to whether they think influencers etc are an easier ride, there's probably something to that. It's worth remembering that manufacturers are also producing more content of their own than they were 15 or 20 years ago, so they will have their own output on social channels. I'm sure some people are easier than others to impress, and there's the difficulty. If a manufacturer says yes, we didn't invite you to drive it, we didn't think you would want to drive that car… well, we want to drive everything. There's always a limited number of cars and a lot of outlets who want to drive them, and we often make the case that we're an important, established title with a big audience who would like to know what we think. Sometimes you suspect that somebody has been given a car first because they might think of it more kindly than us… I suppose you can't argue with that!
Do you get a different response from different constituencies? For example c-suite responses to their latest flagship supercar, vs the guys in engineering who perhaps were asked to make a car to meet market tastes that they would have preferred not to make?
It does happen sometimes. It tends to be after we've driven it and given a certain review; some big cheeses will turn around and say: we don't think that's right, you should spend a day with our engineers. You meet the engineers and it turns out we're never telling them anything they don't know already. You spend time with them and they say, it's true, but we have to do this because of x and we have to do this because of y. So yes, it does happen, but less than you would think. Most of the time when we report something the manufacturer is usually aware that it's the case. They sometimes don't like it, but they usually know.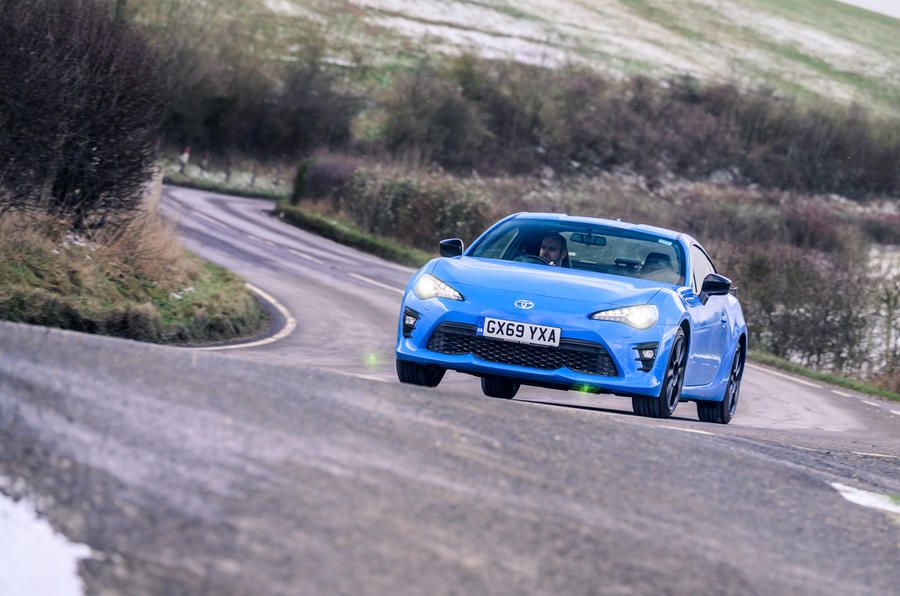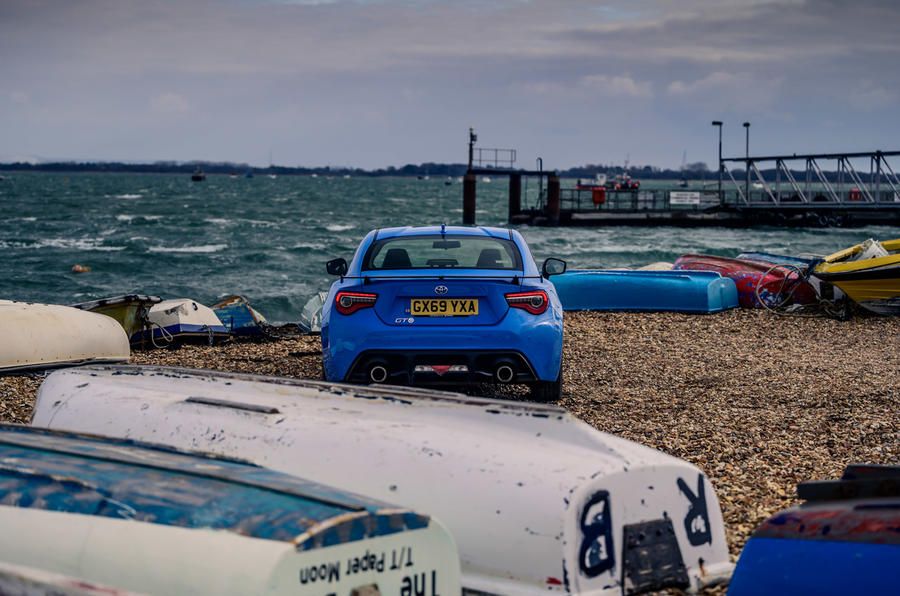 Let's talk about some cars now. You've driven almost everything on the modern market, so from all of your experience, what do you now look for in a performance car? Have there been any standouts for you in recent years that you might use as a benchmark?
There are definitely standouts for me in terms of performance cars. I think my favourite car of the past decade is still the Toyota GT86 / Subaru BRZ. That does what I want a performance car to do. It's quick enough - I don't think a performance car has to be incredibly fast. Power has its advantages, but you don't have to use it all. It's light too - I think we weighed one at 1,230 kgs fully-fuelled. It's a manual, it's got a low centre of gravity, and its weight is quite well-centred within the wheelbase. It's very agile and it tells you a lot of what it's doing, which I like a lot. It's a very involving and engaging driver's car, and it's very controllable when it starts to move around on a track. I like a performance car that does that. I always look for one that tells me a lot about what is going on, while filtering the messages. So it's not giving you loads of torque steer necessarily, it's not kicking back through the steering or anything like that, but it's giving you the messages that you do want.
The steering is the most important thing on a performance car for me, because it's the one thing you feel all the time when you're driving and it is your primary source of information. That's what I look for more than anything, and there are really good cars and there are not so good cars in that respect. I mean, the best steering cars in the world are maybe the Lotus Elise of late; McLarens steer very well, and the hydraulically assisted rack on the Evora is great as well. I've enjoyed much faster cars, but I don't need much faster cars than that.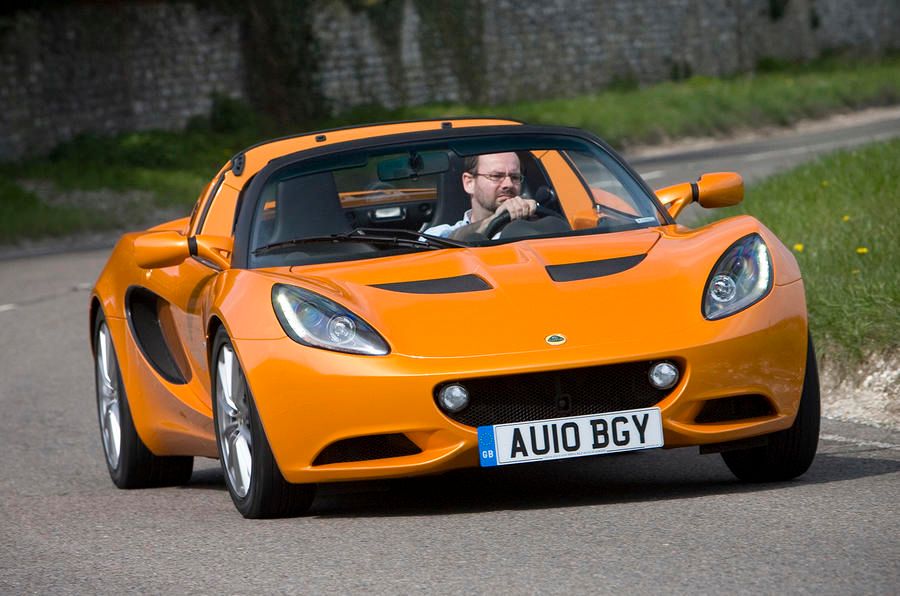 Do you find that manufacturers are still trying to appeal to that 'hydraulic steering, no driver aids' kind of driver, or are things slowly shifting away?
Some are, and some aren't. This new Lotus Emira retains hydraulic assistance; McLarens retain hydraulic assistance. You can get great steering with electrically assisted racks in GT Porsches. I don't necessarily represent what the wider market wants and dictates. While I can turn around and say look, I'd love it if this car got lighter and it actually didn't have to be as powerful, and it could have smaller brakes, it would be a bold manufacturer who turns around and says yes! I don't see a marketing department turning around and going, oh yes, our replacement for this car which had 500 HP before is now only going to have 400. It would just be a disaster!
Indeed - 'it's less powerful, but it's better!'
Yes, and then somebody turns around and goes, but it's now got the same amount of power as a Volkswagen Golf R. The Golf R is a good case in point actually - when you say to people that they should buy a Toyota GT86, they point out that it's got 100 HP less than a Volkswagen Golf R, and so why would they do that? You have to say, well, it's just nicer to drive, and the tyres are basically free…
It's not uncommon. Car magazines were banging on about the original Honda NSX 30 years ago and the Alpine A610, and I think they sold about six A610s and 30 NSXs a year. Now we're banging on about the Alpine A110 and the GT86, and people are buying Golfs and Caymans in bigger numbers. Purist cars don't necessarily sell in big numbers, and I think as a writer, you've just got to appreciate that your audience has got to assess a car on its fitness for purpose and not bang on all the time about less weight and more power. Some cars are just going to be heavy and powerful, and that's the way consumers want it.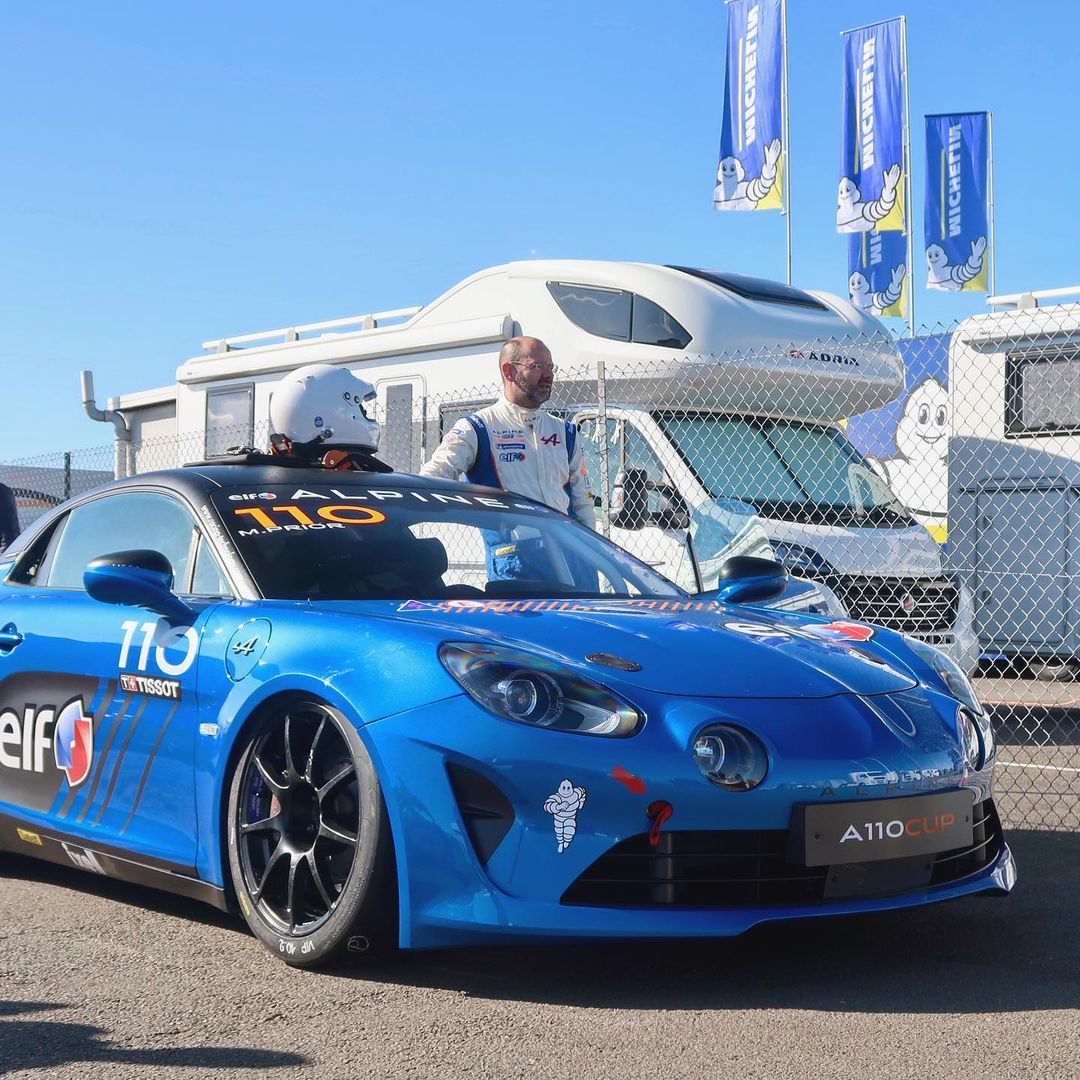 In light of the shift to EV powertrains, do you think it's going to be more difficult or easier in the future to be a car enthusiast? I get the impression that with the new technology, while we're hoping that we'll get a GT86, it seems like we will have hypercars and functional city EVs - where will the enthusiast's car sit?
I am really intrigued by this - funnily enough I was writing about it this morning. I've just been going through the new European legislation on who is exempt from the upcoming regulations and who isn't, and it does make you wonder what the difference will be between a Ferrari, a Lamborghini and an Aston Martin. So much of that today is dictated by the engine, and those manufacturers, if they sell more than a thousand cars in the EU, will be subject to the same zero emissions future as everybody else.
An internal combustion engine isn't central to the enjoyment of a car by any means, but if one electric motor behaves rather like any other one, how you differentiate the character in the future between them is going to be difficult, but interesting. The engineers I talk to say they're quite excited in some ways about an electric future, because you can put power to whatever wheel you want, whenever you want it, so you can do some pretty wacky things. However, with the hot hatchback and the fast saloon car and things like that, when all cars are fast and they all have a motor that behaves in the same way, how do you engineer back in a bit of that character that may be lost when you take away the engine? If there's another generation of batteries that are lighter I'm sure that will help, because then an EV won't be heavier than an equivalent internally combusted car, but it is an interesting place to be. I'm not sure it will be harder to be a car enthusiast, but you may have to look slightly further afield, and we will all have to think a bit differently.
I'm heartened by the fact that, by and large, cars get better. Although the nature of enjoyment of the objects we own changes, by and large things are on the up. There are big companies whose future depends on making you want a new car; it's not about toasters or washing machines or whatever where you just run one until it breaks and you don't want another one. The third or fourth biggest industry on the planet is driven by the fact that consumers want another car. It's got to find a way of making cars attractive, regardless of what they're powered by. As I get older and wrinklier, I want to spend more time changing gears and getting oily hands and stuff like that, and so that market goes away, but they've got to find a way to prevent cars becoming like white goods, where you buy it and you run it until it's broken.
Even if that does happen, I guess that's not necessarily bad for the planet. It's bad for the enthusiast, but we would still be able to find our niches and our cars. There's a huge back catalogue out there. In the mainstream if it all turns into a subscription or rental model where all the cars are the same, car sales overall might reduce a bit. Would that be terrible? It would be bad for the industry, and I would feel bad for my many friends and colleagues who do it, but if overall car volumes went down, it would not necessarily be awful for the earth.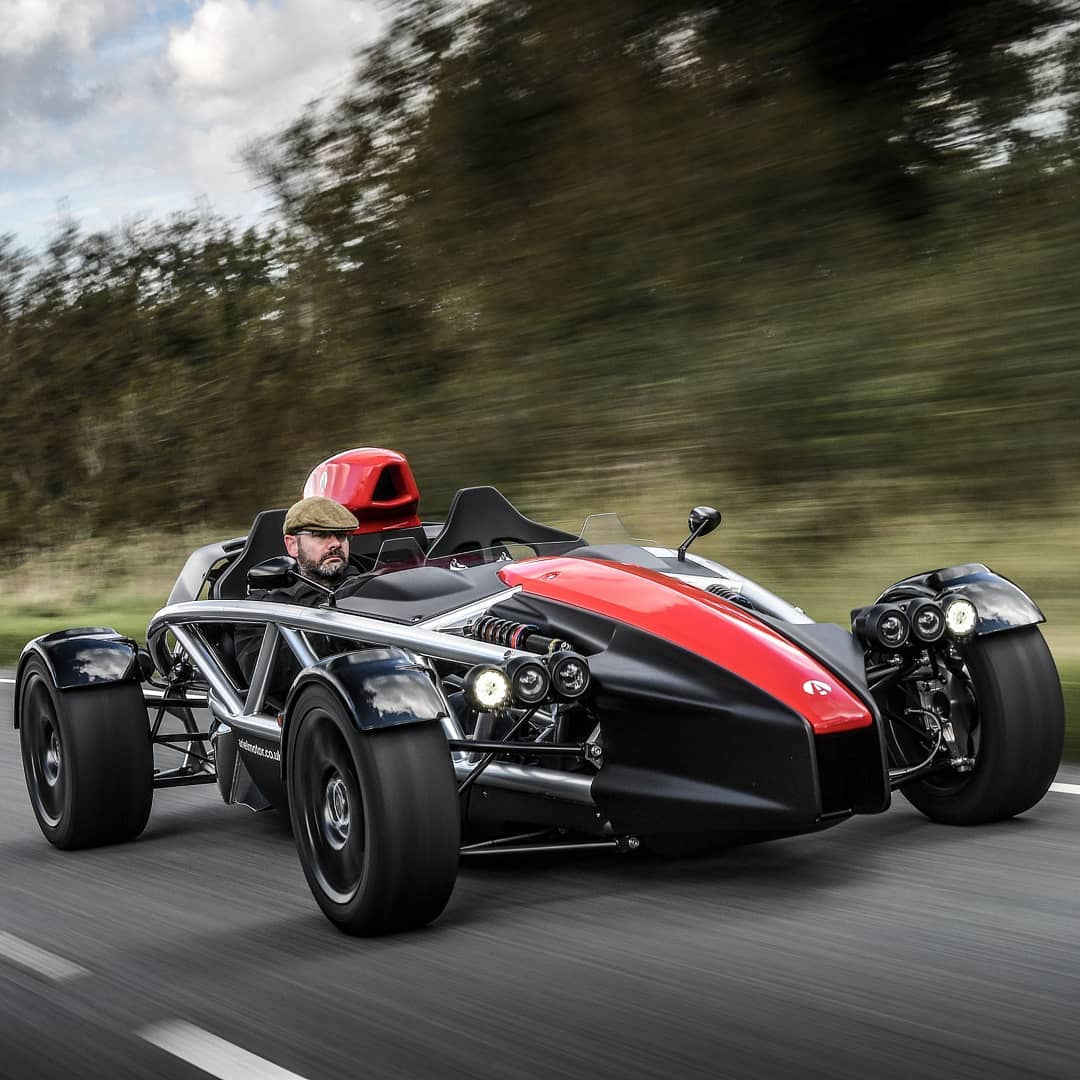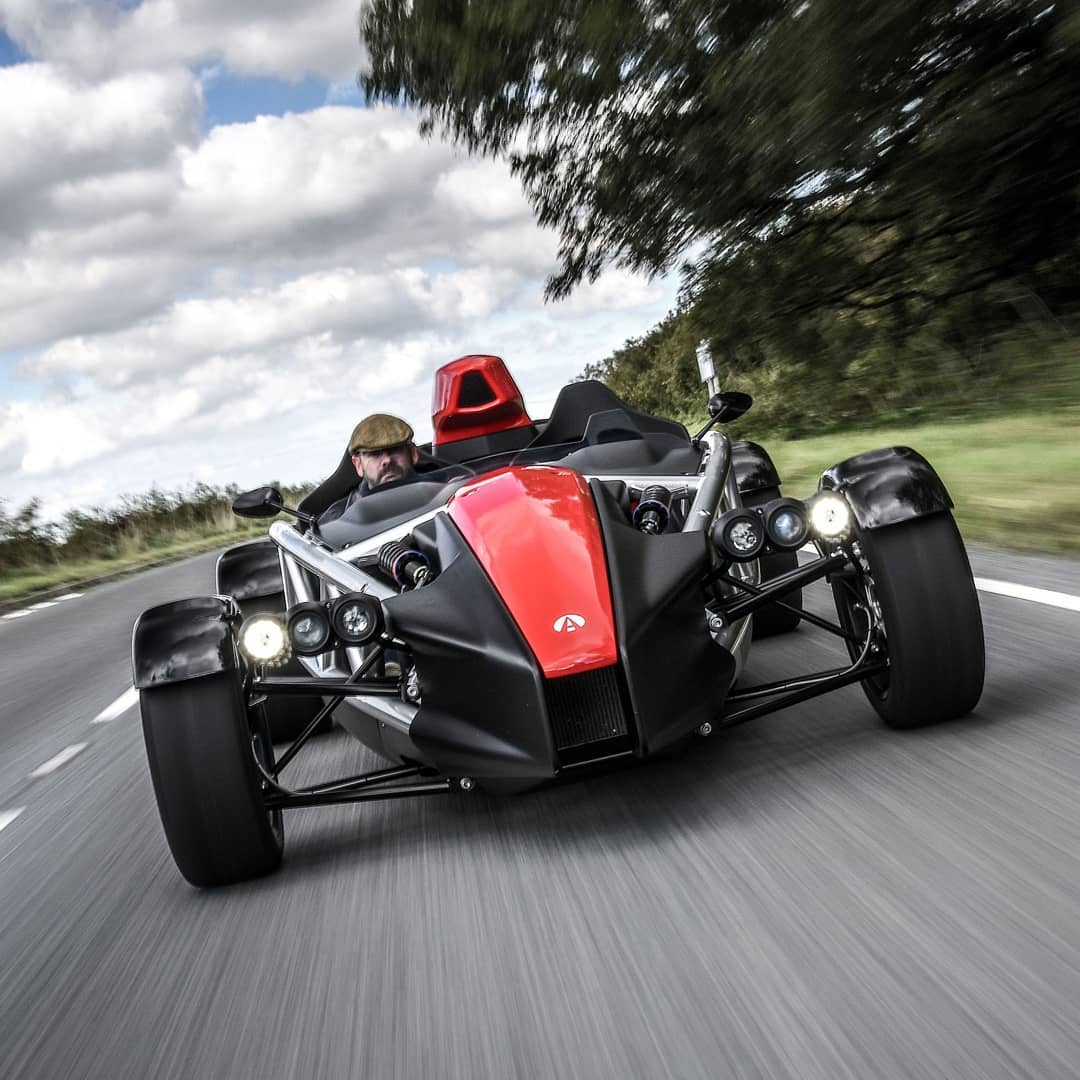 Fewer but better. It's a really interesting perspective. One thing you did mention was oily hands and tinkering with your cars. An issue that people are talking about a lot is planned obsolescence and the right to repair. Do you think the right to repair should be something that manufacturers should accept, and what is your perspective on things like planned obsolescence?
It's interesting. I do like the idea that you should have a right to repair,  but the thing with the car is that it's a safety critical thing if you get it wrong. With an EV, you can be talking about some pretty big voltages. Cars are also more complicated because they have to deal with the increase in active safety systems, so they've got a lot more software, but also because of increased legislation. 10 to 15 years ago, a supermini would have had a naturally aspirated 1.4 litre engine. Now to get through the tests, at some point it would have had a catalytic converter added, a gasoline particulate filter, a turbocharger, and it's probably also got to have a mild hybrid system too, and that all works best when you put it through some kind of thin clutch gearbox as well. So even the most simple cars are becoming much more complex than they were, which does take away that ability to repair.
But you're right, going forward, one of the great advantages of EVs is that they have many fewer moving parts, are much more reliable, and require much less servicing. The question is how does the industry support that? I did have one exec from a car company over dinner once describe EVs as a nightmare for dealers, because what do you do when they don't need all that maintenance? I think I would want to be careful that the industry doesn't engineer in too much planned obsolescence for that reason, to try and keep things ticking over. It would be nicer if cars were as functional and as reliable as your toaster, honestly, and you got it on day one and it carried on working like that until a point in 10 years when you decide you don't want it any more - but that also doesn't help the industry. I'm a bit concerned about too much obsolescence being built in nonetheless.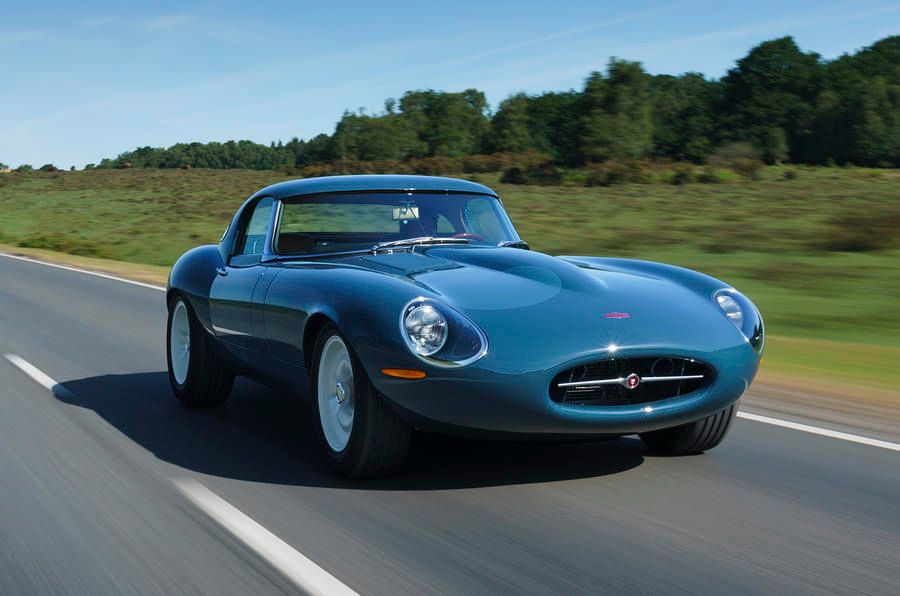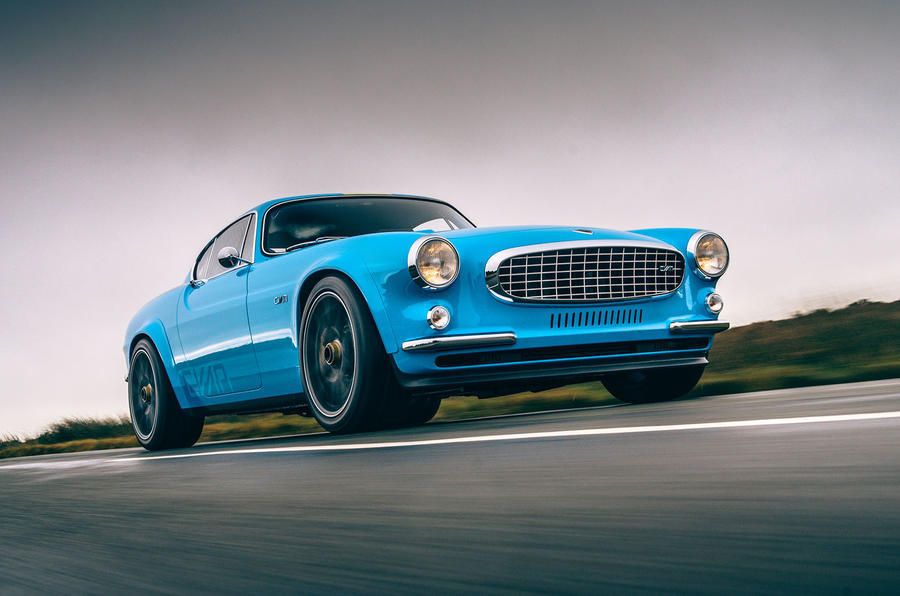 Another trend which seems to be all over the press releases at the moment is restomods. Whether it's electrifying old cars or bringing 'homages' onto the market - do you see car enthusiasts flocking to electrify their modern classics, or do you see it as a cottage industry that will eventually need some help?
I think it's a smallish industry, and I suspect it will remain a smallish one. I don't mind if people do it, if you want to electrify a classic, I think that's fine. Some suit it better than others. An engine is the core appeal of some old cars. I did see some place I looked, they were electrifying three Ferrari Testarossas. You do wonder why you would put up with the rest of it by taking out the flat 12, it's the only thing it's got!
Hagerty reckon that classic cars are driven on average 1,200 miles a year, which puts out 500 kg of CO2. So they're not a huge burden - owning a big dog has about five times as much CO2 output as driving a classic car for 1,000 miles. Also the CO2 burden of having them built has long gone, but now you're effectively replacing one of the most CO2-heavy bits, with something that takes a lot of energy to produce. Also, the battery pack that you're getting today (and this may change in the next 10 to 15 years) will wear out more quickly than the old engine that's in the car originally. If you're looking at it from a sustainability viewpoint, putting an electric setup in a classic car is not particularly helpful. You've then got to do everything else - suspension and so on - because you're adding 600 kg of battery that it wasn't meant to have.
I don't mind people doing it, and I'm very happy if they enjoy their cars, as it's my thing that I like and I like everybody who likes cars! However it's not a thing you do because it's sustainable. If you wanted to do something sustainable, you wouldn't drive a new car or an old car, frankly. So I think the industry will continue to be small, but I do see the restomod, be it an internally combusted restomod or an EV one, as an increasingly popular way to enjoy cars.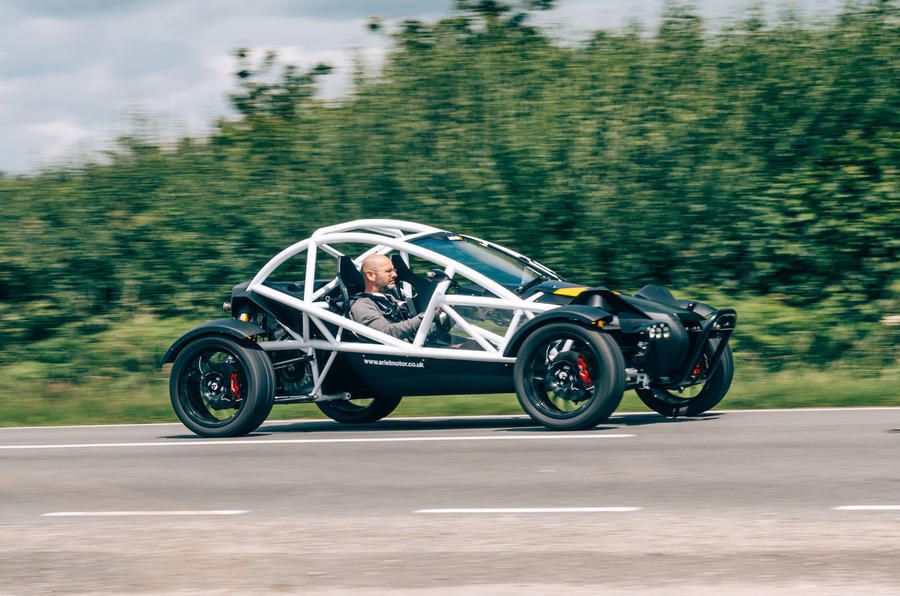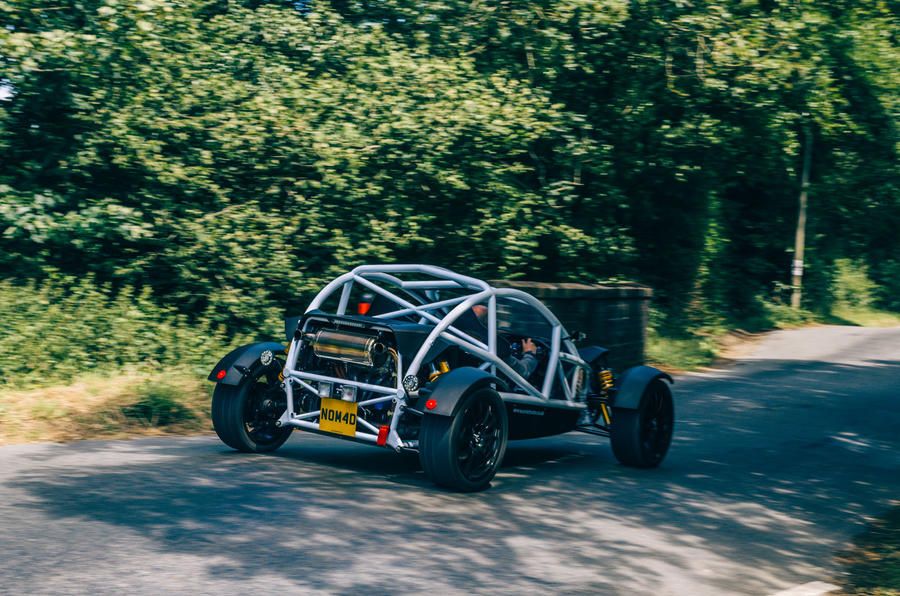 I would probably agree with you on that one. We're coming up on time, so I've got some quick fire questions. The first is: what is your perfect three car garage today?
Hah, I didn't write it down specifically because I knew you'd say 'today' and it changes several times a day! I know a bloke who has his top 10 dream garage written down on his phone, down to the colour. That's a full time job!
So today it's a nice day, so I think an Ariel Nomad is up first. I just love them to bits, I think they're terrific. I love driving them on the road, and I love driving them on the track. Ariel's mantra is you would drive down the road, and in an Atom you would turn it onto a race track, whereas in a Nomad you would turn right onto a green lane or rough track somewhere.
I think I'll have a Porsche 917 too, because it's just a dreamy race car, and why would you not if you could have any three cars? I don't know when I would use it, but what the heck, I would just look at it the rest of the time.
The third one is difficult because it should perhaps be the practical car, but as it's just for today, I think a Ferrari 250 SWB, because that's frankly practical enough isn't it? I think Nick Mason had a 250 GTO and said he used to take his kids to school in it, so the short wheelbase can't be any less practical than that. So that's the three for today, and it will change by 8 o'clock tonight...
That's a solid selection. Second question is: what is the greatest myth in the car enthusiast community that you have come across?
I've read it a lot, and it's the one that you can't call yourself a car enthusiast unless you've owned an Alfa Romeo. That is just nonsense. If you're under 40 certainly, and probably 50, the amount of times that Alfa Romeo has offered a really competitive choice, well... not everybody wants to own a classic car, that's the one thing to get out. Fine - Alfa have got some great old cars. You might not want to own a classic however. You might not have space, you might not have time, you might not have the energy. Alfa has had some okay cars in my adult lifetime. The 156 was a great looking car and quite good fun, but it's taken basically until the Giulia Quadrifoglio now (which by the way is 60 odd grand or whatever it is) for there to be something attractive. There's a whole generation of people for whom there has been no compelling reason to have an Alfa Romeo when they have the option of other stuff.
I haven't owned one. There are ones I would like to own and there are ones I like a great deal, but to think that you can't call yourself an enthusiast unless you've had one of these cars that has not been the best car in its class for 25 years until the Giulia is silly. Why would you insist somebody has to have a Mito or a Giulietta to prove that they are a car enthusiast? No, it's absolute nonsense!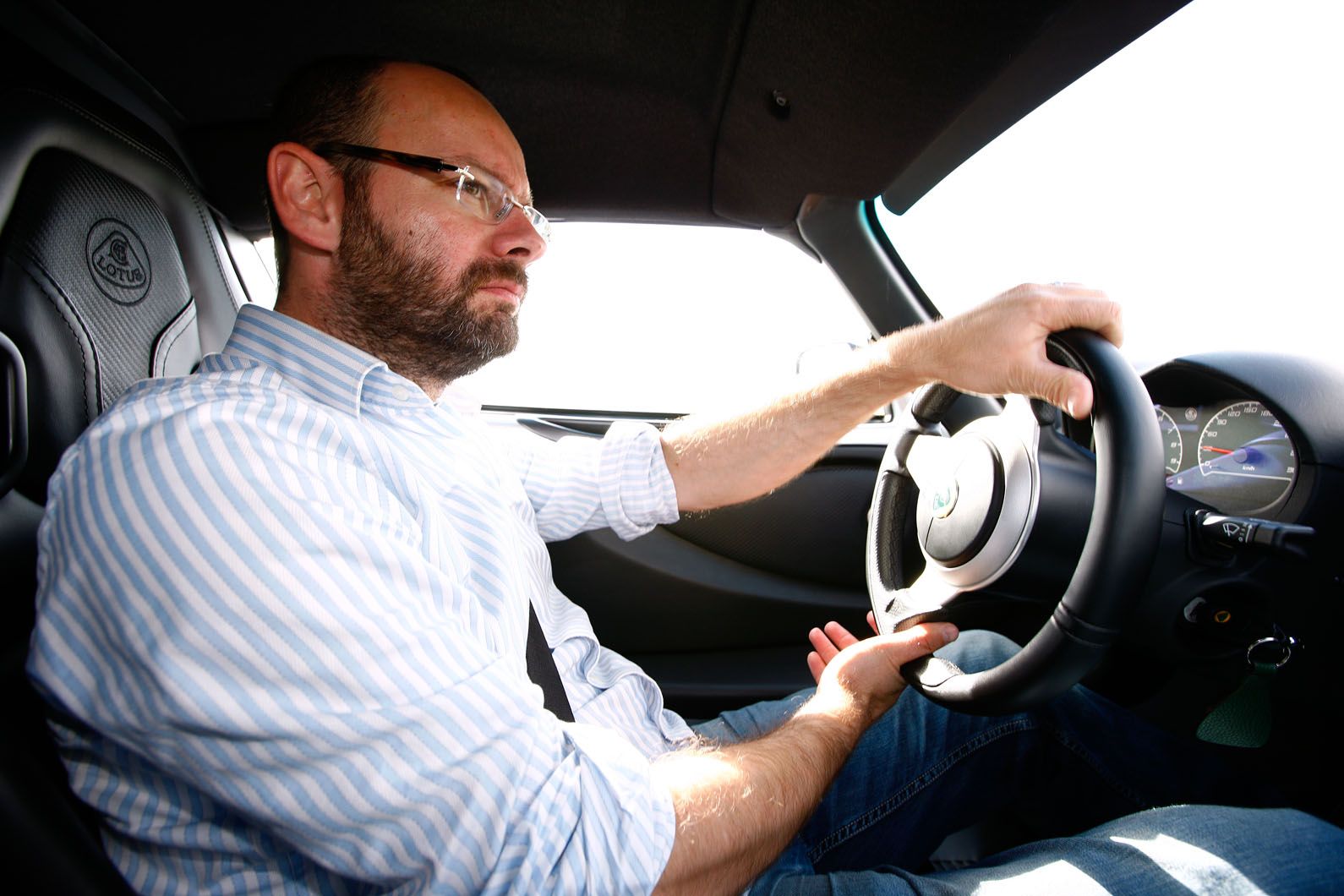 We await the pile-on in the comments! Last question: what is the most underrated car you have ever driven?
I've got a couple of options. The GT86 is one of those cars that everybody says is underrated, so probably doesn't count. I think there was the Ford Fiesta Zetec S of about 2008-2009 vintage, which was quite well-received. We ran one at Autocar for a while and I remember going on a cheap driver's car test up in Northumberland or something like that. That car, it only had a five speed gearbox rather than six, and that from memory was the only thing that I didn't like about it. I just wanted to turn down the engine a little bit on the motorway with a sixth gear, to make it a little bit easier to cruise, but I thought the steering and the ride and the handling of that car was fabulous.
I suppose now that it's 10 to 15 years old you would get in one and the spot welds would start to quit and the bushes would be shot and they wouldn't feel anything like as good as it was. But yes, that sort of a vintage Zetec S in three door spec I thought was terrific as a British roadgoing car, because our roads are terrible. It was such good fun without being really harsh, and it just steered brilliantly. When people ask what's the best car in the world, and I go, oh, well funnily enough... they want to hear that it's the Ferrari F40, they don't want to hear about a 2008 Ford Fiesta Zetec S! Regardless, I thought it was brilliant for the money - bang on, absolutely superb.
A really positive note to end on! Unfortunately we've run out of time, so thanks very much for your time today Matt, and for such a great chat.
My absolute pleasure, thanks for having me.
---
---