Hot Wheels: Our Favourite Police Cars
Thinking of making a romantic getaway this weekend? Think again! This week on the Apex we are drawing a thin blue line through any plans to misbehave as we do away with our right to remain silent and bring you some of the greatest police cars to ever grace the roads.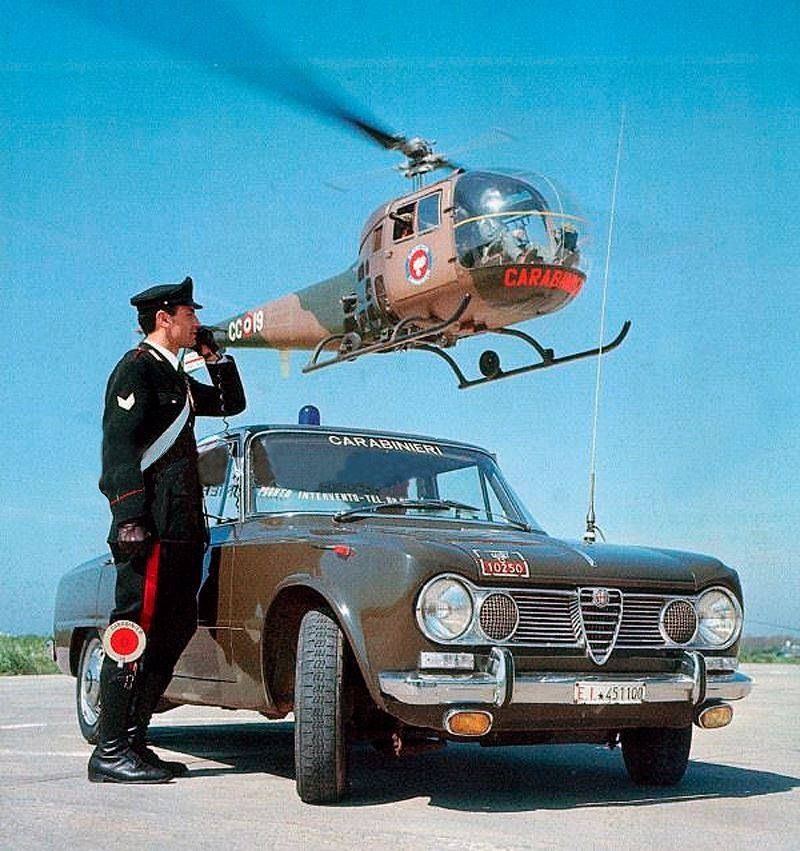 We've chased down some legendary law enforcement vehicles, from vintage British motors to the finest German autobahnstormers, any of which would be an unwelcome sight in the rear view mirror of a delinquent driver. So come cop a look and let us know if we've missed any of your favourites!  
Written by Hector Kociak for The Apex by Custodian. Edited & produced by Charles Clegg and Guillaume Campos.
Triumph TR4 (1962)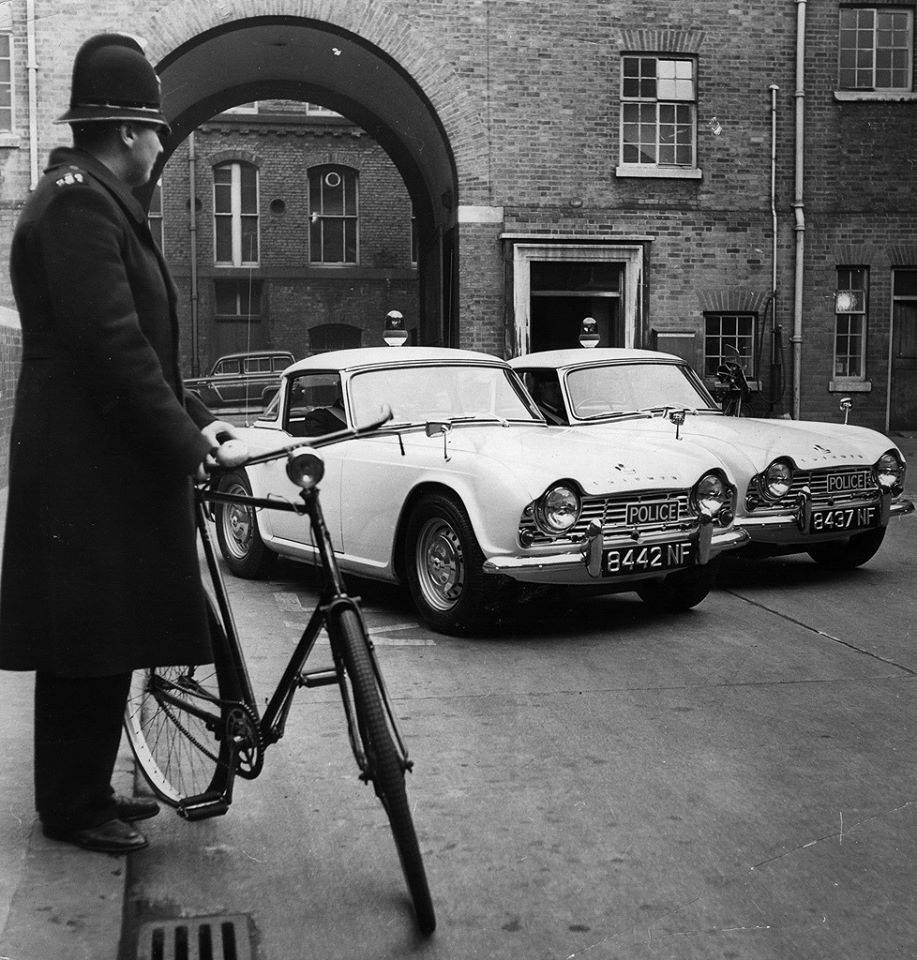 If you were a copper in the early 1960s, you had a problem. With the development of the British sports car and motorcycle industries and an increasing number of amateur mechanics tinkering in sheds across the country came ever quicker vehicles on public roads. Whether you were policing shiny new motorways, rural A-roads, or just keeping an eye on motorcyclists chasing the 'tun' near the Ace Cafe in Wembley, it was often the case that the police were simply bested in the race for speed. That is, until the appearance of "Fast Pursuit" vehicles like the Triumph TR4.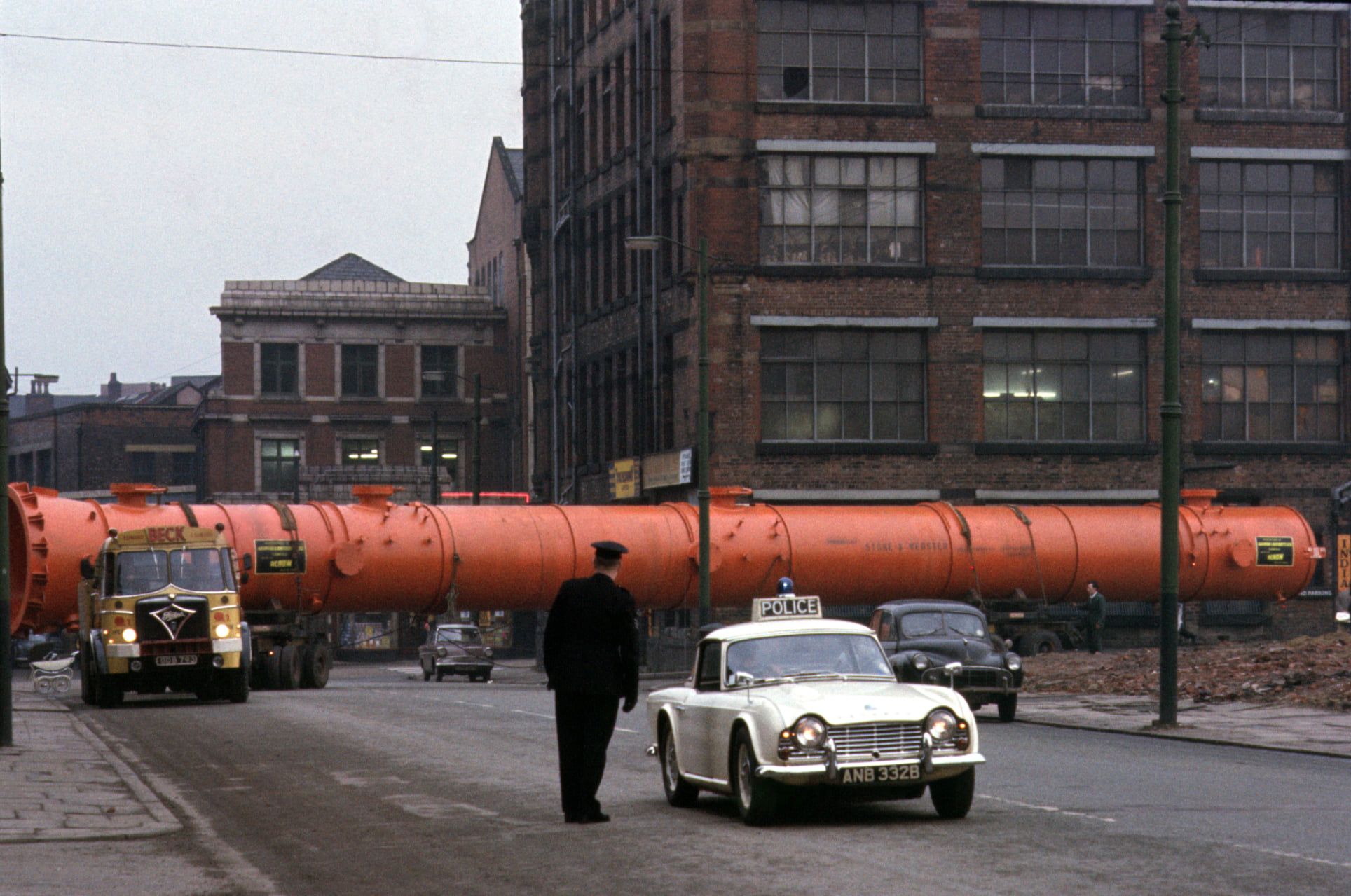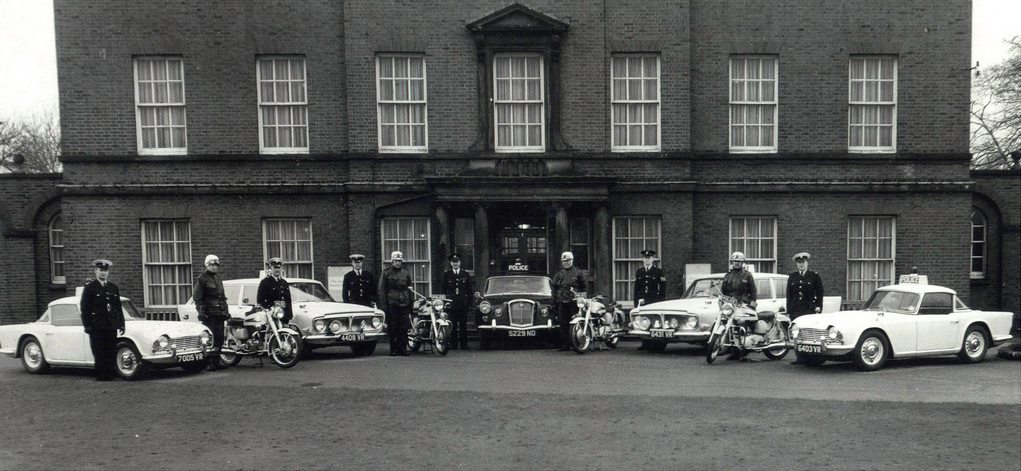 Fitted with (literally) all the bells and whistles you'd need to apprehend miscreants, the police TR4 had a 2138cc engine which gave it a 0-60 time of less than ten seconds and a maximum speed of 110mph. Your police pursuit driver could finally chase down miscreants in style - although the lack of seatbelts meant any passenger would have to hang on for dear life!
Ford RS200 (1986)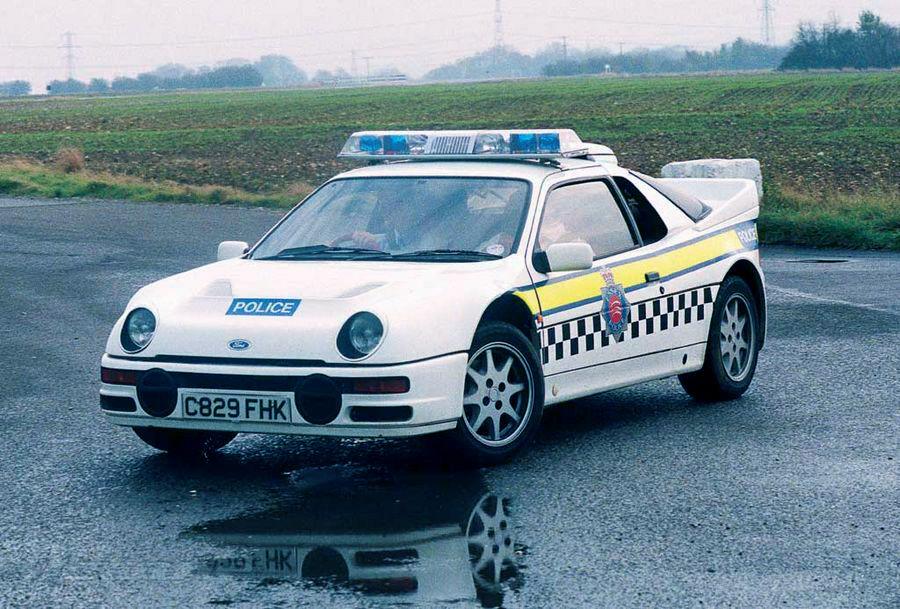 Some say that the Ford Capri or the Austin Allegro is the most characterful British police car to have ever hit the roads. We would propose a more specialist tool - the Ford RS200, the purpose-built Group B homologation vehicle whose road-going incarnation outfitted for the Essex Police boasted an aluminium monocoque, a mid-mounted 246bhp engine fed by a Garrett turbocharger, and state of the art suspension. On tarmac or down a green lane, there's no getting away from a police car with torque splitting and a pure rallying pedigree, is there?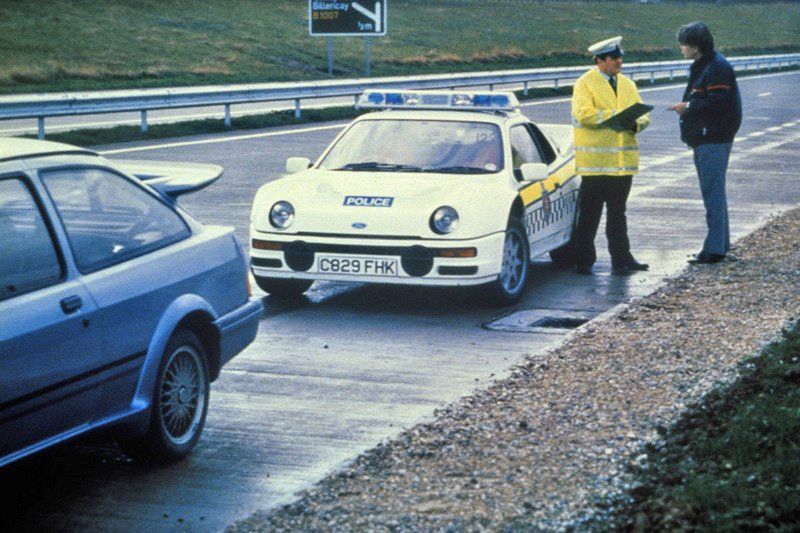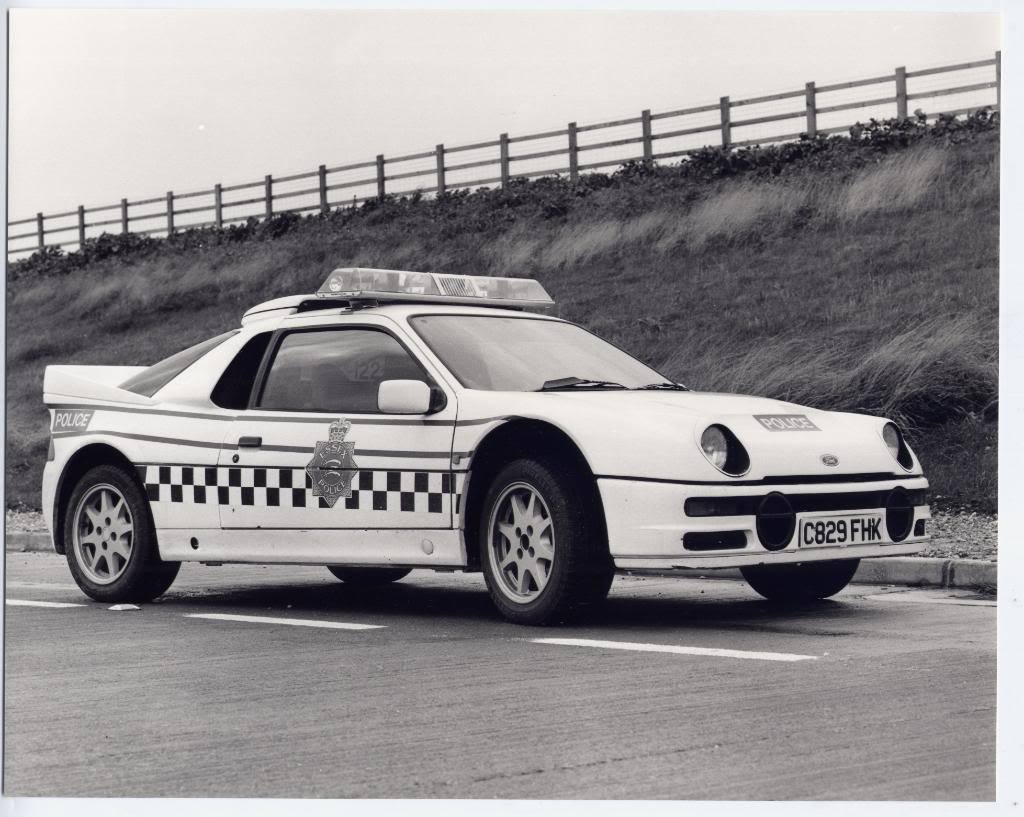 Admittedly, this blisteringly fast car was more of a photo opportunity for the Essex Police than a fully functioning police vehicle. At a price of over £50,000 new and stuffed full of specialised parts, it would probably not have survived a night shift outside the Sugar Hut, let alone the rigours of active service. In its day however the police-liveried RS200 was thoroughly exploited for publicity shots, leaving local street racers wondering whether there was one secretly hidden away in a police lock-up somewhere, waiting for the call...
Ferrari 250 GTE 2+2 Polizia (1962)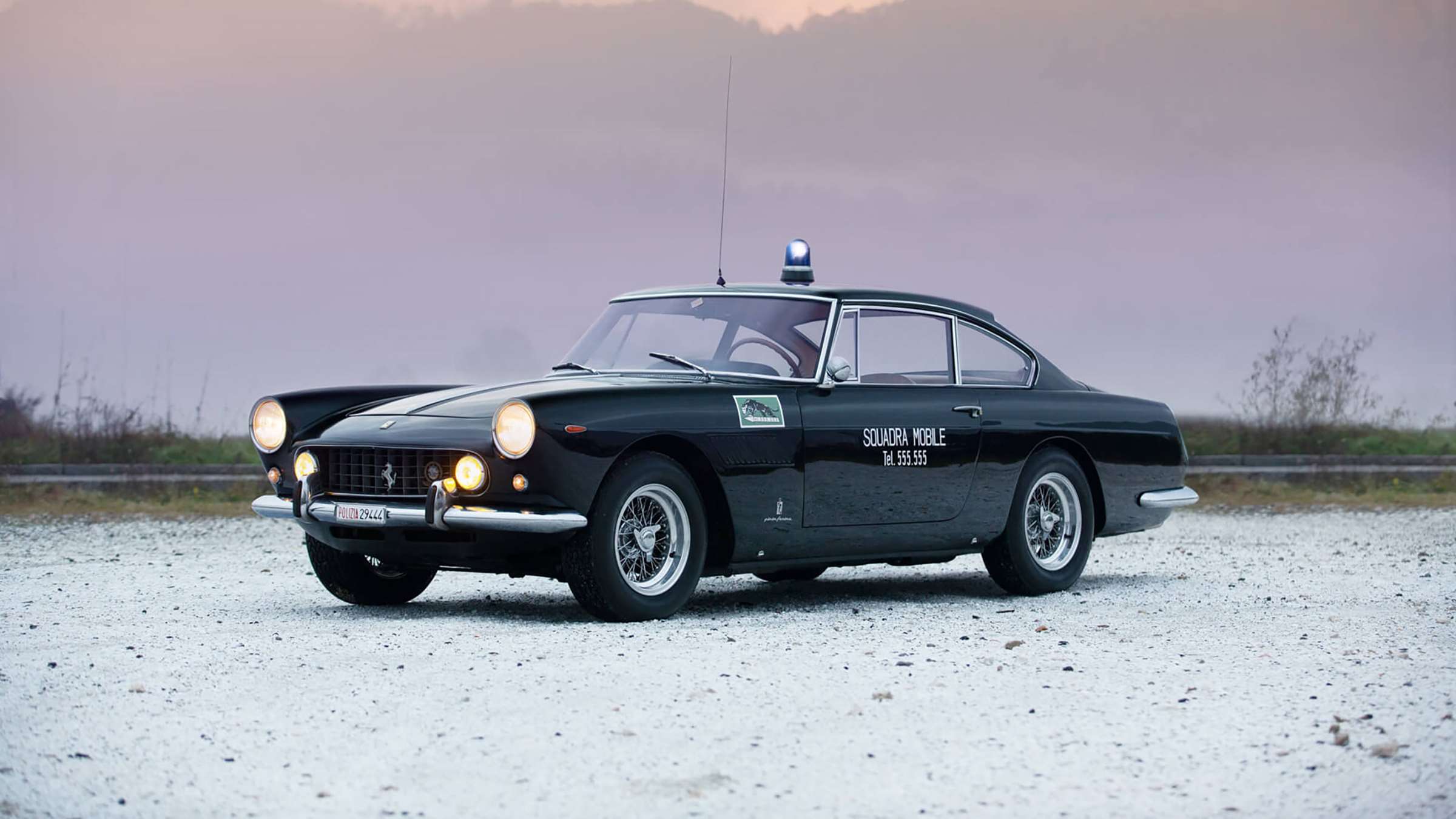 While you may fault the Italian police for their annual enthusiasm in flagging down cars during the Mille Miglia (for a better look, of course), you cannot fault their taste in automobiles. Where the British decided that the Triumph TR4 was the right answer to increasingly capable roadgoing criminals in the 1960s, in Rome they did things with a bit more style. Veteran officer and respected wheelman Armando Spatafora was asked by his department what he needed to combat the scourge of misbehaving sports cars; his answer, of course, was two Ferraris.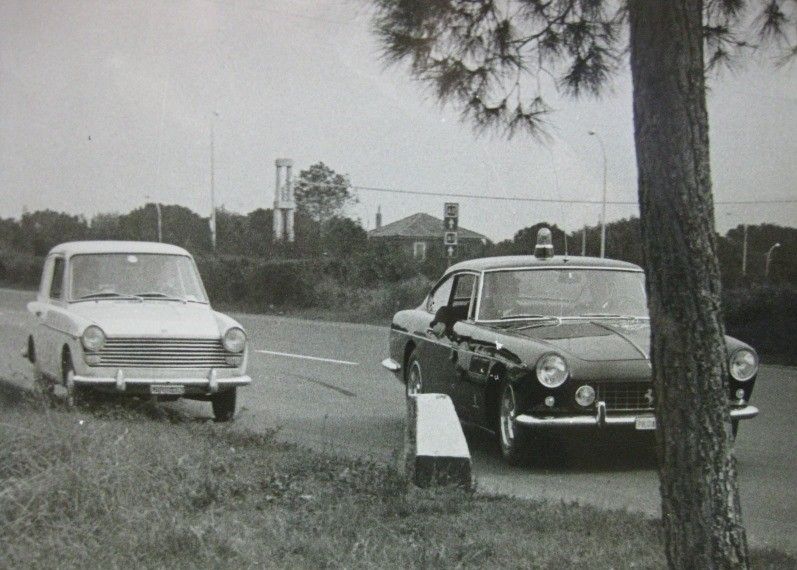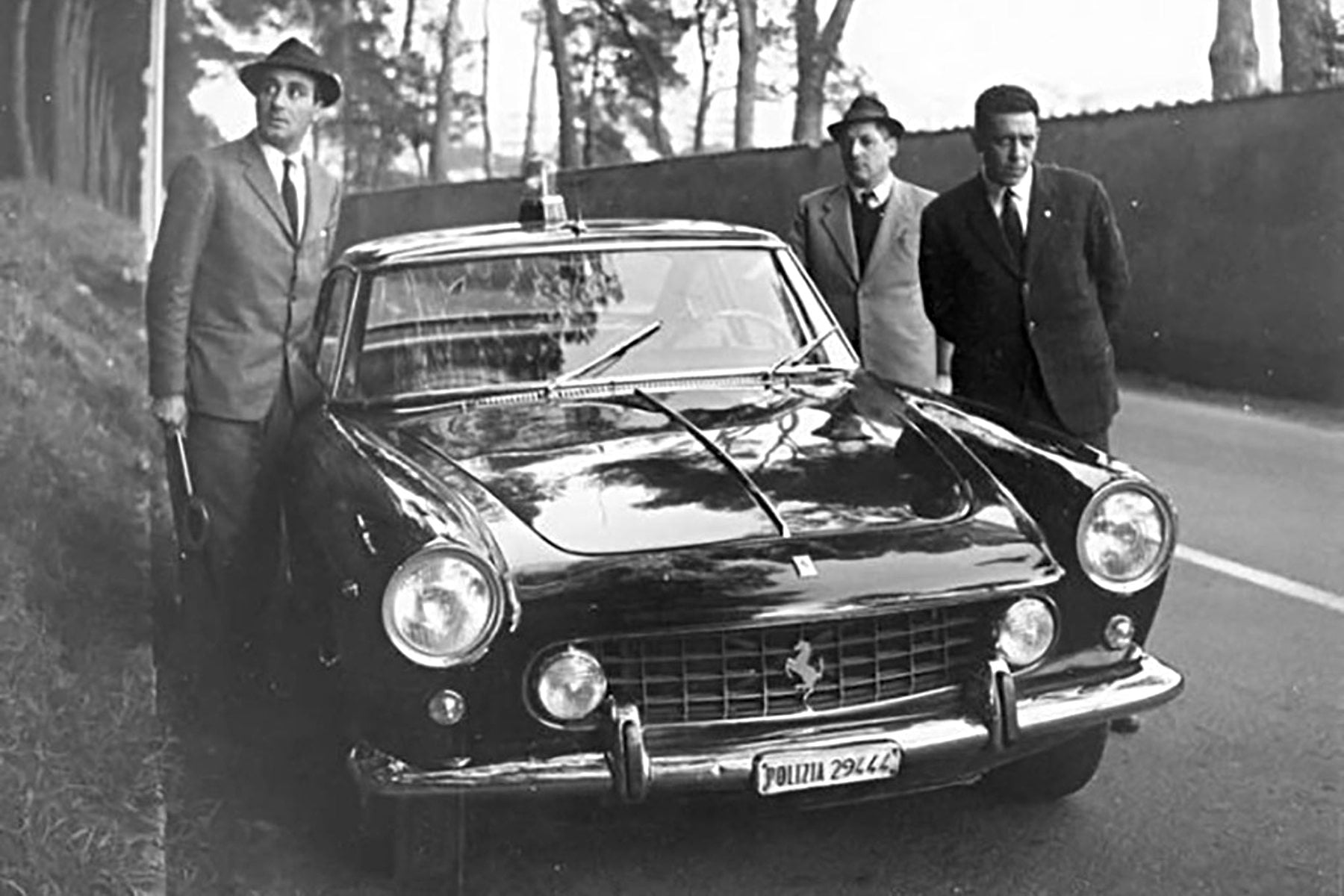 With a mighty 3.0l V12, the 250 GTE was the car to beat if you fancied yourself a bit of a renegade road warrior in Italy's criminal circles. In Spatafora's hands, not many did. While the sister car to the famous chassis 3999 GT was wrecked shortly after delivery, this example survived on the force for six years before being transferred to emergency blood deliveries in Naples.
After being restored in recent years, it was awarded a special dispensation by Italy's Chief of the Polizia di Stato to drive with original siren, blue light and Squadra Volante livery - being the only private vehicle in Italy with such rights.
Alfa Romeo Giulia TI (1960s)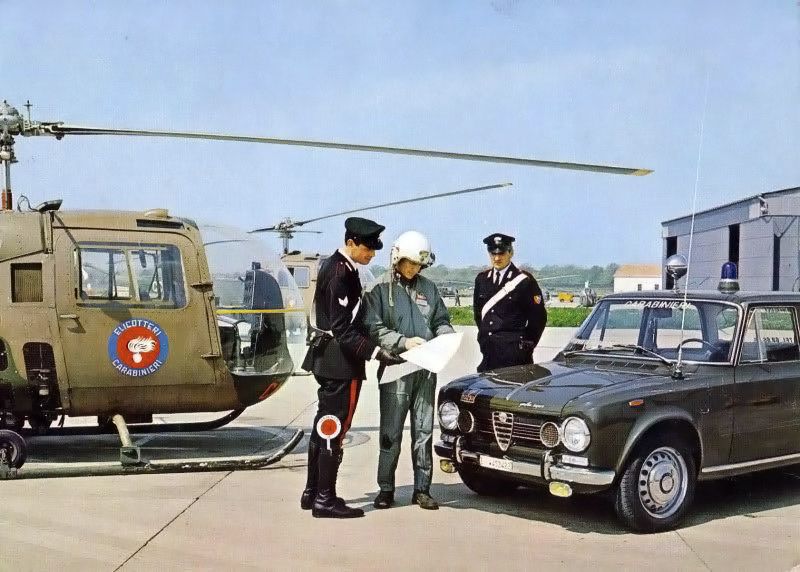 If you couldn't have a Ferrari as an Italian police officer in the '60s, you did not have to despair, as you were most probably already driving one of the most aerodynamic, high-performance police cars in Europe. Yes, the one that looks like a brick on wheels and is the choice of both cops and robbers in many films of the period: the Alfa Romeo Giulia.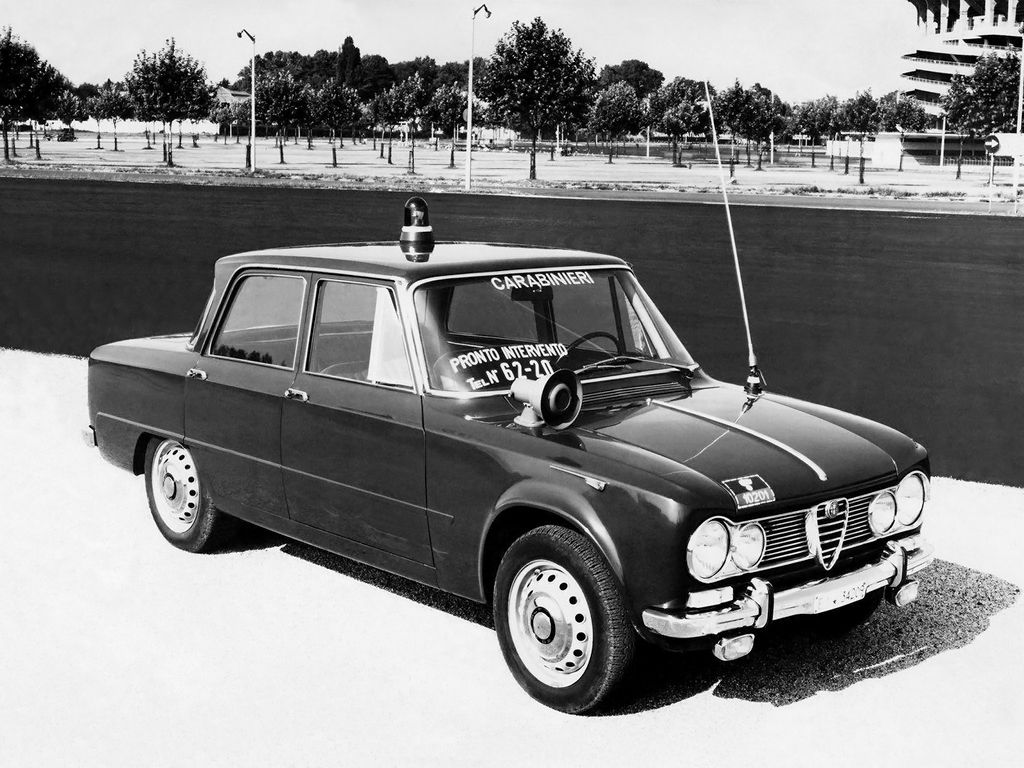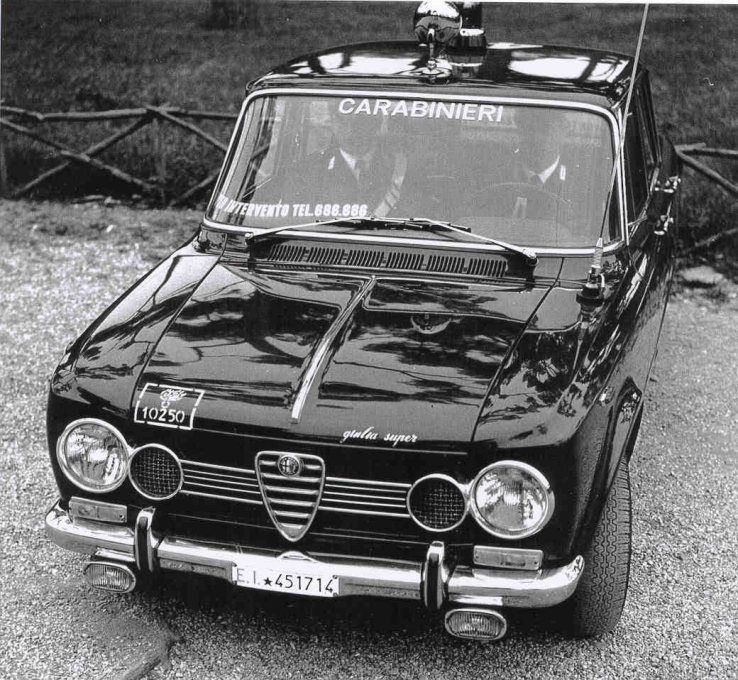 Despite appearances, the Giulia was the first production automobile shaped in a wind tunnel. An astonishingly low drag coefficient of 0.34 (the same as a Ferrari F40 or an Aston Martin DB9) meant that this light little car was far more effective than its sprightly yet small four-cylinder engine suggested. In police specification with disc brakes and the obligatory flashing blue light, it was the perfect pursuit vehicle for narrow city streets and winding Italian roads. Some debate still remains over whether the Polizia were issued with race-tuned Giulia TI Supers or standard models, although we like to think that the 20bhp deficit between the two could be overcome by some skilled driving and a few cinematic shortcuts through vegetable markets and tourist attractions, with a few handbrake turns on  the way!
Alpine A310 (1971 - '84)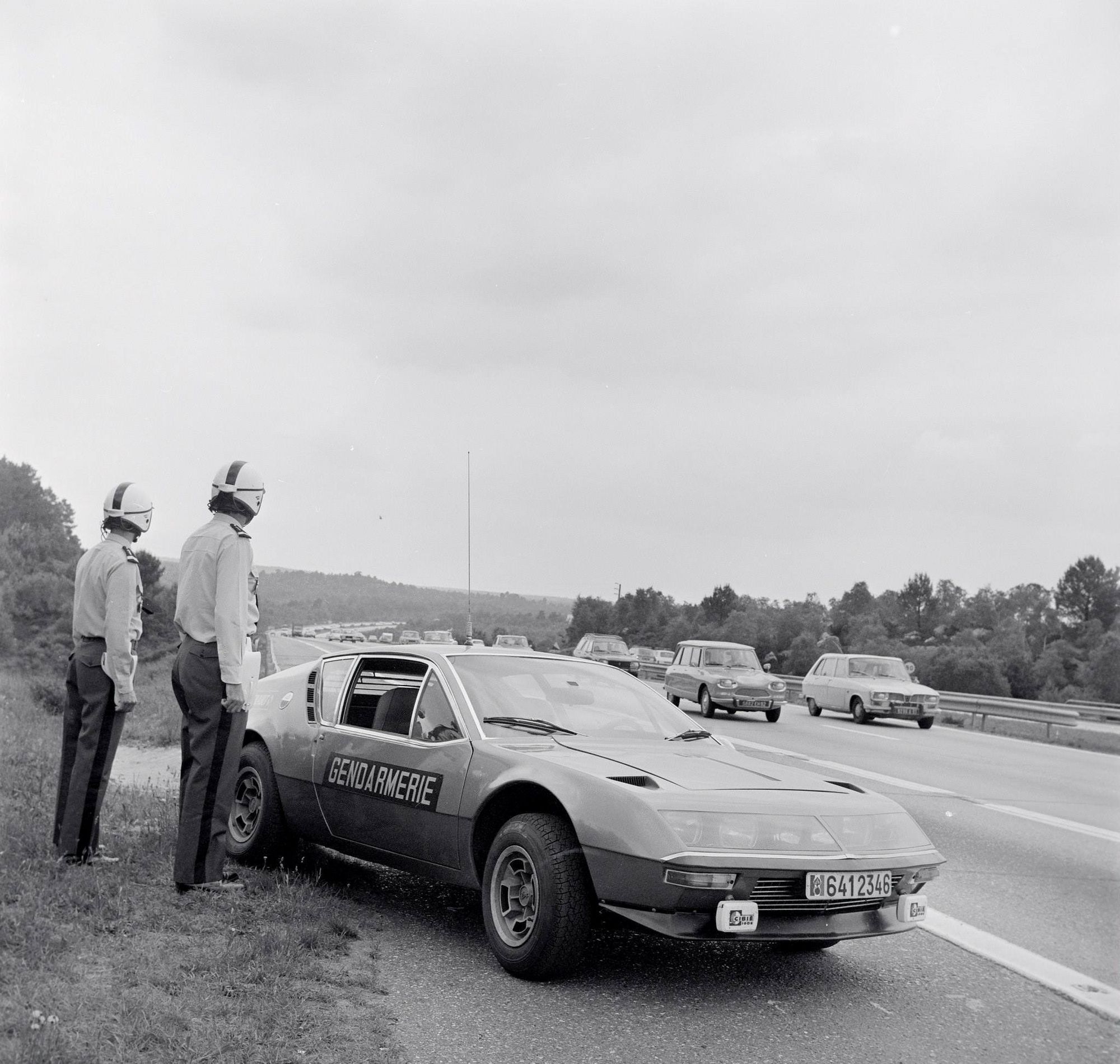 In the 1970s France was plagued by road traffic accidents and excessive speeding. This led to French police looking for a suitably modern vehicle in which to patrol the country's many high-speed roads; the wedge-like, fibreglass-bodied Alpine A310 was their answer.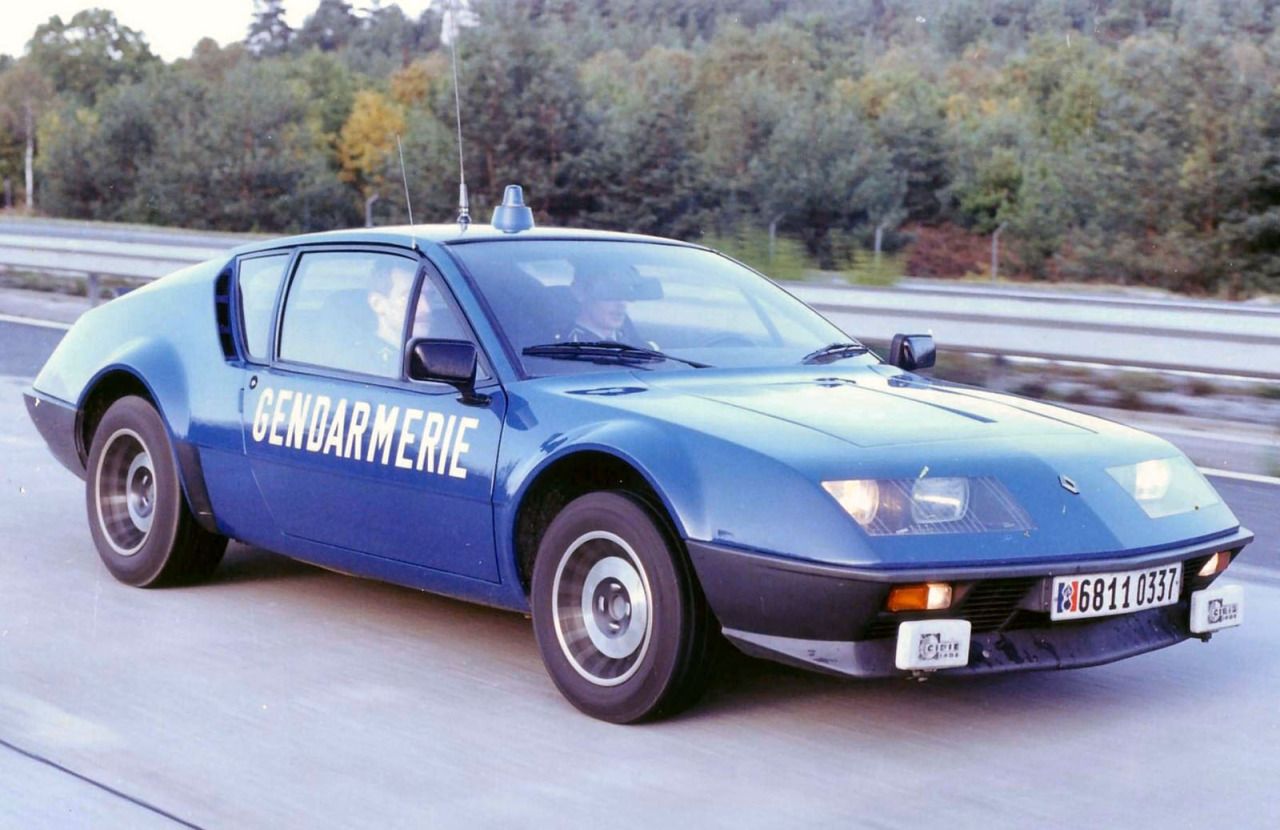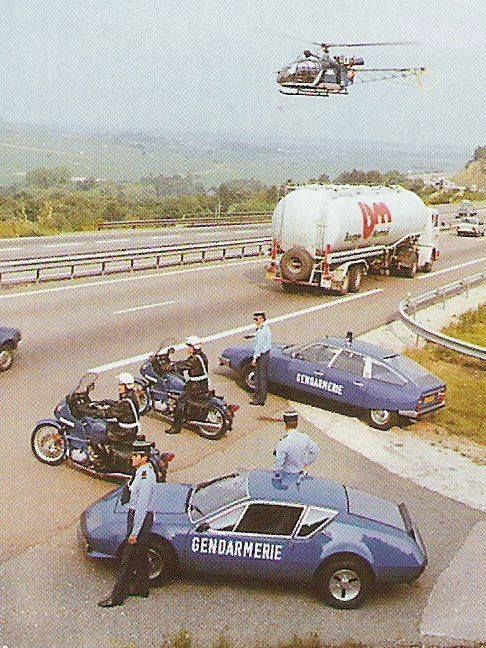 The early version of the car was equipped with a rear-mounted Gordini four-cylinder, but the A310 really gained in popularity and performance in 1976, getting a restyle from automotive designer Robert Opron and a new 2700cc V6 PRV engine which gave it a 140mph top speed. This somewhat intimidating French sports car with handling reminiscent of a 911 also saw success in period as a Group 4 rally competitor, although in 1987 the A310 was replaced in police fleets by the eccentric spaceship of the Citroen CX GTi Turbo. For sheer style points on the autoroute however, we know which one we'd rather have.
BMW E36 M3 (1992 - 1999)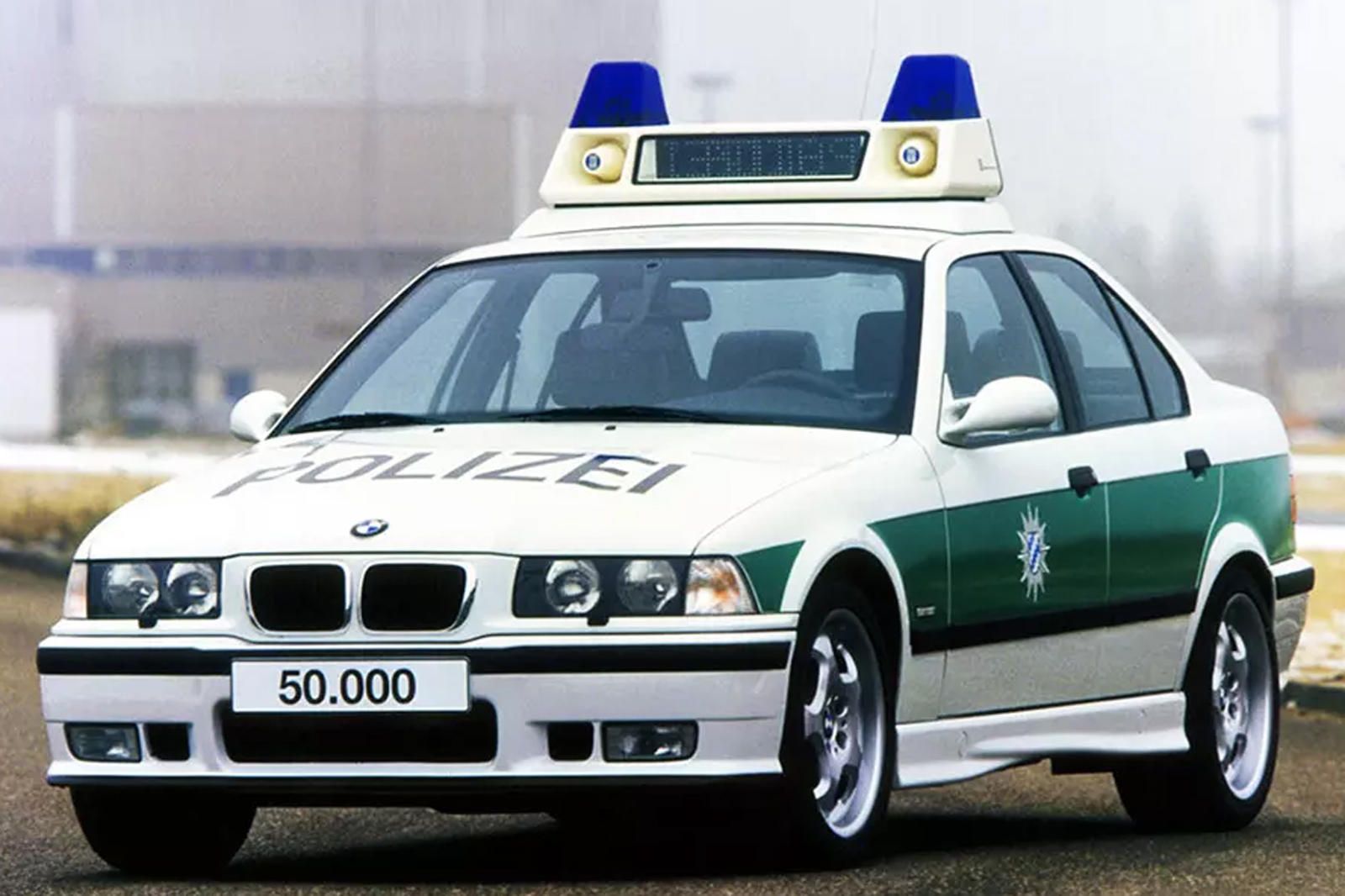 While sometimes overshadowed by the reputations of the M3 models either side of it (the famed E30 and E46), the BMW E36 M3 is a bit of a hidden gem. For us it's the workhorse M3, the one you would choose if you were tasked with patrolling endless autobahns without bringing too much attention to yourself. However if you asked us whether we wanted to install an enormous light and loudspeaker system on the roof, we would of course say 'ja', every time.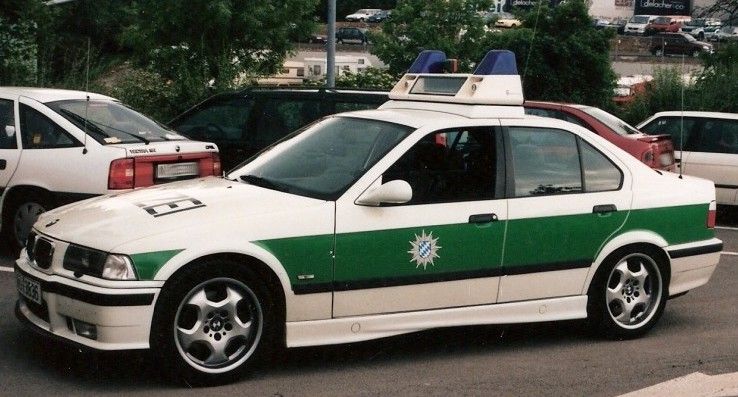 With the famed S50 engine providing reliable and dynamic performance thanks to its VANOS variable camshaft adjustment, and a nice long wheelbase for blazing motorway runs, the E36 became popular soon after launch with German police departments (not least because of a comfortable top speed of 155mph and a 0-60 time of 5.5 seconds). The brakes were never that great, but if you're using those, officer, it's time to give up the chase. Today the E36, while not considered BMW's prettiest design, is returning to popularity amongst collectors looking to rediscover one of Munich's more sober and respectable performance cars.
---
---