Haulers of Fame: Legendary Race Transporters
If you're going to make an impression on track, you may as well make an impression off of it. This week the Apex takes a look at some of the most impressive transporters to ever grace the paddocks of the world's race circuits, unloading their cargos of beautiful racing cars and road-worn mechanics (and vice versa).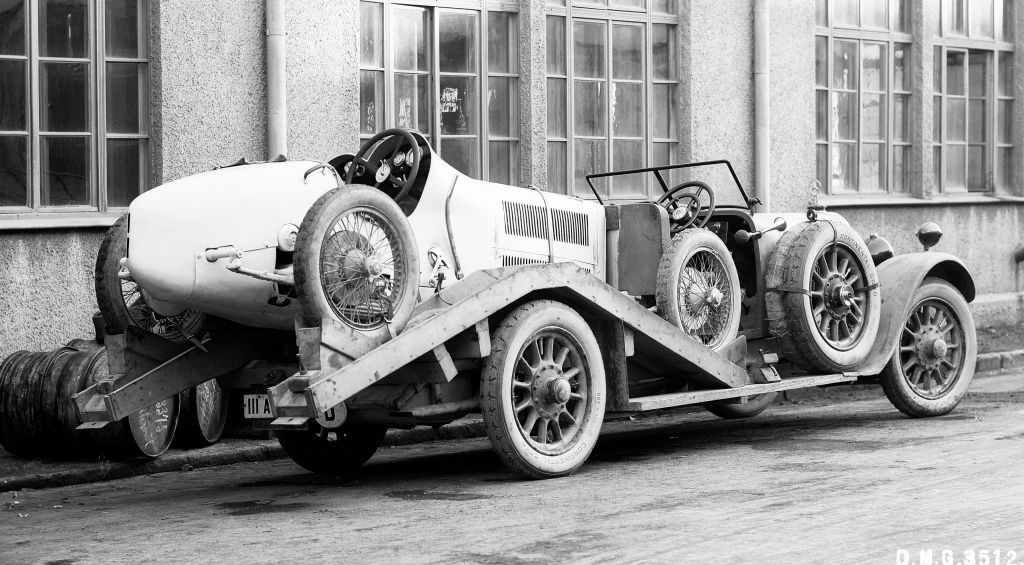 It turns out from our investigations that some of these vehicles have histories as storied as the cars and drivers they served, and have attracted the attention of collectors and restorers as much as racing enthusiasts keen to spot their favourite teams on the way to the track. While the chances of breaking free from the rectangular tyranny of modern Iveco or Scania setups are pretty slim for modern race crews, these older transporters are a reminder of a time when you could effortlessly combine practicality, style, and self-promotion.
Written by Hector Kociak for The Apex by Private Collectors Club. Edited by Charles Clegg. Produced by Demir Ametov.
Ecurie Ecosse Commer TS3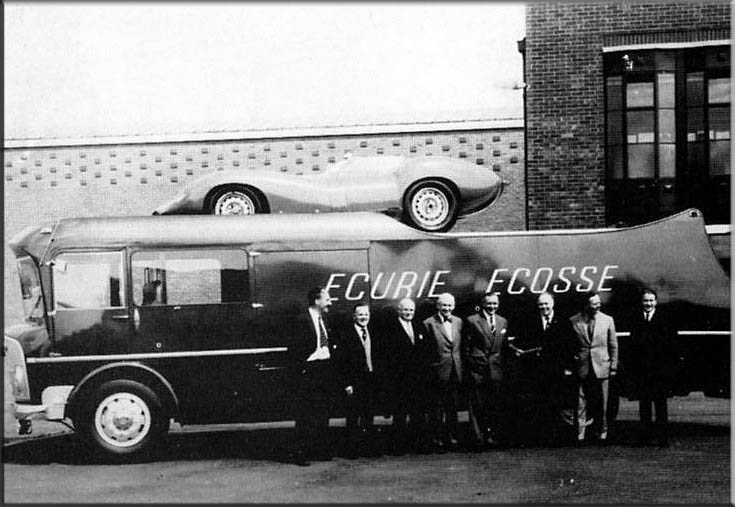 Sold for a record £1.7m at auction in late 2013 and making history as the most expensive historic race car transporter ever, the 1959 Ecurie Ecosse Commer TS3 is as memorable as the iconic Ecurie Ecosse racing cars it once carried. After the team's second Le Mans victory in 1957, the Ecurie Ecosse Association pushed for the team's existing and rather tired coach transporters to be replaced by something more appealing. Brimming with enthusiasm, Association member Ronnie Alexander, managing director of Walter Alexander & Co. (a truck and bus coachbuilder) offered to build a one-off vehicle with assistance from a number of other engineering firms.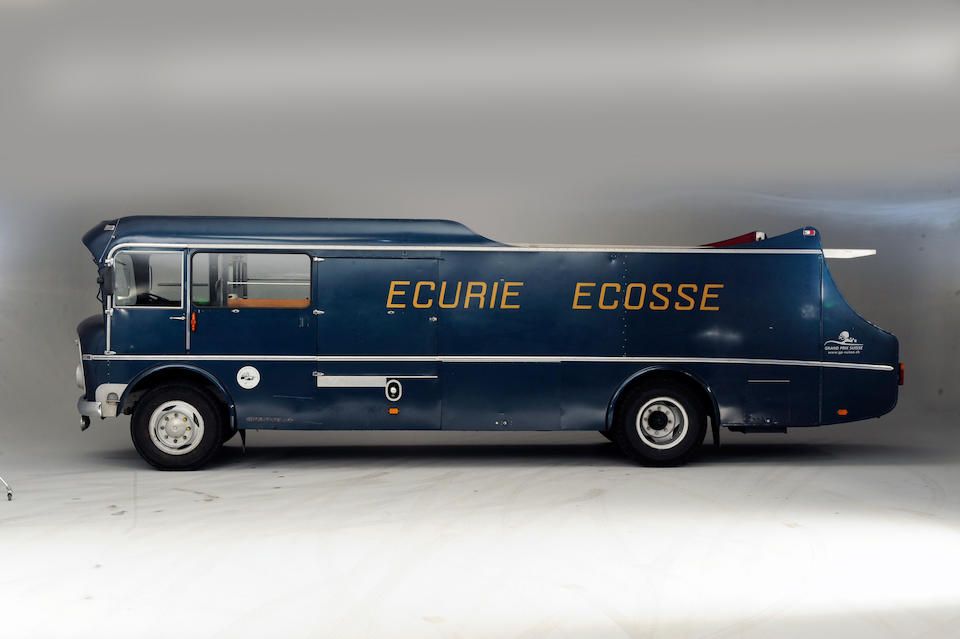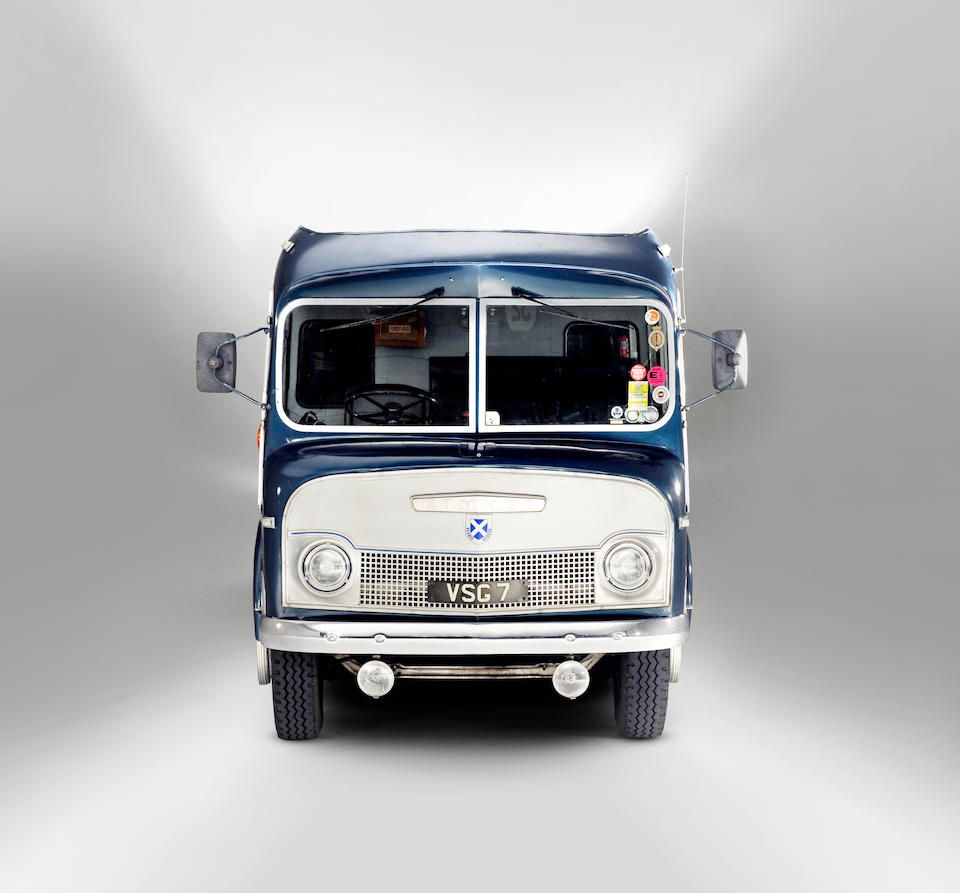 Exuberant aerodynamicist Selby Howgate was tasked with the rather unromantically named project 'Bread van No140'; under his command the Commer TS3-powered chassis, with its supremely compact engine, was elongated by 18 inches in order to fit a consignment of three racing cars, and fitted with a workshop area behind the cab which cleverly gave underside access to the car on the top deck. Finished with a daring upward sweep in the rear bodywork and painted in Ault & Wiborg 'Flag Metallic Blue', the EE Commer became an instant design classic. Debuting in May 1960, it soon became one of the best-selling toys from Corgi and subsequently a popular sight at the Goodwood Revival.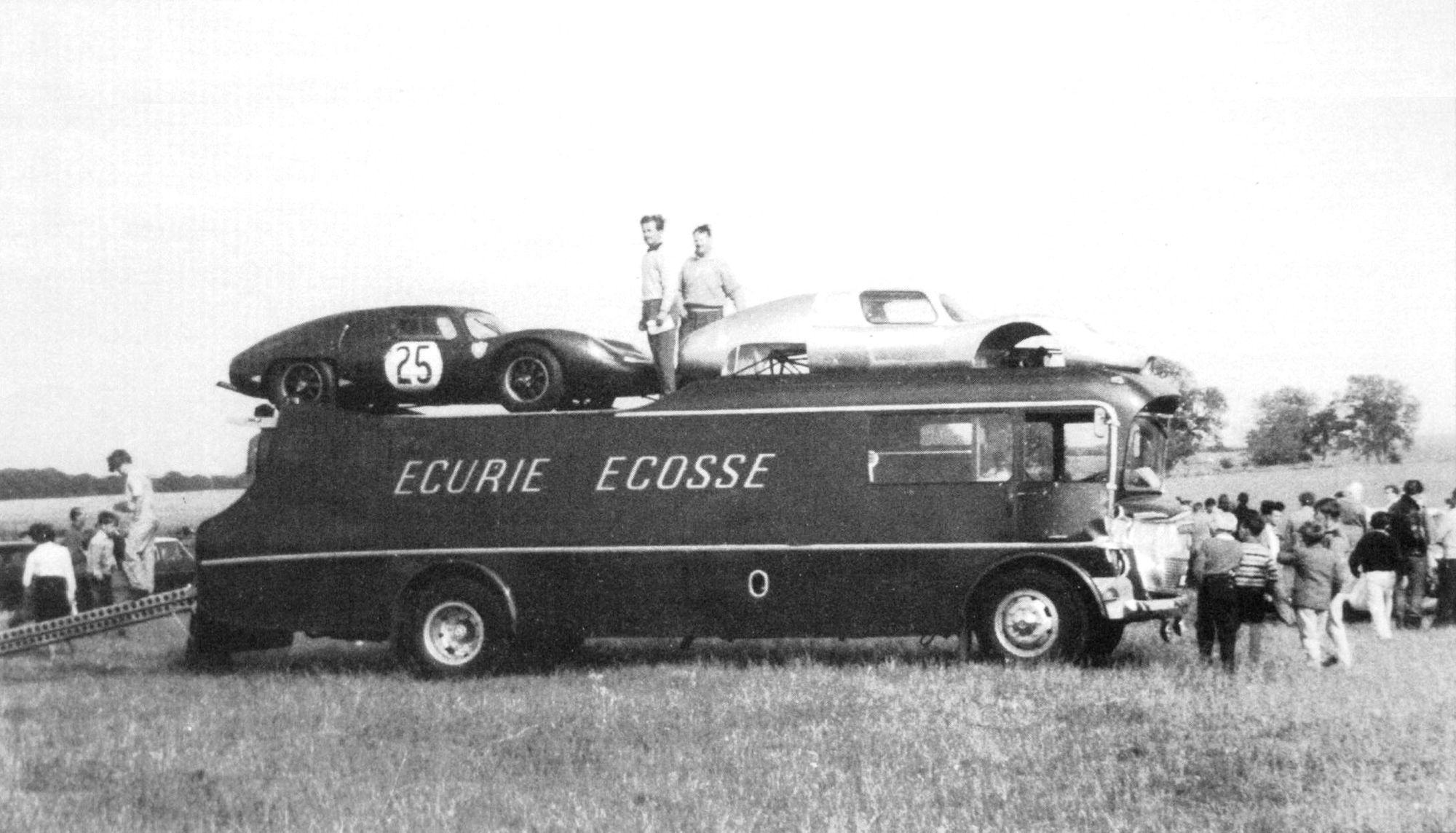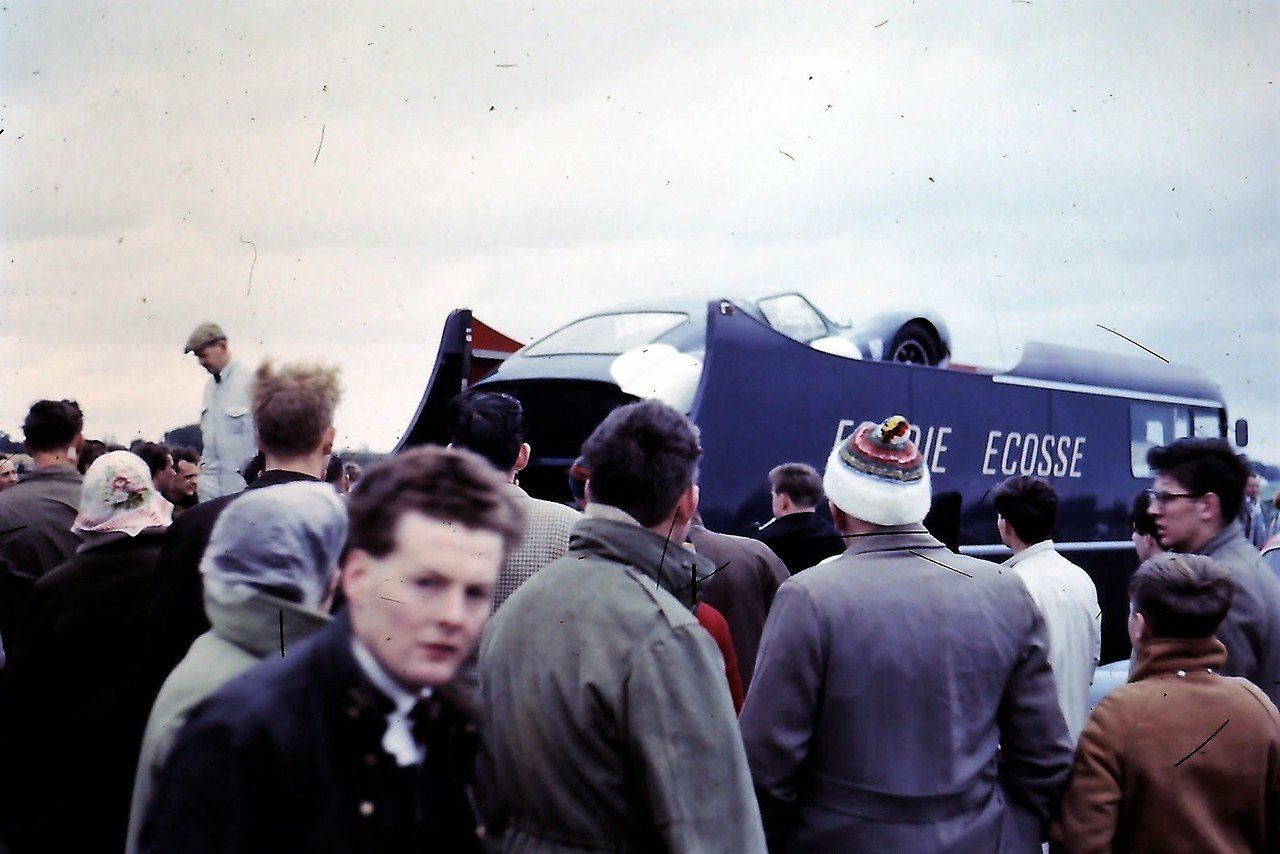 In its later years the transporter was rescued from decrepitude by the heroic Dick Skipworth and fully restored by the late John Hay at Lynx. It remains a unique and valuable vehicle and a relic of the golden age of sports car racing.  
Fiat Bartoletti Tipo 306 (Type II)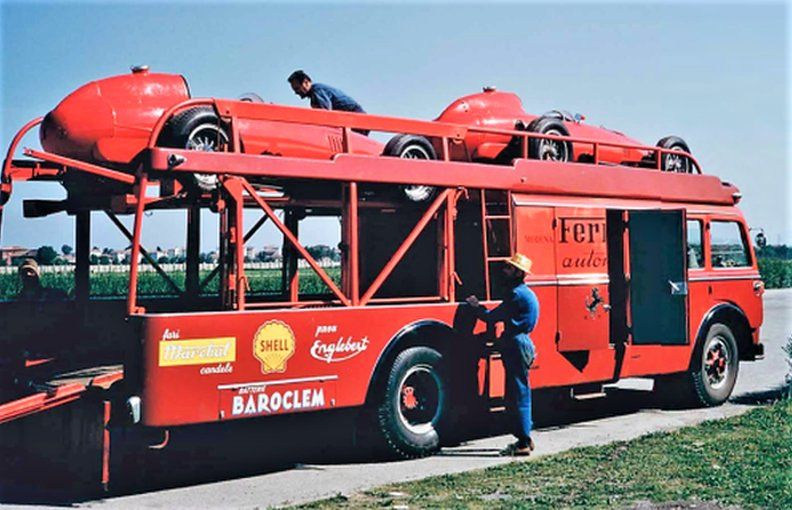 Now here's a transporter that could tell you a tale or two. The elegant Fiat type 642 RN2 transporters with tasteful bodywork by Bartoletti were a popular sight at European racing circuits in the 1950s, with Scuderia Ferrari and Maserati both using liveried versions to carry around their open-wheeled racing cars. While the exact origins of this particular vehicle, based on Fiat's Tipo 306 bus chassis, have been disputed ferociously on enthusiast forums, it is well established that it was used by playboy racer Lance Reventlow in 1959 as the European team transport for his Scarab Formula 1 cars.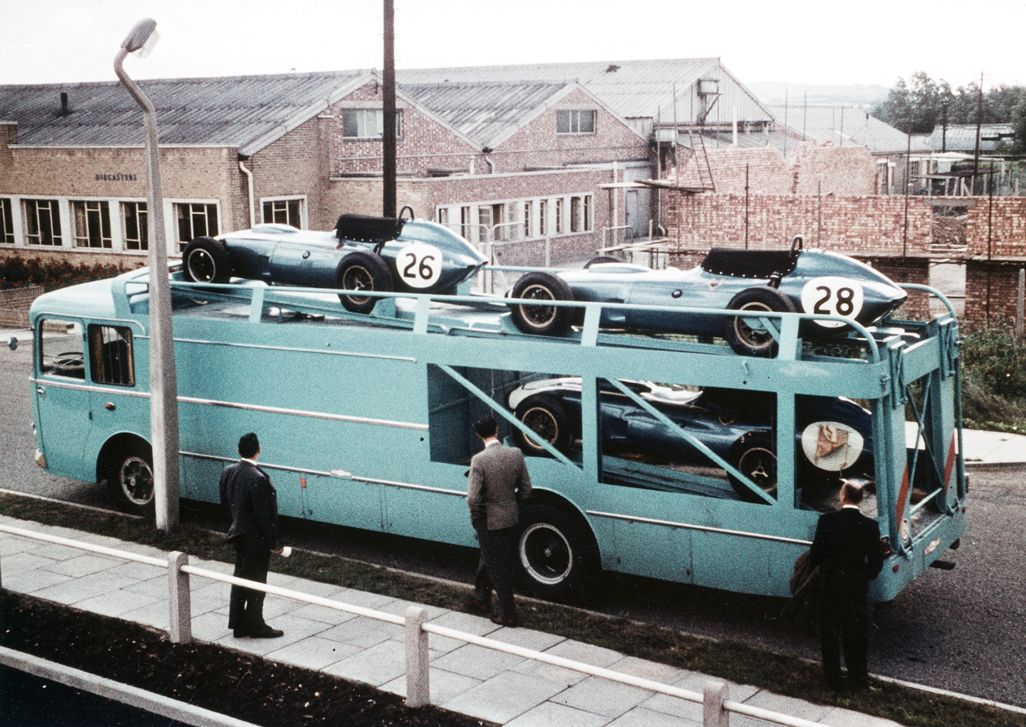 It was later used briefly by Team Lotus before passing through the hands of America Camoradi and eventually Shelby American, who used it to transport Cobras and Daytona Coupes to European stops on the World Sportscar Championship roster (at which point a third axle was added to accommodate the heavier closed-wheel racing cars).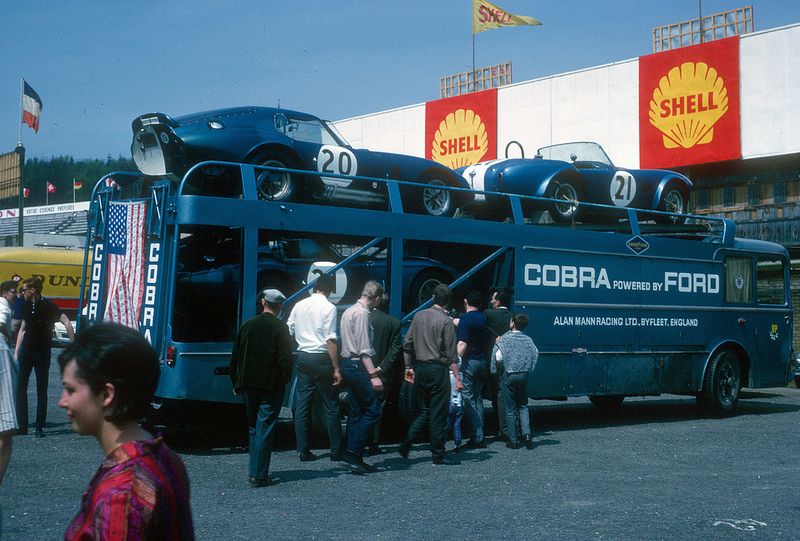 The Bartoletti went on to be used by Alan Mann Racing between 1965 and 1967 before eventually ending up in the hands of sports car racer David Piper, who painted it his favourite shade of green before striking a deal for it to star in Steve McQueen's Le Mans, where under various coats of paint it played the role of team transporter for Ferrari, Renault/Mirage and Porsche.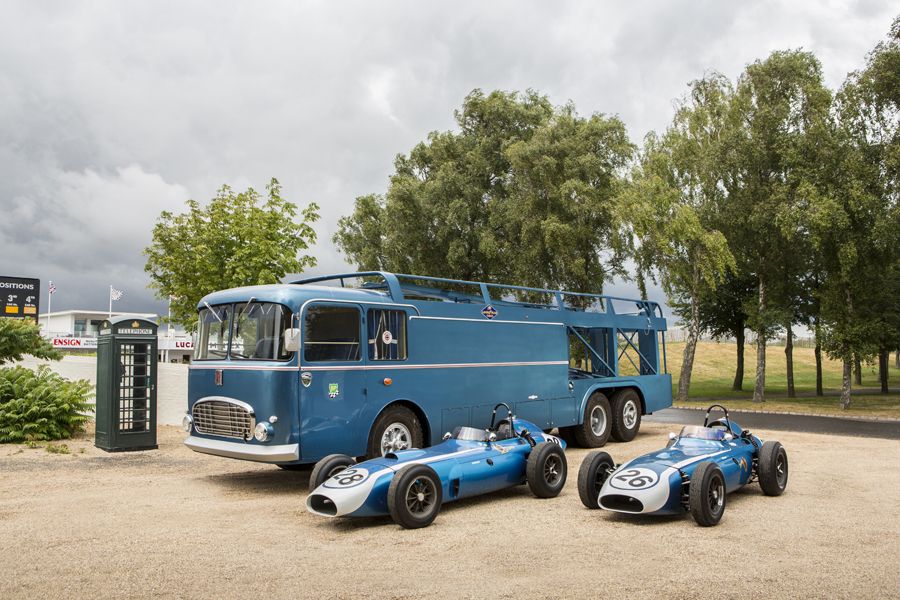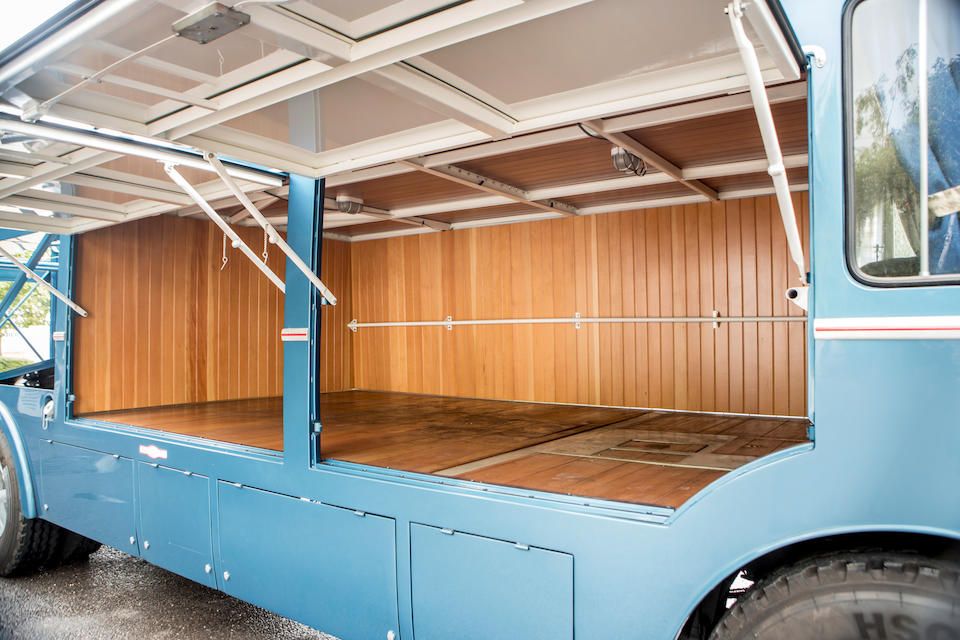 It was eventually rescued from the grime of Hollywood by Michael Shoen of U-Haul fame; an unfortunate divorce battle meant he could only get our heroic truck as far as the Arizona desert, from which it was in turn rescued by Don Orosco. The mother of all restorations followed, with two years, 8,000 hours and $600,000 spent to bring the Bartoletti back to concourse standard. Today the vehicle exists pretty much as it did in 1960, with the exception of its 11.5l Leyland turbocharged six-cylinder diesel engine. We can only imagine how many interesting conversations must have been held in its cabin throughout its long and illustrious career!
Mercedes Renntransporter - the 'Blue Wonder'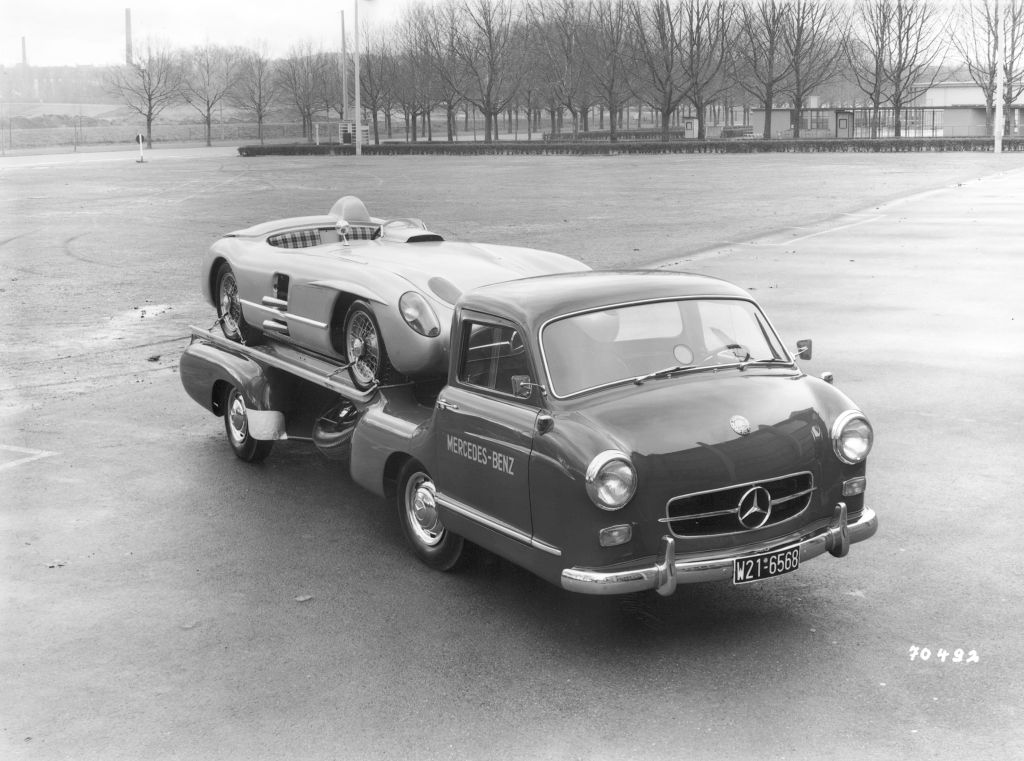 No list of great race transporters would be complete without the Mercedes Renntransporter, brainchild of Alfred 'The Don' Neubauer, legendary racing team manager at Mercedes-Benz between 1926-1955. With Mercedes making a comeback in post-war racing, Neubauer considered transport trucks to be rather old hat, and tasked race car designer Rudolf Uhlenhaut with coming up with a suitably impressive vehicle for the 'Silver Arrows Rapid Deployment Team'. The result was an extraordinary-looking 6.75m long transporter based on the x-shaped tubular frame from a Mercedes Typ 300, with an engine and gearbox from the 300 SL 'Gullwing' and interior fittings from a Typ 180.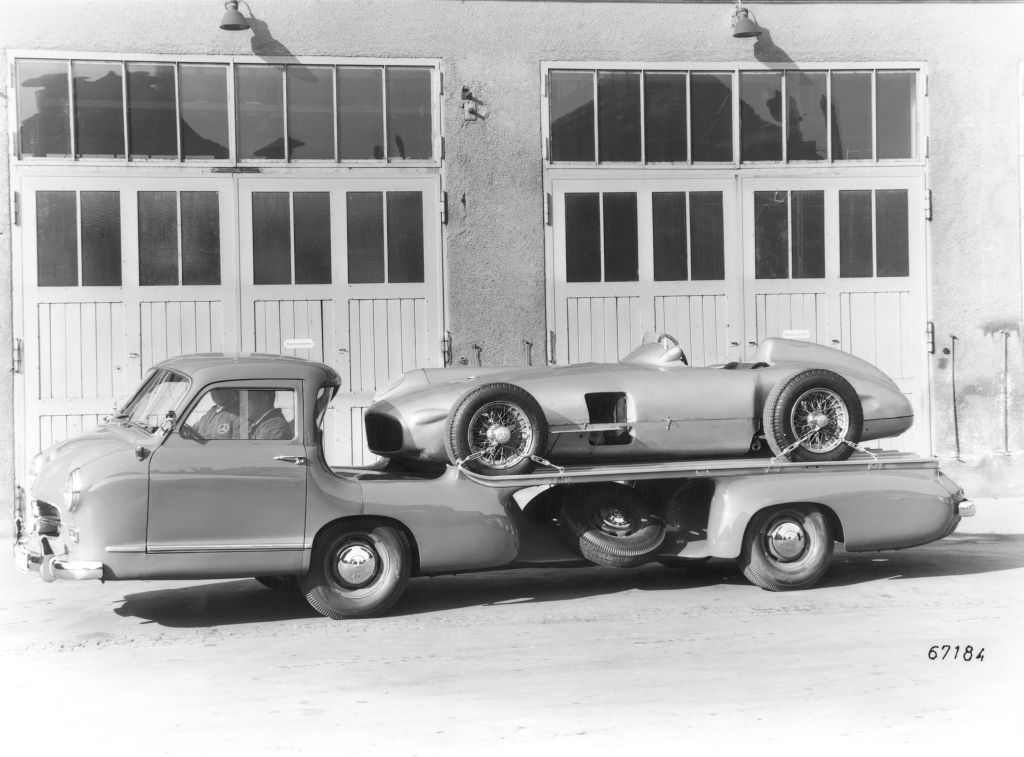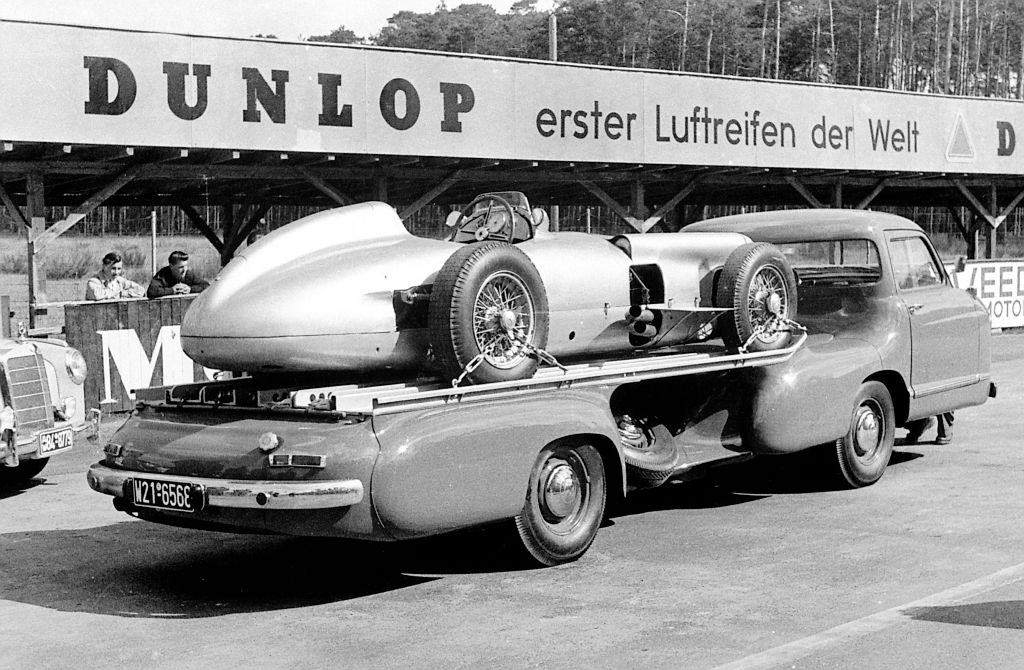 With multiple divisions of Mercedes-Benz contributing to a project with an effectively unlimited budget, the Blue Wonder was technically advanced for its time, able to hit speeds of over 100mph and come to a stop quickly thanks to hydraulic drum brakes on all four wheels supported by a pneumatic Bosch brake booster. It was used for rapid deployment purposes from 1954, although after Pierre Levegh's tragic accident in his Mercedes-Benz 300 SLR at the 1955 edition of Le Mans the Renntransporter was retired from service along with the rest of the Mercedes-Benz team's racing cars.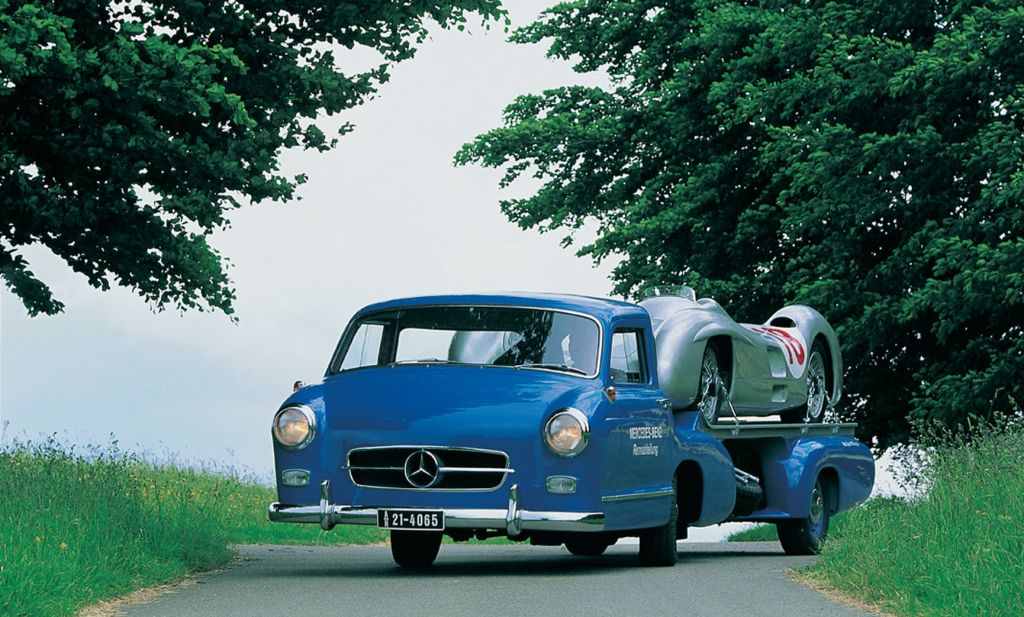 After being used for road testing in the 1960s, the original vehicle was mothballed and destroyed in December 1967. With the advent of vintage racing in the early '90s, Mercedes-Benz Classics commissioned MIKA GmbH to build an entirely new vehicle for promotional purposes; given the absence of original blueprints, the final build took 6000 hours and almost seven years of work before the recreated Renntransporter was launched at Goodwood in 2001 to celebrate the centenary of the Mercedes-Benz marque. That replica now lives at the Mercedes-Benz Museum in Stuttgart, with one other Renntransporter recreation in private hands, the result of a cancelled original  Mercedes-Benz fabrication contract with a Swedish restorer.
Gold Leaf Team Lotus AEC Swift - 'HMS Hethel'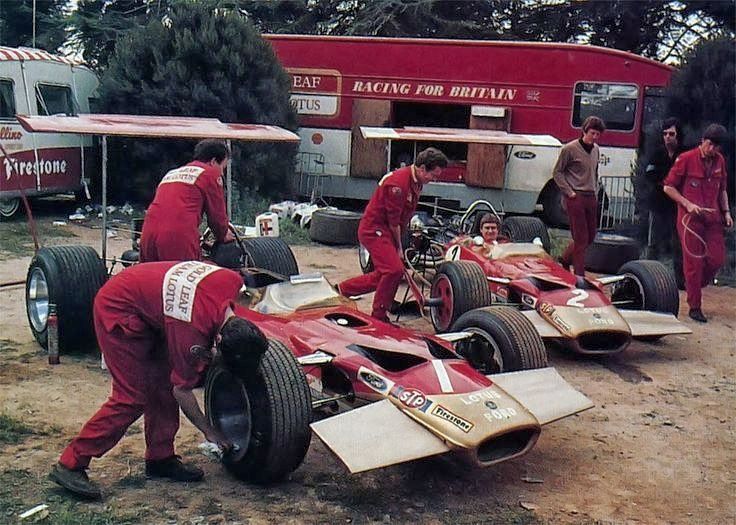 Colin Chapman rightly has a reputation as one of motorsport's greatest innovators, and so it is not surprising that his creativity also extended to sponsorship opportunities. When the Lotus 49 was launched in 1967, Chapman procured AEC Swift single deck coach chassis LVF 480E which was then converted by Norwich Coachworks into an elegant Team Lotus transporter, affectionately known as 'HMS Hethel'. Originally painted in green Team Lotus livery, from 1968 to '71 the Swift wore the Gold Leaf Team Lotus livery as a result of Chapman bringing the first major sponsorship deal into F1 with Imperial Tobacco's Gold Leaf Cigarettes. This was quite a subtle ploy as the word 'cigarette' did not soil any of the team vehicles, although Chapman's move meant that his entire outfit was now a rolling tobacco billboard, prompting a commercial revolution in F1 which would forever change the aesthetics and economics of the sport.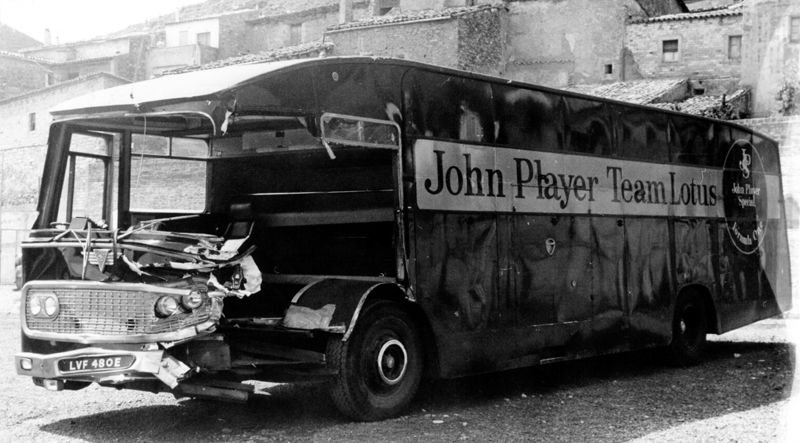 Serving the team loyally throughout the F1 championship-winning years of 1968 and 1969, and ferrying the likes of Jim Clark, Graham Hill, Jochen Rindt and Emerson Fittipaldi, the Swift was repainted in 1972 in the famous John Player Special colours. Unfortunately it was then involved in a serious accident en route to the Monaco GP in the same year, which rendered it unusable by the Lotus team; it was later replaced by a number of other transporters including 'Jahil', a rather wedge-like modern vehicle based on a Leyland Leopard chassis which was used by the team deep into the 1980s.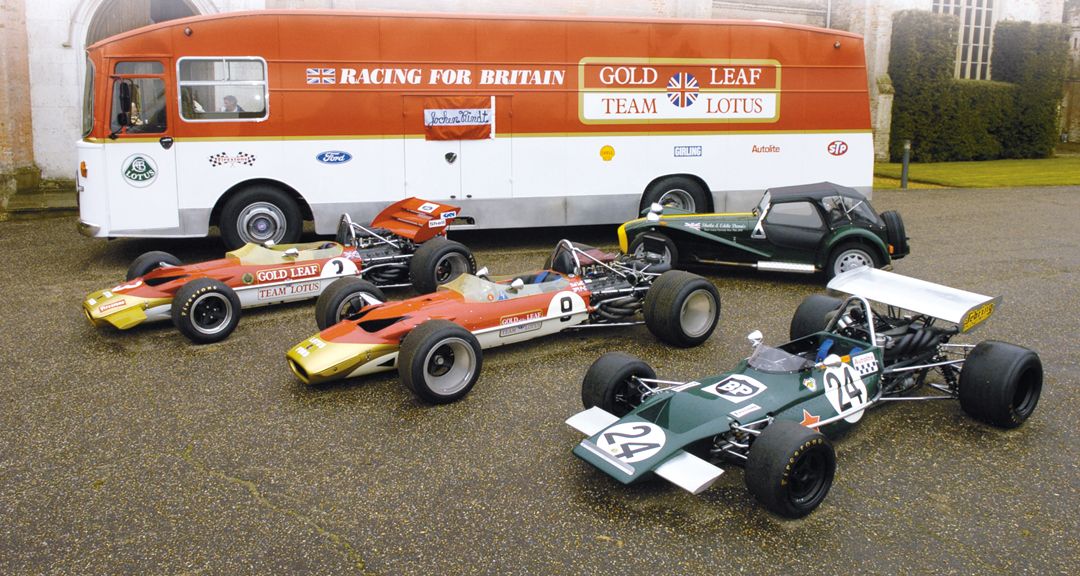 As for HMS Hethel, it was eventually acquired by F1 connoisseur Joe Willenpart after being found, like so many other iconic racing vehicles, rotting in the garden of a fellow collector. After a restoration in 2005 we believe it is now in happy retirement in Austria.
Land Rover Defender Series I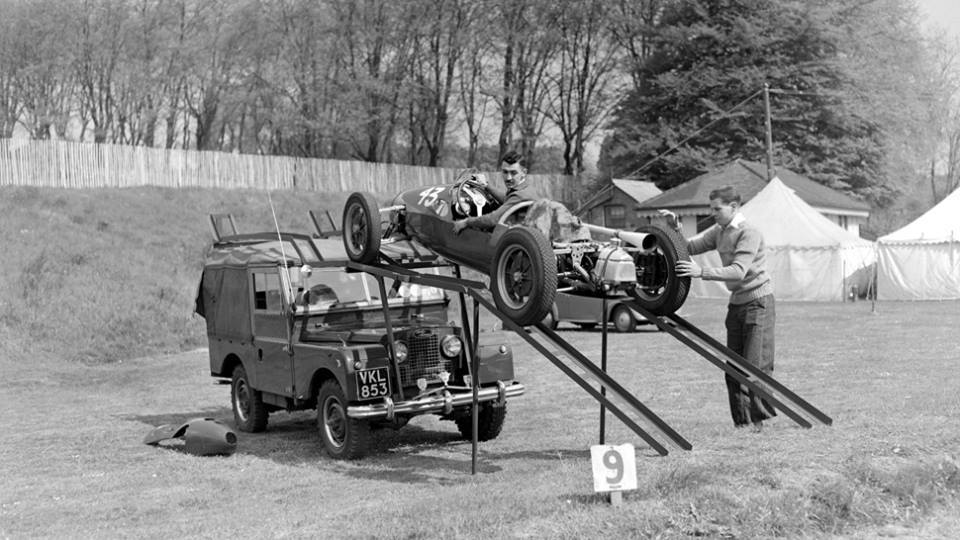 Yes, it's not a bus (although you could argue that early examples handle like one) but the Land Rover Defender deserves a place on our list. This legendary utility vehicle and its descendants, having made short work of farms, green lanes and battlefields since launch in 1948, have been put to many practical uses over the years, including race transportation. While pulling a racing car in a trailer is the norm, our favourite solution is that deployed by racing driver Stuart Lewis-Evans, who back in 1956 took to transporting his Cooper 500 Formula 3 car on the roof of his trusty Series 1. With the help of a slightly flimsy-looking ramp, he could deploy with minimal fuss at circuits like Crystal Palace, leaving an iconic photo for posterity. Other creative solutions to race car transport, such as Bentley Blowers towing modern Bentley GT3s, come close - but we prefer the plucky self sufficiency of the Series I.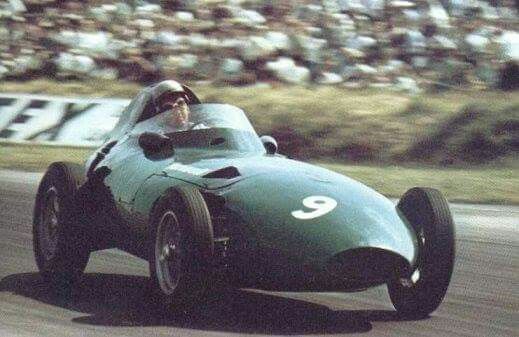 Having won the 1957 Glover Trophy at Goodwood and finishing fourth on his championship debut at Monaco for the Connaught team, Lewis-Evans was offered a seat by Tony Vandervell in the Vanwall F1 team alongside Stirling Moss and Tony Brooks, and became a hugely important part of Vanwall's success in the 1958 constructors' championship thanks to his podiums in Belgium and Portugal and fourth place in the British Grand Prix. Sadly Lewis-Evans would suffer terminal injuries in the Morocco GP that year while helping Stirling Moss to victory, a loss from which the Vanwall team and its owners never recovered. With news that the Vanwall name is coming back with a tiny run of continuation cars, we wonder whether anybody will dare emulate Lewis-Evans' solution with a modern Defender - although carrying £1.6m of newly minted racing car on your roof is not for the faint of heart.
---
---