Grand Designs: The '90s GT Cars We'd Love To Race
A common complaint of modern racing enthusiasts is that the cars on track bear increasingly little resemblance to what we see on the road. For example in recent years, the top LMP1 class in the FIA's World Endurance Championship has hosted prototypes packed with cutting-edge technology, hybrid power plants and complex aerodynamic features optimised purely for track performance. While making for incredible lap times and on-rails driving, it's not exactly a cinematic spectacle - and it looks like the new FIA/ACO Hypercar regulations and continuation LMP2 category might not go very far in solving the problem.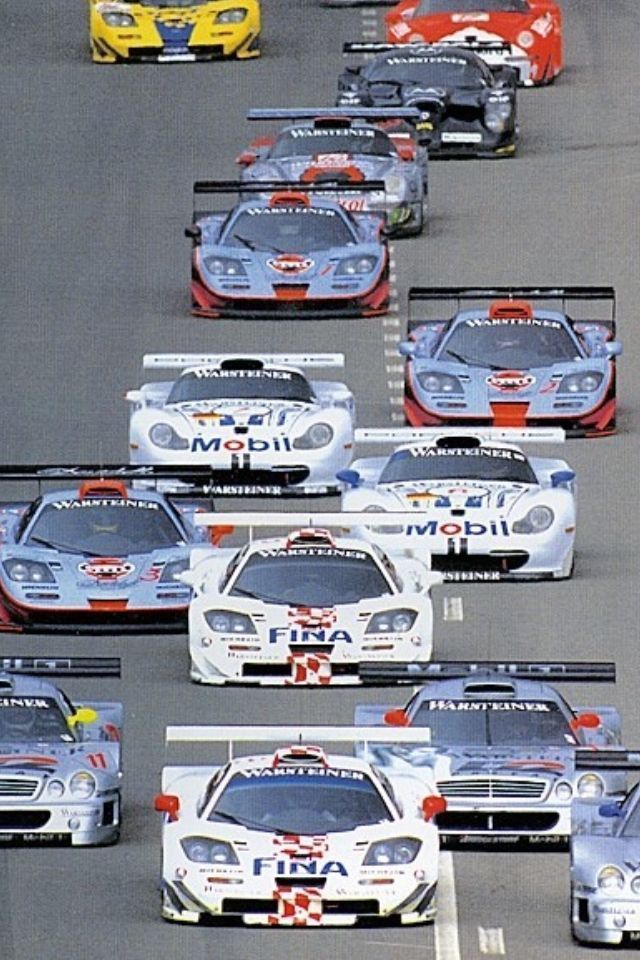 Fear not, however, for the racing community can take inspiration from its glorious past, when super- and hypercars with grandiose bodywork and monstrous power plants were in vogue. The GT racing era of the 1990s and 2000s, despite being quite confusing for racing historians, produced some beautiful and exotic cars based (more or less) on road-going bedroom wall favourites - and not just Porsches and Ferraris! We took a look through GT1/GT2 history at Le Mans and elsewhere this week, and chose some of the less obvious dream drives from the era.
Written by Hector Kociak for The Apex by Custodian. Edited & produced by Charles Clegg and Guillaume Campos.
Bugatti EB110 LM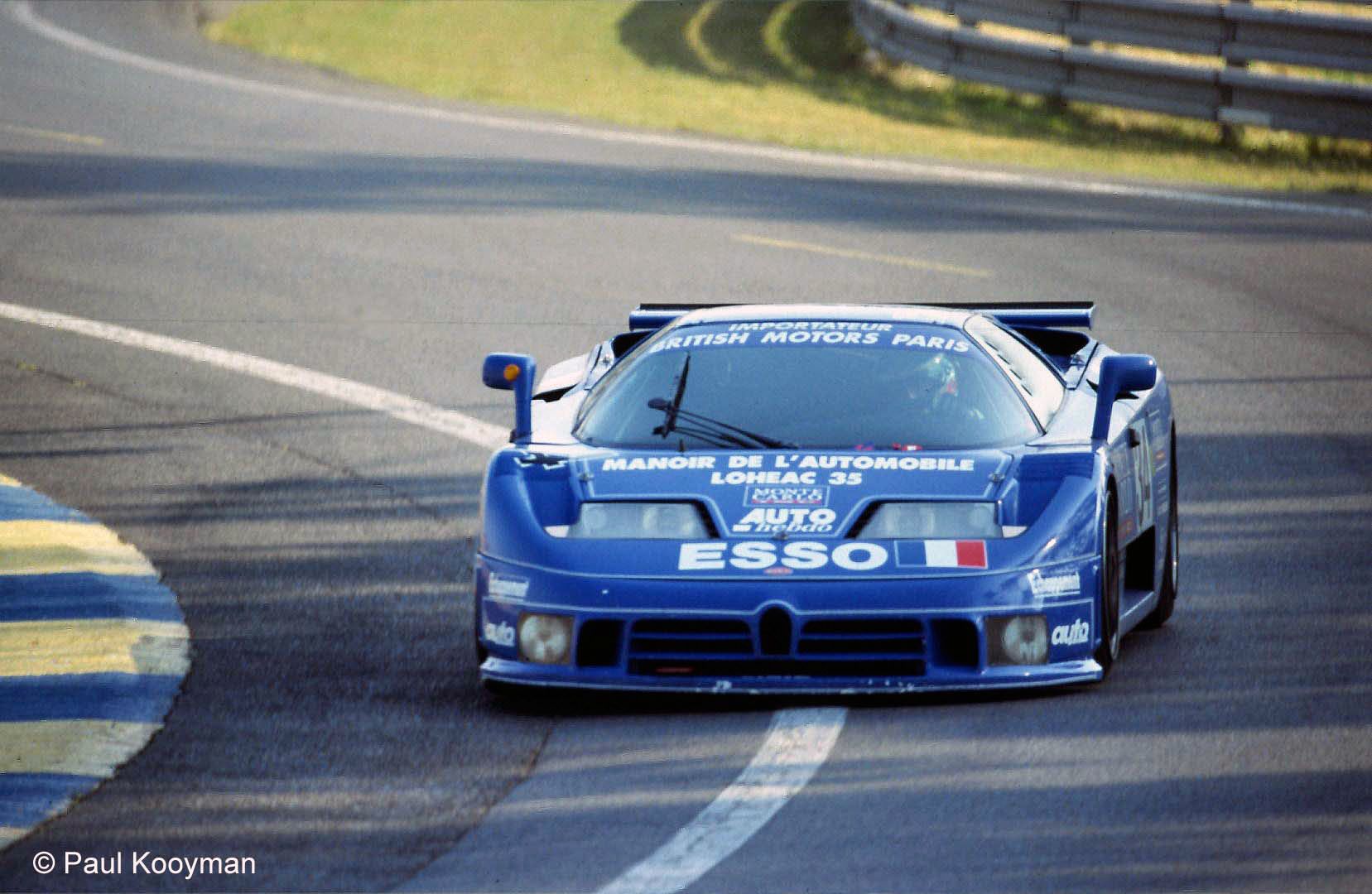 The road going version of the EB110GT was presented to the world in 1991, on the day which would have been Ettore Bugatti's 110th birthday. Originally designed by Marcello Gandini and perfected by Giampaolo Benedini, it was equipped with a pioneering 3.5l mid-mounted, quad-turbo V12, four wheel drive and a carbon fibre monocoque chassis. It's true that there was no campaigning EB110 on the GT1 circuit, given that only two EB110 racing cars left the Bugatti factory gates (one destined for the IMSA GT Championship), but the car commissioned by French publishing magnate Michel Hommell proved competitive in the GT1 class at Le Mans in 1994 despite chewing through all of its turbochargers during the race. Piloted by Alain Cudini, Éric Hélary and Jean-Christophe Bouillon, it unfortunately suffered a tyre failure before the chequered flag and crashed into a barrier - but the legend of this beautiful car (and still Bugatti's only entry at Le Mans since 1939) lives on today.
De Tomaso Pantera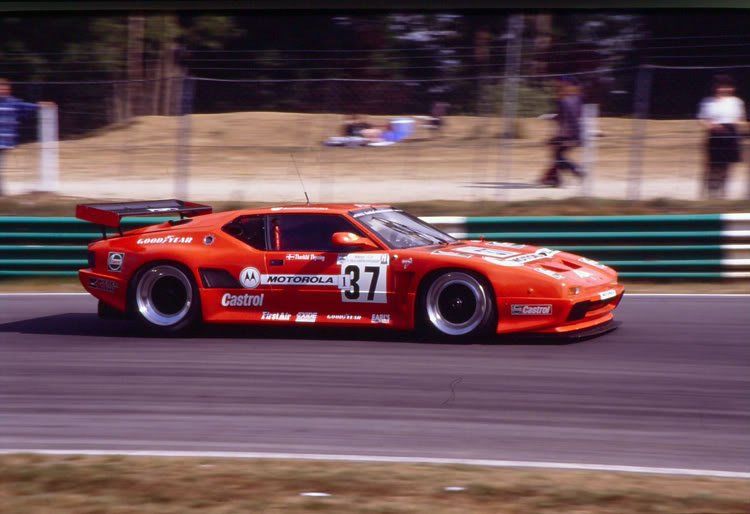 The De Tomaso Pantera is now a cult GT car, a wonderful piece of Italian-designed 1970's wedge which was sold predominantly in the United States between 1971 and 1992. Originally equipped with a 5.0l Ford Cleveland V8, the Pantera proved popular throughout its lifecycle as a relatively more affordable entry to the world of Ghia-designed, European luxury GTs.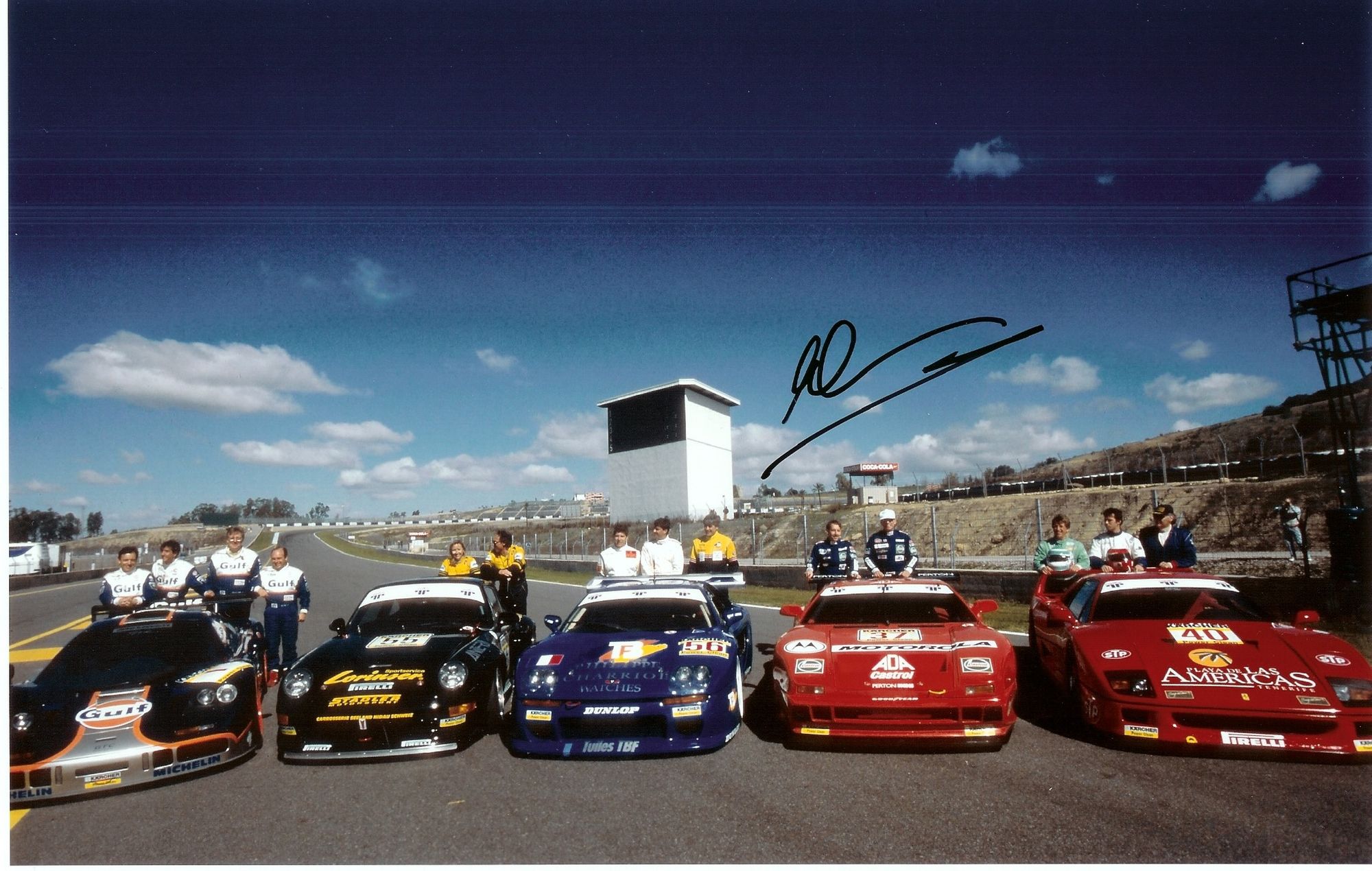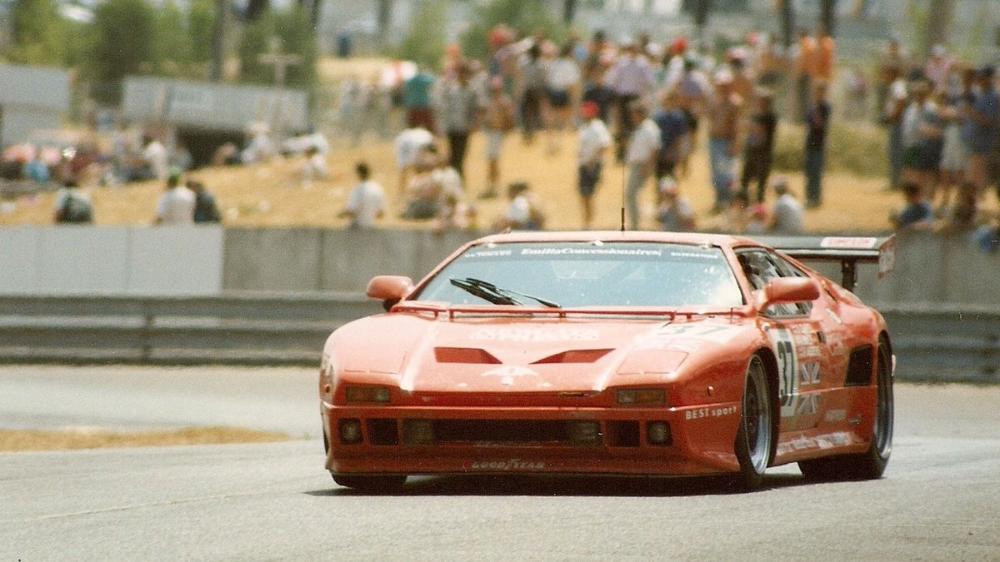 By the late 1980s there was a considerable push for more privateer racer entries in the World Sportscar Championship, BPR Global GT Series and later the FIA GT Championship (yes, the history is utterly confusing), with racing teams searching for affordable platforms to run in major racing series. In the early '90s ADA Engineering (with building assistance from Dallara) fielded a Pantera in the BPR and British GT series, as well as taking it to Le Mans in 1994 to compete in the GT1 class. It didn't do particularly well there, or in a later attempt in 1996. But the noise and spectacle of seeing a pumped-up 1970s hero car blasting down the Mulsanne was certainly worth the effort, in our opinion.
Jaguar XJ220-C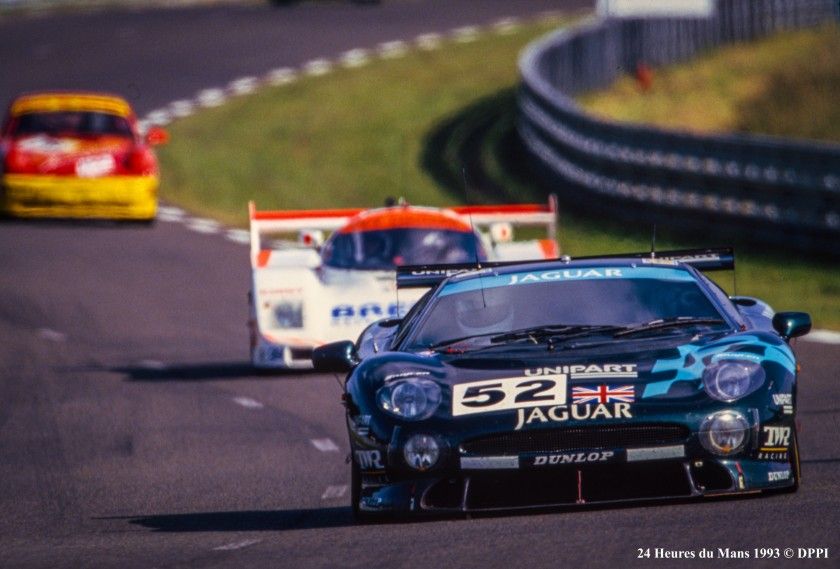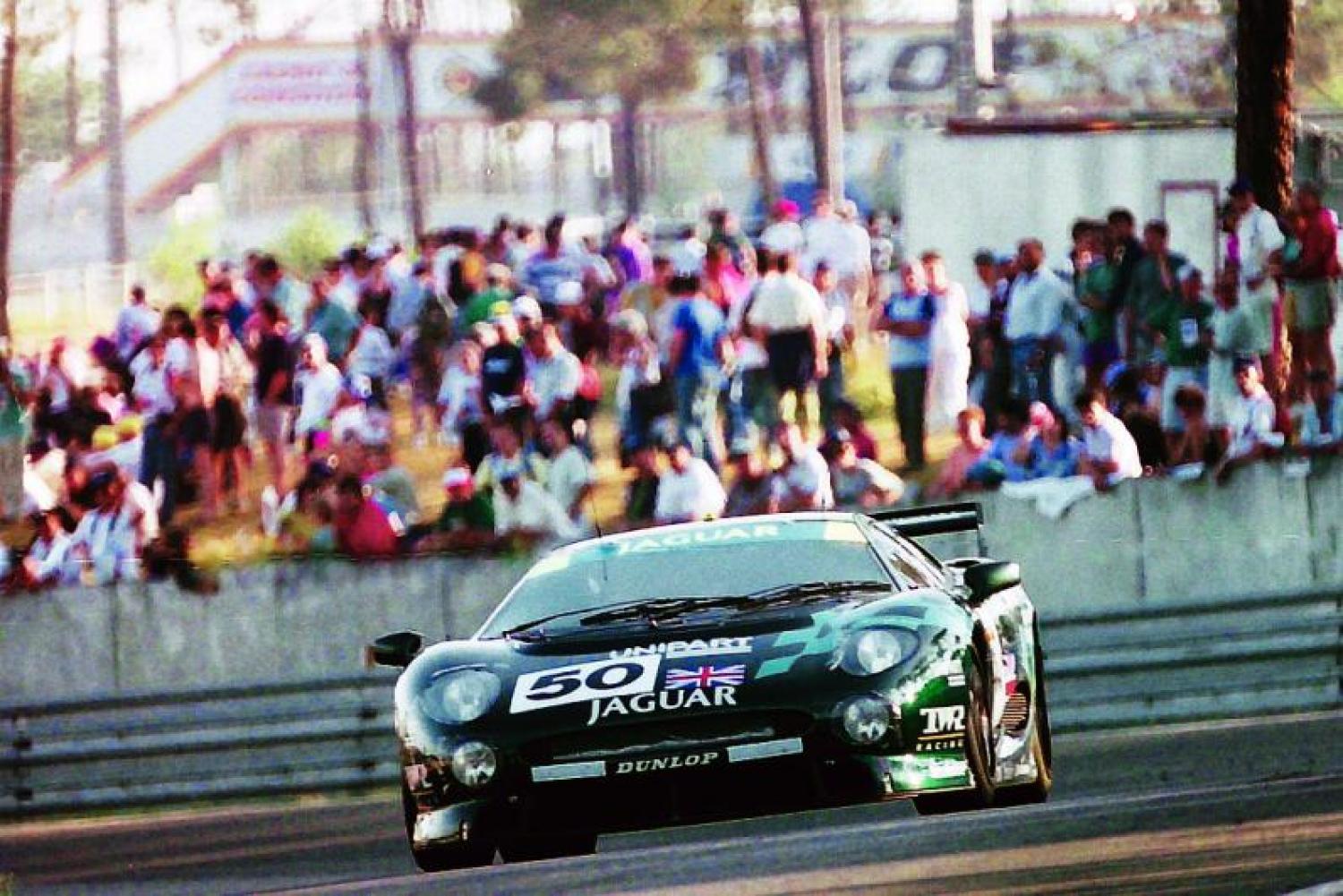 There is nothing more British than being disqualified on a tedious technicality - but such was the fate of one of our favourite GT contestants, the Jaguar XJ220-C, at Le Mans in 1993. Driven to a GT class win by John Nielsen, David Brabham and David Coulthard, the lack of a catalytic converter on the Tom Walkinshaw-run winner meant disqualification at the hands of the ACO.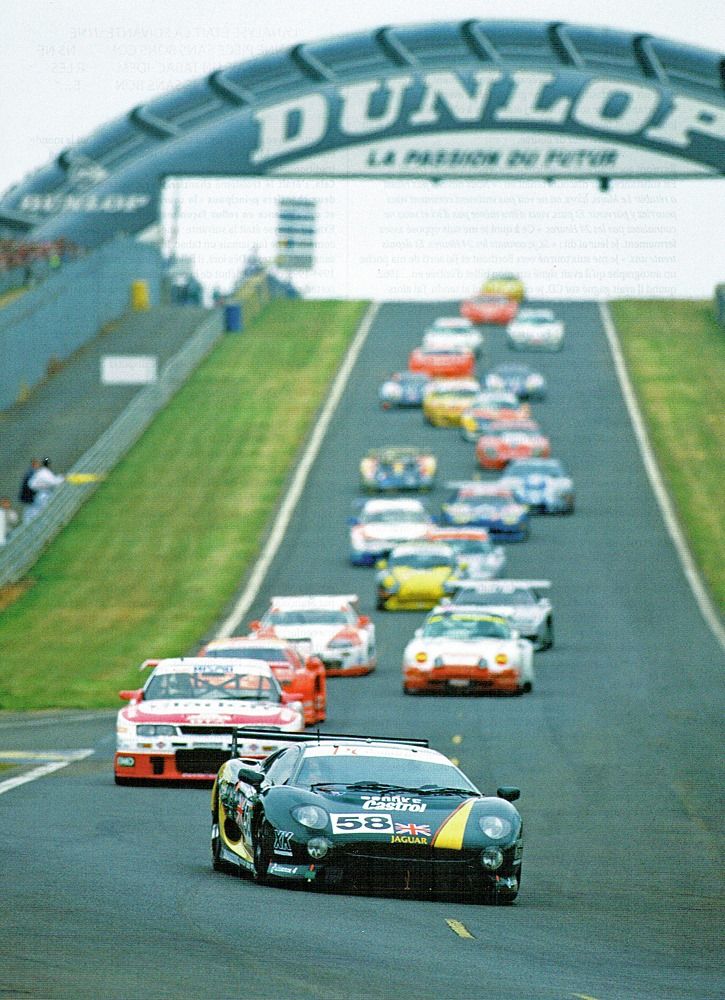 With successful appearances in BPR and British GT, the XJ220-C was nonetheless a popular racing car of the period - enthusiastic owners of the normal road car were also frequently keen to test their cars out on track, however ill-advised that seems. Curiously enough, the production road car was launched without the promised 6.2l V12 or all-wheel drive seen on the prototype at the 1988 Birmingham Motor Show, prompting outrage from many customers who had paid deposits and a number of legal claims. Despite these early controversies, the XJ220 has survived as a much-loved modern classic, and in racing trim looks every part the track supercar.
Lotus Esprit V8 GT1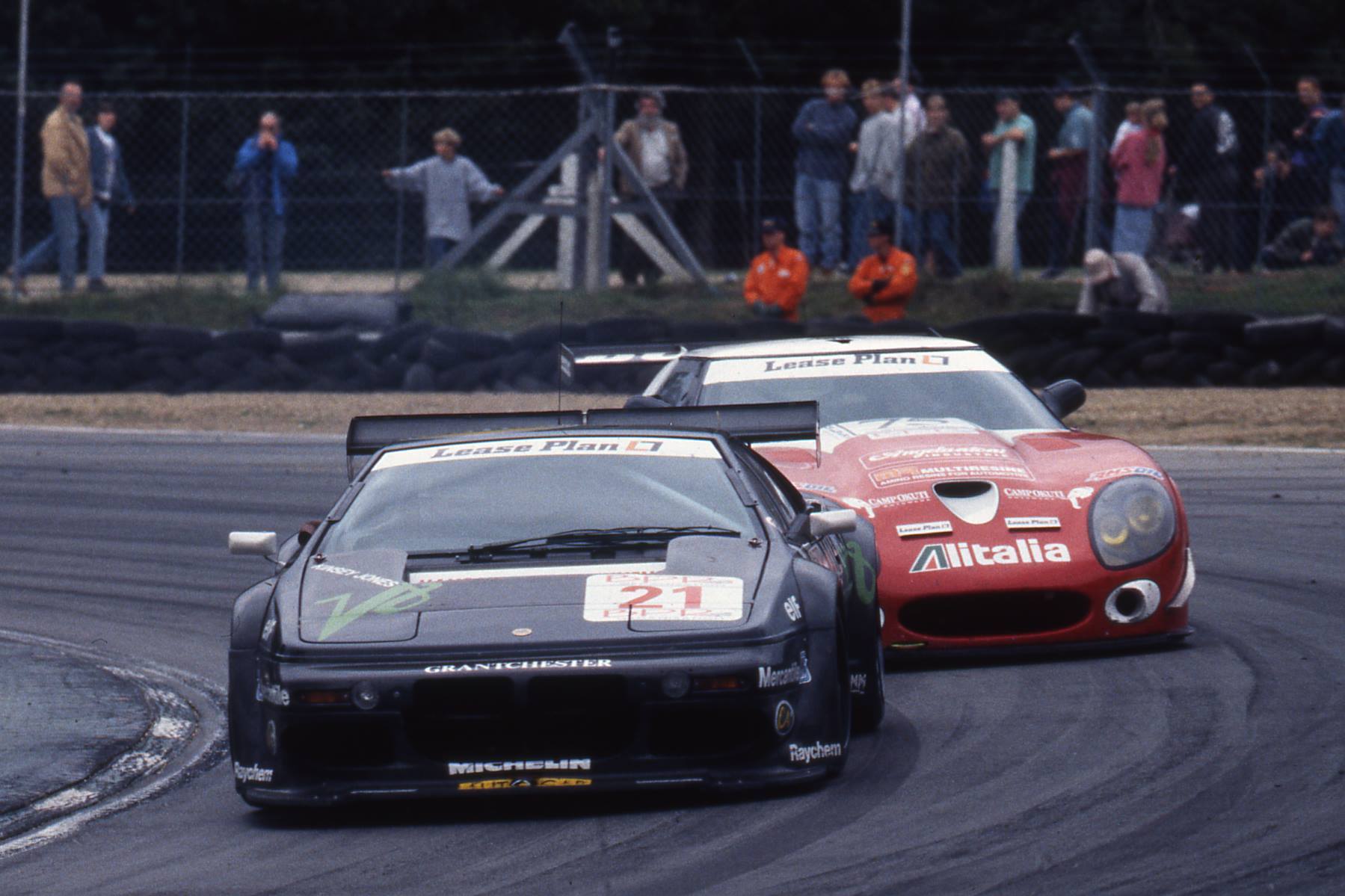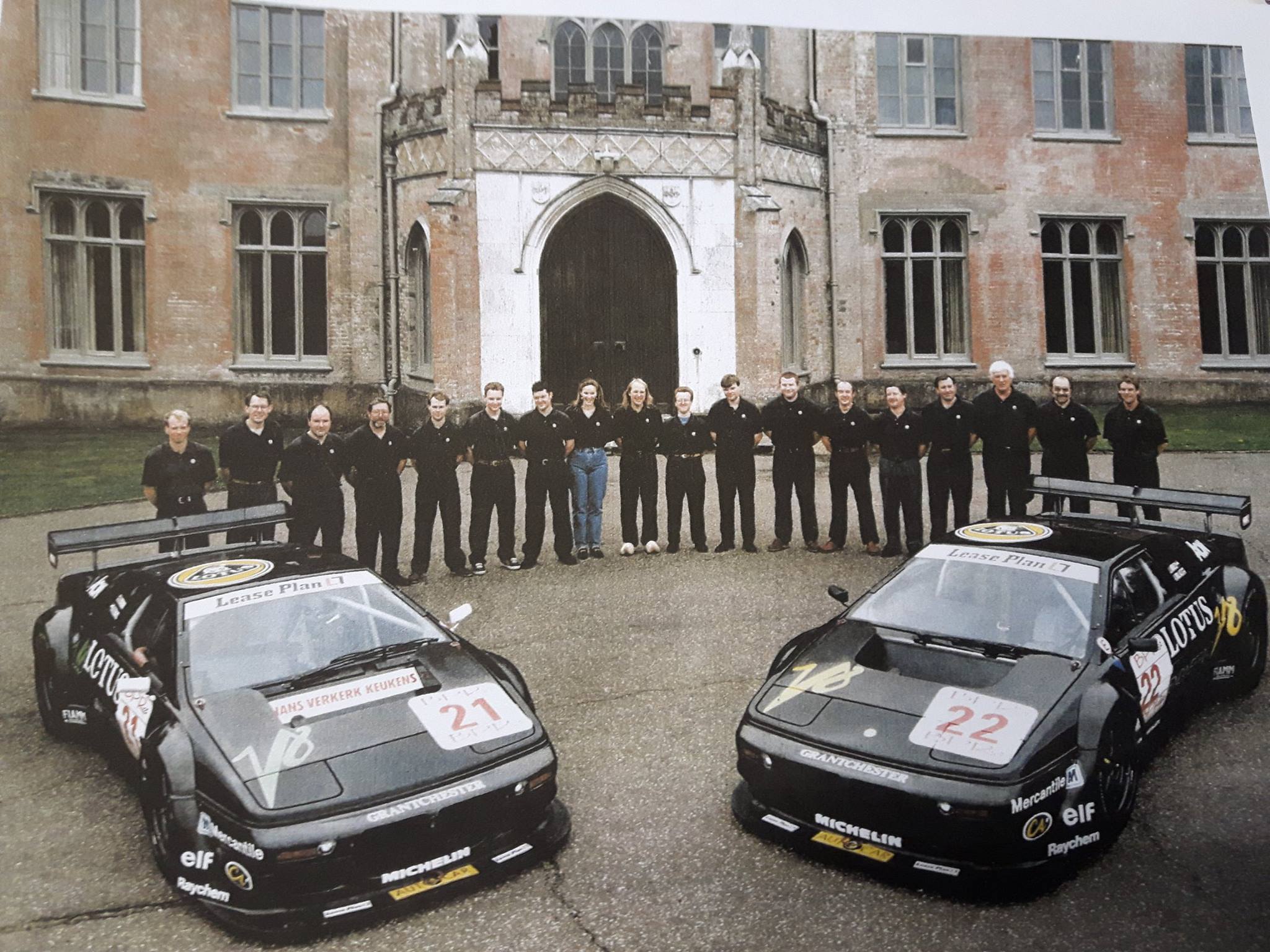 The mid-1990s were a rough time for Lotus. With the bankruptcy of the F1 team in 1994, only the Espirit remained as a credible racing car thanks to the exploits of a number of privateer drivers in America and Europe. At great expense, development work at Lotus GT1 Engineering focussed on building a car which would compete successfully in the 1996 BPR Global Endurance GT series and rescue Lotus' racing ambitions. With a 3.5l twin-turbo V8 paired with a six-speed Hewland sequential transmission, the cars entered were quick in qualifying and during races; however they also suffered from reliability issues, and as the season went on, the gulf between the production-based Espirits and more specialised GT1 machinery became apparent. The end of the season saw attention shift to development of the Elise GT1, but on aesthetics alone, we prefer the wedge-shaped Espirit!
McLaren F1 GTR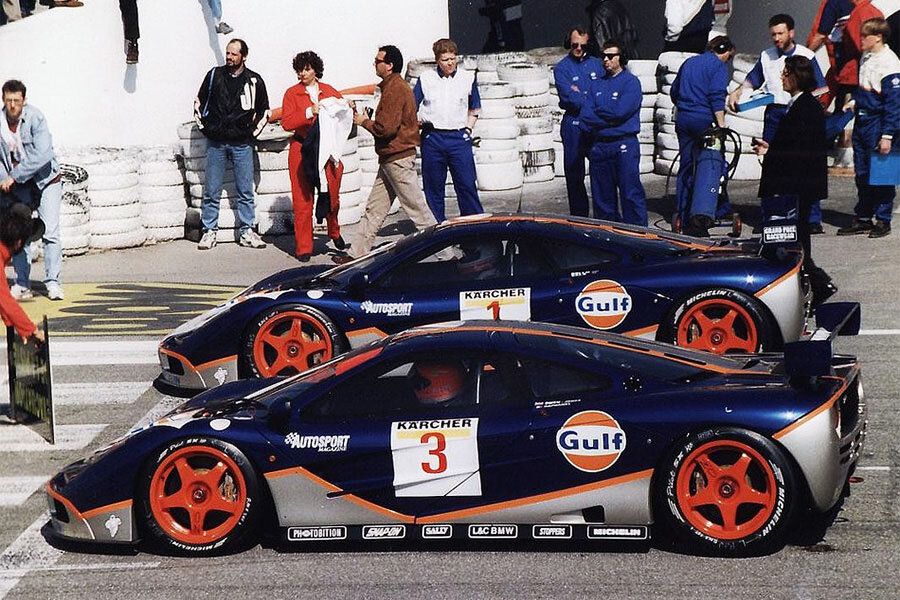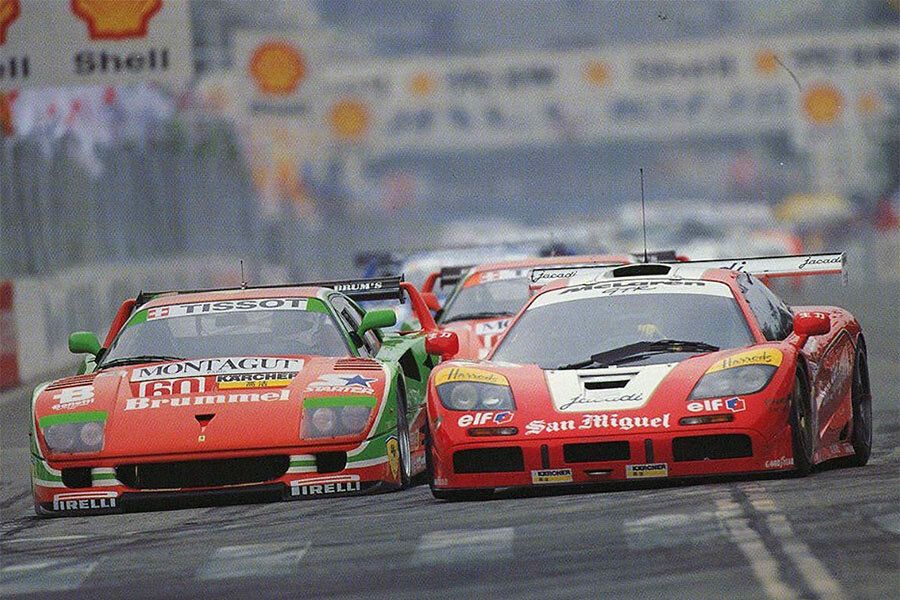 Gordon Murray never intended for his masterpiece of a road car, launched in 1992, to be taken racing. It was only the thought of a racing outfit doing a terrible job, and the emerging popularity of GT racing, which prompted him to agree to privateer demands to oversee competition modifications to turn the BMW S70 V12-powered McLaren F1 into a GT-spec racing car. Nine chassis would be built for the 1995 season, and the F1 GTR would in the following years establish a reputation as a dominant competitor in the BPR, FIA GT Championship, BRDC GT Championship and the All-Japan GT Championship. Most iconic of all however was the F1 GTR's maiden outing at Le Mans in 1995, with the test mule chassis 01R run by Kokusai Kaihatsu Racing taking overall victory.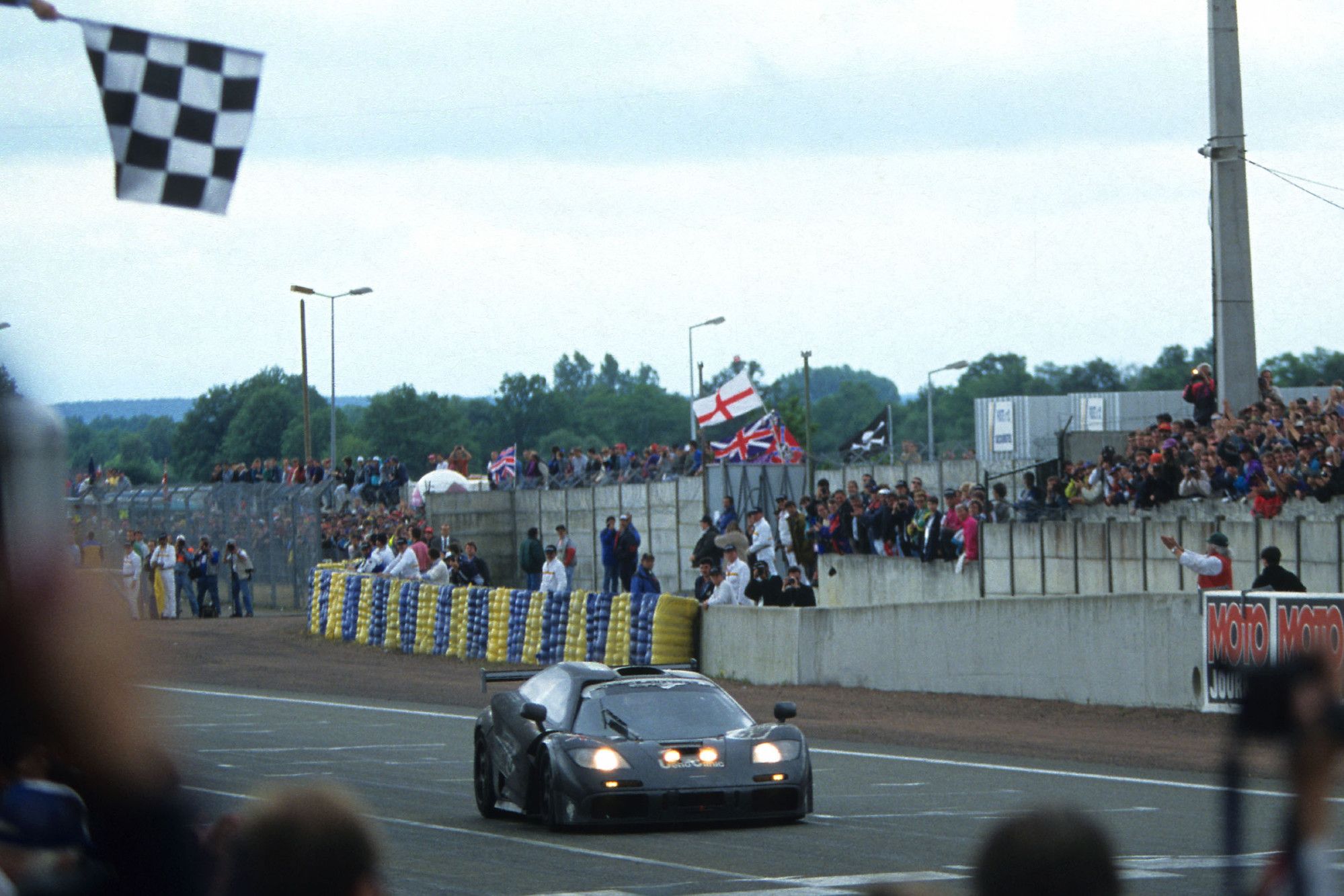 As GT1 rules continued to develop into the late 1990s, and with strong competition from homologation specials like the Porsche 911 GT1, the F1 GTR received 'long tail' bodywork upgrades in order to ensure it remained competitive - just about - with rival cars whose design was more 'race' than 'road'. By 1998, the motorsport arms race had claimed the F1 GTR as a victim, but it remains one of history's most beautiful and fondly regarded racing cars.
Nissan R390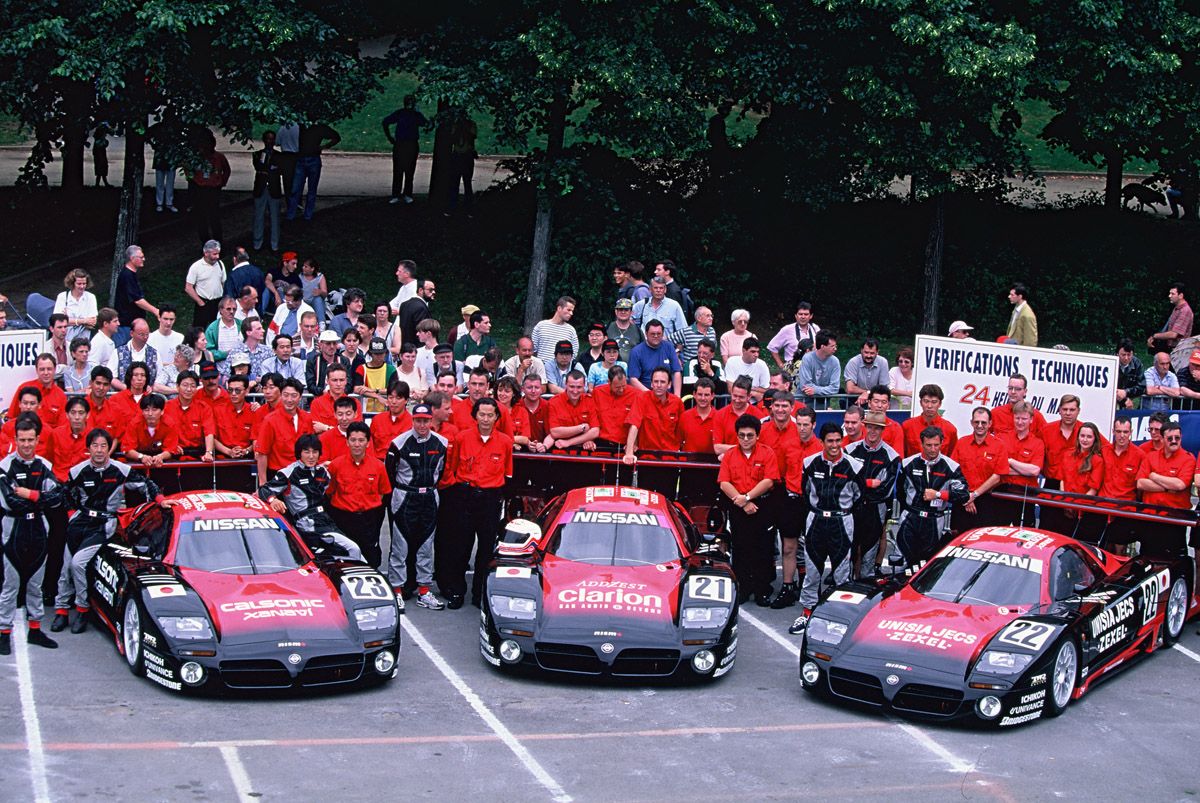 With the Skyline GTR-LM outpaced at Le Mans by the likes of the Mercedes-Benz CLK GTR and Porsche 911 GT1, which both stuck to the letter rather than the spirit of the GT1 rules, Nissan turned to Tom Walkinshaw Racing to assist with designing a competitive racing car for the class. The previous inline-six used by the GTR-LM was binned in favour of a resurrected V8 based on the engine in Nissan's Group C R89C car. With styling by Ian Callum and aerodynamics by Yutaka Hagiwara and Tony Southgate (of Jaguar XJR-9 fame), it was a purposeful and exotic design.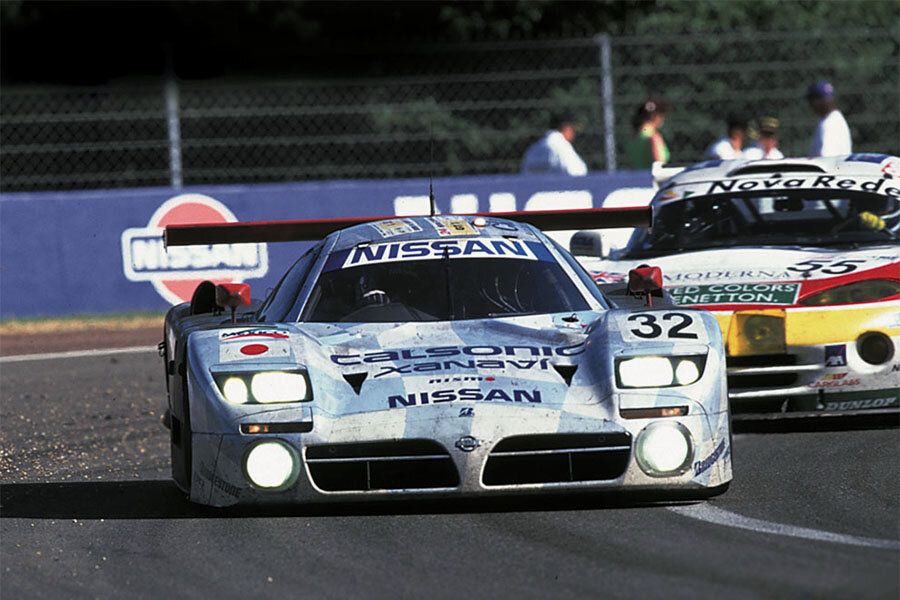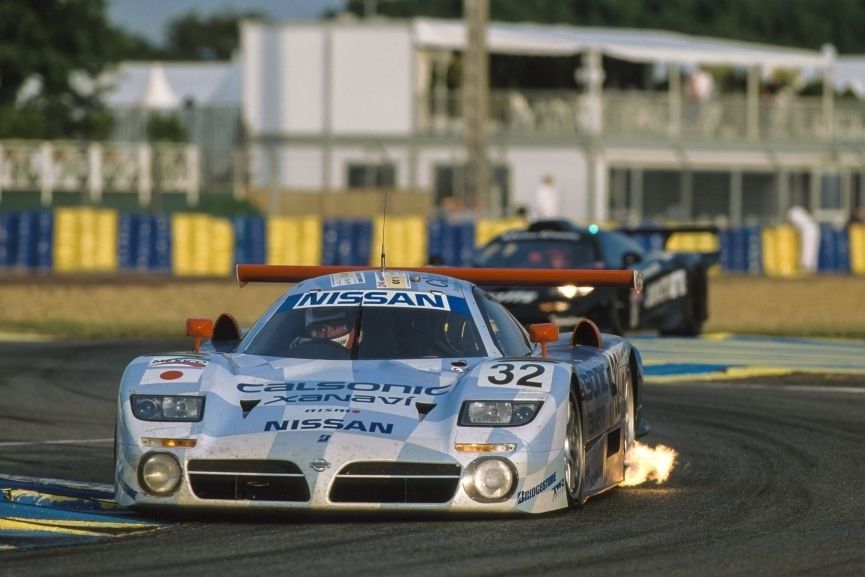 After a middlingly successful 1997 outing, Nissan returned to Le Mans in 1998 with four R390s. While they could not match the outright pace of Porsche and Mercedes-Benz in qualifying, they survived the race to take a respectable brace of results: 3rd, 5th, 6th and 10th overall, second only to the Porsche 911 GT1. After the 1998 edition of Le Mans, the GT rules changed and the R390 was abandoned by Nissan in favour of LMP car development, of which the R391 was the result. Only one road legal version of the mean-looking R390 GT1 was ever produced, and today it is kept at Nissan's Zama facility in Kanagawa Prefecture.
Ultima GTR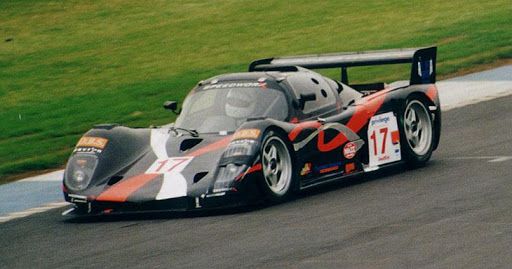 The Ultima GTR had its roots in the early 1980s and Lee Noble's Ultima Mk I, which grew in popularity as a chassis able to run a variety of engines from Renault V6 to Chevrolet V8s. In fact, so impressive was the chassis in its various incarnations that two Mk3 kits were purchased by McLaren as test mules for the McLaren F1 road car. A change of company ownership from Lee Noble to Ted Marlow and further development led to the 200mph+ Ultima GTR in the late 1990s, with canny GT competitors such as Colin Blower racing Ultima GTRs in GT2 configuration and giving better funded competitors in various race series a run for their money. We love the fact that even today, the Ultima marque continues to produce hand built British racing cars of extraordinary capability - and if any Ultima owners are reading this, we'd love to take one for a spin!.
TVR Cerbera Speed 12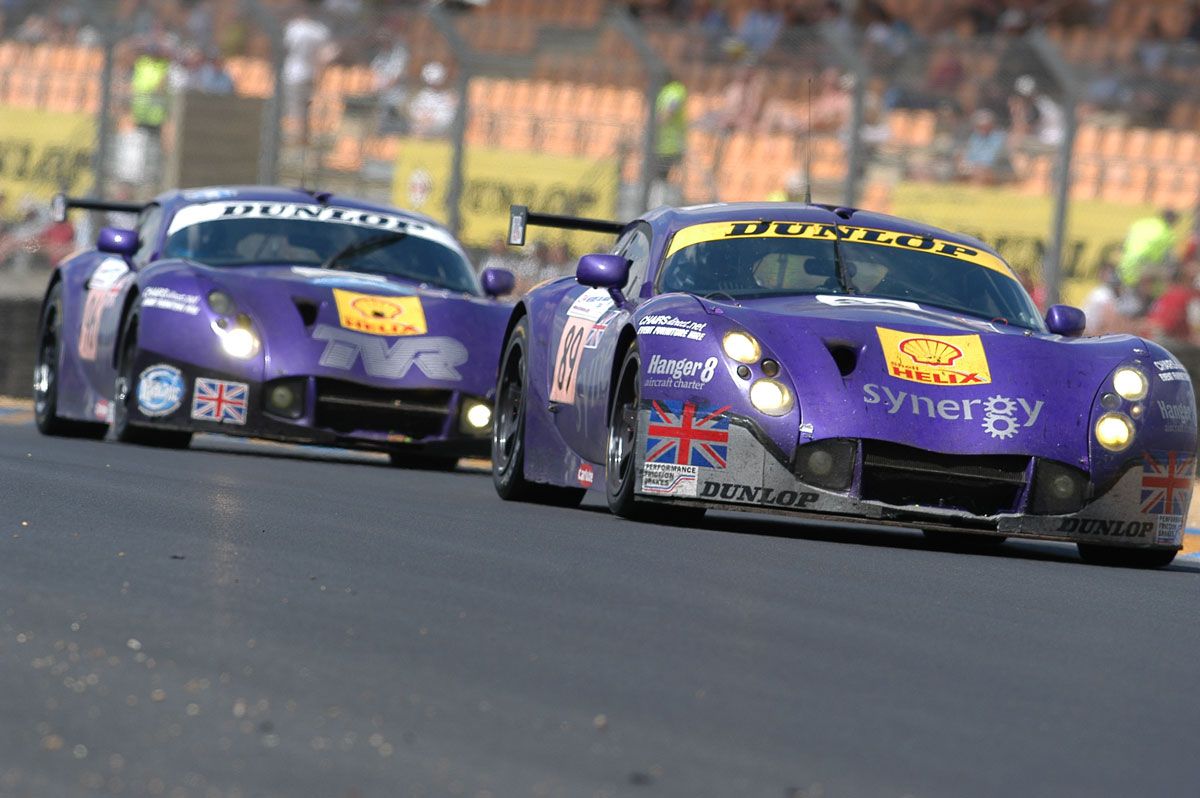 It is a special day in every motoring enthusiast's life when they learn that the letters 'TVR' are not some exotic acronym but simply stand for 'Trevor'. While Trevor Wilkinson left his eponymous car company back in 1962, TVRs have always been known and loved for their disarming simplicity and monstrous grunt at the limits of performance. No car captures this spirit as much as the flamboyant Cerbera Speed 12, originally Project 7/12, which was a high performance concept designed to take on the mighty McLaren F1 in the GT1 class.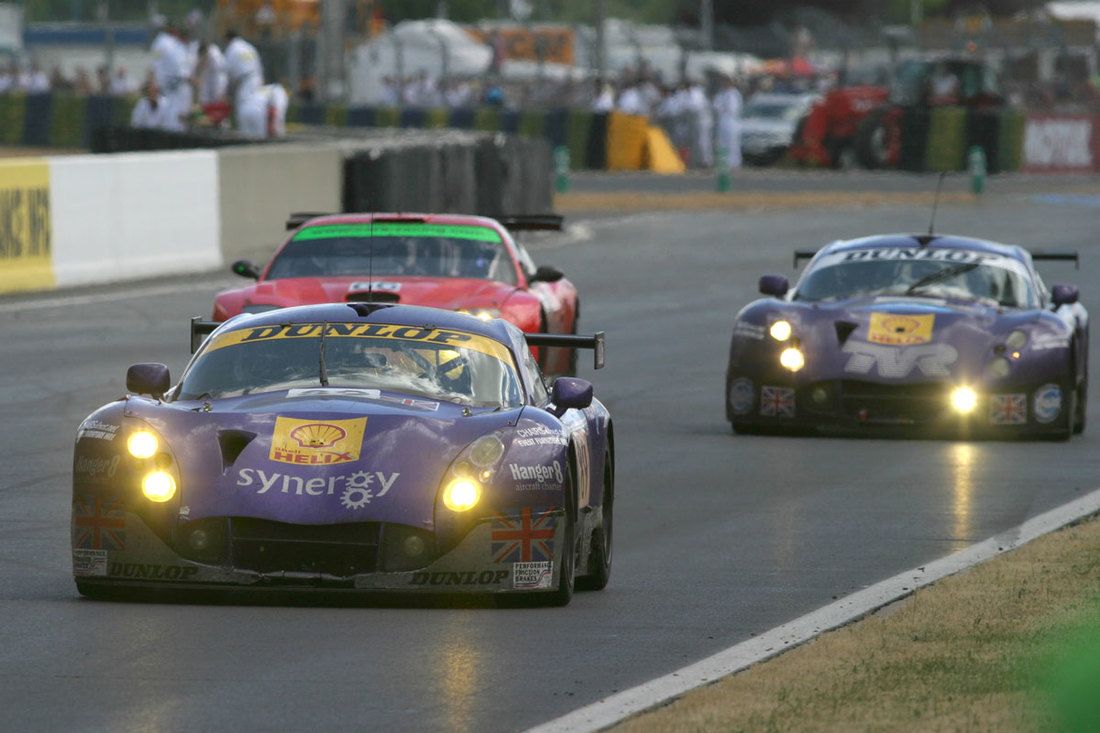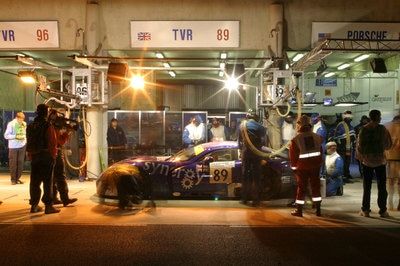 With a 7.7l V12 engine so mighty that each six-cylinder bank had to be dyno'd separately (to a total of about 800 bhp), the Speed 12 unfortunately never reached production and did not manage to compete at Le Mans, although two of three original chassis did contest the British GT Championship between 2000-02 in the GT2 class. The last surviving Speed 12 chassis was sold off in 2003 - to a very, very brave new owner.
---
---