The Apex Interviews: Bentley Belle, Katarina Kyvalova
Most people ease their way into motor racing, but not with our interviewee this week. Katarina Kyvalova went from not having a race licence, straight into a 24 hour race in a pre-war Bentley at the Benjafield's 24 Portimão race in Portugal in 2014. In the process, she founded the all female racing team, the Bentley Belles, and became the first all-female team to compete in a Bentley for 24 hours. Since then, she has not looked back, regularly competing in historic motor sport behind the wheel of a pre-war 4.5 Litre Bentley, 1954 Cooper Jaguar and a 1965 Jaguar E-Type, amongst others, before stepping up to modern GT racing in 2018 with the purchase of a Mercedes AMG GT4. We talk to Katarina about how she got into motorsport, the Bentley Belles, what makes Goodwood so special and her deep passion for racing.
Charles Clegg interviews Katarina Kyvalova for The Apex by Private Collectors Club. Recorded and Produced by Jeremy Hindle & Demir Ametov.  Transcribed by David Marcus. Edited by Charles Clegg. Special thanks to Jayson Fong for providing his photographs https://jaysonfong.com/.
You started competing in historic road rallies over 15 years ago, and then moved into historic racing back in 2014.  Most people ease their way into racing, but you went from not even having a race licence, straight into a 24 hour race in a pre-war Bentley. How did that all come about?
Yes, that's quite a crazy story.  I know normal girls don't do this, I mean normal people don't do this, jumping straight into a 24 hour race. It just happened at the Flying Scotsman rally, where I was there with a Bentley 4.5 litre, and my Bentley fellow told me about this 24 hour race in Portimão in Portugal. They just said "why don't you join us, just come in and do it.  You can drive the car decently, so why not?"  And I put it in my head that I'm going to do it.
I had three months to find my co-drivers, get a race license and learn a little bit about circuit racing and I went for it.  When I look back these days, I think that was pretty crazy, as I said before, but thank God I did it because that was the beginning of all my racing afterwards. Everything started there.  So yes, it was quite challenging.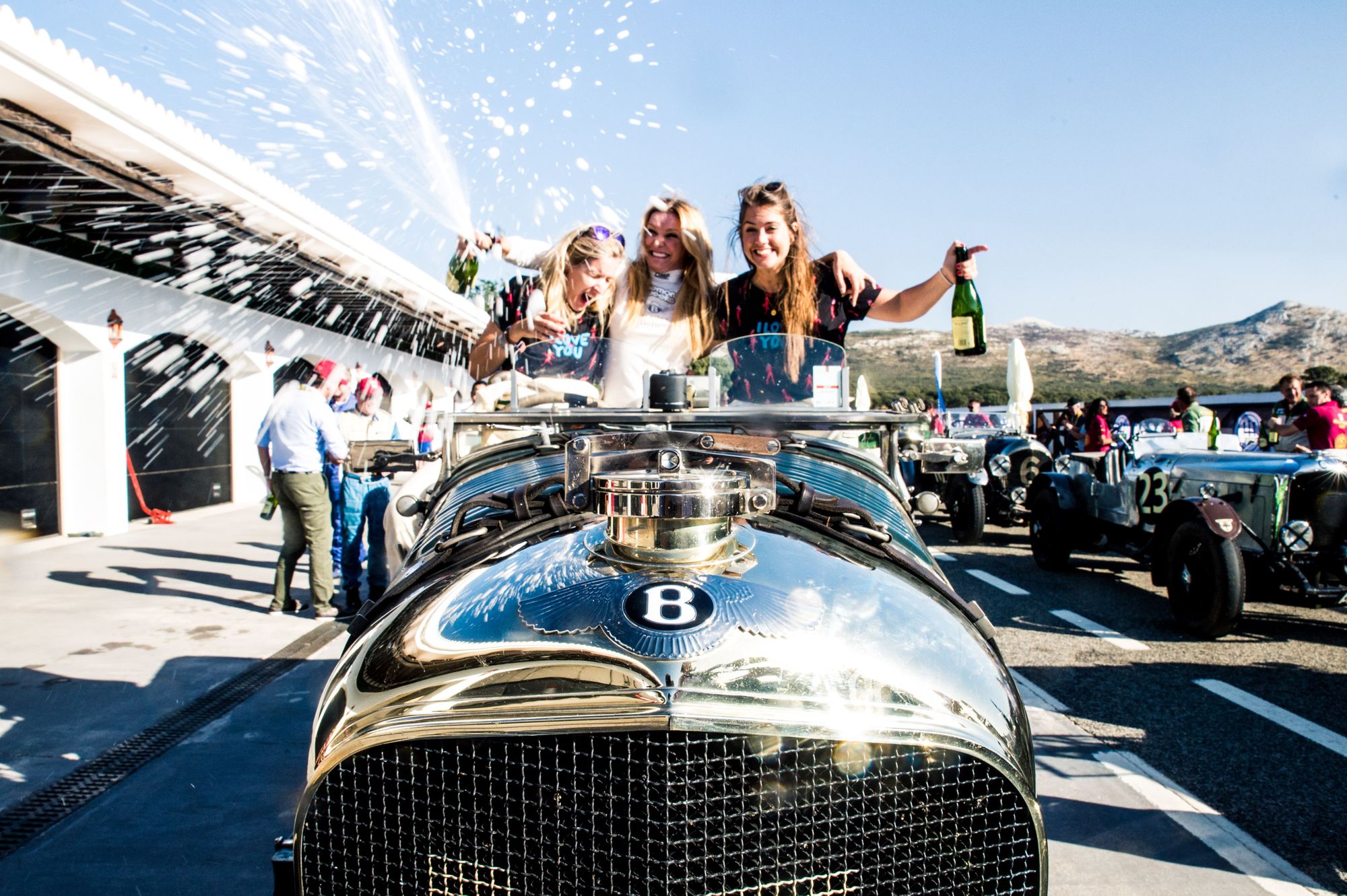 That was the beginning of the Bentley Belles, as I believe you had a team of four female drivers for the 24 hour race?
Yes, the biggest challenge was actually to find three girls who were ready to join the team. Because I hadn't done any racing before, it was kind of a strange question, "do you fancy joining me for a 24 hour race?"  "Have you been racing before?" " No, but just join!"  So yes, we made it somehow. Last minute we found my girls and we met literally the night before the race because we didn't have the time to meet before. We were just on the phone and made this plan, and met and it just clicked. It was fantastic.  
The approach to racing, the 'girlie' approach to racing, is different.  We were brilliantly prepared. We had time sheets, everything. So it was great. Yes, it was one to remember.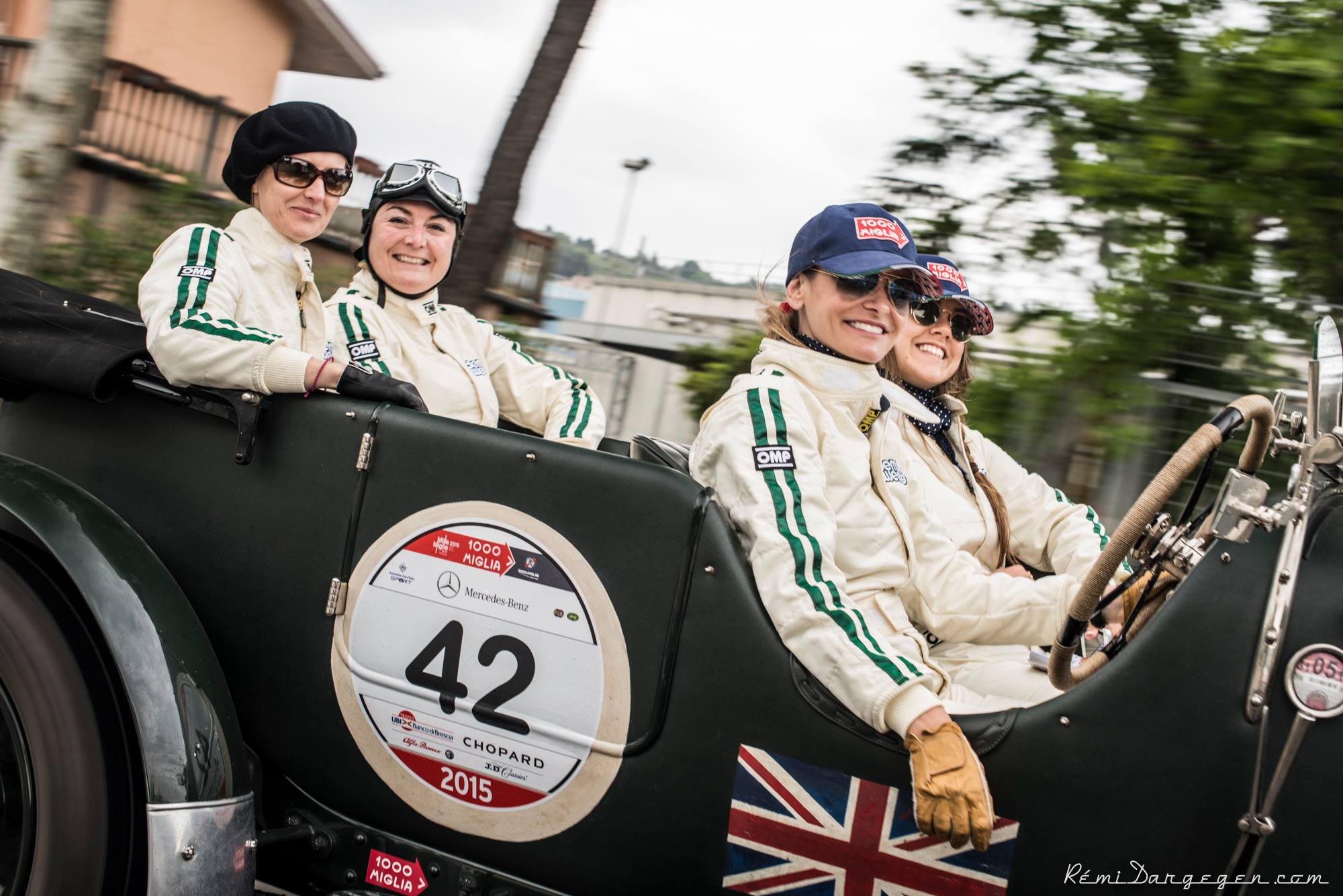 Since then, you've regularly raced some fantastic cars, ranging from the two pre-war Bentleys, a 4.5 litre and a Speed Six, to your 1954 Cooper Jaguar T33 and your E-Type Jaguar, amongst others. They are all quite different cars. Do you have to drastically change your driving style when racing each of them or do the same principles apply?
That's a very good question.  The same principles definitely apply in terms of racing.  It's the same way as to how you drive, how you approach the apex, how you do it, such as brake and bleed. That's all the same principles.  The way to drive these cars in a particular way, is different for sure.  For example, the Bentley 4.5 litre has a central throttle, so you drive it in a totally different way. Changing gear, double clutching, double de-clutching, it's a totally different world compared to a 1965 E-Type.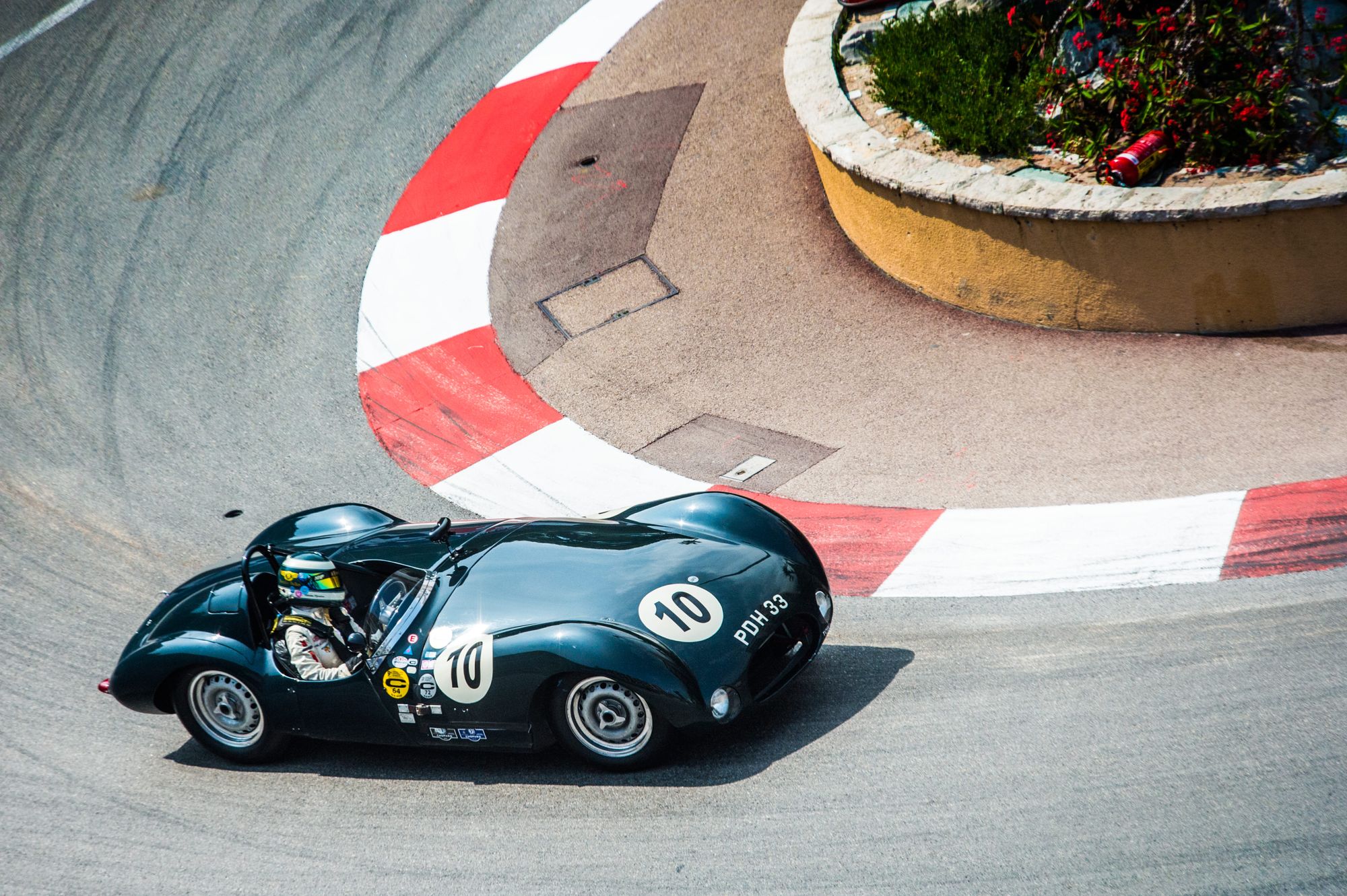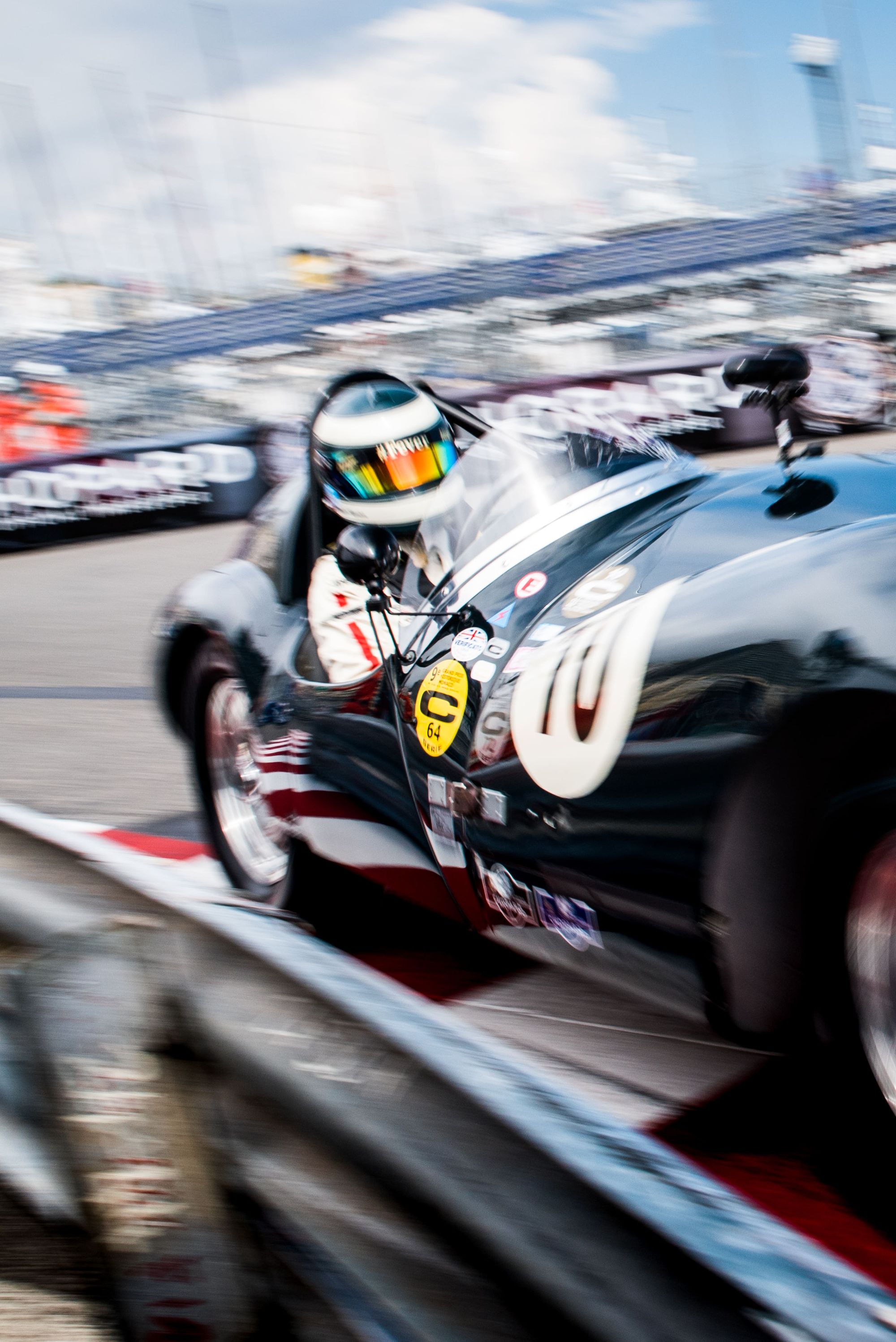 But in general, the way in which you drive in the race, how you race a car, is the same. Just the way you handle them is quite different. So pre-war compared to post-war, I would say, is a significant difference, but it makes it interesting at the end of the day.
Absolutely. You've competed at Goodwood Revivals for many years now, including finishing third in the Freddie March Memorial Trophy in 2015 in your Cooper Jag. What do you think makes the Revival and indeed Goodwood generally such a special place?
The Goodwood race circuit, when you look at the history, is a special place in itself. The Goodwood Revival is, I think, an absolutely unique, brilliant, one-off event in the world, because in my opinion it's a step back in time.  You feel like you are in a movie, and it doesn't matter if you're on the side of the circuit or if you're a spectator.  I've been coming to Goodwood as a spectator for 10 years or 12 years before my first time ever making it on grid.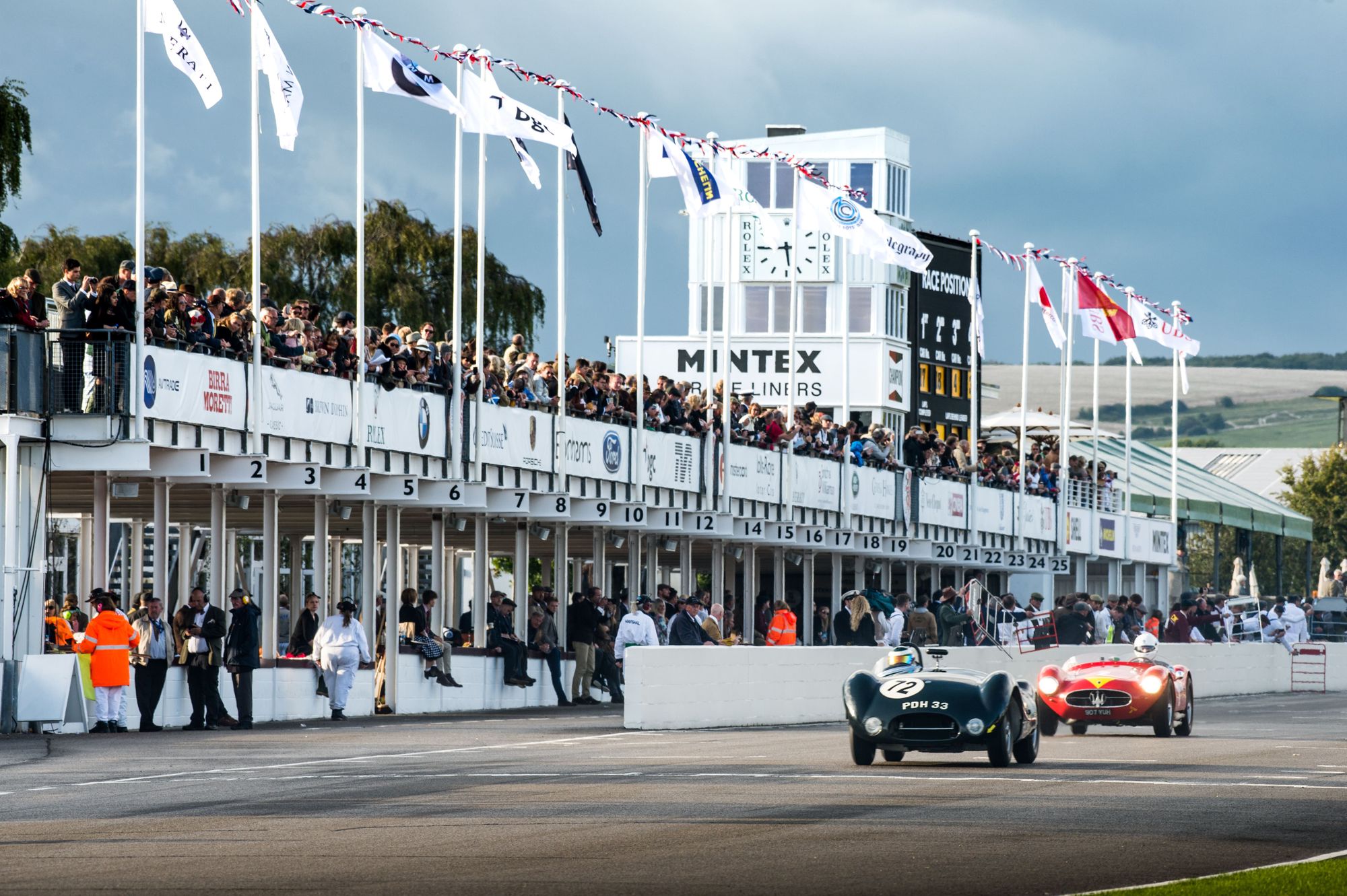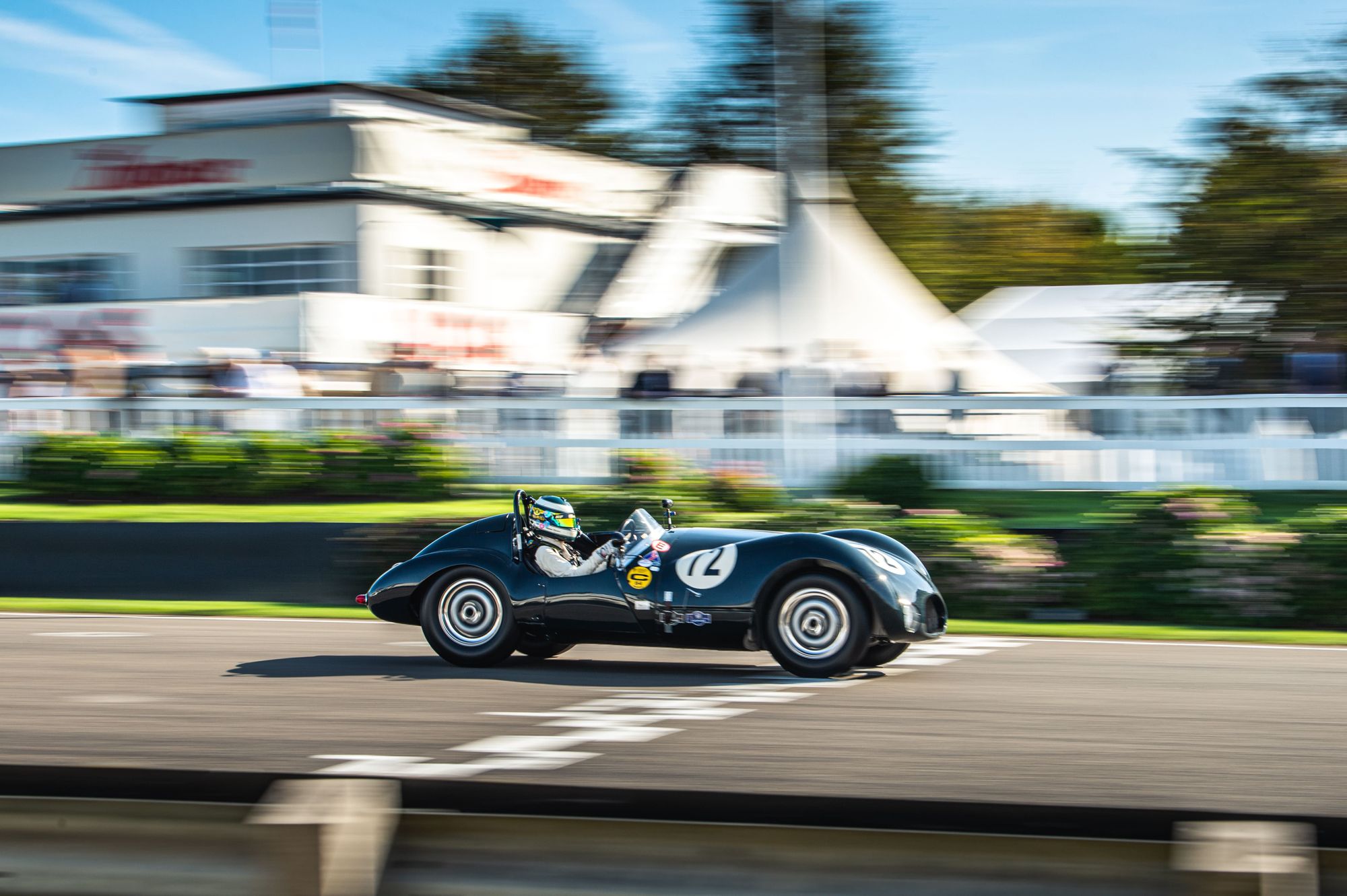 I think the whole experience is absolutely special. What the Duke of Richmond has created is rather impressive and I don't think there's anything else in the world like it. If you think about it, Goodwood was a true Formula 1 circuit back in time, until 1966. I think it's special in itself.
Yes, I agree. We're obviously very sad that the Revival has been cancelled this year but we're looking forward to next year.
Indeed, yes. It was a big shame that the race was cancelled. Members Meeting as well. But it is what it is, and there is always next time. So off to 2021. It will be great. I can't wait.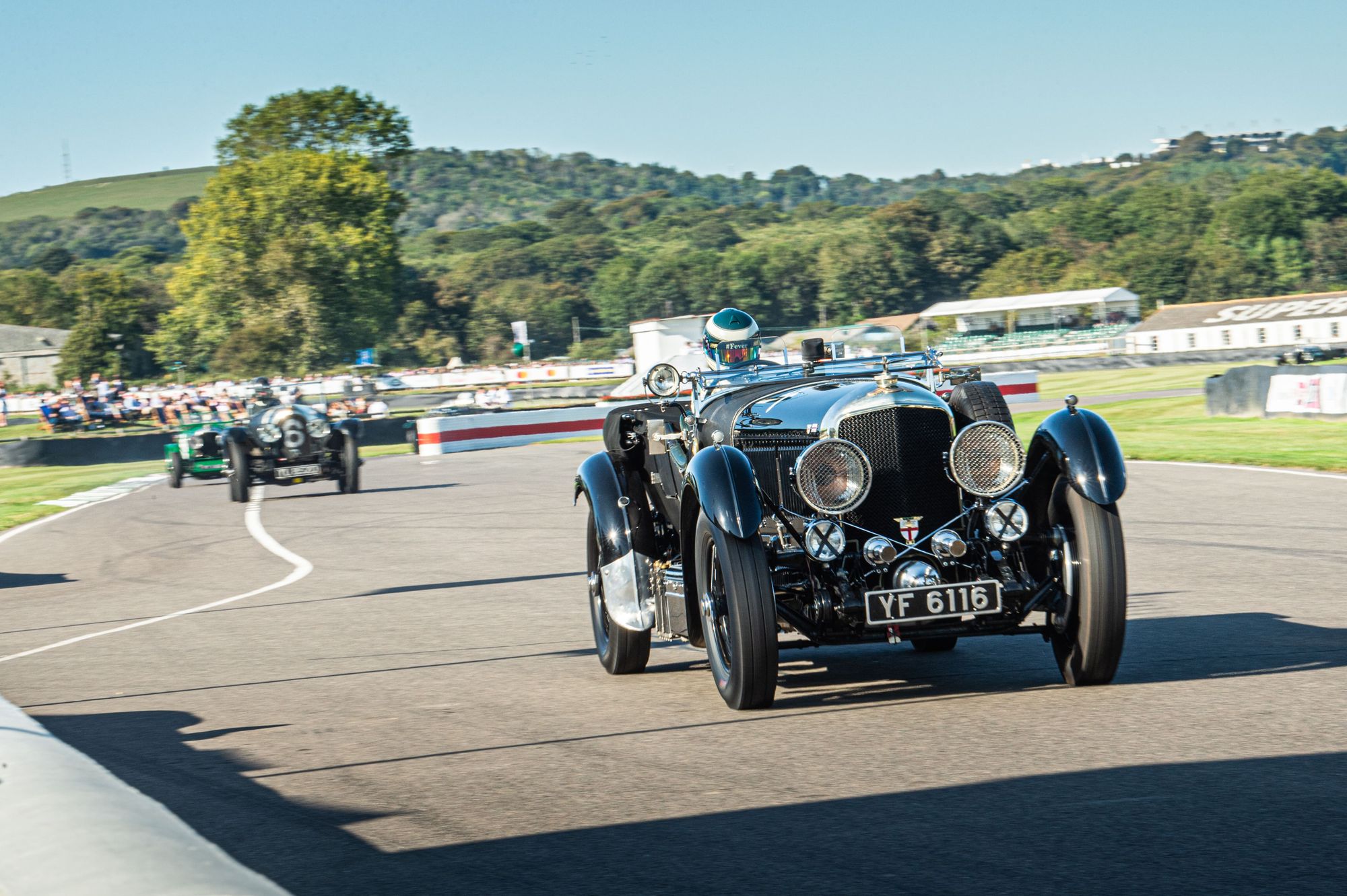 The Bentley Belles is an all female racing team. There have, of course, been some great female racing drivers, right from the early days of motorsport at Brooklands, but it's still a rather male dominated sport. Do you think initiatives such as the all female W Series are a good way of getting more women into motorsport?
I think in two different ways about this.  The one part of what I think is that the W Series is a fantastic platform for female drivers, where they can show their abilities. Because the main problem with females in motorsport is just to get the chance to come to races, do the races and get the drive, as we say. That's very difficult. So I think the W Series is a great idea, just to create this and give this platform to female racers and drivers, and show what they can do, without any extra pressure in terms of having men around you and so on, the competition.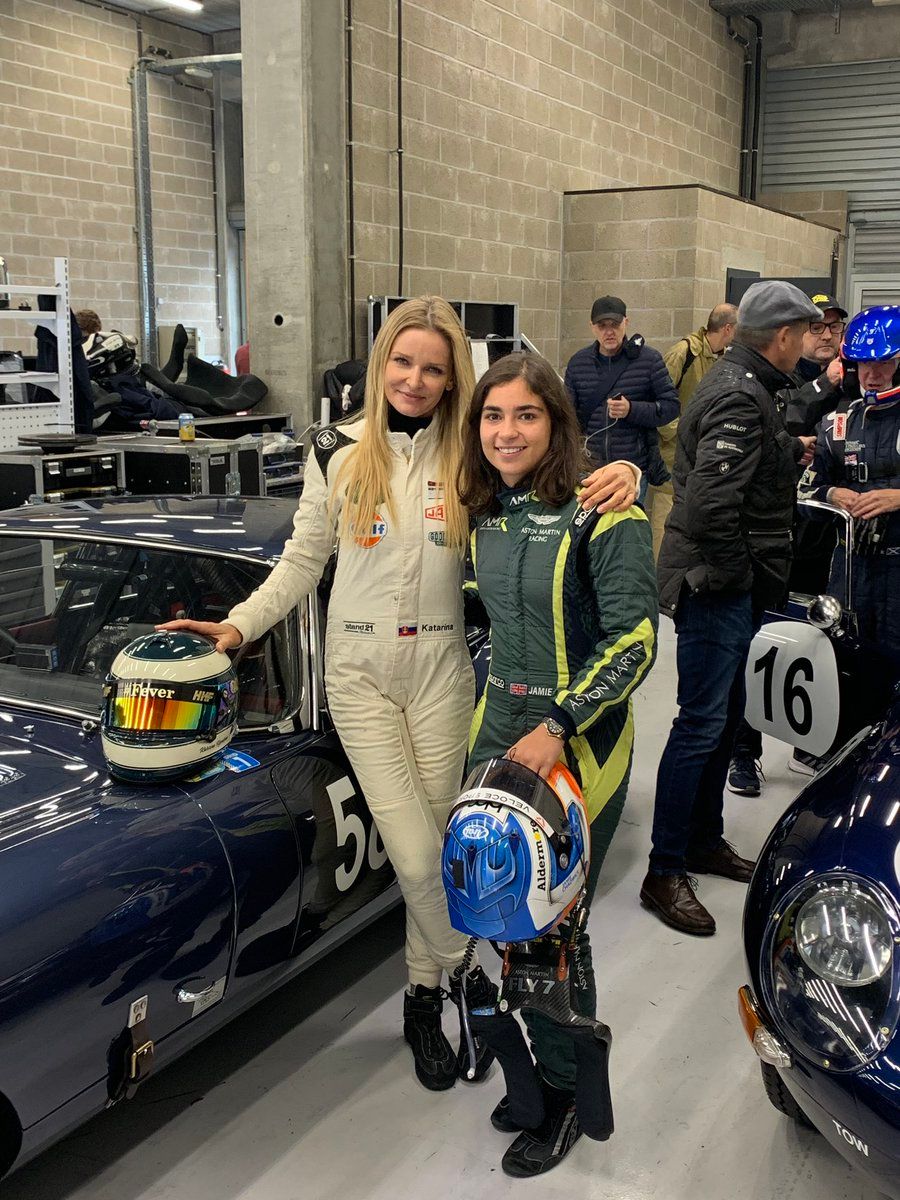 On the other hand, I think female drivers don't need a special race series.  We are capable of doing it, we can do it, we're showing that we can. There are many great examples like Jamie Chadwick, Abbie Eaton and other girls. They showed that we can compete on the same grids, in the same series. So I think if this is handled as a platform for the future of women's racing it's fantastic, they should carry on. But in general, I think we don't need any all female championship or race series, which is my personal opinion.
Certainly, I look forward to the day when we have more of a balance in the top levels of motorsport, certainly with Formula 1 and indeed GT racing. Which brings me onto my next question. You got into modern GT racing back in 2018 with your Mercedes AMG GT4. Was it difficult to transition between historic racing, such as with your Cooper Jag and your E-Type, to a modern GT car, with slick tyres and all the on-board technology?
Yes, it was indeed.  It was sort of like, "okay, so many buttons. Can I fly to the moon with this car?"  It's sort of that feeling.  It is different because the level of the professionalism is totally different to historic racing.  Everything is down to the driver.  You have the platform, you can't use the usual historic racing excuses, this broke down and whatever. The car is there and even the competitors sit in the same car, the same category, same class, so it's down to the driver.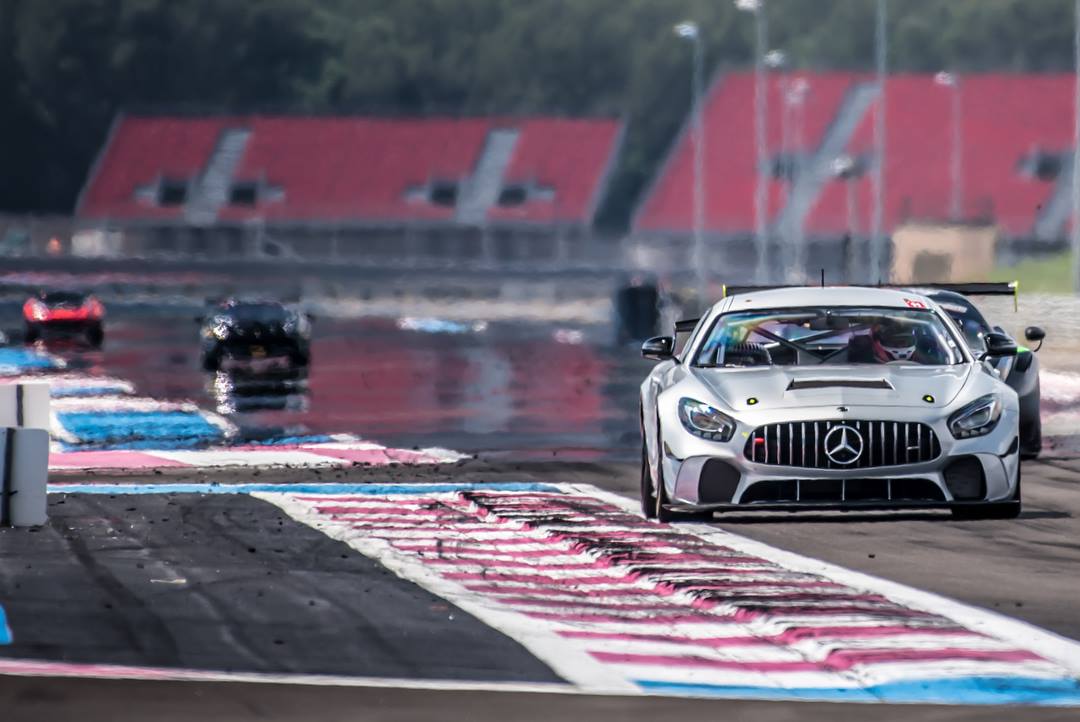 The pressure, the mental pressure, and also physically, is tremendous.  I was very surprised about that. Using data, as you mentioned, was a totally new thing to me.  Teamwork in a 24 race is the key thing. You have to really work with your co-drivers and prepare.  So yes, an absolutely different experience, which I loved and got hooked with it, and I am learning.  I think I need many, many years from now to learn it all and get into it. But yes, it's very addictive stuff.
When you step back into your historic cars such as your Cooper Jag or E-Type, does it then feel slow or is it just a different sort of excitement?  Obviously you're not sliding in the same way as when you are in an AMG Merc vs a Cooper Jag?
Yes. Well, it's funny in that I realised I was bringing a lot from historic racing. You mentioned the sliding, because when the car slides in a modern car, I realised, okay, this is familiar to me, so it's fine.  Going back to historic cars from GT race cars does feel a little bit slower, I agree. But in general, I think I got used to the speed in the GT cars, I think that is the main thing. So when I got back to historic cars, the speed all of a sudden felt more natural to me. I was applying more speed, I was driving differently through the corners, I carried more speed. So it's a great addition to my historic racing to have this experience in GT. But at the end of the day, it's a car with four wheels. [Laughs]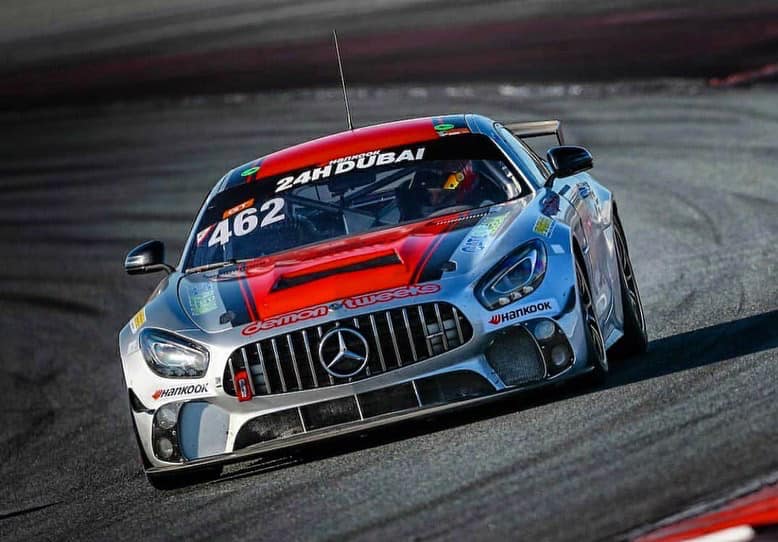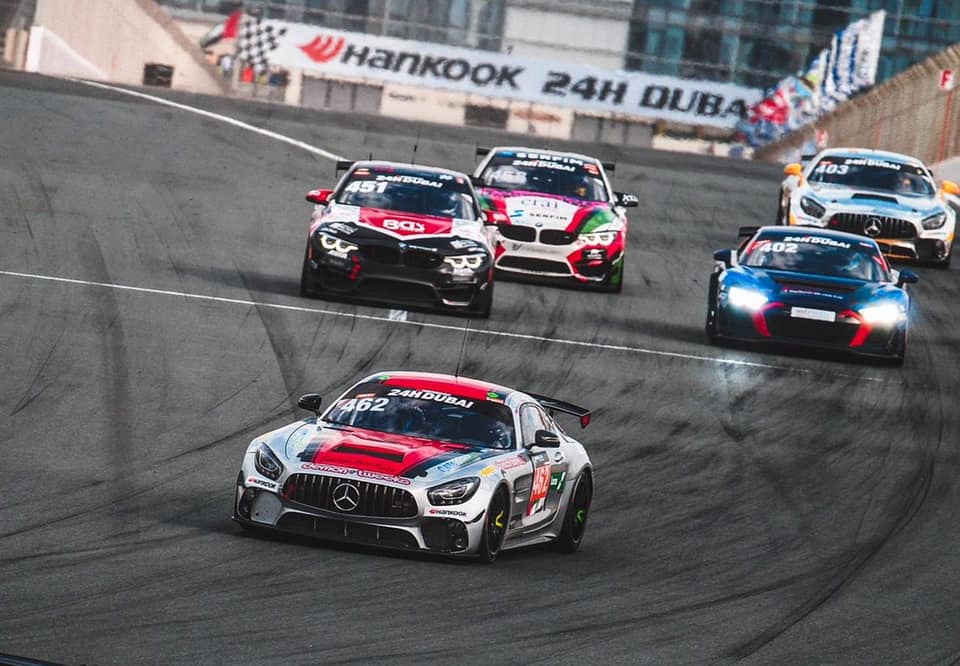 Since you've had the AMG GT4 you've competed in a number of events, including twice in the 24 Hours of Dubai. What are the biggest challenges of 24 hour races? You mentioned the pressure previously. And also can you tell us a bit about your experiences at Dubai these last two years and indeed the biblical rain of this year?
[Laughs] Yes, two totally different experiences, you're absolutely right.  So the first time at the Dubai 24 Hours we almost won our class. I really couldn't believe what was happening.  I was super excited. I didn't want to let the team down. That was the main thing. Everyone performed brilliantly, the team, the co-drivers and I just felt this tremendous pressure on my shoulders. Like I don't want to crash, I don't want to make any mistakes, because we just wanted to bring the car home and finish this race.  
Unfortunately 90 minutes before the finish of the 2019 Dubai 24 Hours, we had technical issues and we didn't finish. That was a big lesson in my racing life because I had to learn to accept moments like this.  It was very, very difficult for two, three days just to go through and say, "okay, this is it. C'est la vie. We're moving on."
This year, you're absolutely right, we had absolutely torrential rain. [Laughs]  The paddock was flooded, the grid was flooded, the circuit was unbelievable.  When you think about it, you are in the middle of the desert somewhere in Dubai, and this happens. No-one was insured against rain and floods like this. After 7 hours the race was over, which was really a shame. So next time hopefully, let's see. I will try.  It may be snowing or something, God knows!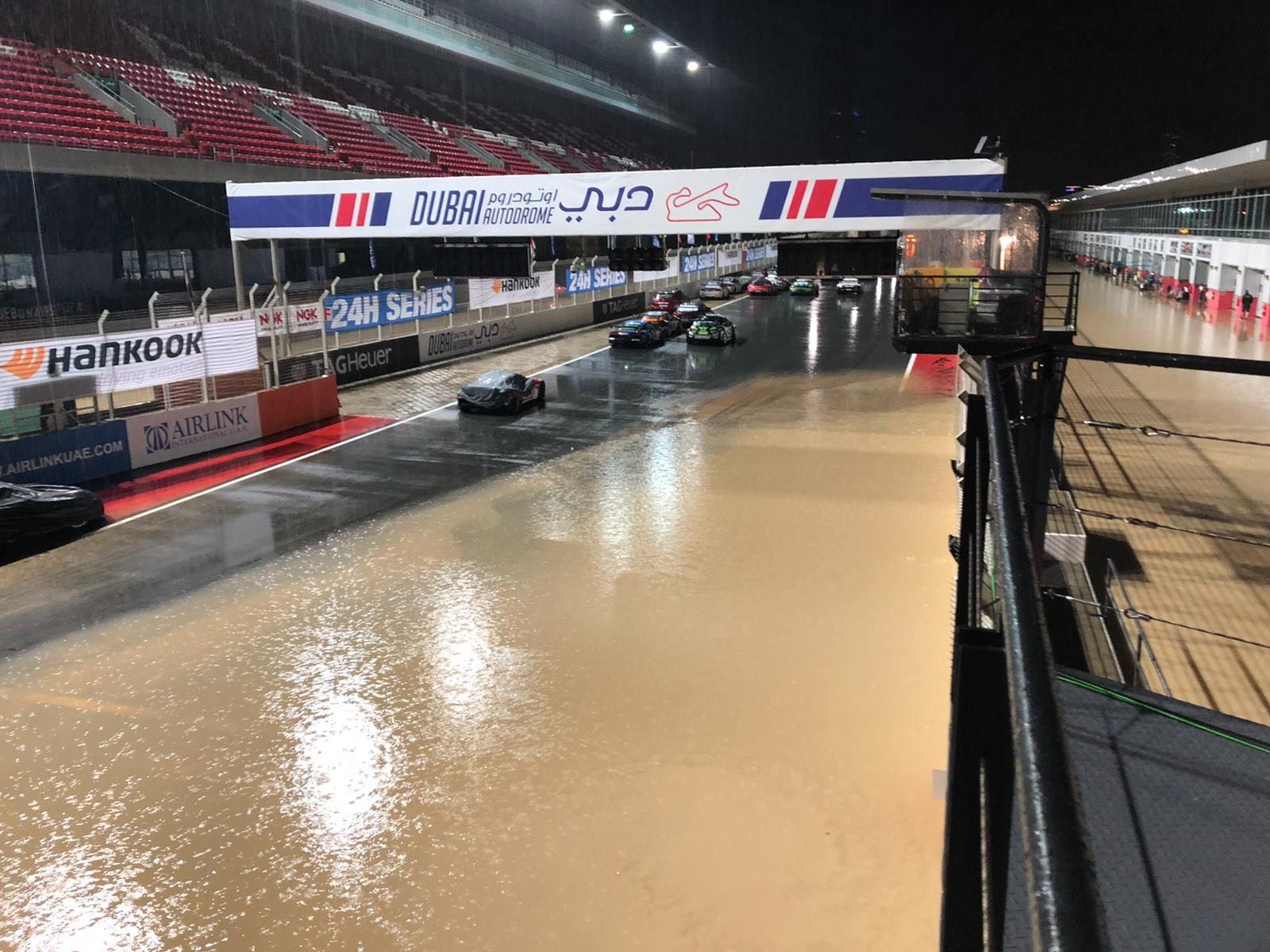 I remember seeing some of the photos of Dubai this year and it was quite staggering. I was also watching while you were racing and it looked more like a wintry day at Thruxton or Castle Combe, not the middle of the desert in Dubai. It was absolutely crazy.
It was crazy because I had a double stint and I went back to the hotel to get some sleep. I never made it back to the circuit because everything was flooded. All the gangways and paths were flooded, so I never made it back to the circuit because it was impossible. If you think about it, you cannot imagine it happening in Europe can you, just crazy.  I will always remember it. I was there for the Dubai 7 hours! [Laughs]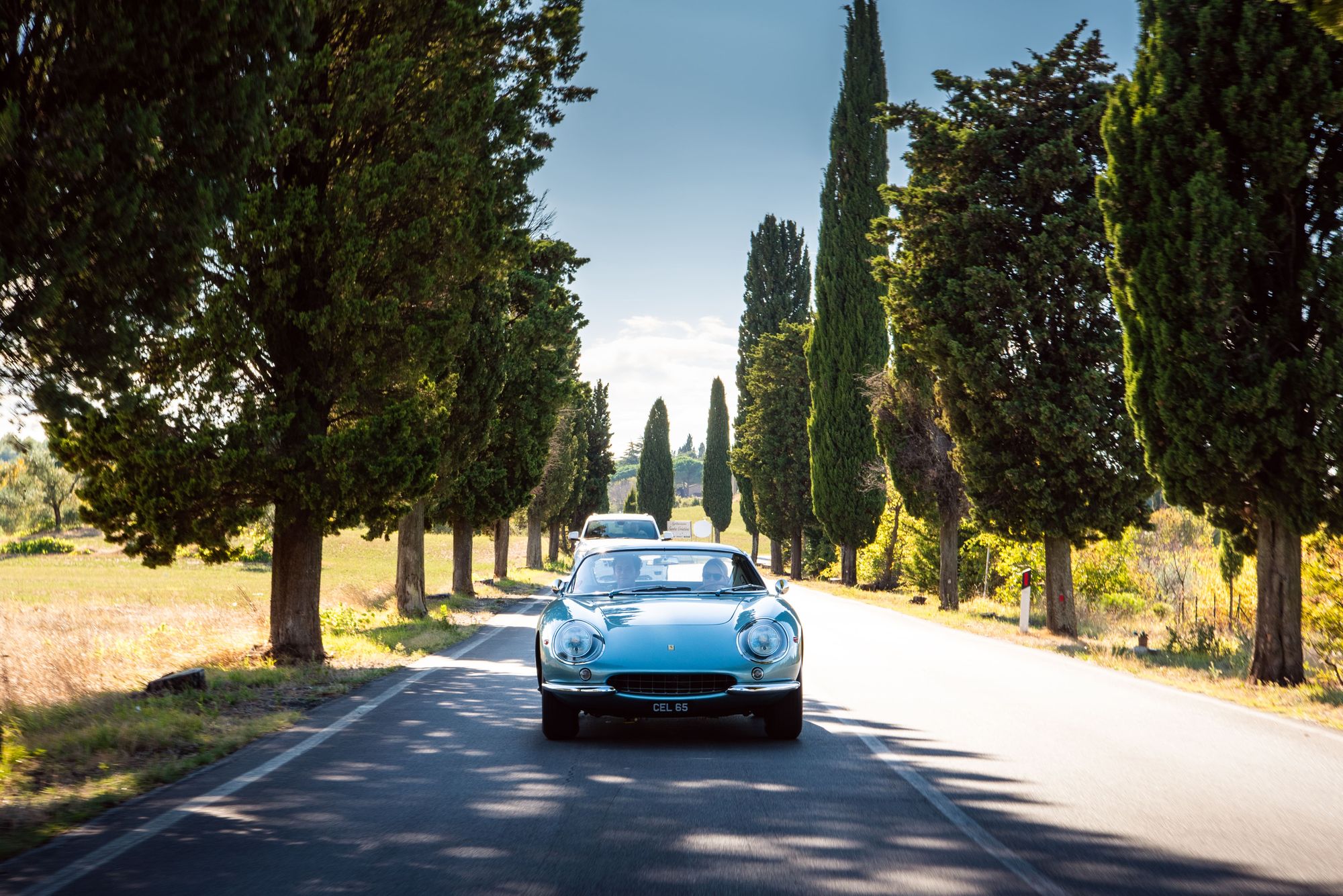 And then coming off track, I've thoroughly enjoyed competing in a number of your road rallies which you've organised with your business, Belle Bespoke. Indeed, it was great fun being your navigator in your 4.5 litre Bentley and 275 Ferrari over the last few years, but I must confess there were a few hairpins and cliff combinations where I was slightly praying for my life, but we won't talk about that now! What are the key constituents of organising a successful rally?
I've done many car events around the world. I always really like to go and see what it is all about with car events, rallies and tours. And I think, at the end of the day, everything is about people.  It's just a key part of successful rallies or events. When the people are enjoying themselves and when they don't feel the pressure that they have to be here and there. Regularities are a great thing, but just keep it more relaxed.
At the end of the day, what do you remember from the event?  You remember that you had a great time with your fellow enthusiasts or with your friends or whoever you're going with, and I think that's the main thing. It's about experience, it's about the places you go to.  You give the navigator the chance to look up and enjoy it as well.  They don't need to look at the map or the road book all the time. So overall, what are you taking from weekends like that? Okay, here we go, you remember that we almost died at a hairpin with me. [Laughs] So it's about experience and a good time, it really is.
Yes, I agree. Bentleys have been one of your passions for many years and I know you joined the Bentley Motors centenary celebration last year, and indeed drove the legendary 1929 Bentley Birkin Blower No. 2 at the Goodwood Festival of Speed. Can you tell us a bit about what makes Bentley so special for you?
Yes, they are indeed very special to me. Always have been, because I think the pre-war W.O. Bentleys, when you just look at them, they just look different to all pre-war cars.  When you put an Alfa 8C next to it, it just looks like a lorry, as Bugatti said. I think they're very special because when you drive them though you get a certain liberating feeling.  They are very powerful and the noise of the engine. They are not slow.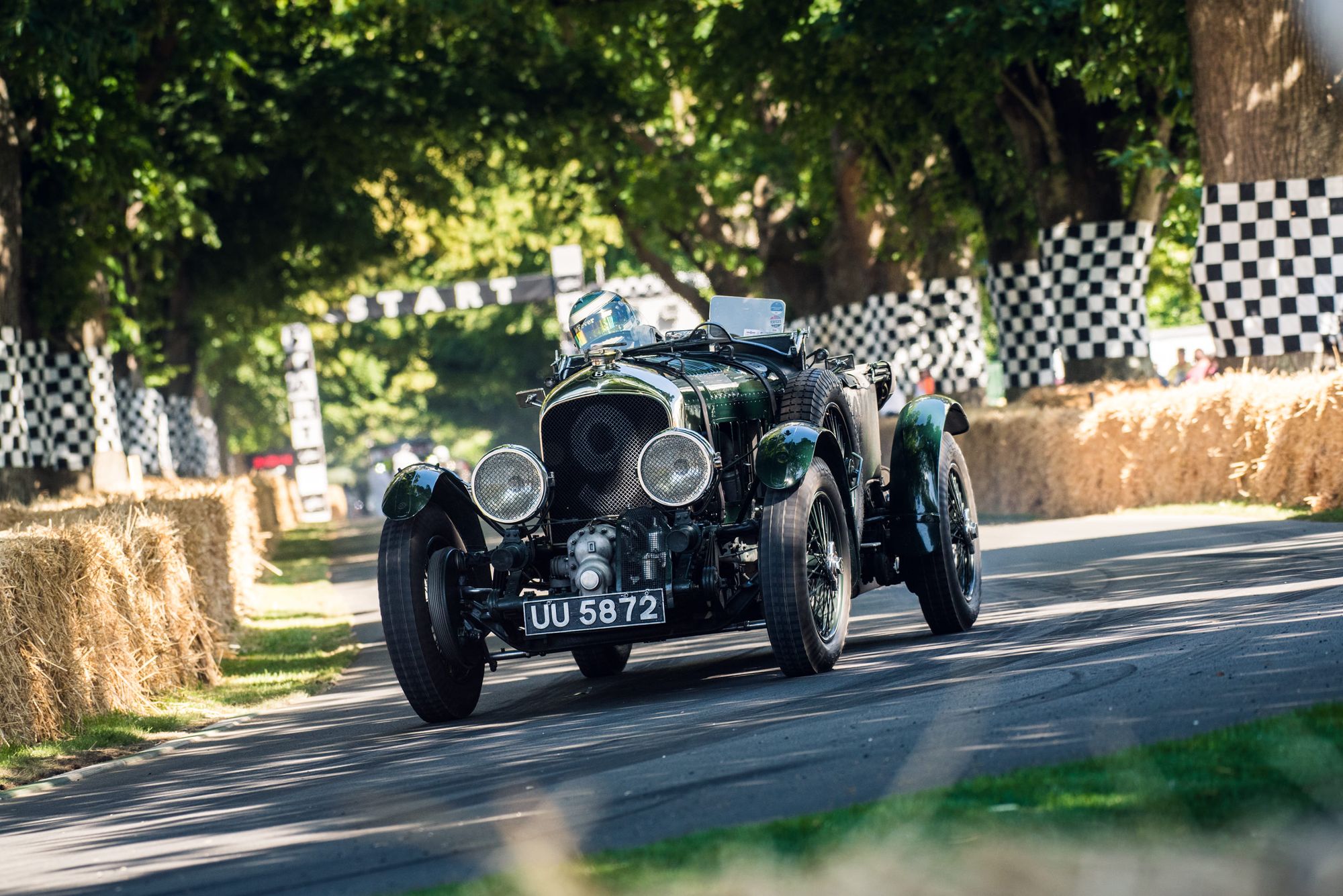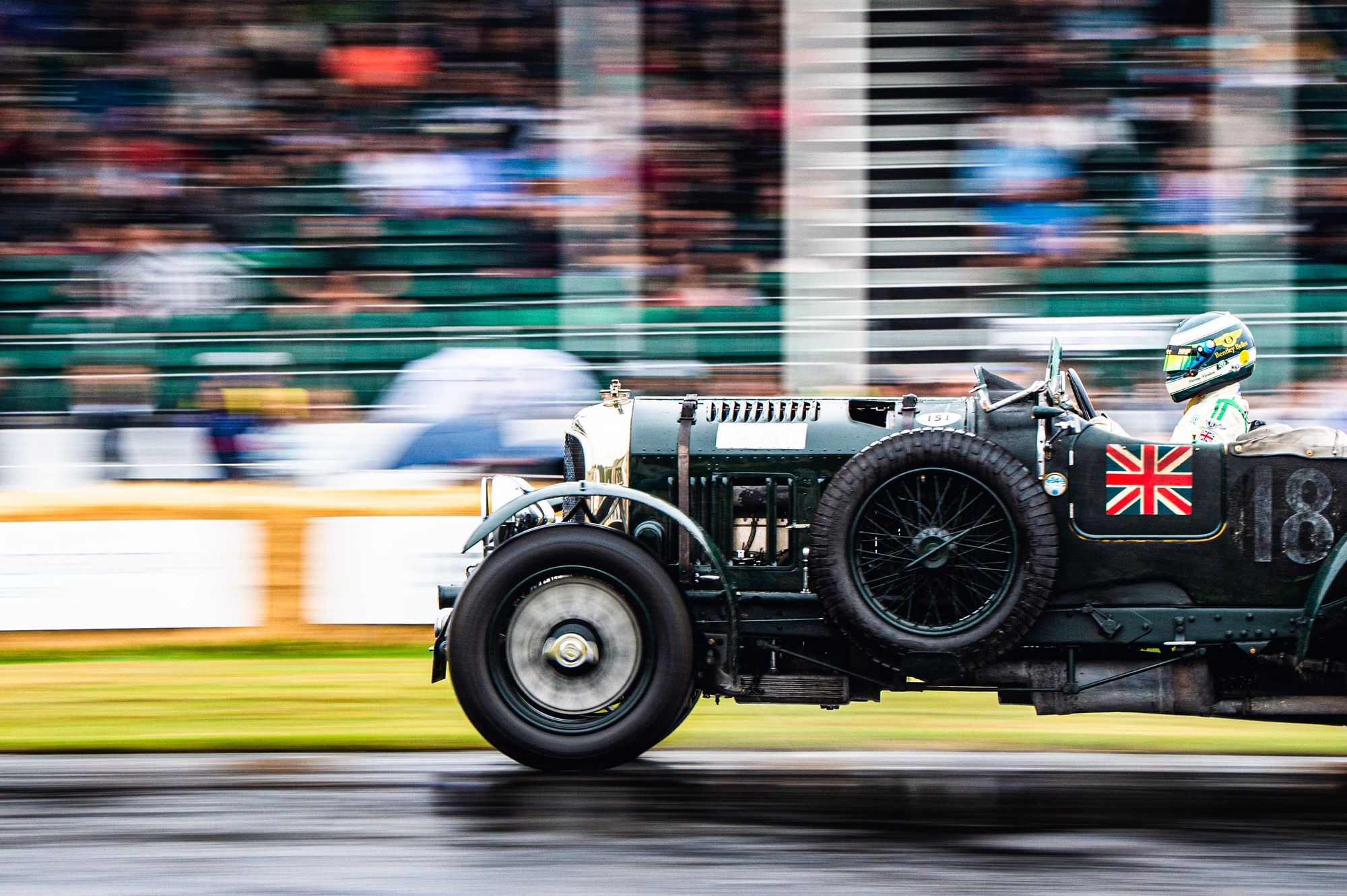 It's just like an animal, you know. It's like sitting on a beautiful horse and just going somewhere in the fields. There is really something very special about that. There is a connection between the car and the driver, especially with gear changing, which Bentleys are famous for.  If you get it right, you're happy about every single gear change because it's just right.
I really fell in love with them, all of them. They are an extraordinary car, and especially these W.Os, I just love them. I did all my rallies, thousands of miles, in the Bentley, not in different cars. So it speaks for itself, I think.  And I'm not alone, I'm sure.  So many people fall in love with the W.O. pre-war cars, with their rough way of driving, and I'm sure you agree partly?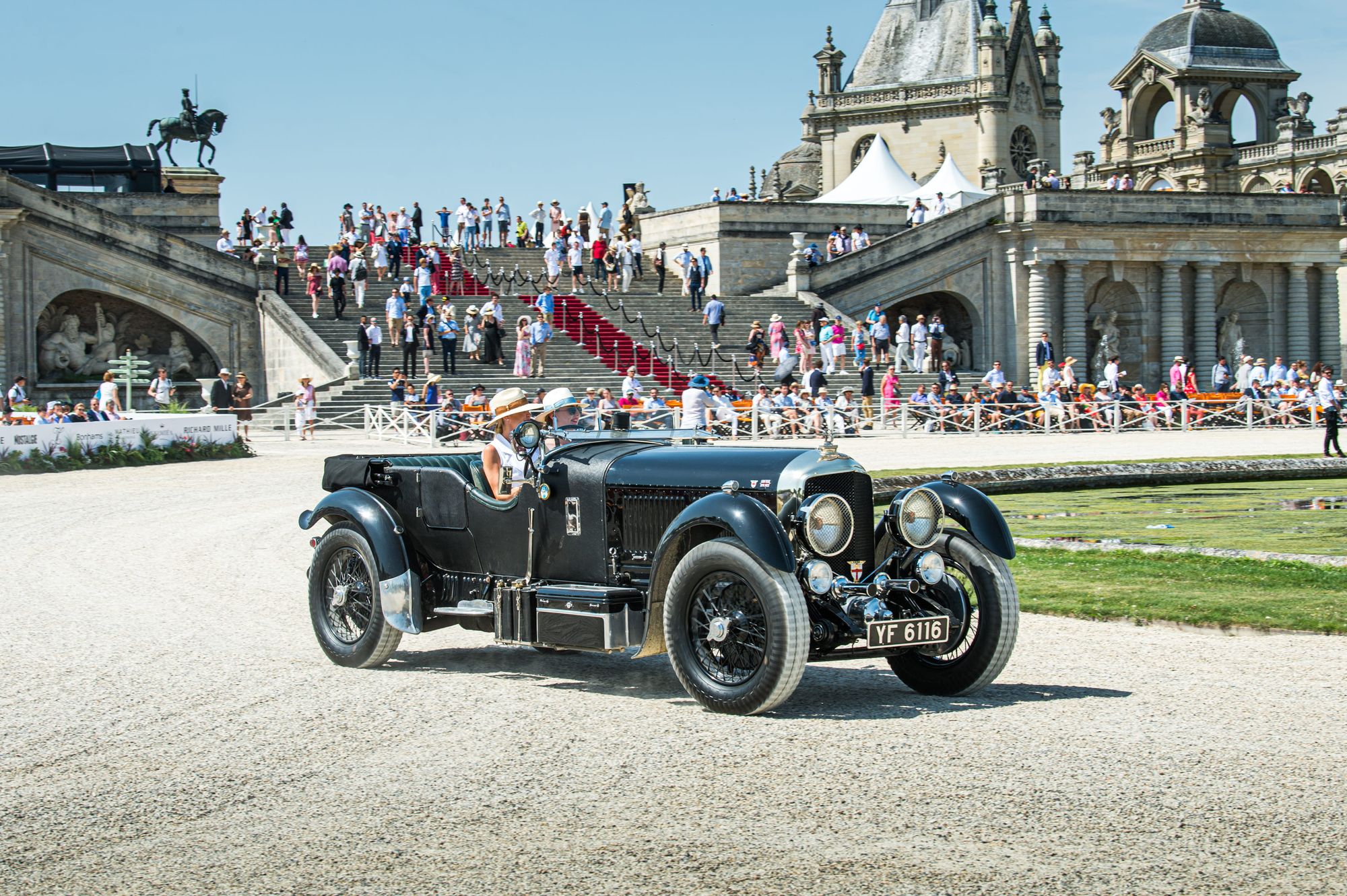 Yes, definitely. When we were going up some of those Tuscan hills in your 4.5 litre Bentley, I couldn't believe the torque and the power. We were doing 80/90 mph with four of us in the car. So I'm definitely a convert to them.  
I'm conscious of your time. To end with, we've got some quick fire questions. So firstly, favourite circuit?
Wow, I would say Spa.  Spa, Le Mans, Monaco, this is a difficult one. But I would say Spa, yes. It's a legendary circuit and I kind of love it.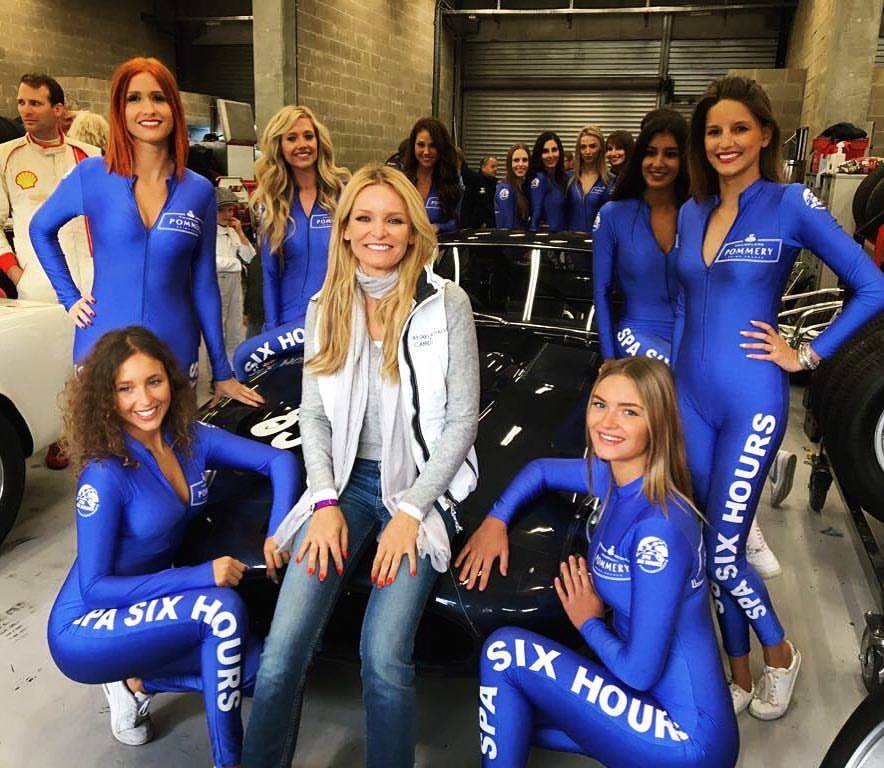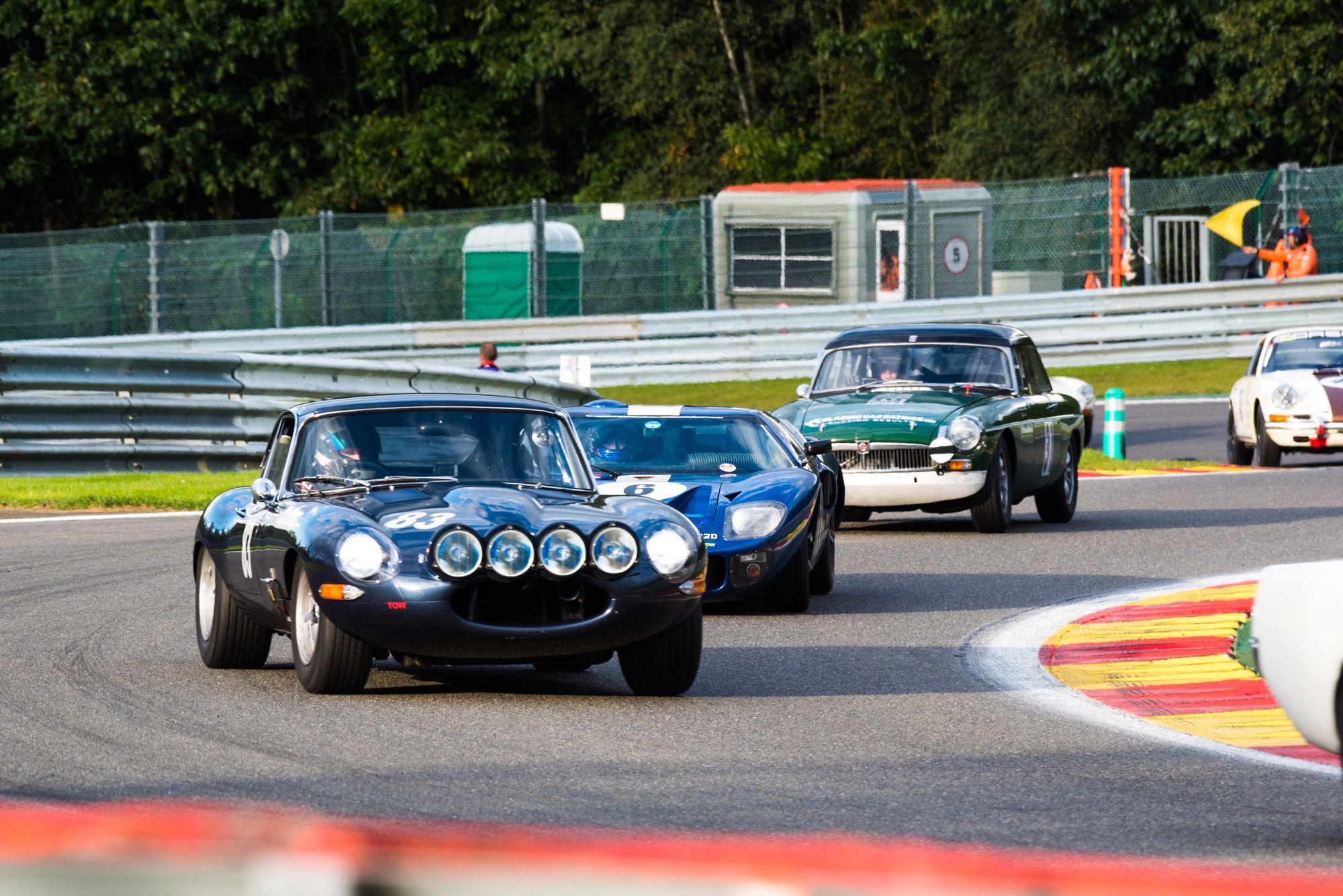 Virtually every single person I've asked that question to, on our interview series, has said exactly the same thing.
Oh really, seriously?
Yes, you're consistent there. The next question is maybe a tricky one for you. Racing or rallying?
These days I would say racing. I got very hooked. Yes, I just love racing, so racing.
Yes. Modern or historic racing?
Difficult one. I would say historic racing. There is more soul in it.  This buddy-like atmosphere. Yes, historic racing still is my number one.
With some of your cars, such as the Bentley 8 litre, they are completely immaculately restored, whereas some of your other cars have patina. What do you think between restored or patina?
That's a good question because how do you describe patina?  It's all moving these days. The big discussion about what is patina, what is not any more. But yes, personally I like patina. I think the cars should stay in original condition, as much as possible.  To find the right way, the level between very sensible restoration of patina is sometimes difficult. So yes, I would say patina.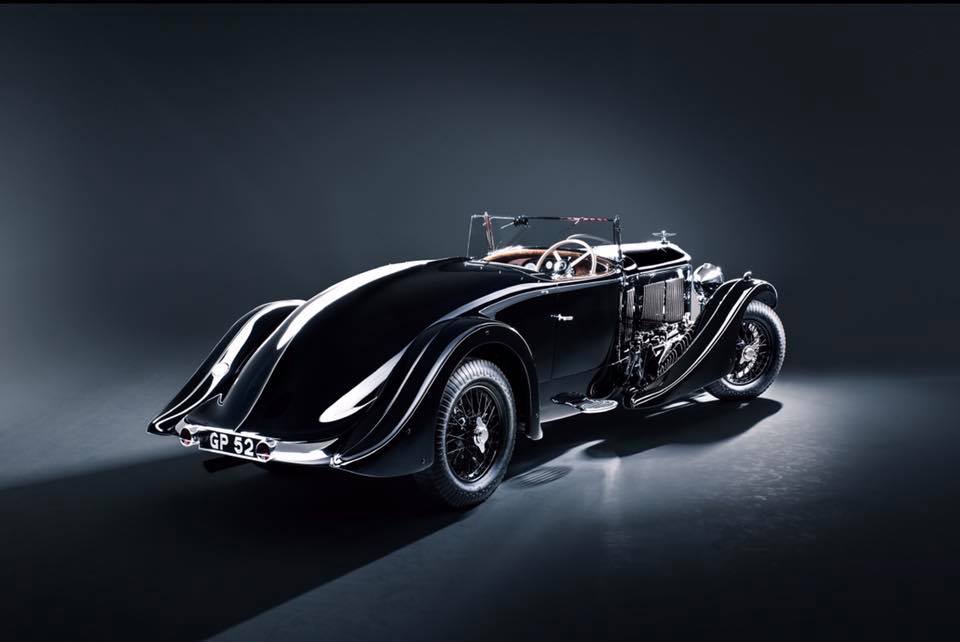 Last question - you're only allowed three cars, what is your three car garage?
Only three cars… oh, dear! [Laughs] I would say from different decades, so pre-war, Alfa 8C, definitely on my bucket list for years. Then I would say Lamborghini Miura, one of my favourites. I would love to have one.  And I think maybe my all time favourite, maybe Ferrari P3, I don't know, P4. I would say something like that.  It stays as a dream forever. So that would be my dream garage, yes.
Great choices. Well, thank you so much Katarina. It's been really interesting and I look forward to catching up in the next couple of months, certainly in Switzerland in September.
Yes, thank you very much. Absolutely looking forward to that one. We will drive some hills and some turns in the Alps.
I can't wait, thanks Katarina.
---
---