Modern Classic: The Apex Interviews David Gandy
Our guest this week is a man of many talents: a leading international male supermodel, muse of Dolce and Gabbana, entrepreneur, clothing designer and, most importantly, an avid car enthusiast always ready to promote British manufacturing. It is of course Mr David Gandy, who joined us to discuss his adventures in motoring and share some of his experiences of owning and restoring his beloved fleet of classic cars, as well as trimming hedges in a Peugeot 106...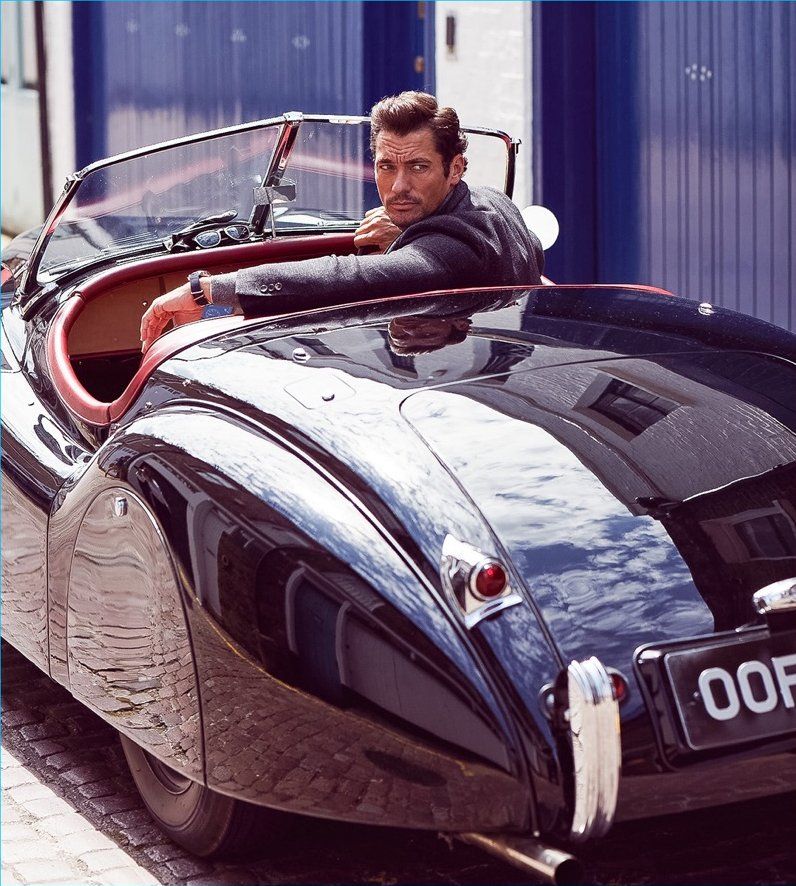 Hector Kociak interviews David Gandy for The Apex by Custodian. Recorded and Produced by Jeremy Hindle.  Transcribed by David Marcus. Edited by Hector Kociak & Charles Clegg.
Listen to Podcast:
What sparked your interest in cars, and what are some of your earliest motoring memories?
That's a very difficult question. People ask me about my interest in cars and I can't answer it, as I don't know where it's come from! It seemed to be ingrained into me as a child, but my parents aren't into cars, my grandfather isn't into cars, none of my family are. It was just something that I did as soon as I could pedal a go-kart and handbrake turn in it. I had a friend across the street growing up and his father had an old Datsun, and we would just go and sit in the garage looking at car magazines and playing Michael Jackson's 'Thriller' album over and over again in it, wearing out the battery. Forever since, it's been a passion.
Looking through your early car history I've found tales of a beastly Ford Fiesta 1.1 Ghia and a Peugeot 106 XSi that ended up in a hedge I think…
Hah, I did a little bit of work for the council and trimmed some hedges for them(!) in that. I learned the hard way about lift-off oversteer as a novice, a stupid guy who thought he was talented at driving and went from a Fiesta to a 106. A lot of people found out the hard way about lift-off oversteer in 106s and 205s.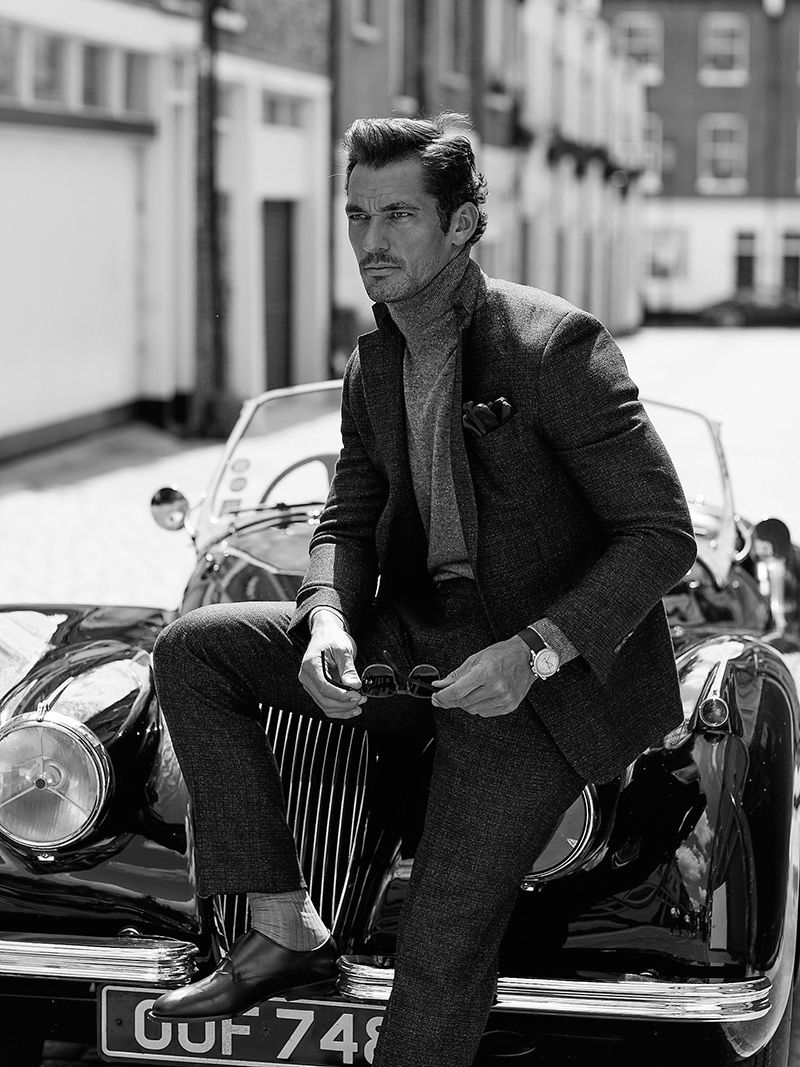 What was it about hot hatches that made the younger David Gandy tick?
Probably because I was from Essex! Me and my friends would either try and buy hot hatches or, if we couldn't get them, try and make what we had look like hotter hatches than they actually were. My friend had a Clio in the Williams blue, but it wasn't actually a Williams. He put gold wheels on it so it would look like a Williams. Of course, it didn't look like a Williams in any way.
Very cunning.
Yes, and the amazing thing is that now all these cars are collector's items. We're talking about GTIs, XSis, 205s, Golfs, they're all going for silly money. The Williams Clios are going through the same thing, so we all should have kept hold of them. If only we had known! They're still very much an attraction; if I have a bit of free time I like to check how 106 Rallyes or XSis are doing, maybe for a bit of nostalgia.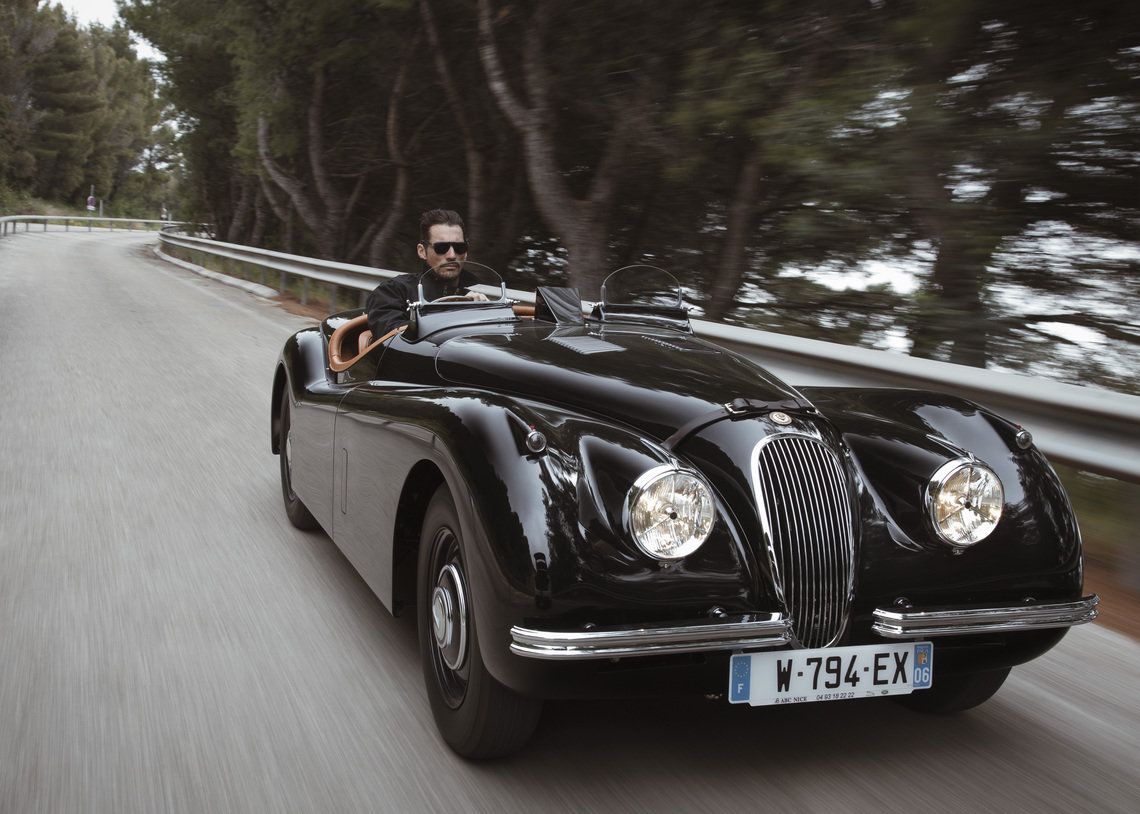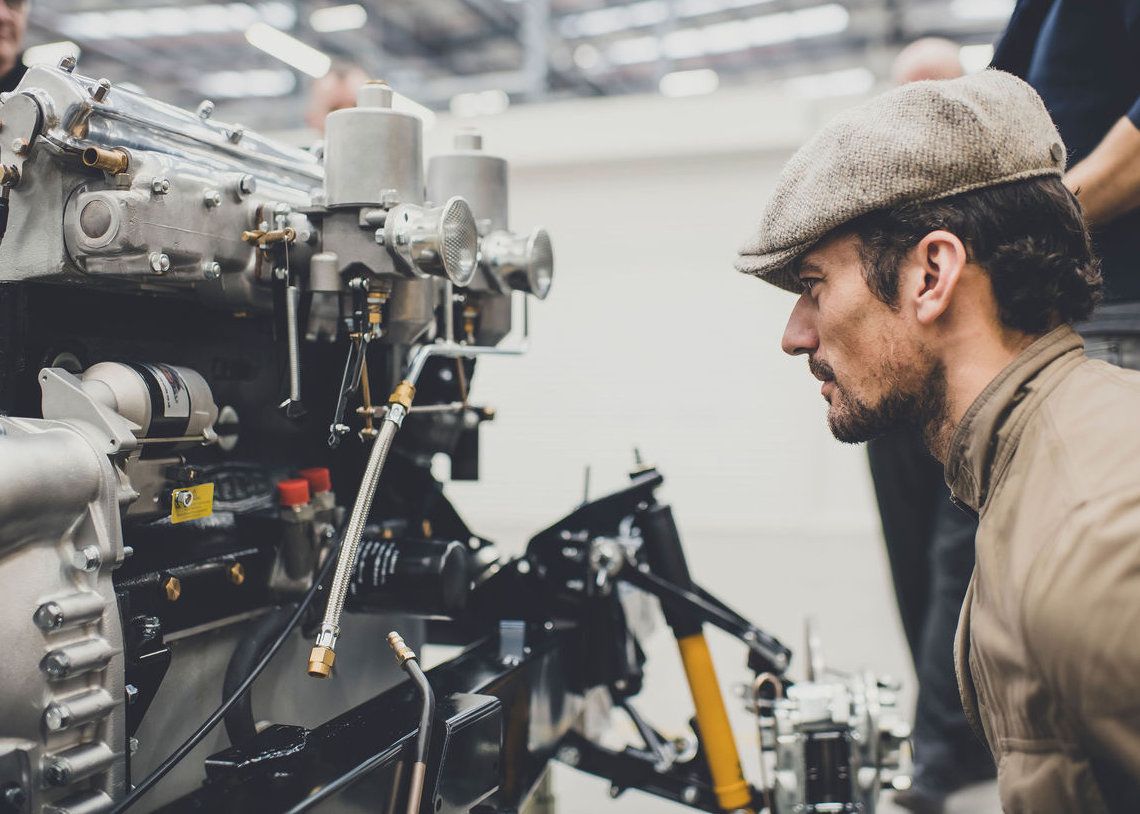 Readers might not know this, but you did actually work for Auto Express for a very short time after you left school, and you've put pen to paper as a car writer for magazines like GQ and Vogue. Does that influence the way you think about driving and enjoying cars?
I don't think so. Writing for the Mayfair Times and Vanity Fair and so on, I've been fortunate enough to sort of write it on the understanding that I'm not a car journalist. People say they like the way I write, because I pretty much write the way I speak. I can do it without any particular prejudice towards any brand (even though I'm a very 'Jaguar' guy). Journalists have to be very careful about what they say about different brands, they may get shut out from driving the cars if they give bad reviews, or magazines have advertisers from certain car brands who demand a certain line. I can be very broad about my views because I'm not attached to it, and my daily work is not just journalism. Having said that I do watch a lot of YouTubers and Instagrammers who say they're car reviewers, but a lot of them don't actually review. They just say "here's a car I'm driving", but they don't give you proper take on it.
So going back to the question, no, I don't think it really does. Of course I don't review anything that I don't think is going to make an interesting story, and I'm very fortunate to be invited to lots of different launches and have people wanting to send me their cars. Unfortunately I'm not really going to be interested in a new bog standard 2.0 litre diesel estate - it's just not where I am - but if Honda want to send me a new Civic Type R, then absolutely...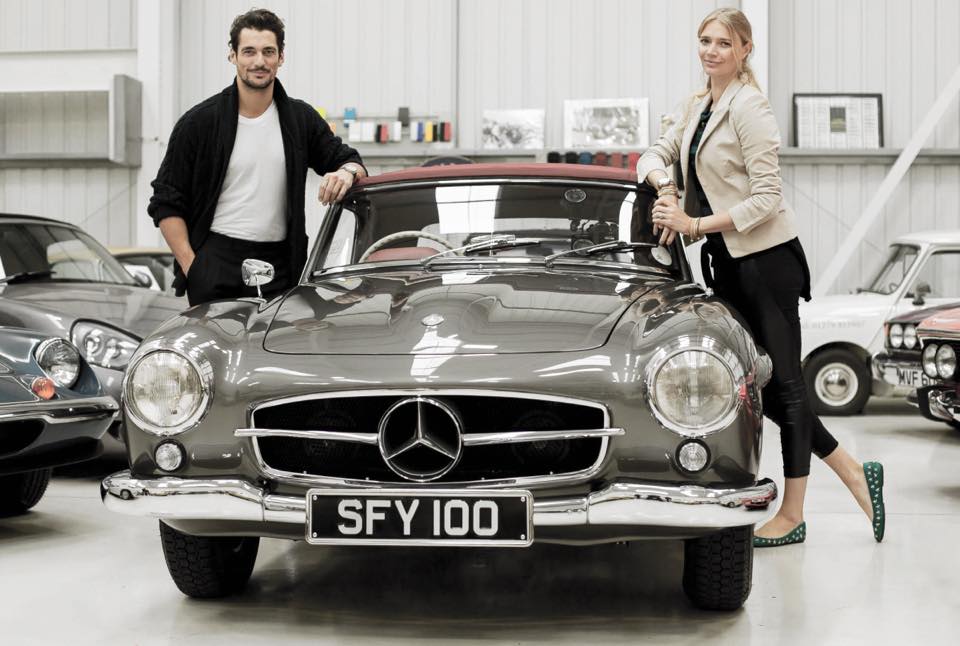 Many people also won't be aware that you have been involved extensively in restoring and collecting classic cars. I know there's a Jaguar, a Porsche 356 and a Mercedes 190SL in the garage. Can you tell us about some of those projects and what kind of approach you've taken in terms of historical accuracy vs modern comfort and practicality?
My first restoration was the 1960 Mercedes Benz 190 SL. It's a car I've always admired. Of course I also admire the 300 SL Gullwing, but the budget didn't quite stretch to one of those unfortunately! However the 190 was almost like the cheaper little sister to the 300.
Parry Chana from LuxClassics (who restored the Mercedes for me) sourced a right hand drive one. It was previously owned by the guy who started the Mercedes-Benz Club in the UK, R.H. Johnson, so the heritage was incredible. I spoke to his family about it because he had sadly died, and told them truthfully that I wanted to restore it back to its glory days, nut and bolt, and keep it on the road for hopefully the next 60 to 100 years. They liked that, and they sold me the vehicle. Over the next three years Parry restored the car for me back to complete originality, probably even better than how it would have come off the factory floor.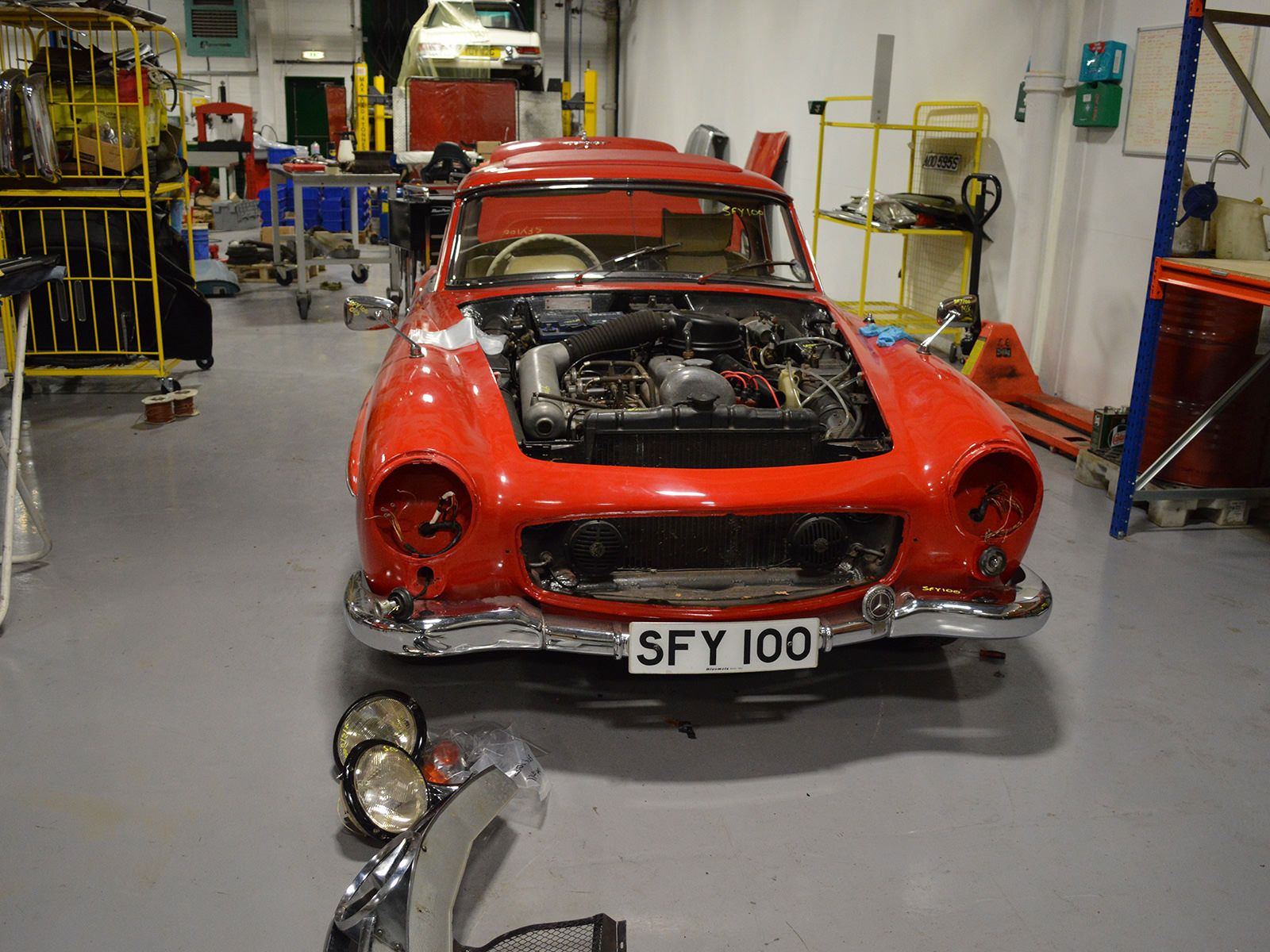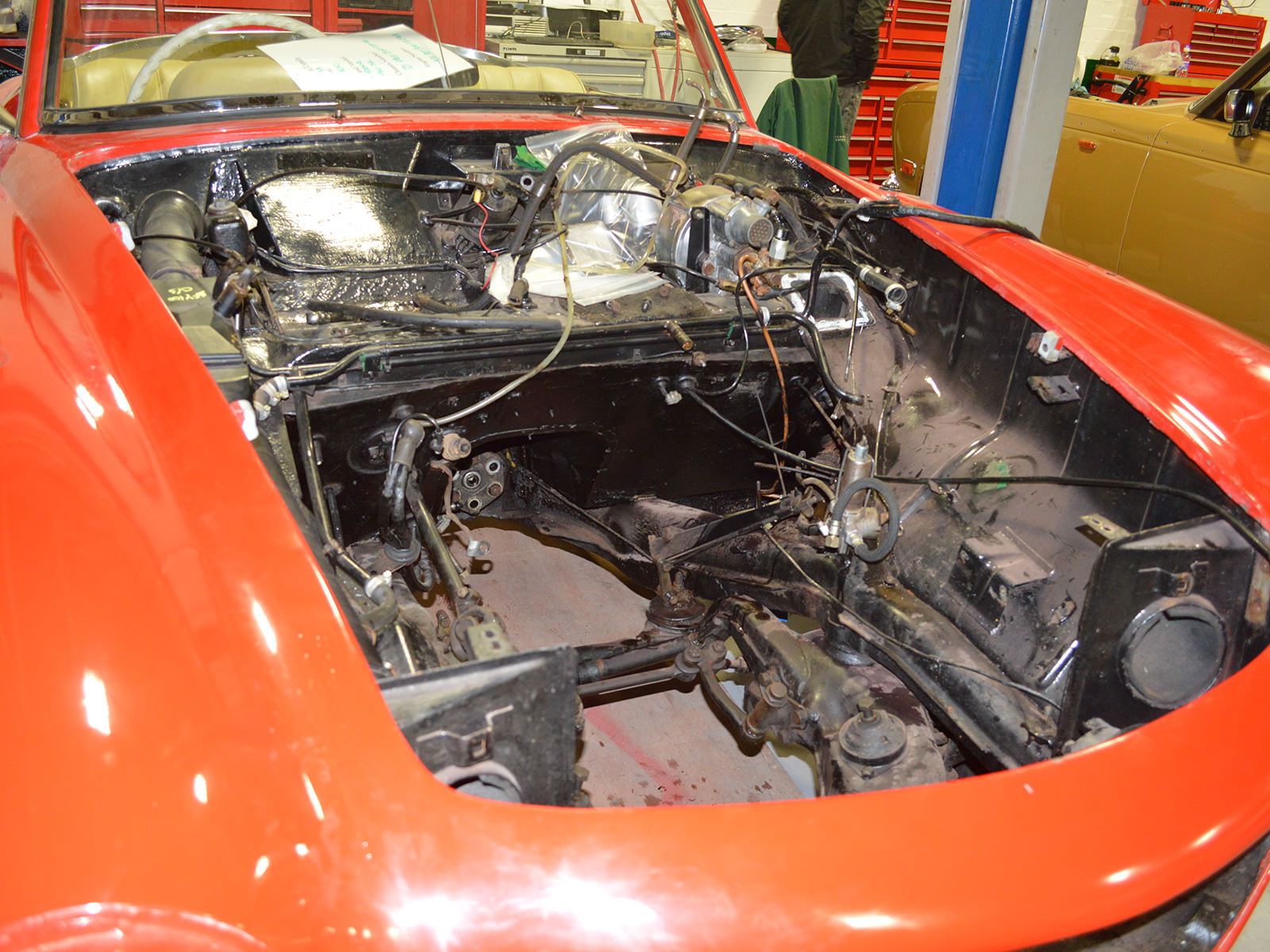 So we're talking paintwork, interior, all absolutely as it was?
Yes, paintwork restored and with an original interior leather from Germany. We took the carpets out and put rubber mats in, took the Weber carburettors off and put the original carburettors back on. It was a complete job, how many man hours we put into that restoration I don't know, but the goal was complete originality, nothing new. The only tiny thing I can say we did on it was to add a connector under the dash so you could charge a phone...
I think Mercedes would probably have wanted that in there originally, if they had known.
Indeed. I actually sold that car just before lockdown as it wasn't being used enough. I'm a big believer in classic cars being driven, and I love the whole restoration process. Sometimes I actually prefer it to driving the car! Once it's finished I'm excited about the vehicle but there's a slight lack of enthusiasm sometimes because once these cars are brought back to life, they are really for people to see and enjoy and they need to be out there. It was a top car going to competitions, and it won a couple of concours car events, but I wasn't driving it enough. Happily I got approached and ended up selling it to a lovely family, who have now taken the Mercedes off my hands.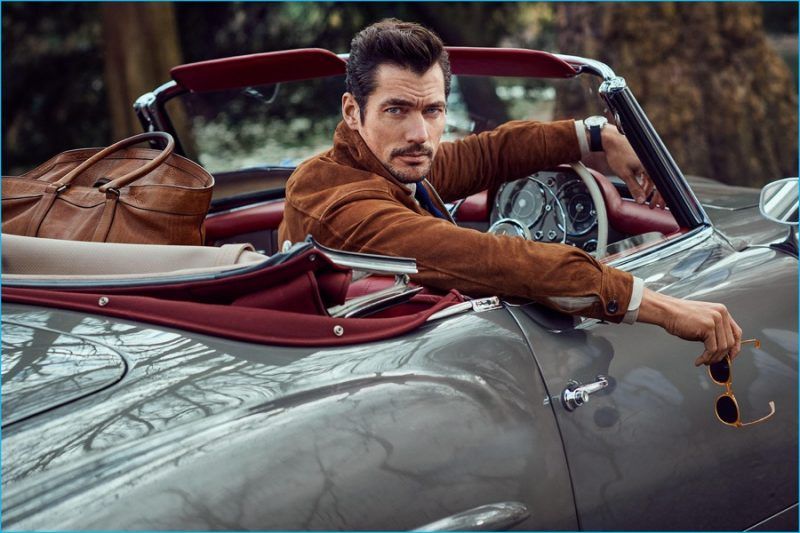 What about your Jaguar XK120? I think the process was a bit more involved with that one, and of course your Porsche 356 came after that. Maybe you could tell us more about the Jaguar first?
I completed two Mille Miglias in XK120s, and fell in love with the cars. Slightly controversially I'm not a huge fan of the original E-Types - everyone goes mad about them, and I appreciate them, but it's not something I've ever wanted to own. The XK120 is different. I just find the design, the lines, and the history of the car is probably slightly preferable to that of the E-Type.
We went about finding a car for me to compete in the Mille Miglia two years ago, and it was a very quick 10-month restoration which no one else could have done apart from Jaguar Land Rover Classic Works. They have such extensive engineering resources, knowledge and quality of work that they're probably the only people that could have restored that car to that level in 10 months. Again, this car was sympathetically restored as a normal XK120 but with a nod to the lightweight racing Jaguars of that era. Mechanically the engine wasn't really changed but we got about 20 extra horses out of it.
We didn't go too crazy with the rest of the restoration. With the tweaks we made, everything on that car had a historical link to Jaguars of the time. So it doesn't have a roof, it just has a tonneau. One of the reasons for that was just to make me more comfortable in the car so we could push the seat back even further without a roof or a cabriolet hood. We put adjustable pedals on it, a smaller steering wheel, and a quick shift gearbox, the quick shift being something that the XKSS would have had. We also added a quick filler cap; all things that Jaguar would have done and did to racing cars during that era.
It seems that you were subtly turning it into even more of a driver's car?
Absolutely, and enabling us to drive just a bit more competitively in the Mille Miglia. Then the Porsche 356 came along, which was actually started before the Jaguar but no one really knew about it. The Porsche has only just been finished, and that project has been going on for maybe three years now.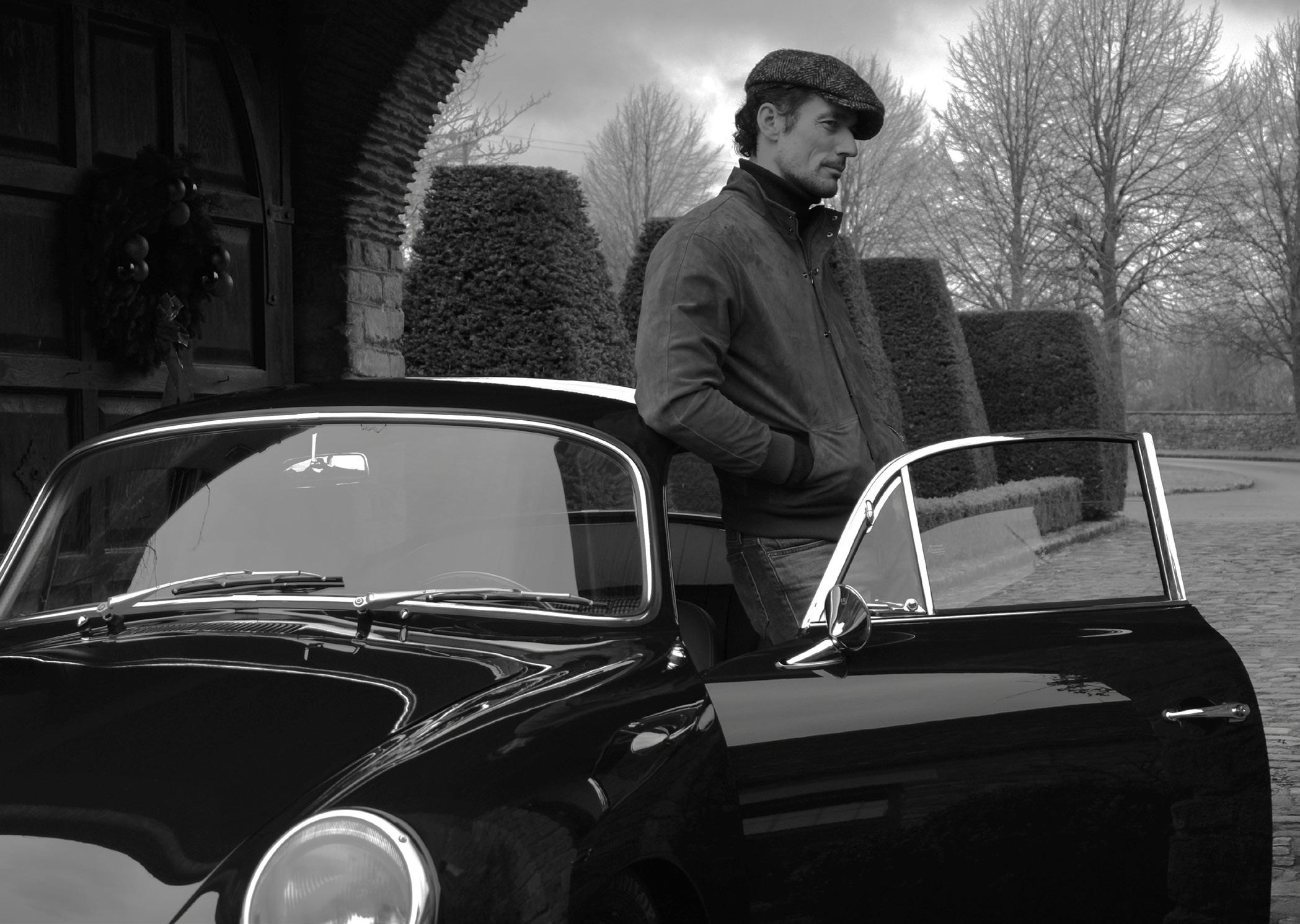 You launched it recently, just before Christmas I think.
Yes, there's still a few tweaks to make but we unveiled it in B500 Magazine (link to article here). It's hard to describe this project, as there was a lot more of my design in this car. It was a 1965 model, so very late. The more rounded shape had changed by that stage, and it's sort of a longer design than the original. You could see where the Porsche 912s were coming in after that. The bumpers were set far off the bodywork on this 356 so we had someone bring them much closer in, totally redo the panels, and give the car a more rounded look, which I feel makes it much more cohesive. Then we've got the 'knock-off' Rudge single nut wheels, which were not used at that point in Porsche, aside from maybe in the racing division. On the inside, mechanically speaking the engine has been bored out for a massive 95 BHP...
Just enormous.
I'm not sure if I can handle that power(!) - so there's that, and then the interior is a little bit bespoke. I put houndstooth fabric in, which Porsche are still using today even on the 911R. I thought it was a good interpretation of that historical link. I definitely had more design authority on the 356 because I felt that with the Jaguar and the Mercedes, they had to be kept quite original, whereas with Porsches, there's more of a substantial history of changing engines and interior and exterior parts for things like racing, and so I felt more able to put my mark on the car.
With the 356 there is also a nod back to Rod Emory and what he does over in LA with his outlaw 356s; there was definitely a respectful amount of me looking at what he was doing and transferring that over to my vehicle as well. I went to visit Rod about three years ago, and he does some great things out there. So all in all, there was a bit of a license for me to put my own stamp on my car, I suppose.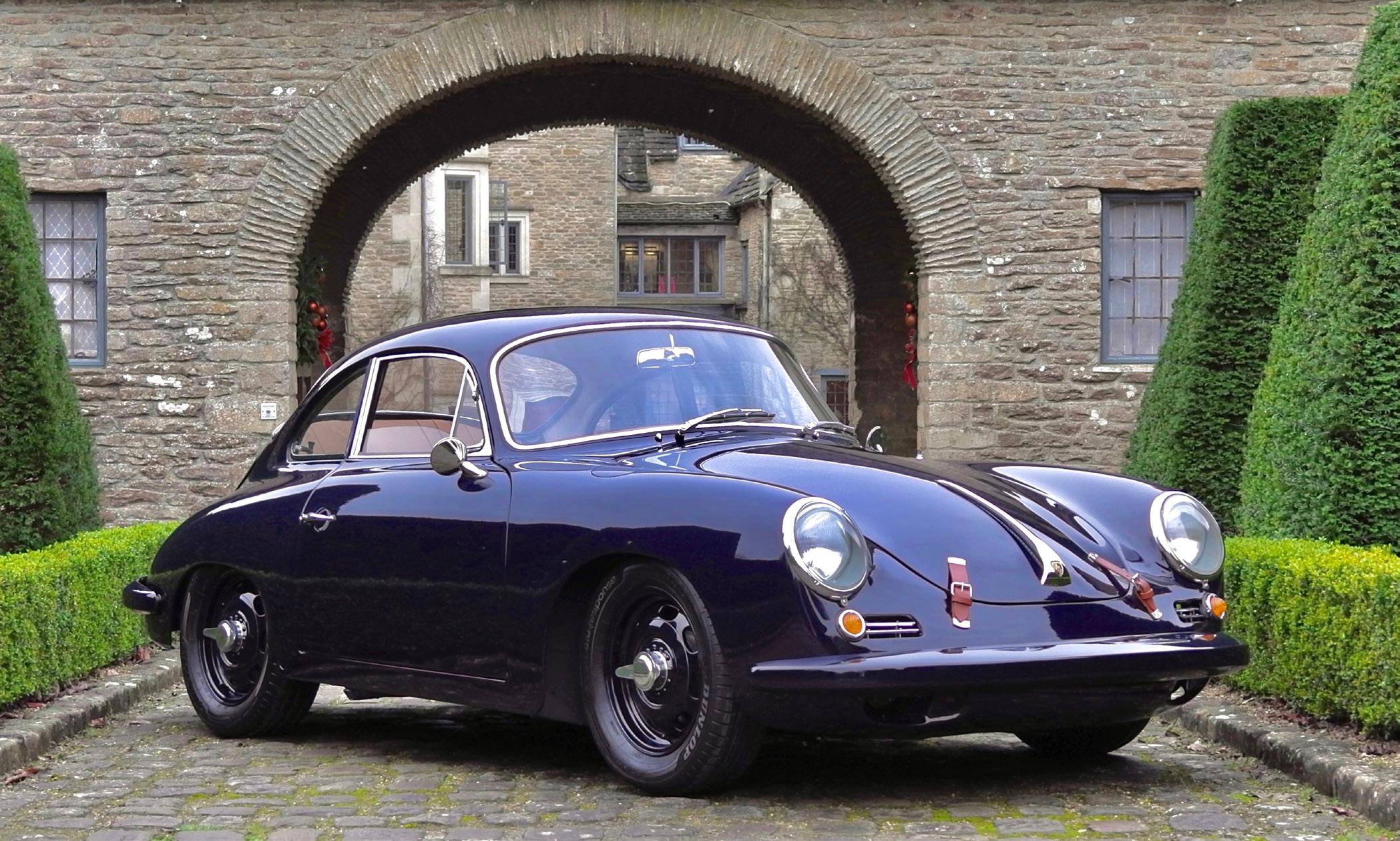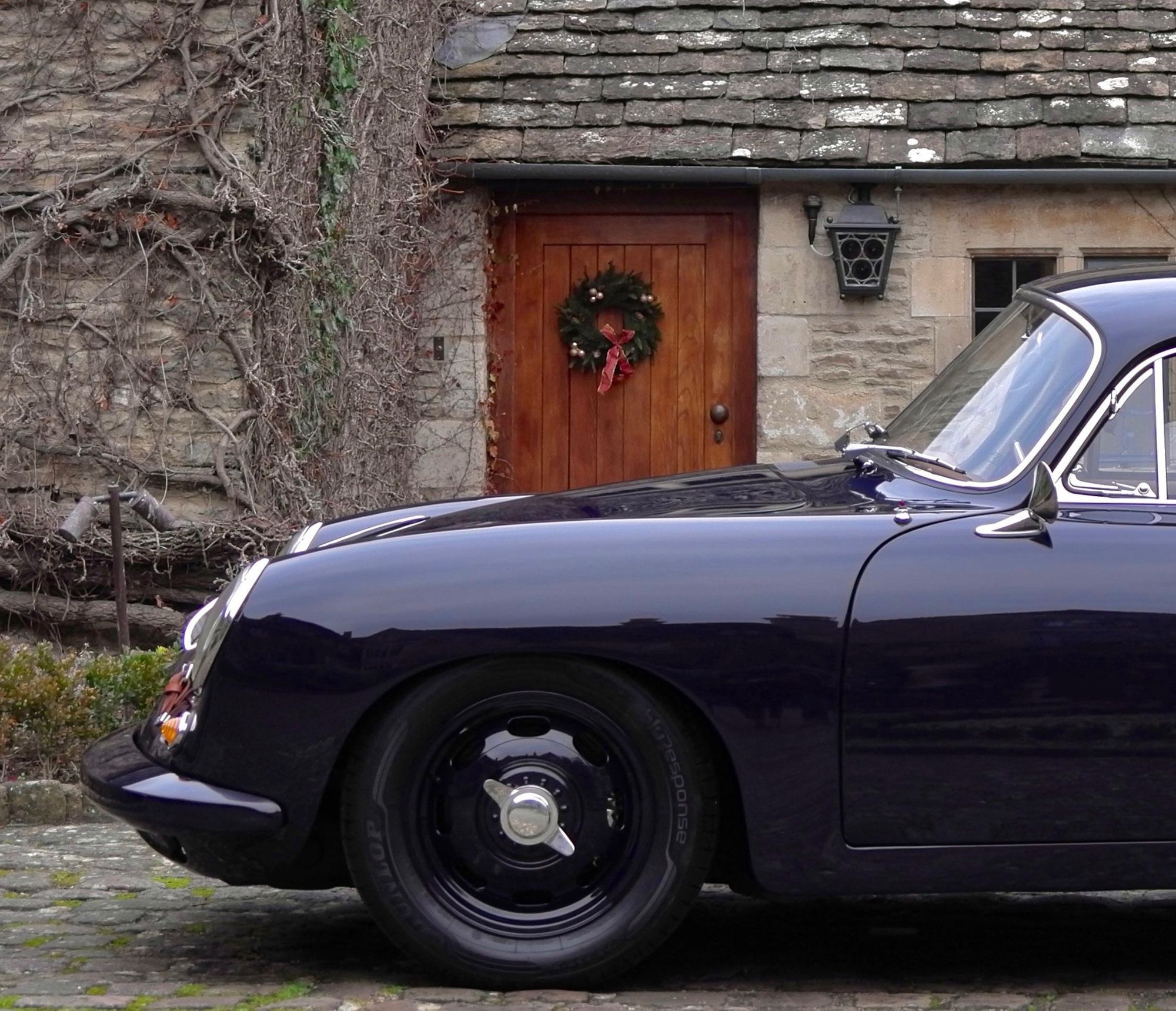 That's an interesting spectrum of approaches. Going back to Jaguar, you've done a vast amount of work with them professionally, and as we've mentioned the restoration of your XK120 seems to have been a particular highlight. For you how do modern Jaguars, or performance cars, stack up against the classics you love?
Funnily enough just before Christmas I did a piece with Vanity Fair about this. I kind of felt that while I wasn't losing my love of driving modern cars, because I respect what they can achieve in terms of speed and handling, I feel like the process of driving has been taken away somewhat. I was testing some McLarens around Goodwood recently and chucking in lap times that I couldn't even believe. My respect for the cars and the engineers is massive, but I got out of the car and thought - do I want to drive it again? And my response was 'not particularly', which is very strange. I found myself looking at other cars which demand more involvement, like an A45 Mercedes or the Civic Type R that I had tested and in which I'd had so much fun. They're ludicrous in themselves, of course, these 400 BHP hot hatches...
I suppose there's a novelty to driving a classic car but to me the point is that you're totally involved in the driving process. I tell people that you have to recalibrate your brain a little bit to focus on you and that machine driving down the road together. There's no anti-lock brakes, there's no ESP, there's no power steering. I get into my F-Pace SVR and it tells me when someone is in my blind spot, it chucks on the emergency brake because I haven't quite braked quickly enough and things like that, which I think makes us into quite lazy drivers. People don't realise how much work those computers are doing to keep their car on the road sometimes.
It also changes the perception of what a skilled driver is, I suppose.
In many ways. I've been on launches with Jaguar where I have flown off in the car (because Jaguar trust me to be able to show to the lifestyle press what the car can do), and then some people get in and try to replicate that, and all I'm seeing is the dash lighting up like the Starship Enterprise! I don't really think people realise how much that car is controlling their driving. I'm a big believer however that every car should have ESP (Electronic Stability Programme). It's not always speed that kills, it's also people's poor awareness of other cars around them and conditions on the road too. I've always thought that if ESP was on every car then you would see fewer accidents, although from a racing perspective, I really do prefer the involvement of classic vehicles. Also, in some of these modern cars, you can now head into corners with the kinds of speeds that I just don't think you can use on the road, if I'm totally honest. There is a good argument to make that on the road you don't really need a car with more than 400bhp.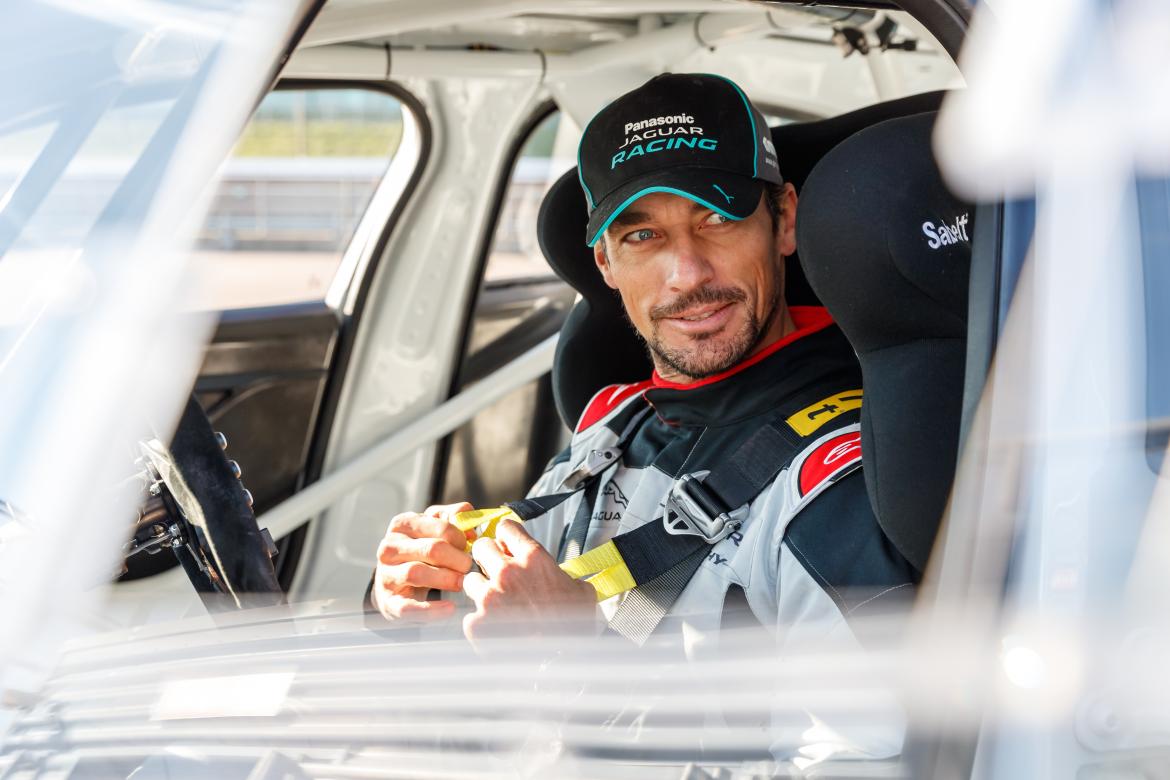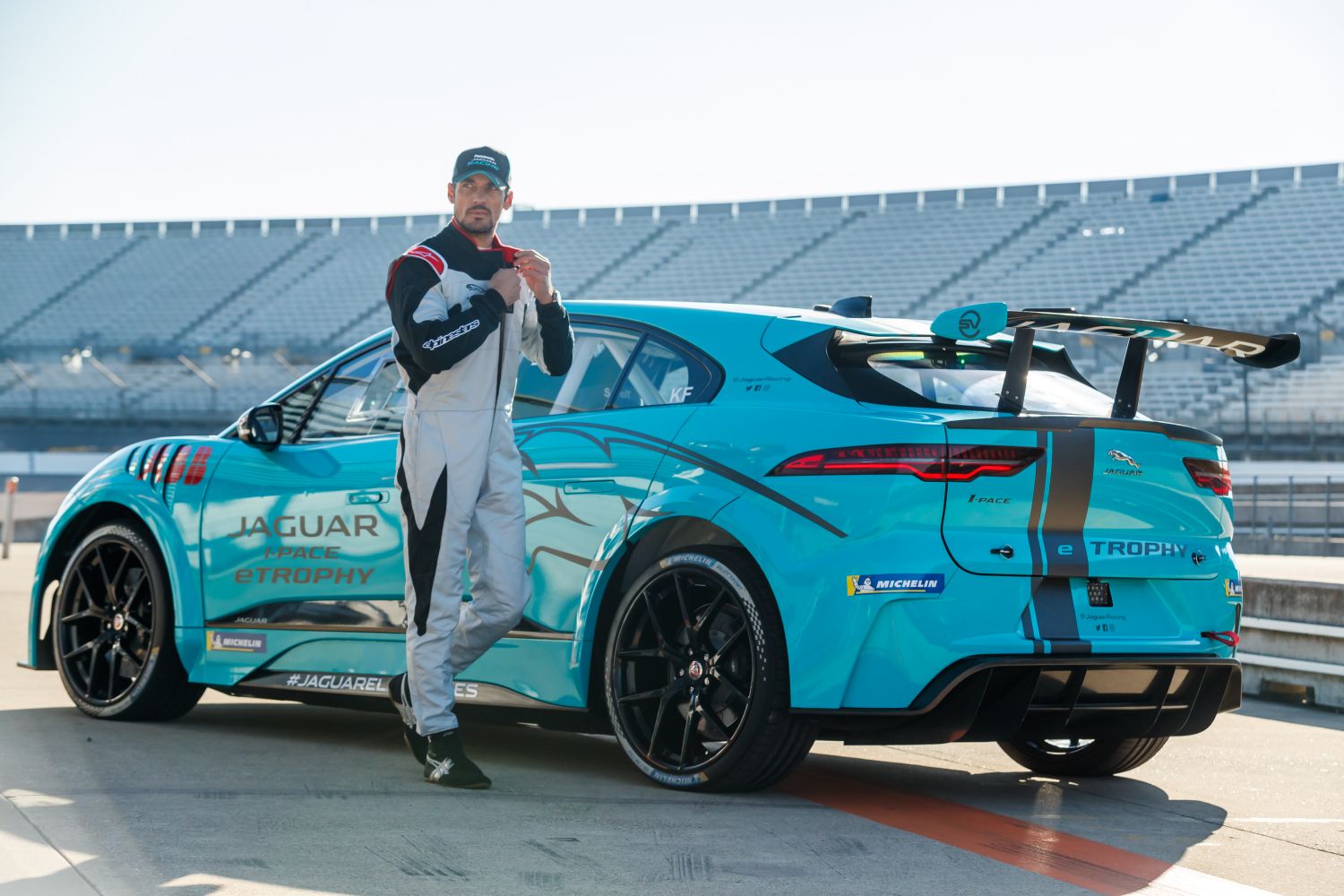 When we had Jim Glickenhaus a while ago he said something similar. Once you start going beyond that kind of level of power, you can't really use it and computers step in.
You can't defy physics - I learned that the hard way from having a few accidents in cars(!).  On the other hand, I can get into my modern Jaguar SVR with 560 BHP, and drive that car with no worries. I've got my daughter in the back, and I know it's one of the safest things she could be in. I would never take her out in one of my classic cars of course, because they just don't have the safety features of modern cars. I don't know... I always seem to say that this classic car is going to be my last one, and then I find myself on PistonHeads at 2 a.m. with a gin and tonic…
We've all been there!
I suppose with the cars I've built, I've gradually gained more of a sense of confidence in the restorations and more confidence in myself, and taking forward my design and ideas. A lot of people now ask me to help out with the design and restoration of their cars, which I think is actually a very personal thing. I suppose I didn't have the confidence to do it with the 356 but what I would really love to do in this modern electrical age is take an everyday classic car and build on the chassis using batteries. I would probably do it with a 356. I could do a complete electric four wheel drive pocket rocket with modern creature comforts inside, all the technology, but it would still look like a classic 356. I think that is what I would be interested to do next. I was looking to do it with a Mini, because I've always wanted one for some reason, but I'm not that mini myself, so even though I can get in them, I would feel a bit like Donkey Kong driving around, but I do love them. This may be best left for when the aftermarket catches up to the electric transition, because we're still of course in the infancy of electric drivetrains.
Speaking of changing times, in the past you've described your admiration for people like Paul Newman, Steve McQueen, and James Dean, who all captured a certain kind of masculinity in their love of gasoline, fast cars and risk taking. From your perspective do you think modern cars still play that role for men?
I think we're in such a transition now that I wonder whether starting up a big V8 petrol engine in 5 or 10 years' time is going to be deemed either old fashioned, or (unless there are synthetic fuels available) a danger to our environment. The days of starting up big V8s are I think numbered in many ways, and maybe they have been for a while. I was actually reading a stat the other day that there's now fewer men getting their driving licenses than women in some places too. So obviously the idea that your car and masculinity are combined is slowly dwindling away. I mean I'm old fashioned, and I still love the sound of the engine in the car, but that's a passion of mine, it's not a passion for everyone.
It's interesting that even 60 years since the heyday of Paul Newman, Steve McQueen and James Dean we're still talking about them, seeing them as style icons and as guys we would love to imitate. I think they were a rarity that we're never going to really see again, but they were all just as we perceive, a man's man at the end of the day. I respect Paul Newman in particular for so many things. Probably one of the best looking men that ever lived. He had his own race team, he raced at Le Mans and won his class. He donated millions to charity. There wasn't much to not respect him for in many ways, and he seemed to get on while still keeping quite a private element to his life.
I think that's where the difference is; today everyone is bringing their lives entirely on to social media, so we know everything about everyone, but the mystery of Newman, Steve McQueen and James Dean is the lack of information; there's only so much we know about them, really, and that is never going to change.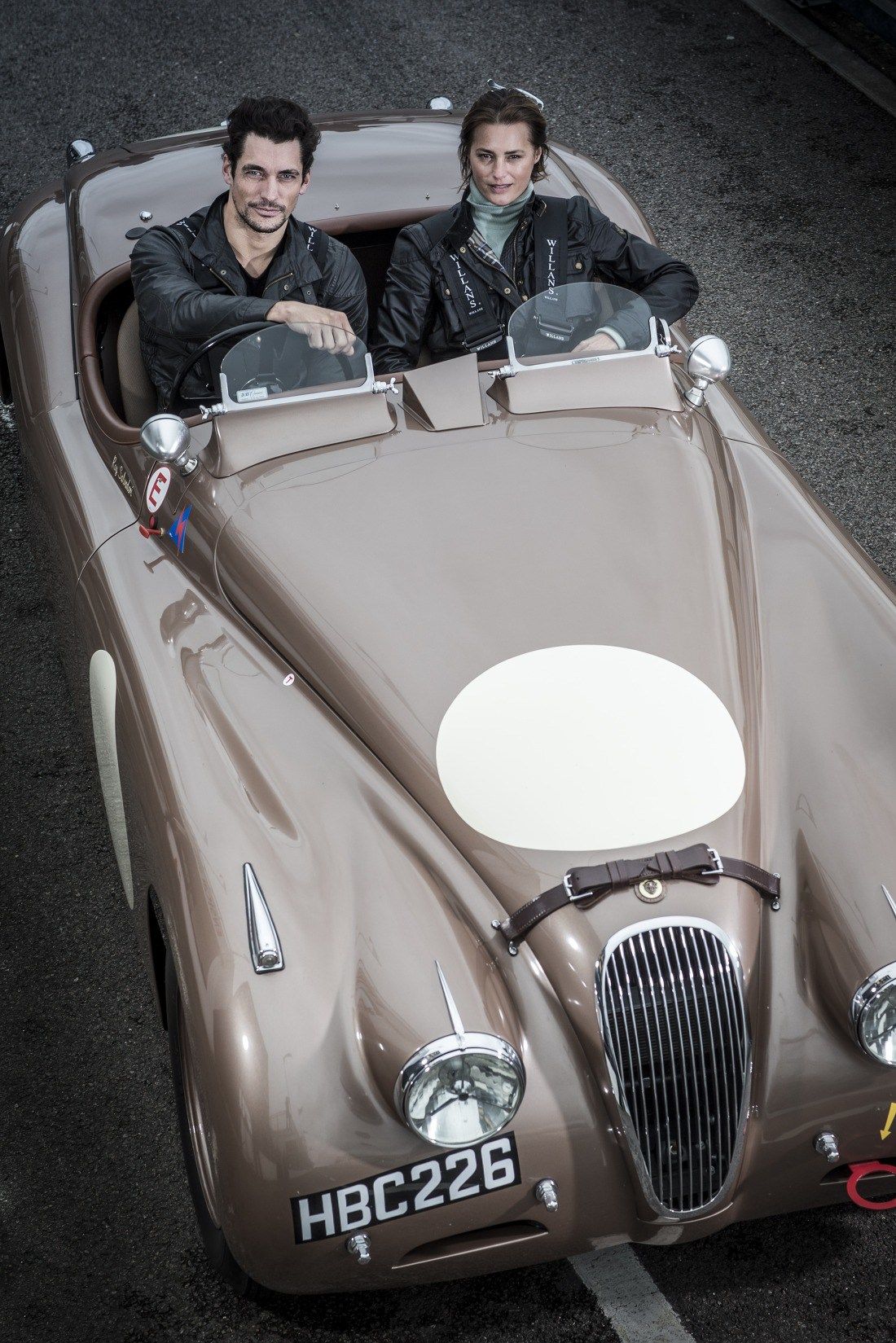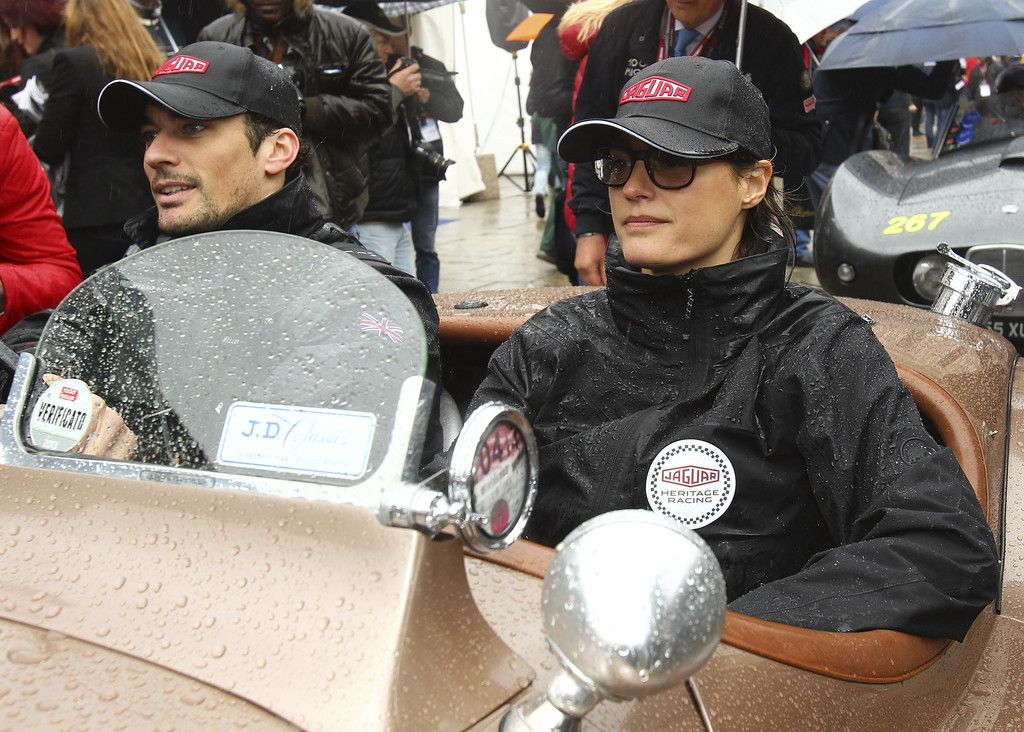 Another question I wanted to ask was about your road racing experience. You've driven the Mille Miglia a number of times; in an interview you described your outing with Yasmin Le Bon as co-pilot as "more Mario Kart than James Dean". For those readers who have never participated in the Mille Miglia, what makes it so great?
For those who don't know, the historic Mille Miglia was an annual race in Italy from 1927 up to 1957, when it was called to an end after a horrific accident. It features some closed roads and a lot of public roads, and it's a 1,000 mile race. To give you a perspective, I think Sir Stirling Moss holds the record which I believe he did 1,000 miles in just over 10 hours, which is averaging about 100 MPH.
It really is insane.
Having done the modern Mille, it doesn't compute in my head, how he did that. That's just out of this world stuff, which shows you the talent of Sir Stirling Moss. Now they've brought the race back as kind of a rally, more than anything. Whether you interpret it as a rally, however... there are lots of guys who still interpret it as a kind of race, me being one of them. There's 350 to 400 pre-1957 cars competing to win the Mille Miglia, and of course you don't really get anywhere to race actually, because you have to stop for all the timed competitions. It quickly dawned on me when I first started however (because I didn't particularly know about the Mille's history) that there don't seem to be that many rules to it when it gets going, which sounds terrible, but it's a lot of fun, and it's a unique event. I don't think it could be held anywhere else in the world apart from the car-obsessed Italy, a beautiful country which of course I have a relationship with having done so much with Dolce and Gabbana. Luckily that's got me out of a couple of wrongly issued speeding tickets in the Mille...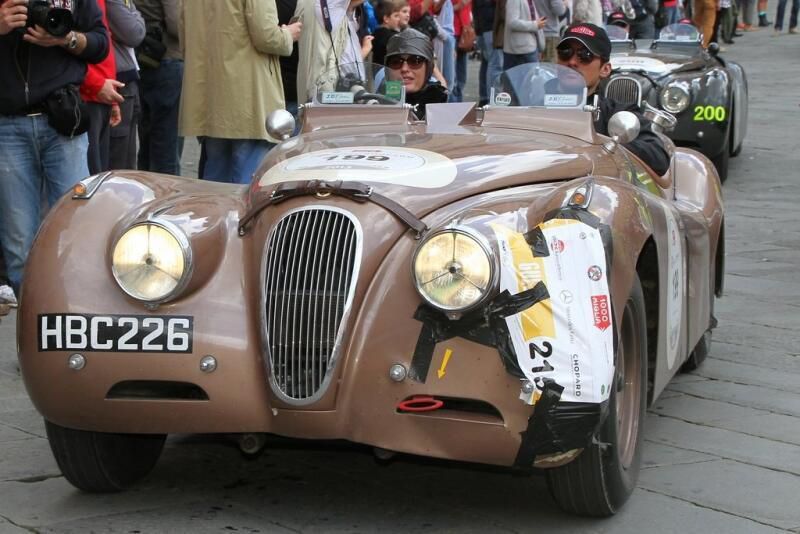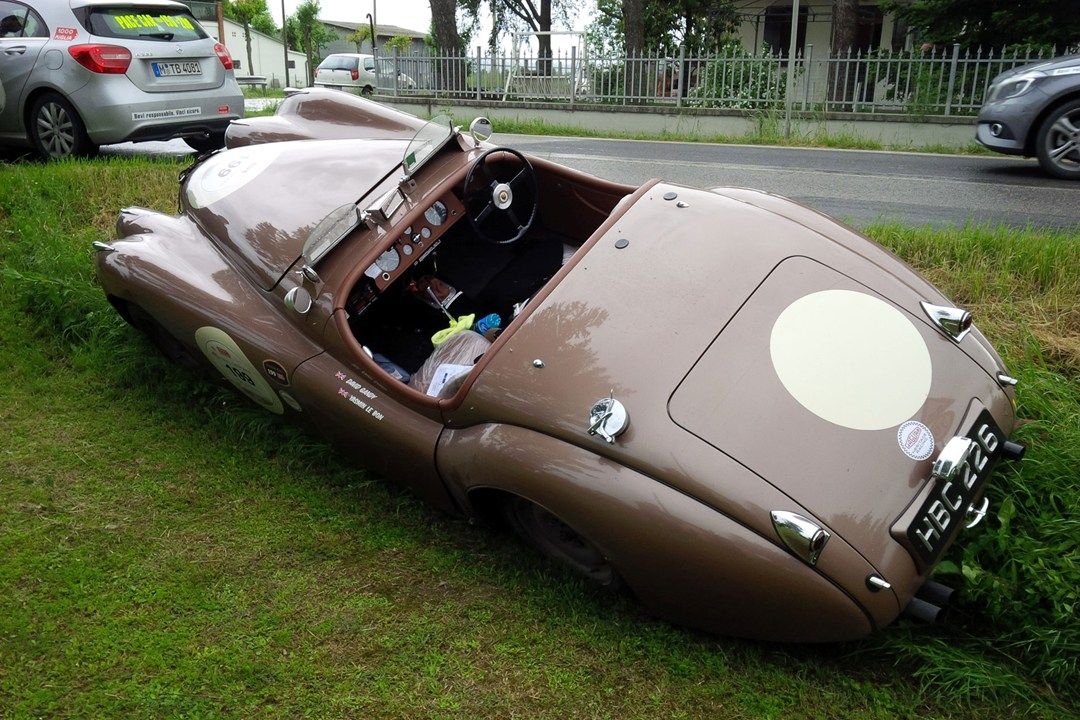 Speaking of little problems, I heard you had a bit of an off during that event?
Yes... we had three days of streaming rain during the first Mille with Yasmin. She was driving and I had the pace notes, and another competitor got a little bit too… competitive. He tried to overtake us in the wet and lost control. Yasmin did a brilliant job of avoiding him, but then unfortunately there was nowhere else to go apart from a bit of a bank, which we headed down.
I can't say I knew much about what was happening, but because my head actually pops up over the windscreen of an XK120, I knew that if the car rolled, my head would be the roll bar. So I was just trying to get my head in a position under the windscreen at the time, because I didn't know how bad it was going to be. Turned out it wasn't terrible, and we patched the car up by the roadside. I had never understood that raw passion of racing, of just wanting to finish, until that moment; I was very unsympathetic to Yasmin (and I will admit that!), and just sort of told her that it's all fine, get in the car and hit the gas, let's carry on because we're in first place in a Jaguar, and I don't want to lose!
That sounds like a properly old-school racing experience.
We had Andy Wallace, one of the very famous Jaguar racing drivers, very close to us. He actually won in the end, but we still did very well to recover from that accident, and came second in the Jaguar. But I'm happy to come second to Andy Wallace.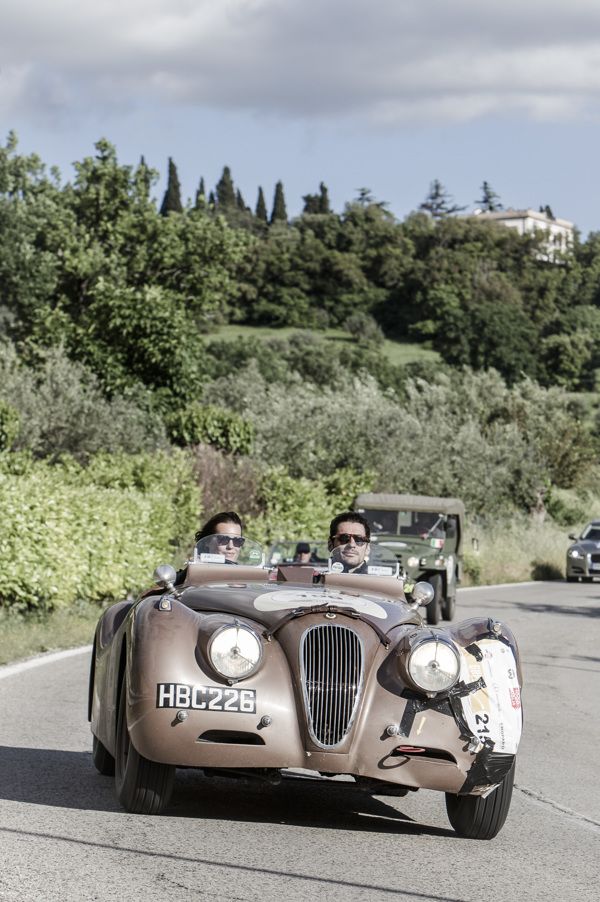 I thought we would end with some quick fire questions. So my first one is: what is your one piece of advice for anyone eyeing up a classic Mercedes, Porsche or Jaguar for restoration?
Always buy a car that you're passionate about. Don't worry about the price or the resale value, that doesn't matter. Just buy something that tugs at your heart strings. A lot of these cars have now become investment pieces for people; that's not the reason to buy a classic car. Buy something that you will love and enjoy, and something you want to hand down to future generations. Always make sure it is driven and that you enjoy the car, otherwise get rid of it and pass it on to someone else who will.
What is your money-no-object car?
I probably have to say it's a Jaguar, and an original D-Type or an original XKSS at that. I would probably say an original XKSS.
Lastly, and most importantly... what is David Gandy's go-to petrol station snack?
Hah, I can answer this, because I actually wrote about it. It's the M&S prawn sandwich. I've actually nearly run out of petrol trying to find service stations which have an M&S, just so I can have a prawn sandwich!
A worthy cause - and on that bombshell, David, it's been great to chat to you today, and thank you so much for a fantastic interview.
Thank you, I appreciate it.
---
---