50 Years of Being in the Right Place at the Right Time: The Apex Interviews Jeff Bloxham
Very few photographers can say that they're a member of the BRDC (British Racing Drivers Club), and fewer still that they've been immortalised as a 1:43 scale model. Jeff Bloxham, otherwise known as 'BOB' to the marshals at various racing circuits, has been a regular at race meetings from Formula 1 and Le Mans 24 Hours to historic racing - including having been to every single Goodwood Revival & Member's Meeting. Jeff very kindly agreed to speak to us in his, now, 50th year of photographing racing about how he got his start, where his nickname 'BOB' comes from and why he prefers historic racing to any of the modern formulas.
---
The Apex (Interview by Charles Clegg)
Jeff Bloxham
---
So first question, what came first, your passion for photography or motorsport?
Well, I suppose it has to be the sport itself first, with my passion for photography kicking in later. My parents house was in Sydenham, which was less than a mile from the Crystal Palace race circuit. So I went there many times, certainly from '65 onwards, and then photography would have come later as I got older and got a half decent camera when I was 15 years old.
What was Crystal Palace like as a circuit?
Well, firstly I could walk to it. Obviously that was good. It was a very tight track and if you got it wrong, you bought a new car. There's no run off there on the outside of the circuit. If you ran off into the inside you had superb crash barriers, which I think should be universal, of rhododendron bushes. They slowed you down remarkably well and scratched rather than destroyed the car.
There's great YouTube footage at Crystal Palace from BBC Great Moments in Sport where you've got both James Hunt decking Dave Morgan, which should have been the other way round, and Gerry Marshall versus Martin Thomas in the Camaro. That was in 1971 and it was also my first appearance on television. I'm sitting at the exit of the last corner, and I appear about 3 minutes into the film. Also at that meeting I ended up with some photographs that were virtually identical to the one that Diana Burnett, who was working for Autosport, had taken. And it was then that I realised, 'to hell with this, I'm good enough to be a proper photographer'. My shots were easily as good as hers and virtually the same angles in a couple of cases. So maybe I'd been following her, but anyway, that made me realise that maybe I was cut out for this game.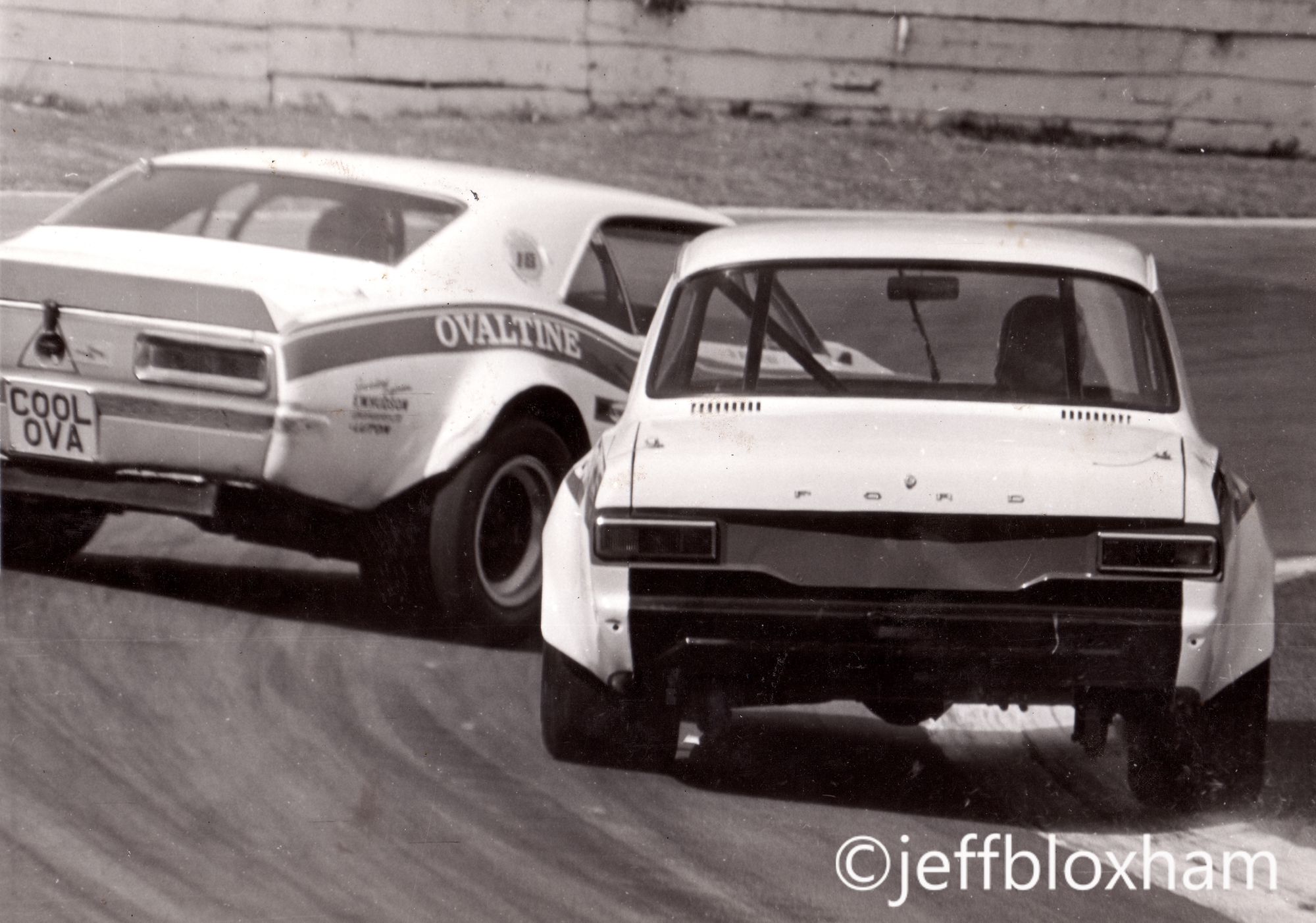 Am I right in saying this is your 50th consecutive year having a press pass for race meetings?
I got my first press pass at the end of 1970 courtesy of Crystal Palace because I snapped a photograph which I sent to them of Ronnie Peterson and John Watson having an accident in the F2 race. That was also my first published photograph which was in Motoring News in the Formula 2 roundup. So that got me in at Crystal Palace and then I went from there to see Graham Macbeth who was the press officer at Brands Hatch and said, "can I have a press pass?". He said, "why?" and I said, "please." Then he said, "yes, for these two meetings, but then you have to be an accredited photographer." "Okay", I thought, "what the hell is an accredited photographer?" So he told me that I had to be working for a newspaper or magazine, which I subsequently managed to sort by supplying the local newspaper, "The South London Press". And so, the rest, they say, is history.
This would be, if it ever happens, my fiftieth consecutive season.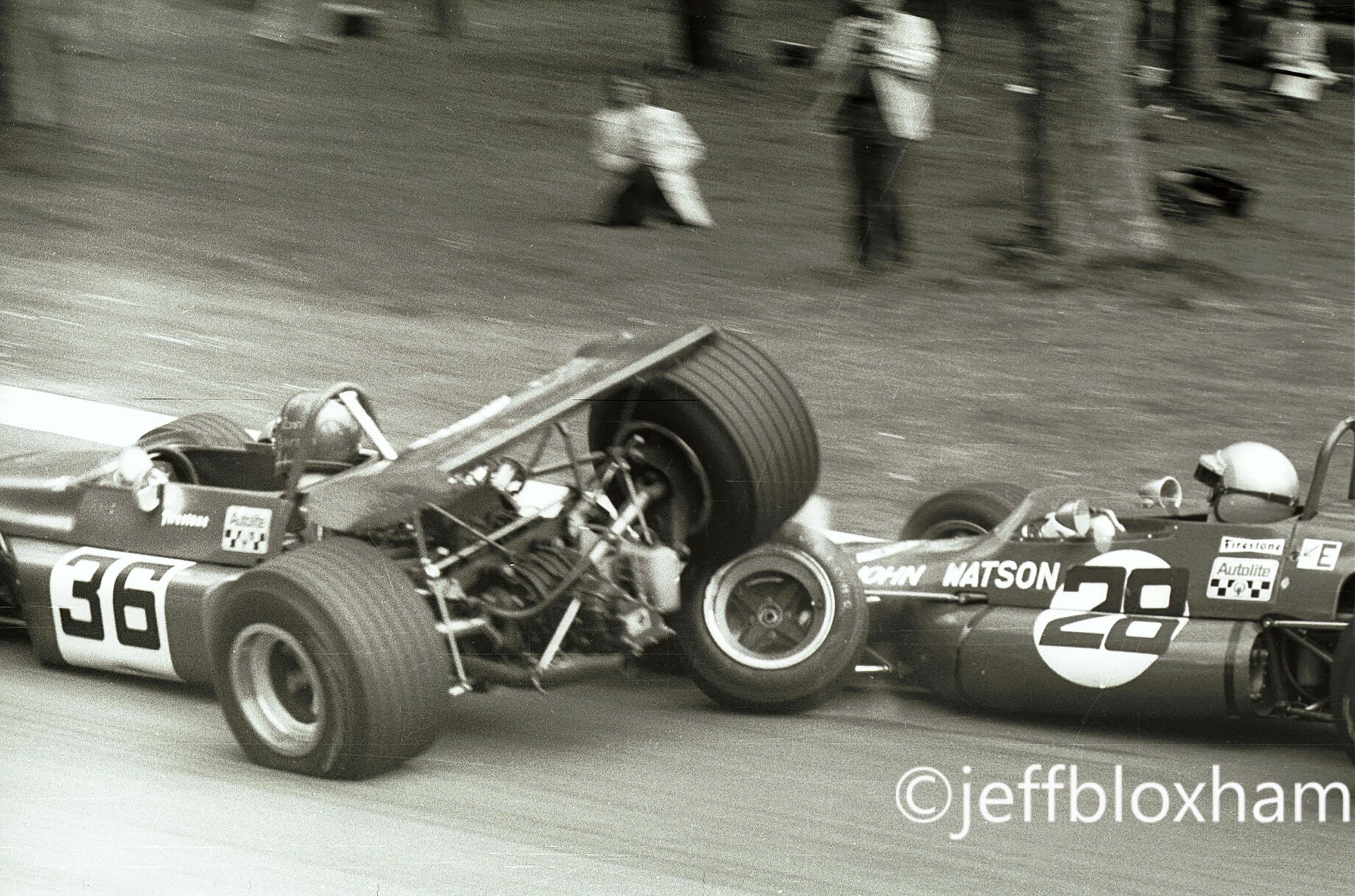 During that period has there been a particular era or series that has stood out to you?
Well, looking back. Modern cars are fantastic pieces of engineering but they're too good. In the 1960s and 1970s, rear-wheel drive Capris & Escorts, as well as Formula Fords, drifted through corners. The back end would hang out which was great to watch. So I suppose my favourite series would probably be the first couple of years of the Mexico Challenge of '71 and '72. They were driven by proper drivers and the racing was always fantastic. It was always close.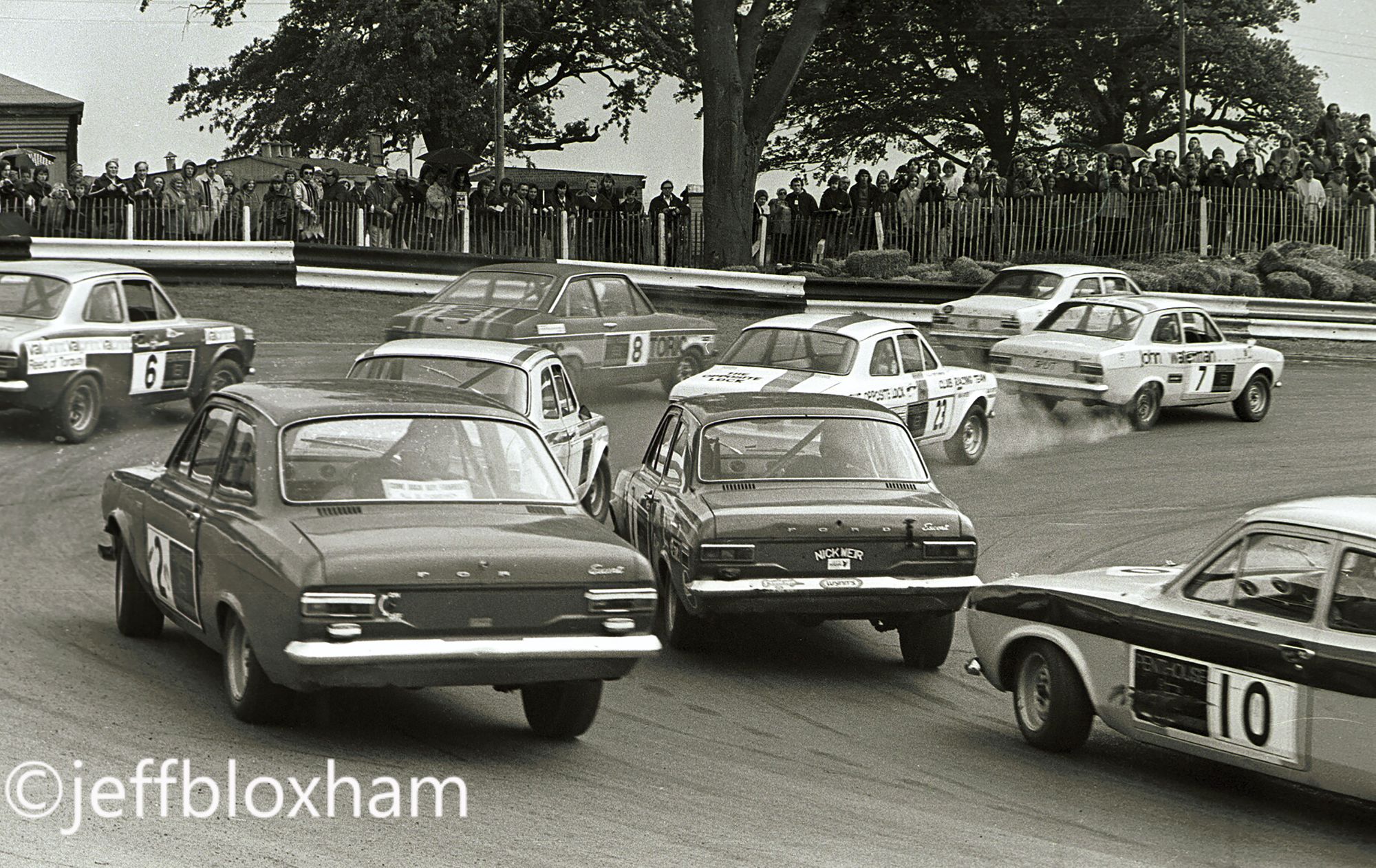 In modern one-make championships, the cars tend to be too good. They don't slide. The tyres are too good, the engineering is too good - they just, sort of, hit each other. Whereas in that era, and the early years of the production saloon cars - again in the mid-70s - it was the era when driver control actually meant something. That's why Barrie 'Whizzo' Williams and Gerry Marshall and Tony Lanfranchi did so well because they can actually drive. Whereas, I think, a lot of modern drivers think 'if I can't get past you, I'll push you off'. That's not racing.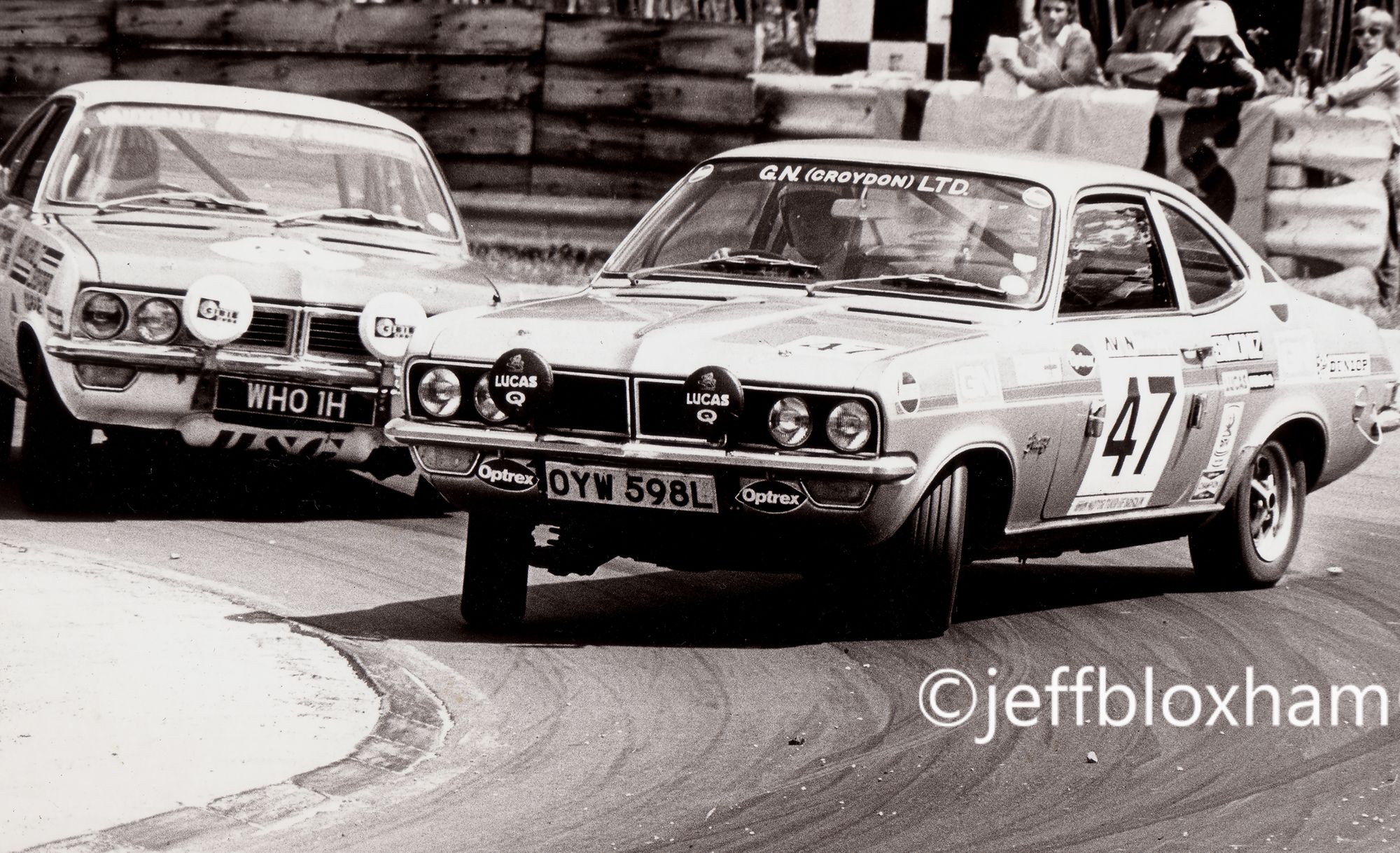 Certainly as a child I watched Gerry Marshall racing in the AMOC races and his car control was just phenomenal. He was racing in the lightweight DB4, and particularly for (not to be rude) a slightly larger gentleman, he was just so fast.
Gerry also had the only Lotus Formula Ford 61W, the W was for 'wide'. They made it an extra inch or so wider so that he could get into it. I don't think he did many races in it but there certainly was a special car made for him.
I know there are some great stories about how he used to challenge people to a running race over 25 yards or so.
Yep, and I've got a photo of him versus Derek McMahon that appeared in Gerry Marshall's biography. He was deceptively quick on his feet. Probably from running away from jealous husbands. But that's only hearsay - in case Gregor Marshall, his son, reads this.
The Le Mans 24 Hours has been a race very close to your heart and I believe that you're coming up to almost 40 consecutive 24 hour races which you've covered?
I've been at 38. I started in '78. I was working for Ford initially and then LAT Images after that and then, because I was a freelancer and the FIA decided not to clash Formula 1 with Le Mans, LAT had staffers available and so my last one was about 5 or 6 years ago now.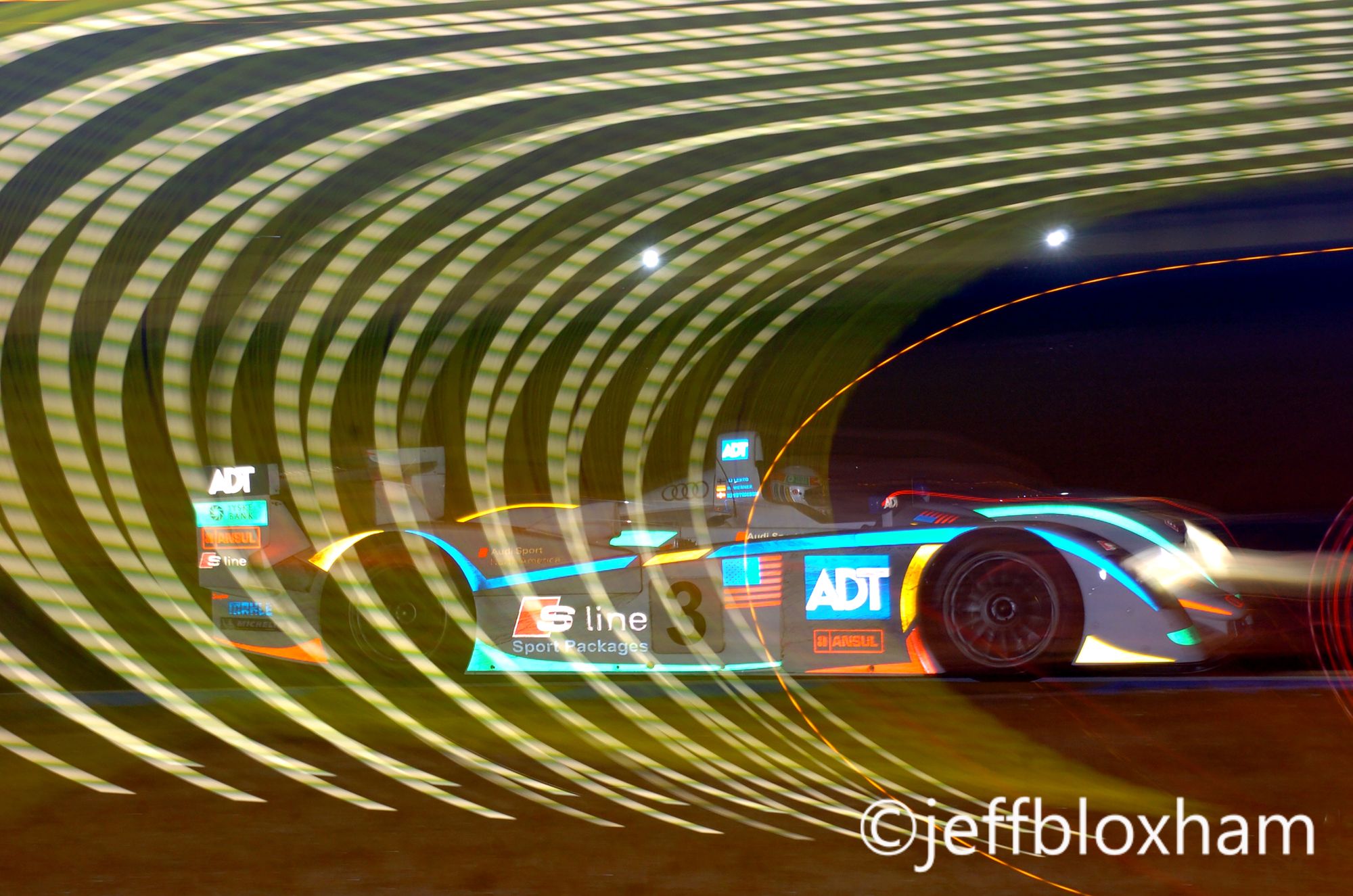 I have done a couple of the Le Mans Classics, which in many ways is a harder weekend to cover because there's no downtime. With the 24 hour race you can only have 3 or 4 hours sleep otherwise you miss a bunch of cars crashing or retiring. If you do that during the classic you miss two or three whole races of cars. Le Mans is fun, but each year it has gotten more and more clinical, more and more strict in where you can stand, what you can do. The track has become more modern, less attractive and basically, bit by bit, been losing its character.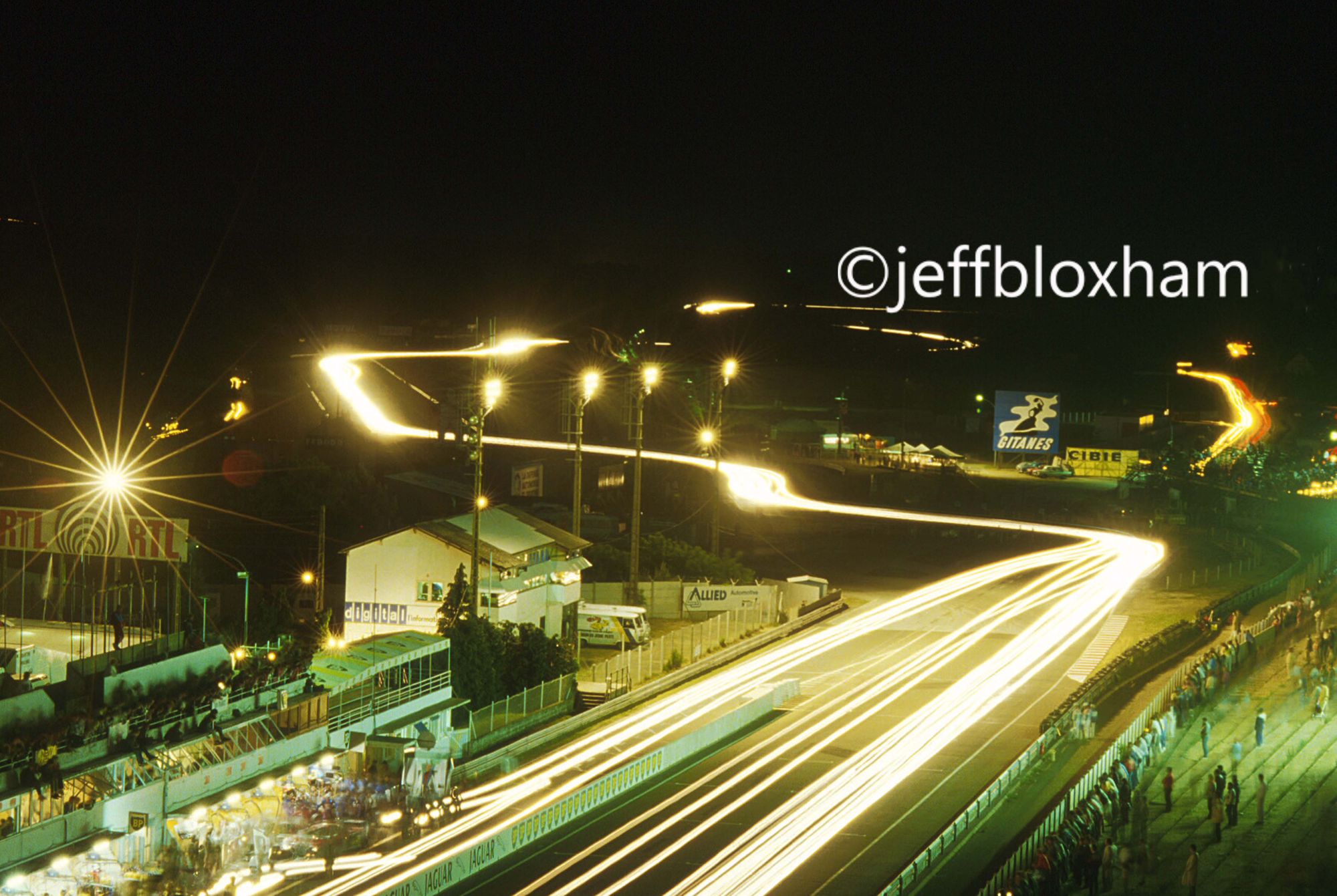 Was there a particular moment during your time at Le Mans which stands out?
I suppose the Jaguar years were fun. Although that being said, I don't think any Le Mans races were particularly special because usually, Le Mans as a race, never happened. The cars just whizzed round fast. Probably my most exciting race was one year when I think Jacky Ickx and another driver were, I thought, on the same lap. I got very excited in the last hour thinking that the leader was about to change but, it turns out, he was merely unlapping himself. So that was one way of making the race more exciting.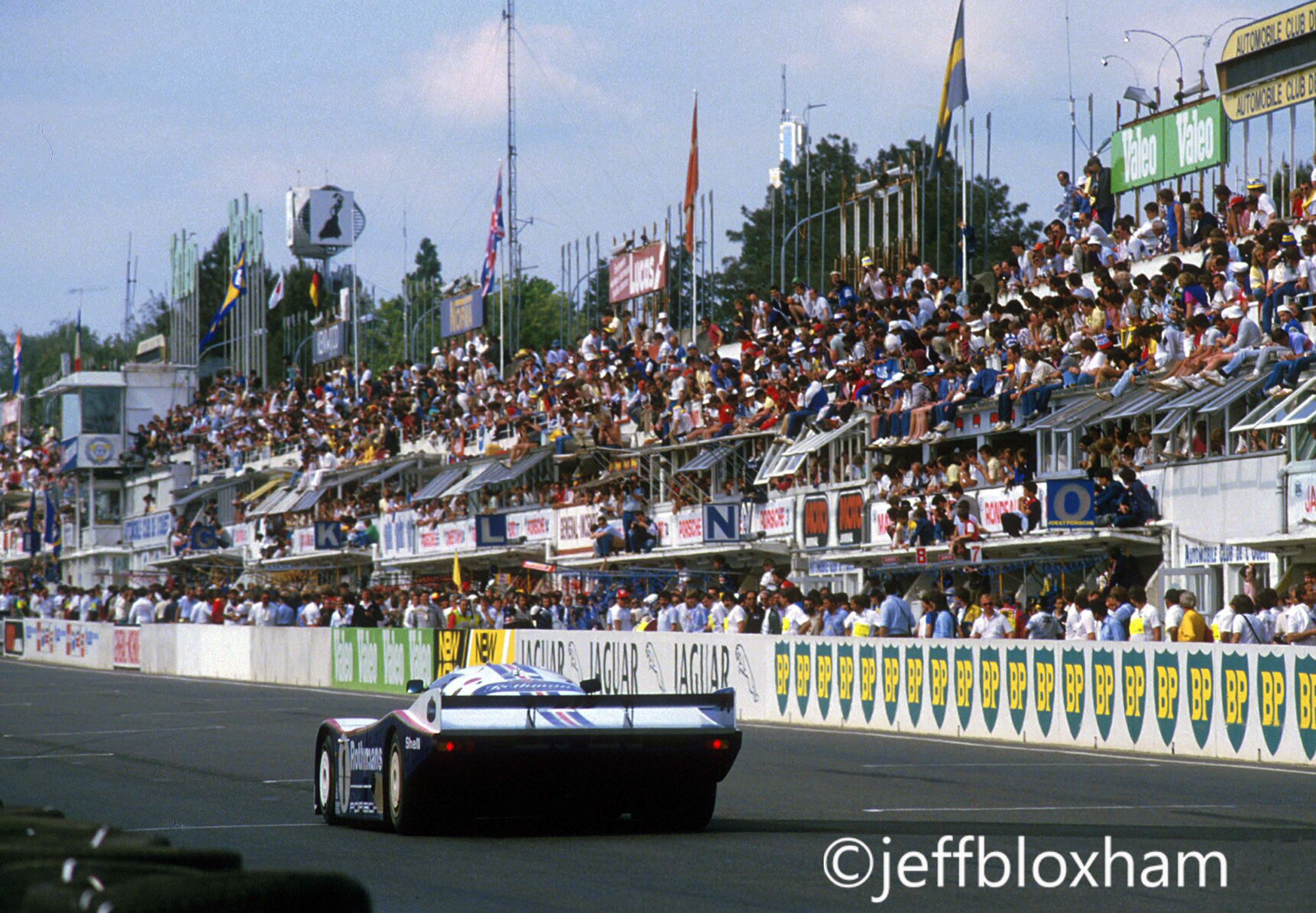 I trust you are talking about the 'Silk Cut' era of Jaguar at Le Mans?
Yes. Sadly the D-Types do pre-date me by a fair bit.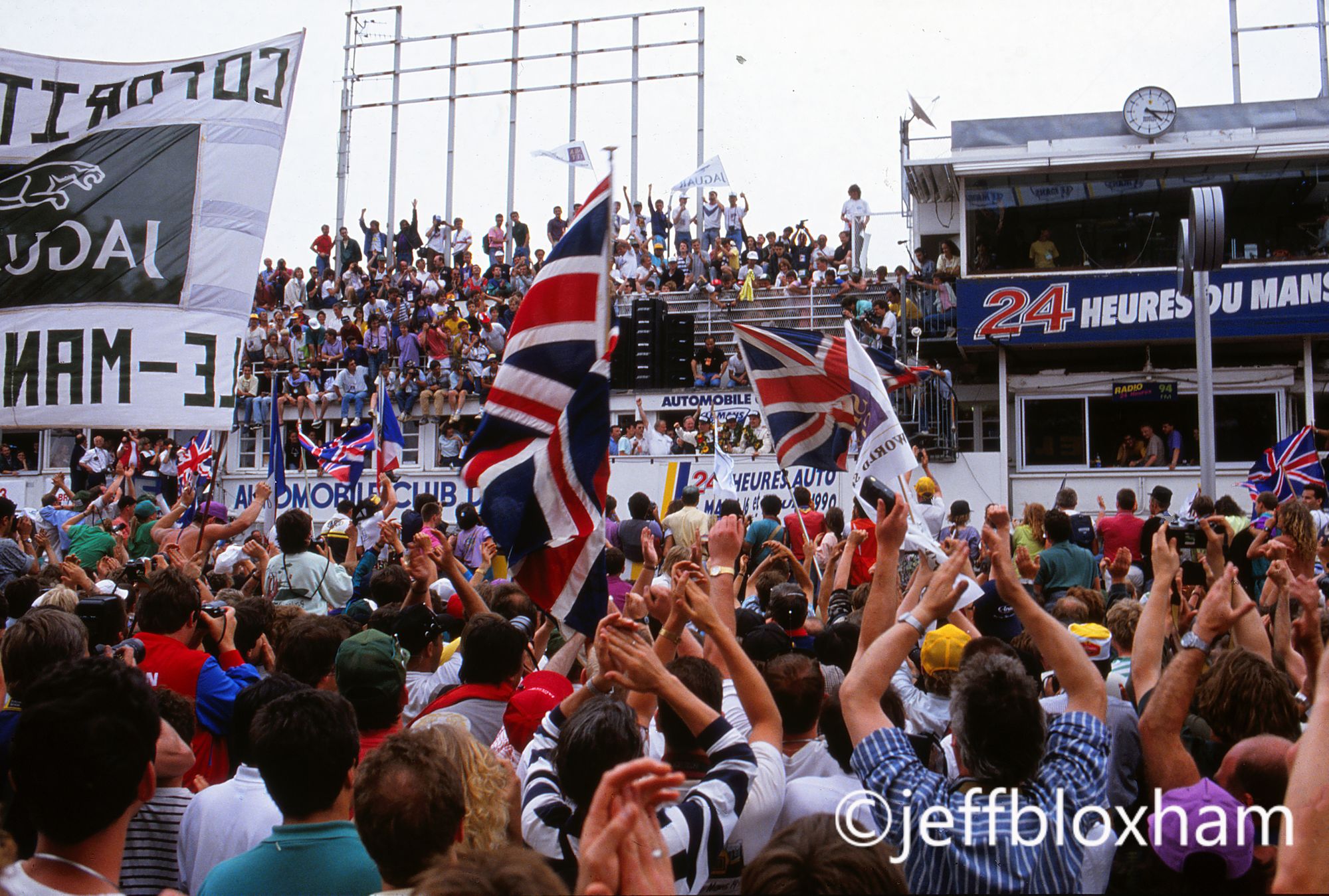 The other race meeting where I believe you've been to every iteration since its inception is the Goodwood Revival. I'm sure the majority of people who have been to the Goodwood Revival have seen you taking a snap at some corner or another.
Apparently I get mentioned most years on the TV coverage. Obviously Marcus Pye, who is one of the commentators, or Simon Taylor, Bruce Jones - all these people I've worked with, say, 'oh there's Jeff Bloxham'. So I do get a regular mention and I get regular feedback from, I suppose, my friends.
At the Members Meeting there's always lots of daffodils and the Goodwood supporters have organised their own little photographic club where there seems to be a competition about who can get the silliest photo of me sitting amongst the daffodils.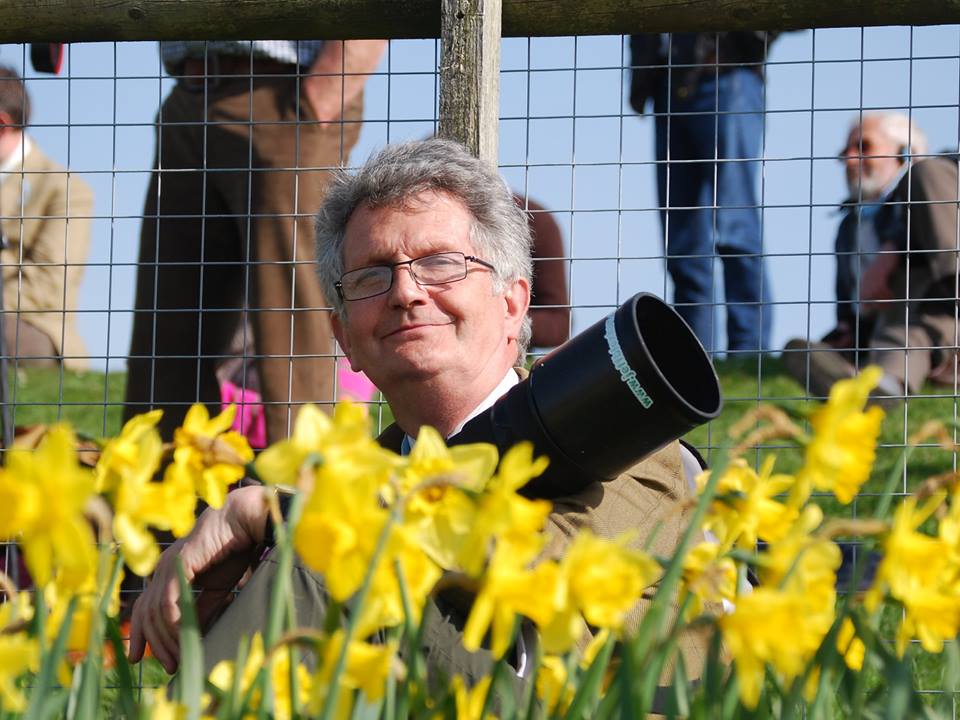 I hear that some of the Goodwood marshals have also given you the affectionate nickname of 'BOB'.
Well that's not so much Goodwood - that started at Brands Hatch. It's based on 'Bugger Off Bloxham (you're dangerous)'. It's because I seem to turn up and something happens. Something falls off, crashes or whatever. I just suffer from what I term 'multiple coincidence syndrome'.
I was going to ask you what your secret was for capturing all these unbelievably hairy racing moments. How do you always seem to know what's going to happen before it does?
Well, you've got to be able to read the race, and of the cars which ones are catching up and looking to overtake. You've got to be aware and be ready for when they reappear. Also, most tracks only have 5 or 6 corners, and so already the odds are pretty good for being in the right place anyway. Plus I've also worked out that over 50 years, if you multiply the number of years by meetings by races by cars by laps, including practice, then probably 10,000,000 cars have driven past me, so one or two must fall off! I think a lot of it is just instinct and you can often tell. If a car is coming into the corner a little too quick then you often know the accident is about to happen before the driver does.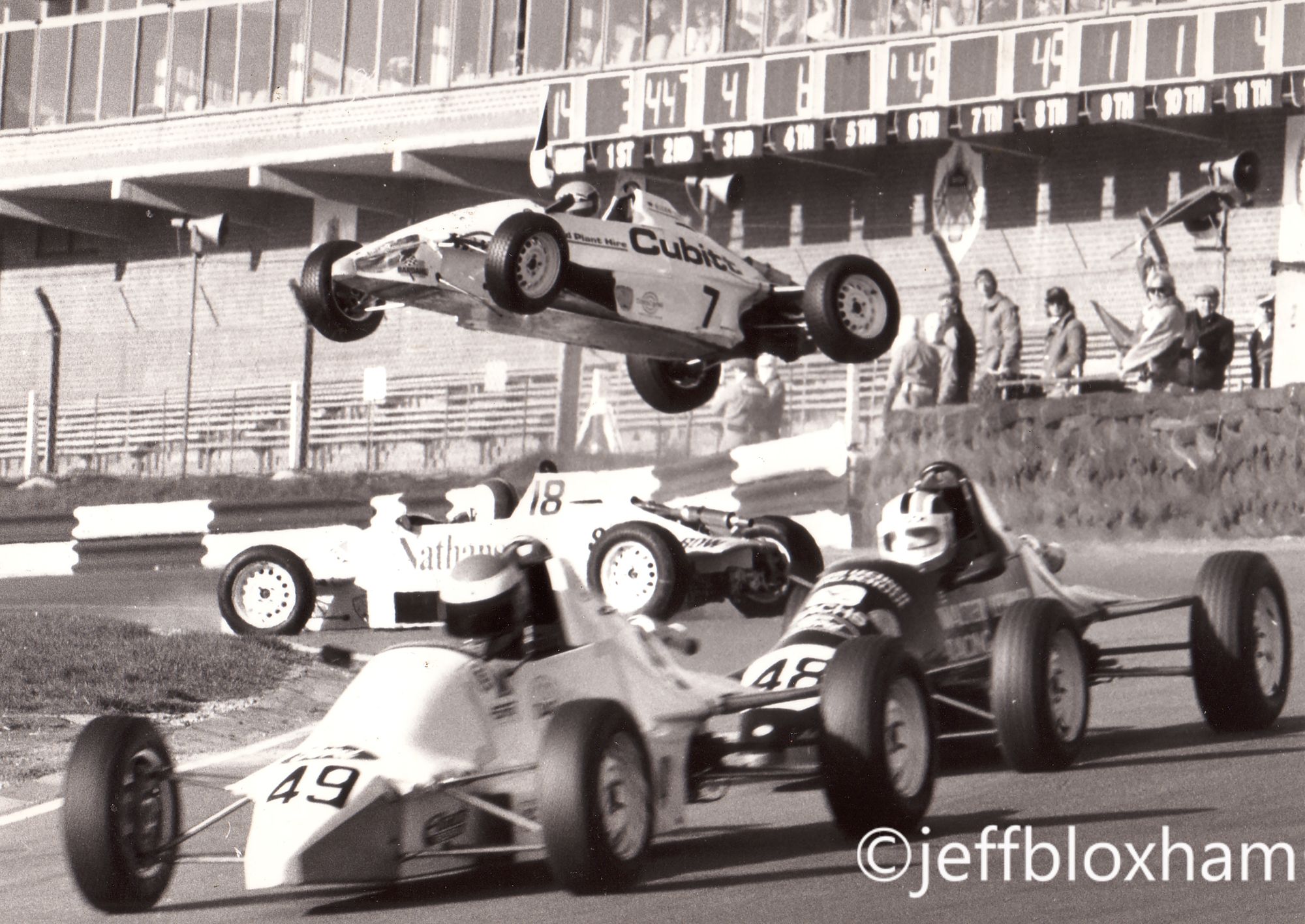 Going back to the Goodwood Revival, obviously it's an incredible event. What do you think makes it so special?
I remember going to the very first one and Lord March was driving, what was to my mind, an oddly coloured turquoise Bristol round the track to open the circuit. I was on the grid and I was looking towards the chicane and something in my head said 'Jeff, turn round'. I didn't at first because I was thinking 'I can't miss Lord March coming'. Well I did end up turning around and there bearing down on us was a Spitfire, about 20 feet above the circuit. He was getting lower as he came towards us and pulled up right as he reached the chicane. It was then that I thought, 'hmmm, I'm going to like it here'.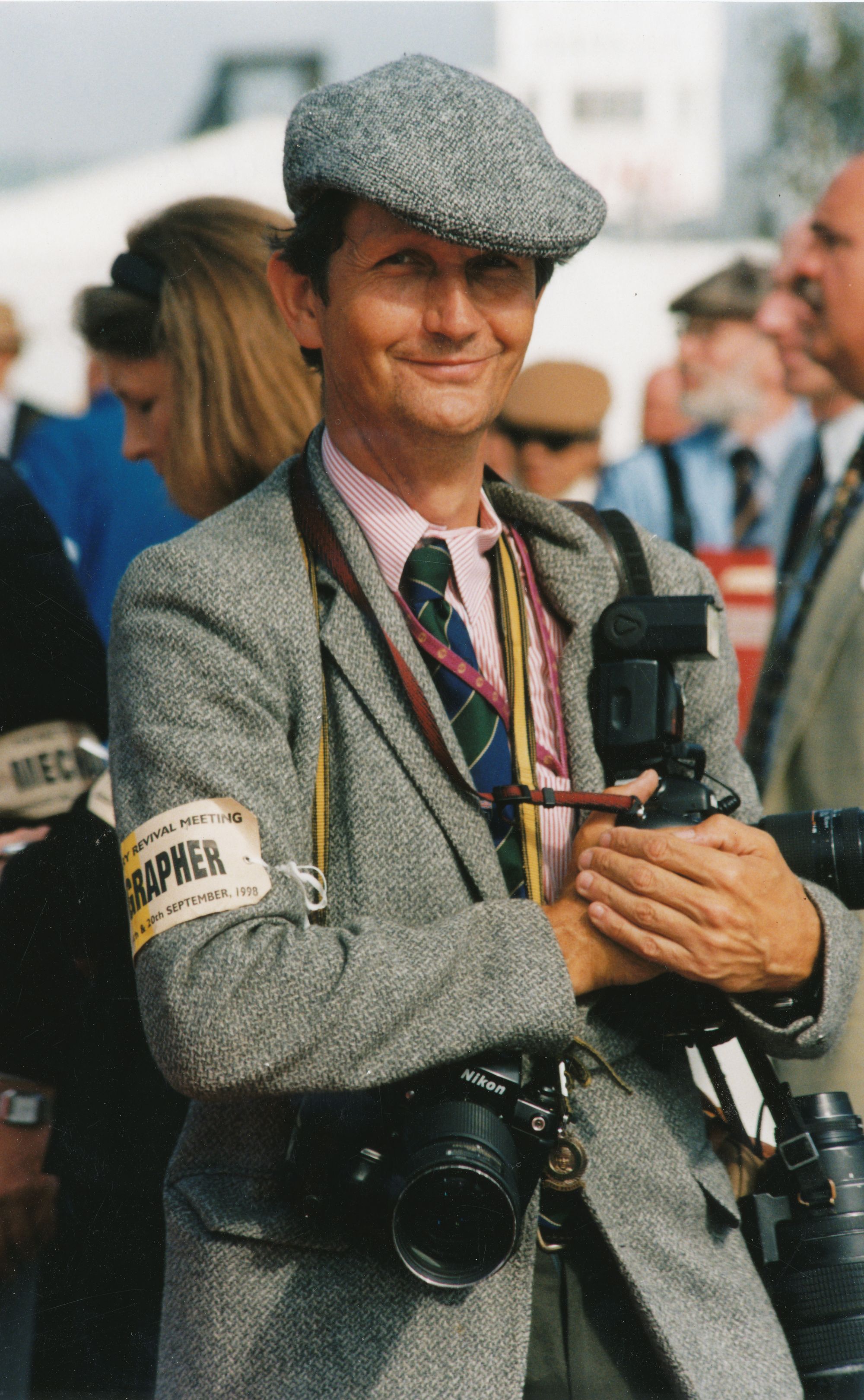 On that day not too many people were dressed up but the cars looked period, even if some of them were, shall we say, better then than they were when they were new.
As press, we were asked to wear jackets and ties, to look smart. We weren't allowed to take the jackets off even if it was very, very hot. Unless Lord March said we could. I think that on one of the days his lordship said, 'gentlemen may remove their jackets'.
The atmosphere was sensational, the racing was superb, the quality of the entries was superb, it was the pinnacle of historic race meetings. I remember getting back to the Autosport office or LAT that evening to process the films and thinking, 'wow'. It was special.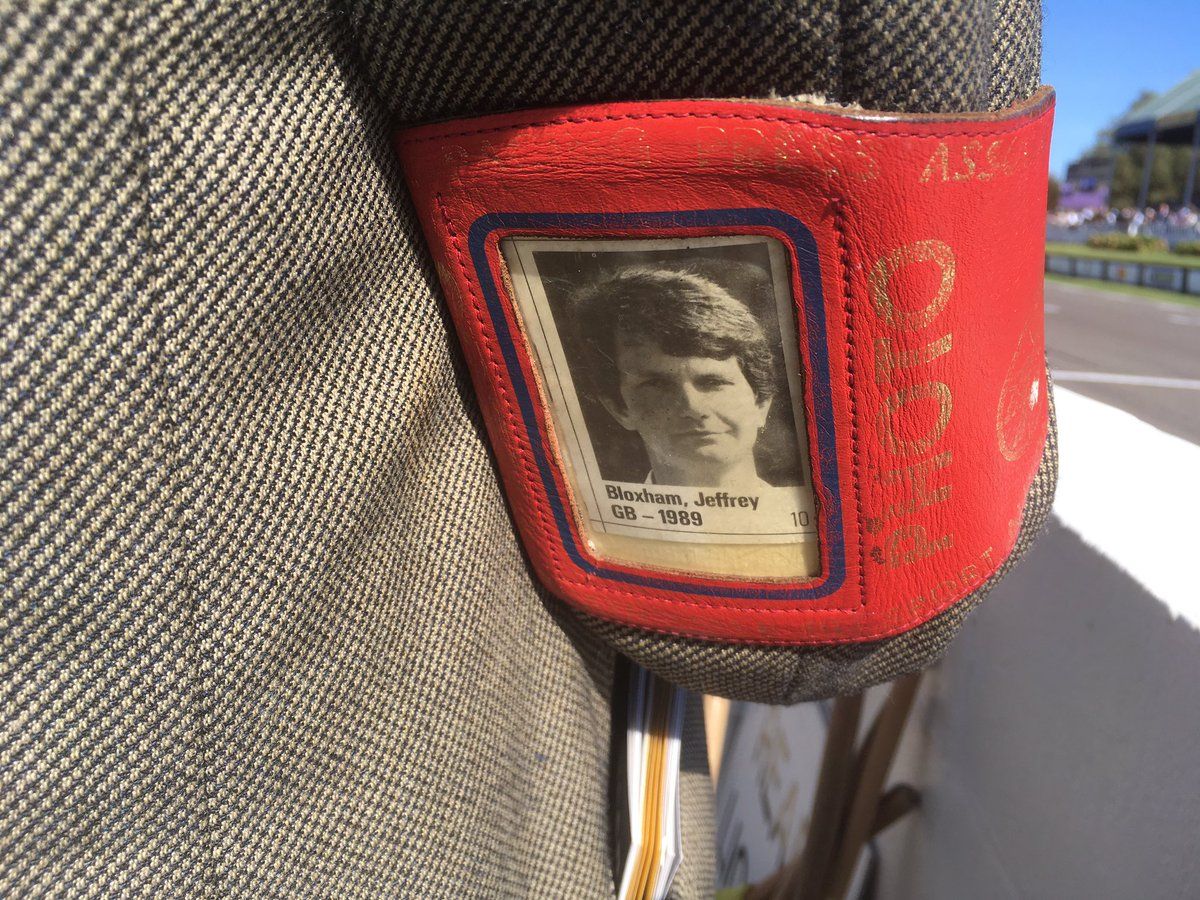 I've done every single Revival, every press day, all the Members Meetings and all but 2 and a half hillclimbs. The first two I was at Le Mans and the third one I did the Friday only before going to Donington for Touring Cars. At that time I'd moved from covering F1 with Autosport to Touring Cars because I wanted more time at home with my young family. I was still away most weekends, but for one night, not four, and also with F1 I was ending up with the same car, the same photograph - grey tarmac & grey concrete wall. Even if the cars were a tenth of a second apart they were never in the same photograph because F1 racing has rarely ever been close racing - apart from a wet one or a weird one.
It's much further apart now than it ever was.
It's even the same for Formula Fords. If you look at the mid-70s photographs I would have 5, 6 or 7 cars in it. But with the classic Formula Fords now you only get 3 or 4 in there because the tyres have improved. We need to give everyone crappier tyres so the cars slide better.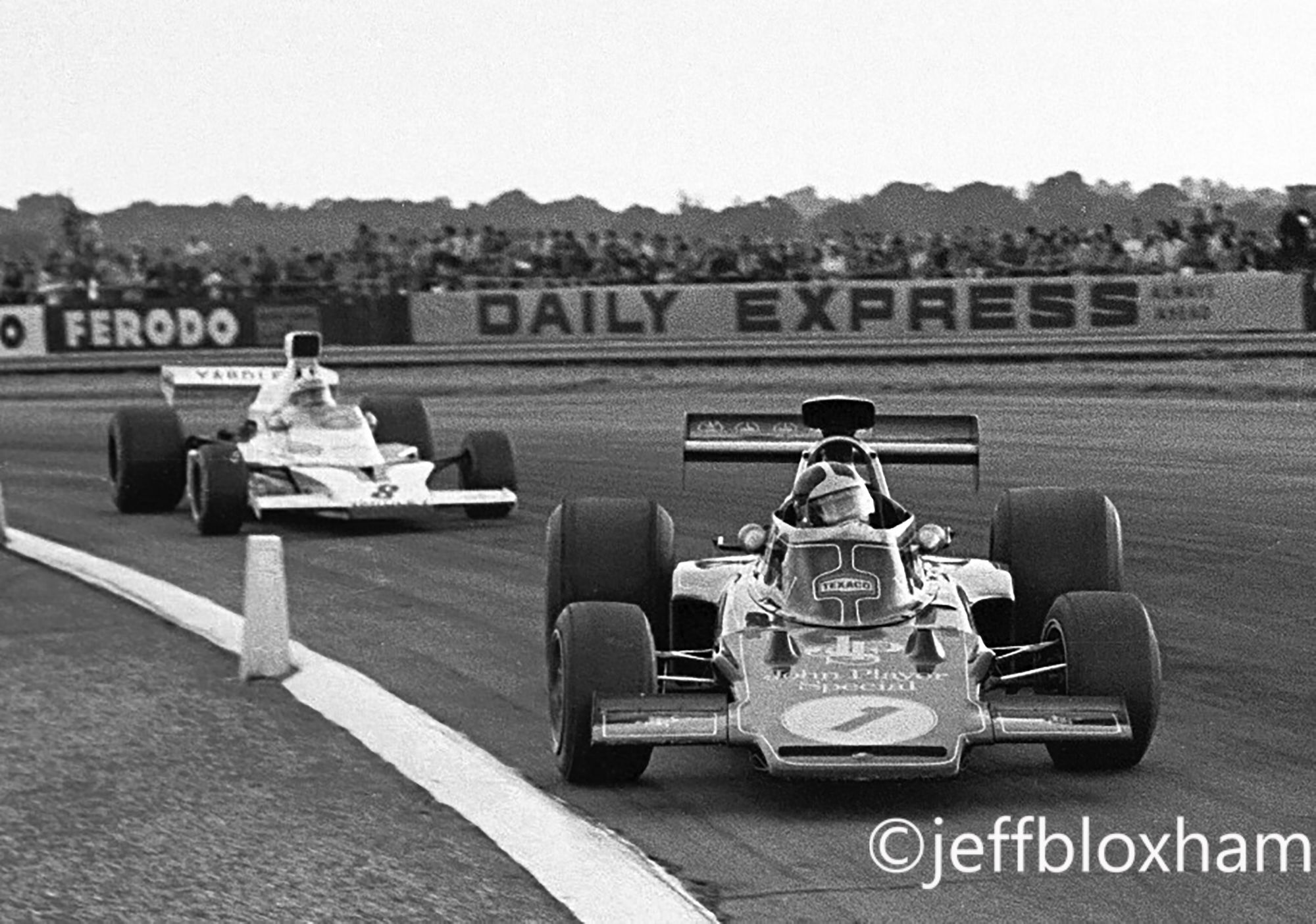 Exciting Formula 1 photographs nowadays come from the 1st corner, bunching up behind the safety car or overtaking back markers. There seems to be less interesting racing happening in current formulas.
It's like the Touring Car racing when you had the Capris versus BMWs and the Rovers, they used to trade paint. Whereas if you go to BTCC nowadays they trade panels. Driving into another car, to my mind, isn't racing. There's no skill in that.
The cars now - the braking areas are shorter, they corner quicker and there's less scope for overtaking. I think that's why I cover historic racing these days because I prefer the people, the cars are prettier (because they're the ones I grew up with) and the racing is more exciting and more entertaining. I also think that the modern cars are now physically too fast so if you have an accident it's like an aircraft crashing rather than a car accident. At Crystal Palace, for example, even as a spectator I was probably, at worst, 5 yards from the car. Whereas if I'd have gone to Silverstone at the age of 15 then I would have been 500 yards away. You don't feel part of it then when you're so far away. It's like Rockingham, which was a great track to watch from except it's like watching scaletrix because you were so far away as a spectator. The beauty of the older circuits - Crystal Palace, Cadwell Park, Brands Hatch - when I began was that, even as a spectator, you were part of the action. You were close to it.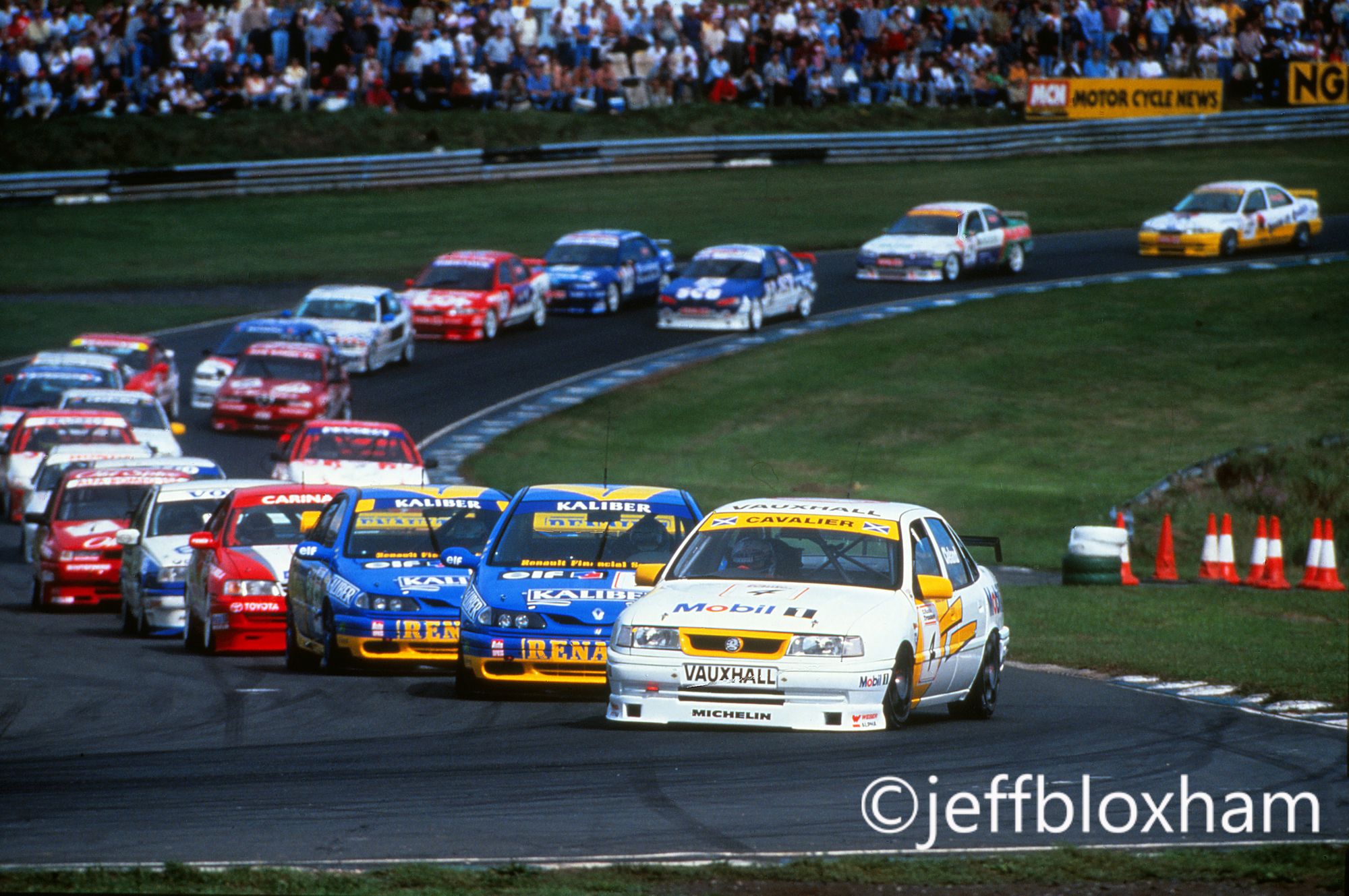 I guess that's one of the nice things about the Goodwood Members Meeting. Everyone can go around the paddock and there are no closed off areas. People can get a lot closer to the cars and drivers then at, maybe, the Revival or Festival of Speed.
Well, when you get the Minis versus the Jaguars versus the Galaxies, it's different cars that have different abilities on different parts of the track so you get entertaining racing. Then you get the Grant Williams type who loves his Jaguar sideways because he can and it's just great fun to watch. He knows how to drive the car. Unfortunately, he possibly over drives the car until it breaks, but it's just great when he's going. It's fantastic.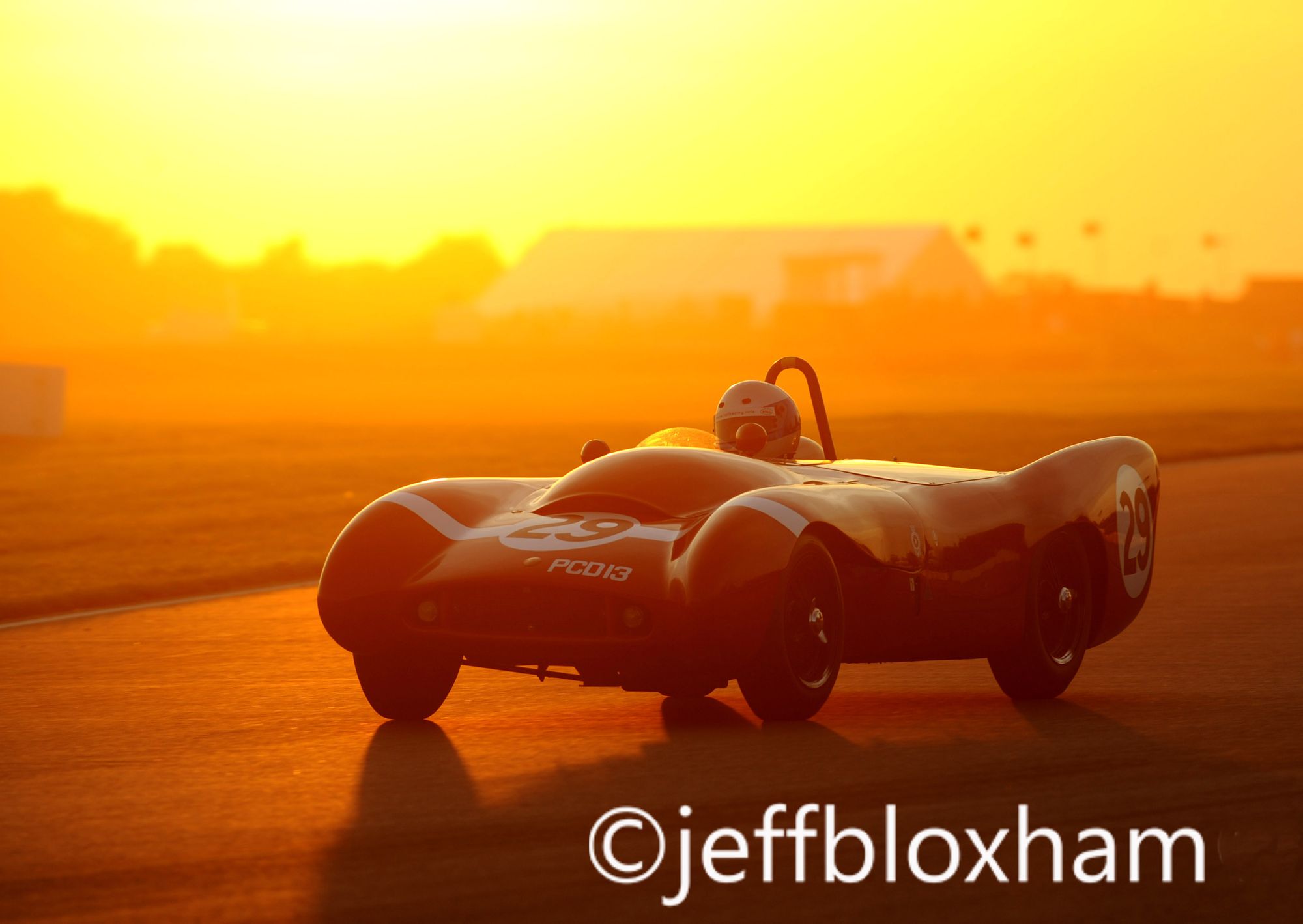 Goodwood has been very good at engaging younger people with motorsport, and particularly young photographers. I think there's a Goodwood photographers group on Facebook. With that in mind, what would your advice be to aspiring photographers that are trying to get into the automotive world?
These days it's much harder, because when I began the way to get accredited was through a local newspaper. In the early '70s there were probably a dozen to fifteen local newspapers in the part of London where I used to live. I remember I phoned up ten or eleven before one said, "yes, we'll use you for that." I had to get a photograph plus a story of a local driver through their office door by first thing Monday morning. So I used to get home after races, use my parents bathroom as my darkroom to do a couple of prints and then drive it over with the story to the newspaper which was about 3 or 4 miles away, or get up early on the Monday morning and drop it into the mailbox of one of the reporters houses who lived near where my school was. There was plenty of scope to do that, plus in those days, as a spectator, there was no debris fencing so you could get a clear shot of the car. You were closer, there was nothing in the way, it was a better view.
These days, because of the speeds of the cars and bits coming off the cars, you have to have the catch fencing to stop the cars getting as far as the crowd. That makes it much harder if you're starting because I learnt my trade as a spectator before getting the other side of the fence and standing in everyone's way - which is a far better way to do it. But again, I make a point of, certainly at Goodwood, of when I wander out to - say Woodcote corner or Madgwick - to make sure that I am crouched down in front of the fans so I'm not in the way. If you just stand there it's not fair to these guys that have paid silly amounts of money to get in, to have an ugly person like me standing in their way ruining their photograph.
Sadly, some of my colleagues don't see it quite the same way but I'm not allowed to shoot them apparently!
As the old adage goes, 'a picture is worth a thousand words'. I wonder if you might be able to tell us about a particular photo you've taken that has an interesting backstory.
It would have to be the two most famous sequences I have. One is when Martin Brundel had his big accident at Monaco in '84. He came through to the back corner in qualifying, got it wrong and hit the armco very hard, ripped off two wheels and then slid to a halt over the next 30 or 50 yards on his side. He got out of his car, ran back to the paddock and said, 'where's the spare? I want to get into it'. Ken realised that something wasn't right and when he found out what Martin had done he refused to let him get in the car - he was concussed.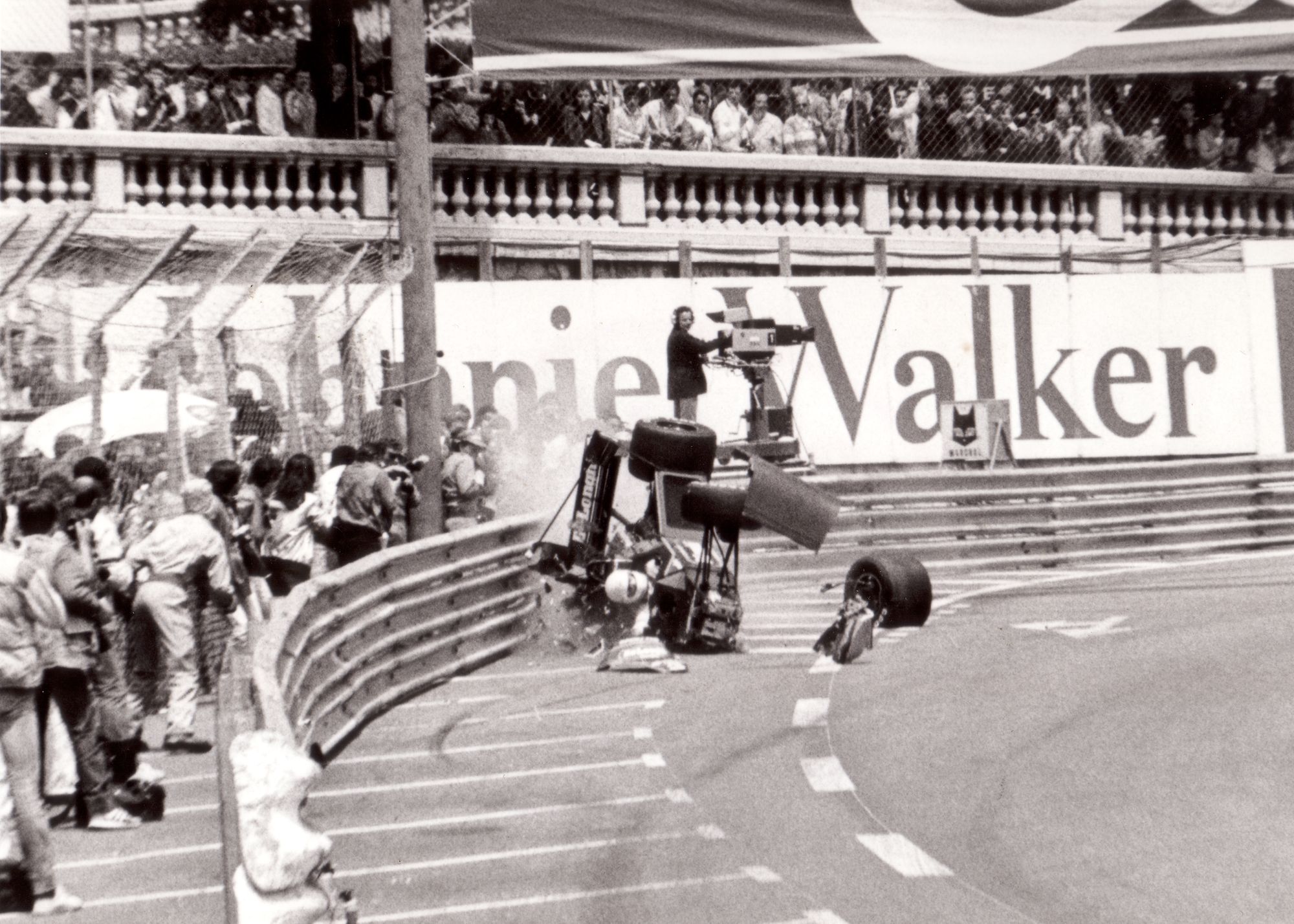 The following Wednesday after the Grand Prix there was a Brands Hatch tyre test day for the British Grand Prix and I showed Martin the photograph. It was the day before the magazine came out and his first words to me were, 'Mmm... it was a big accident wasn't it?', followed by, 'Oh that's how my helmet got damaged' as his head had scraped across the tarmac. You can see the TV cameraman in the background looking at the accident rather than filming it. I'm sure someone else must have photographs of the accident but I've never seen any. I suppose that's a bit of an exclusive.
The more frustrating but better known photograph was Nigel Corner when he had his horrible flying accident at the start line at Goodwood. I was the only photographer at Madgwick corner for that race, just me and a TV guy, and you can see half a dozen other photographers doing wheelspin shots off the grid, and as the accident unfolds only one of them has actually turned around to follow that accident. That was Rainer Schlegelmilch. Again, a legendary Formula 1 photographer - while all the other regular guys still had their back to what's happening. That sequence appeared in countless magazines & newspapers but it only had the words LAT Photographic and never my name against them. It does irk me a little bit now. Although I did get a bonus from LAT for it because they made a good few pennies out of that one.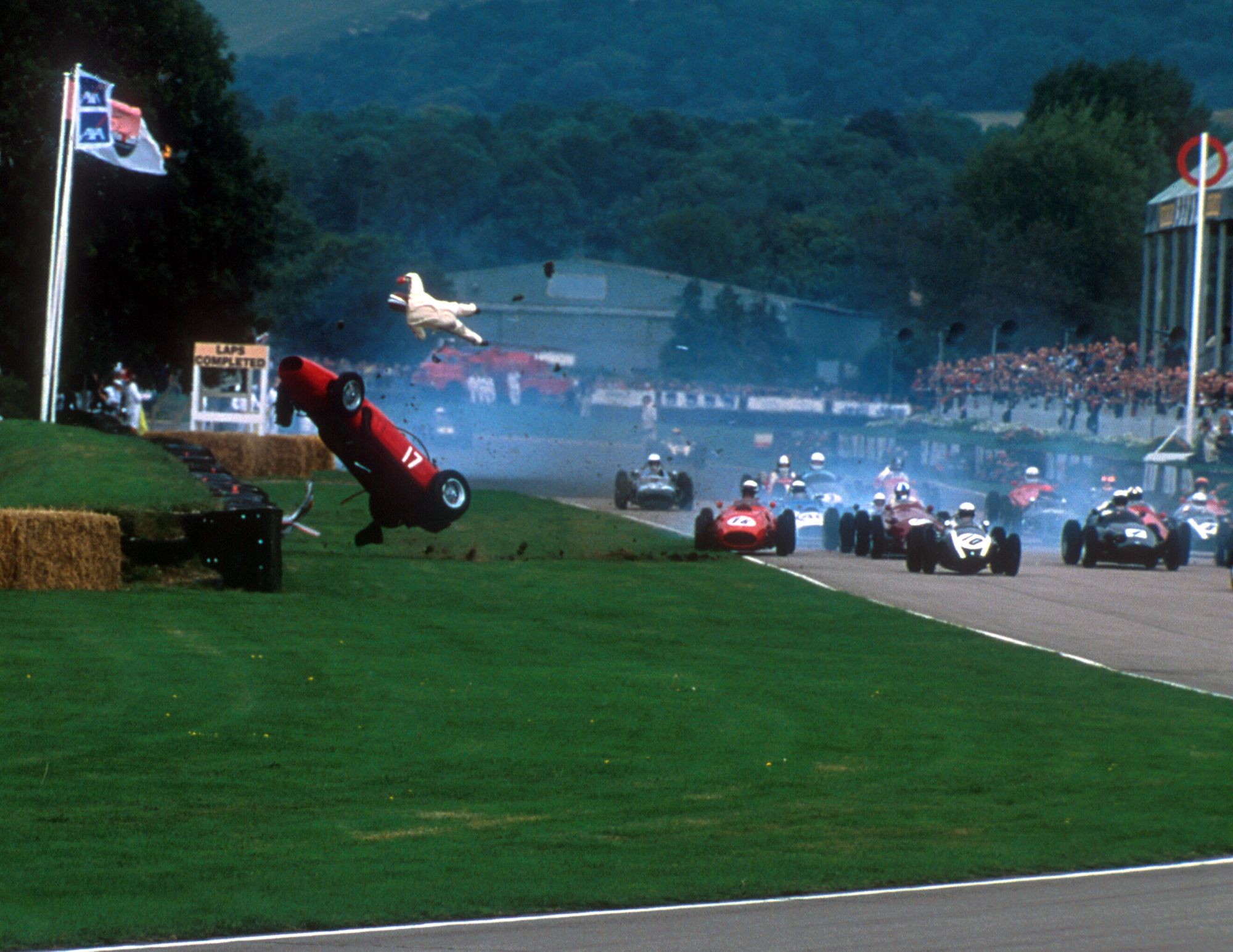 A youngster at Motorsport Magazine decided to use it as a small photograph instead of using it large, which it needed to be, and - shall we say - he got told off for that one, for not getting it right. That was spectacular but it was very unlucky for Corner to have the accident and, at the same time, very lucky that when he landed where he did on the tyre wall which bounced him off. Had he, say, been a yard short or a yard further he would have come down heavily on either the grass verge or the grass bank. Had he hit the bank he might have even bounced into the crowd and that could have been horrendous, come to think of it. Ok, he still hurt himself and broke quite a few bones and had internal injuries and all that, but landing on the tyre wall almost certainly saved lives.
Something quite funny & quite weird was that I was the only person in the right place at the right time. It has been rumoured by some of the marshals that I'm a Time Traveller, that I know what's going to happen and come back to photograph it. Of course, I can't comment on that.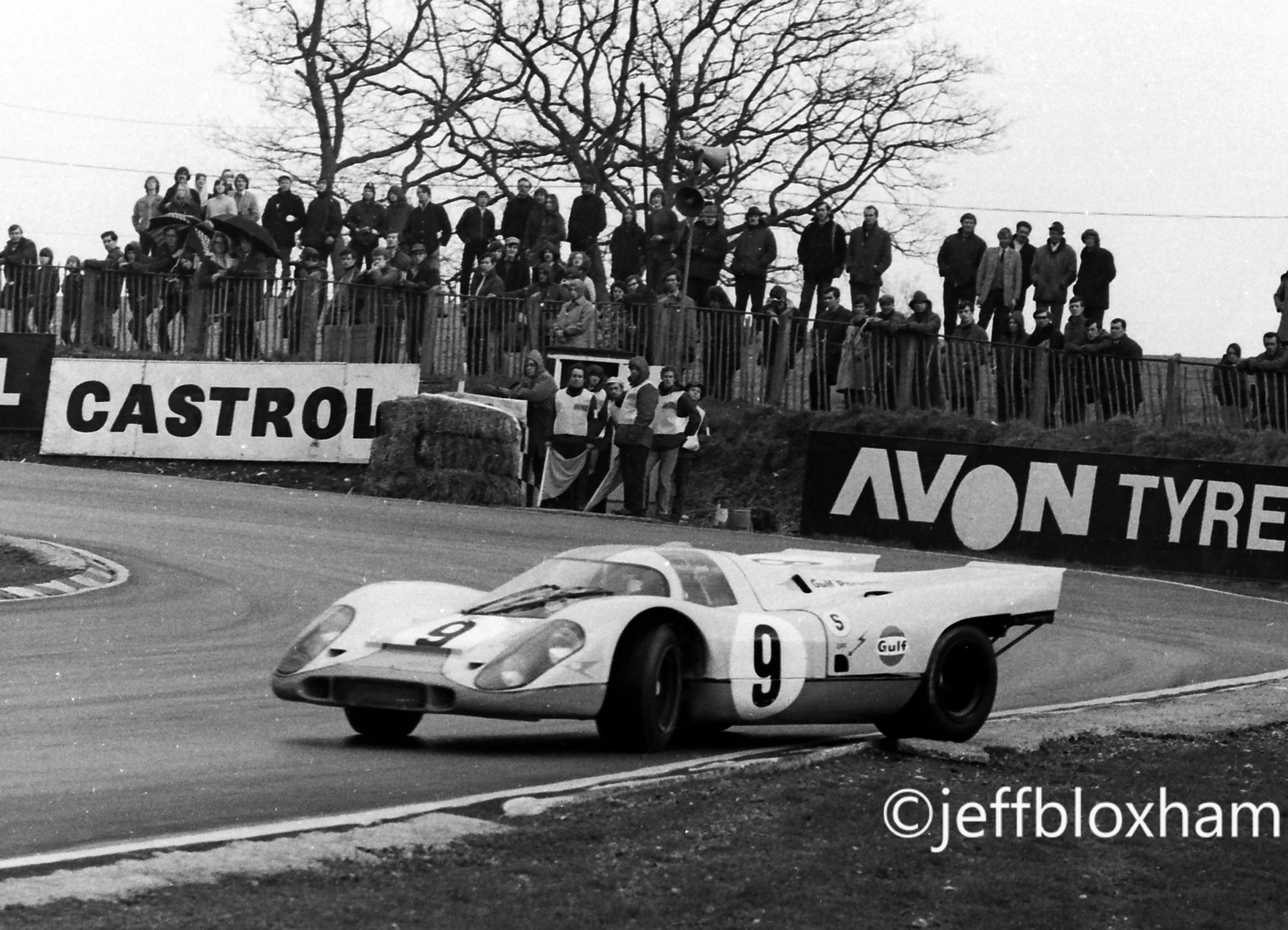 If you were allowed to do exactly that, go back to the past to capture a moment, what car would it be and which driver would be behind the wheel?
I have two choices. One would be Jim Clark because he's my hero and I never really saw him race in the right car at the right time. I saw him at the British Grand Prix in '66 when he had the Climax against the 3 litres and the car wasn't quick enough, and had to retire anyway. He is my all time hero so I think I'd go to Indy '65 to see him win that race. Again, because Indianapolis was the race in those days, it's a bit diluted now, but that was a special race in those days.
Or alternatively I'd love to go back to the mid-to-late-60s and spend 4 or 5 years covering Can-Am racing. The Surtees, McLaren & Denny Hulme era. Seeing those big bangers driven by frontline drivers flat out would have been fantastic. We see the cars in the historic racing now but they're not driven with quite the same panache because people haven't got the budget or the snares or the ability. And the same goes for modern historic Group C racing. The cars are great but it's not the same as when they were worked hard.
Group C is still one of my favourite series to watch. Even when they aren't pushing it to the max, the atmosphere is incredible - especially when they race at the Le Mans Classic every couple of years. Seeing those cars climb up to the Dunlop bridge is pretty special.
I remember when I was at Spa when Mike Thackwell was racing the Jaguars when they were painted green the first year. I was on the inside of Eau Rouge, which is now the pit exit lane so it's not a photograph you can take anymore because there's nowhere to stand, but I remember looking down into the cockpit as he went past and the whole way through that car couldn't have gone any faster without crashing. You see his hands fighting the steering wheel all the way through the corner. It was great to see those cars driven as fast as they could be at the time, but it's never the same now. The cars are probably quicker now because the cars, how shall I say it, have been 'improved subtly' because people understand aerodynamics, suspension and tyres, but in those days...it was special.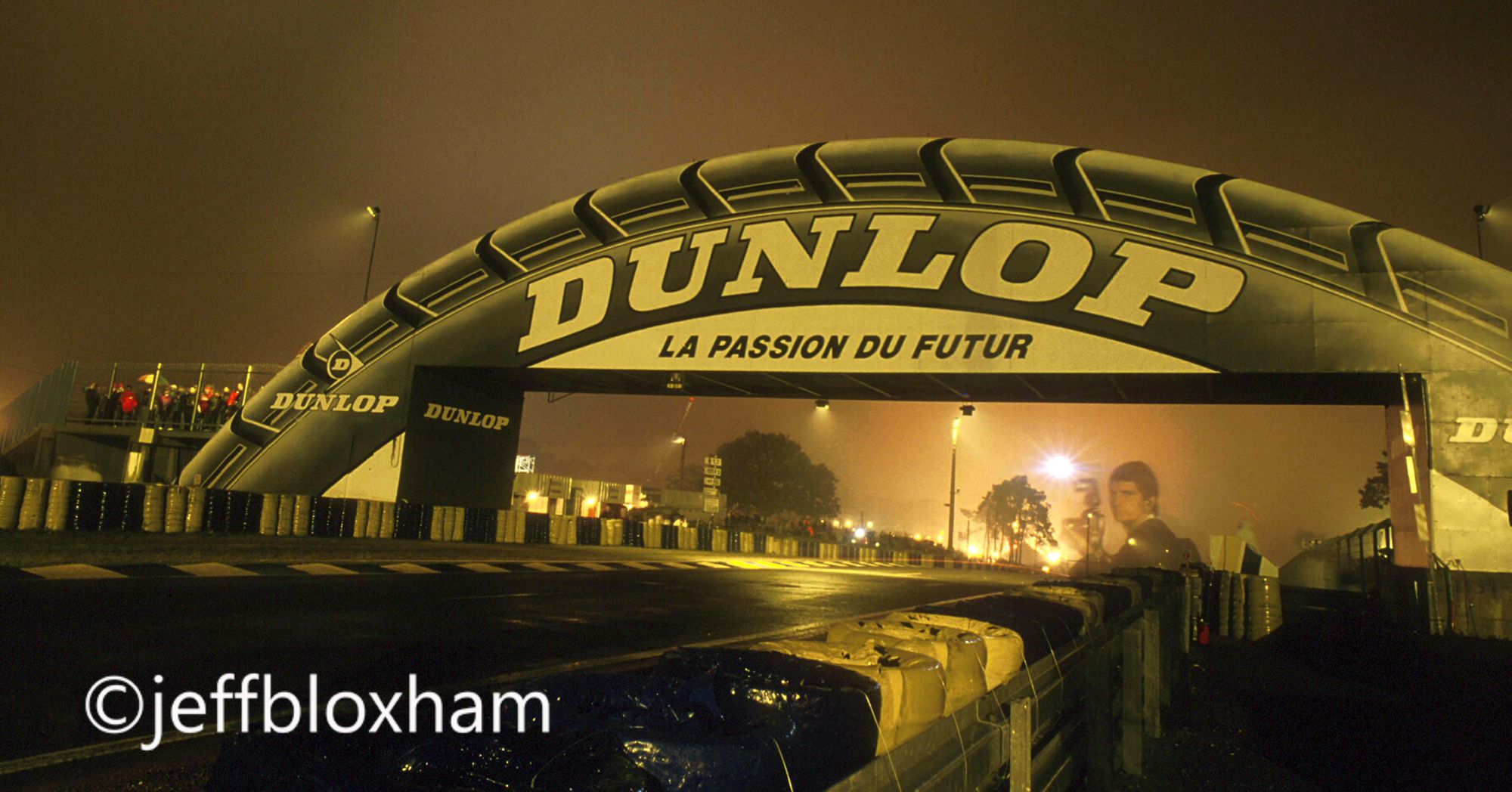 Another special place for me would be the Mulsanne kink at Le Mans. They were incredibly fast through there, before the chicanes, and when they were passing at night it was fantastic. There was a low hum of the noise that just got louder and louder and louder, and the glare of the headlights got brighter and brighter. Of course with the doppler effect the engine noise changes dramatically from when it's coming towards you to when it's going past you, and as it went past at night the exhaust pipes used to glow red hot, and every now and again, there was a little haze of blue flame. If the driver was a little less confident and lifted there would be a belch of bright orange flame as well. Definitely a place to watch cars from. It was spectacular but something you can't really do anymore.
We're going through a challenging time with Covid-19 and it's caused chaos for historic motoring events that I imagine you'd be attending. Do you think this will have a lasting impact on the motoring world?
I think certainly in the historic world, a lot of the drivers are wealthy and, shall we say, rather elderly. They're the elder drivers - they're not the up & coming. I think a couple of them might have had six months to a year off racing and think 'well, sod it - I'll move onto other things now'. So I think we might lose a couple of these guys and lots of cars which will be a bit of a shame.
You don't think that they'll have been cooped up for so long that they'll be desperate to get back on track?
I think yes, but I think that some of the older people find that if you're not doing it regularly you lose your edge. When you have to try too hard it can be like when Sir Stirling Moss decided 'enough was enough' with his historic racing. He didn't feel right so thought, 'that's it, I'm stopping' which was the right thing at the time.
For our last detailed question, we'd like to know if it's true that you've been encapsulated in a scale model?
Yes, I exist as a 1:43 white metal figure by Track Side Models. I think the guy's now retired from doing it but he's done a lot of figurines of people like Senna, Fangio, what have you and he did an old style '50s photographer and then mine was called '80s Photographer (Bloxham)'. It's a story that seems to get found every 10 years or so. Autocar had a small piece about it saying it was a Scalextrics figure, but of course that's 1:32 scale and this was 1:43 so they know nothing - these journalists are rubbish!
The thing is, it is recognisable which I find quite disturbing. I'm sure these days with 3D scanning it would be much easier and more accurate, but this guy approached me at Silverstone and asked, 'can I photograph you?'. I said, 'of course you can, but why?' He said, 'I'm going to make a model of you', to which I said, 'yeah, yeah - of course you are. Go away. Don't be silly!'
Anyway, about a year later he said, 'it's finished', and I said 'what's finished?'. "Your model," he replied. He showed it to me and it was weird how similar it was.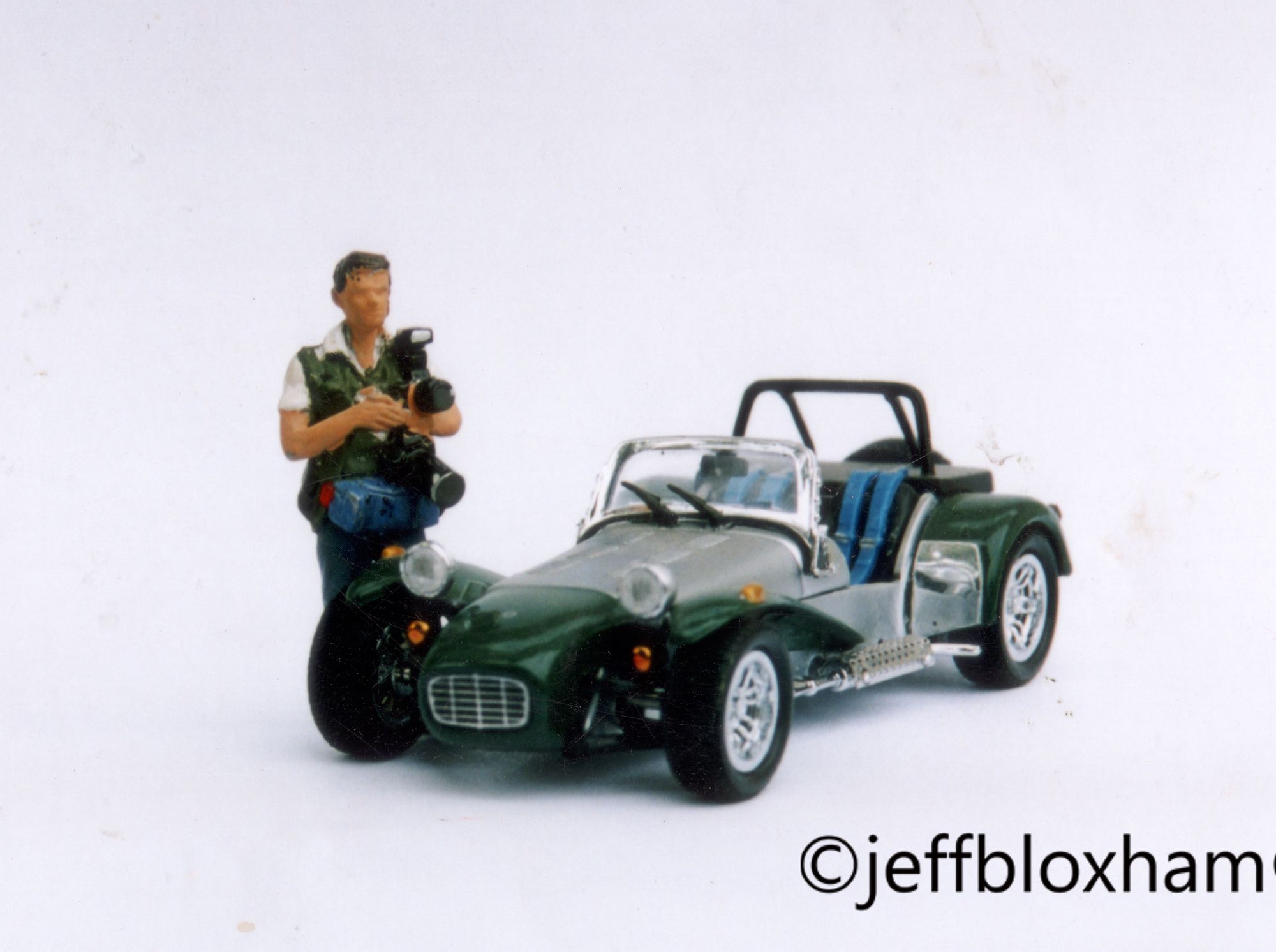 There can't be many people that have that claim to fame!
Well I also appear in two novels. In one, a school friend just used my name for a CIA agent with a one-liner. But the other one, Bob Judd did a series of novels about motor racing and one was Silverstone. I appear as myself on page 100 about two-thirds of the way down the page. The hero's doing some midweek testing and eyed a photographer on the corner, lean and curved like a comma - could it be Bloxham of Autosport?
Fantastic. Well just before you go, there's a couple of quickfire questions.
If you had one camera and lens, what would it be?
I've been a Nikon man since '73 and my current camera is a Nikon D5, but there is a D6 out. I haven't played with it yet, but it would be that latest Nikon. And as for lens, the most useful lens I'm using at present is the 200-500 Nikon Zoom. Back in the old days you used short lenses because you're closer to the action, but now you're further away. If it's just one lens, it would be that one.
Modern or historic racing?
Historic racing. The cars are prettier, they're the ones I've known all my life, and the people are friendlier.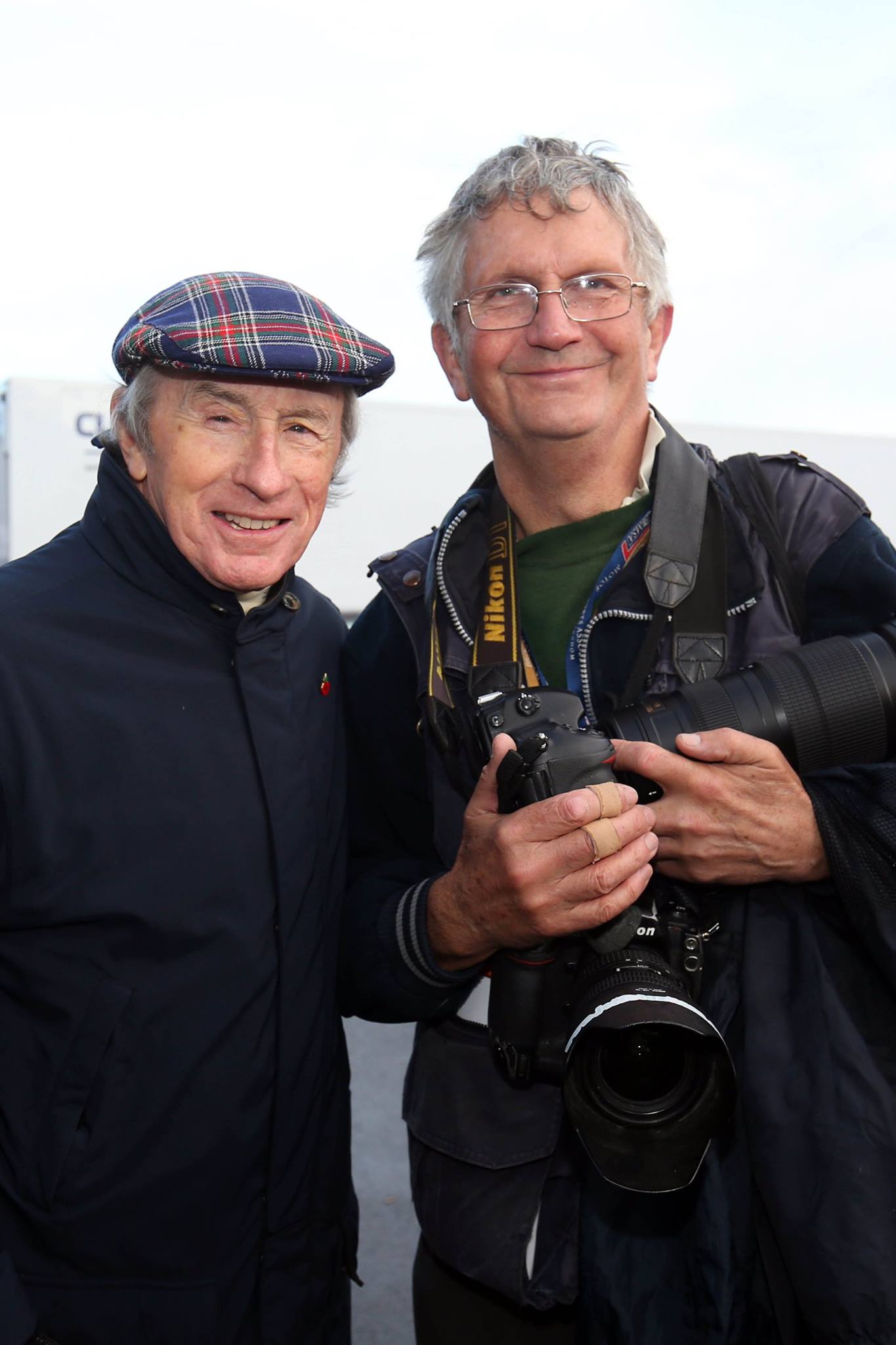 Grand Prix cars or GT cars?
I think probably sports cars. The last time I went to Le Mans the Audis were at their height and watching those cars go through the Ford chicane on rails was bloody awesome. But again it's just crazy, crazy speeds. Modern F1 cars do nothing for me. I suppose my favourite period of F1 would be what I call 'Pre-Fag Packet' - so that would be when they had national colours, with the exception of the Lotus 72 in Gold Leaf Team Lotus. When that car appeared it was so ahead of the game - it was such a quantum leap in shape & design it just stood out. I guess that era, 60s into early-70s Formula 1 would be my favourite F1 era. All my favourite cars, like the T70s, 917s, 330 P4 Ferraris - the 60s and 70s. It's that era of beautiful shapes. And, of course, all the Chevrons.
British Grand Prix or 24 Hours of Le Mans?
Both for different reasons. Le Mans is probably more interesting as a race, but the Grand Prix just to socialise. Luckily being a member of the BRDC means that it doesn't cost me to go to the British Grand Prix. So in the last four or five years I've made a point of going to club racing that weekend to watch proper racing. The reason for me going to the British Grand Prix now would be to socialise because if I can't get trackside I'm very frustrated because I'm a doer rather than a watcher. If I'm just there in the BRDC suite looking down, it's not the same as working.
I took my son about 5 or 6 years ago. We parked up and got the little buggy to the suite and walked around for a little bit. After about half an hour Cameron said to me, 'dad, is there anyone here who doesn't know you?' It is quite bizarre but I guess after being around for so many years people do get to know who you are. I still find it quite surprising. I think Marcus Pye summed it up quite well when he said, 'we are two medium sized fish in a small pond'.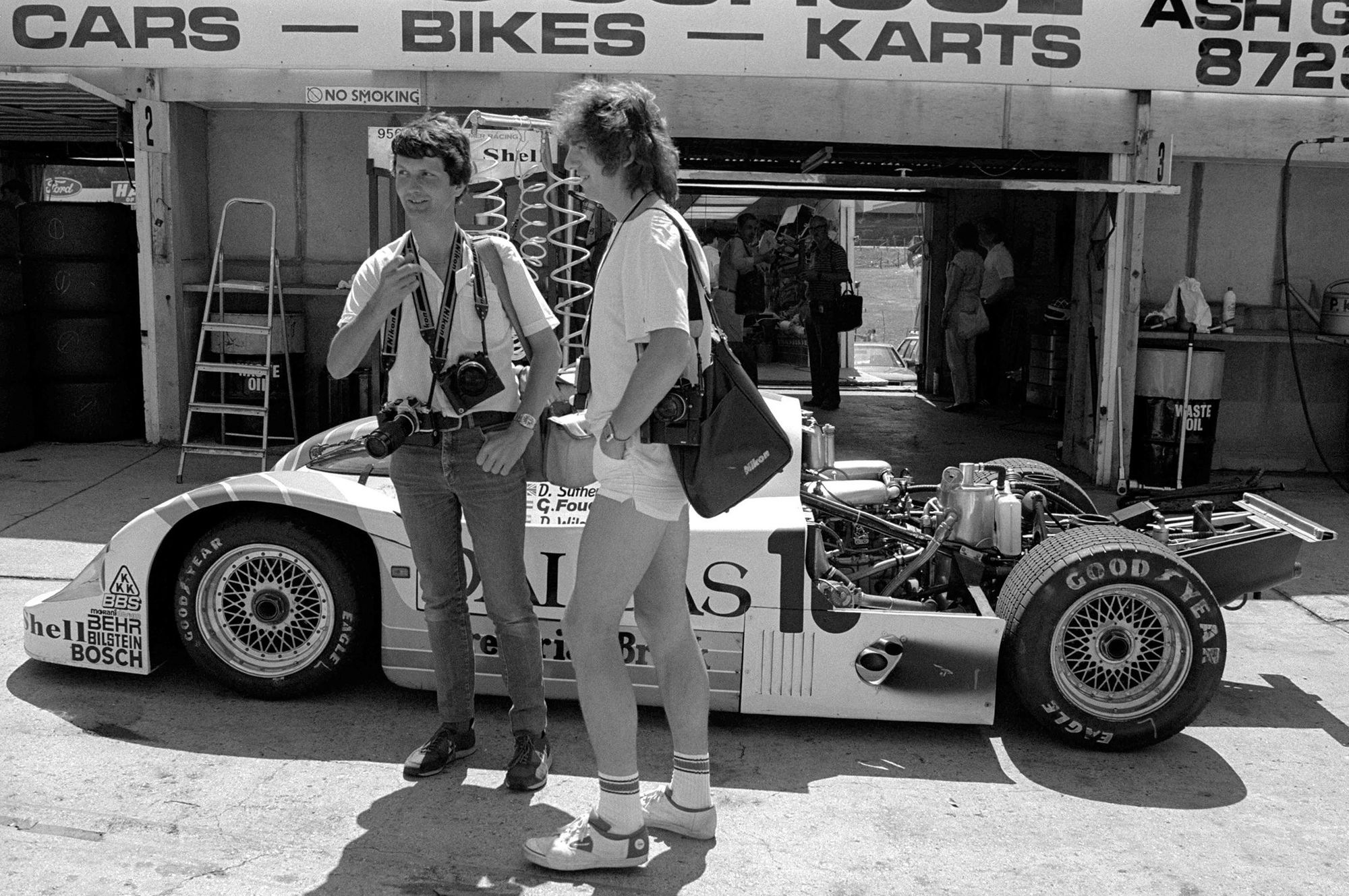 What's your food of choice when trackside?
I tend to always take my own food with me. Homemade sandwiches. You haven't got time to buy a burger mid-race. If you go between races then all the crowds are doing it too. So I guess, being very boring, I'd say homemade sandwiches.
Favourite corner to photograph racing from?
I suppose my favourite corner would be North Tower at Crystal Palace, but I guess that doesn't really count as you can't get there anymore. I suppose the Bosch Kurve at the old version of the Österreichring in Austria but that's gone as well. I used to get some great shots from the inside of Church Corner at Goodwood but then they moved the marshal post so instead of being next to the track you're about 5 yards in. So that's not as exciting. The Mulsanne Kink again - that was superb, more to watch than photograph. The tunnel at Monaco in qualifying was fantastic because of the sheer speed of the cars, and the noise and everything else. It's like what Stirling Moss said - 'you should never have a favourite circuit or corner because that means the rest aren't your favourite and you won't do so well at them'. So, I suppose, ultimately I'd have to go back to North Tower at Crystal Palace because you always got great action there.
Finally, what one car would you have in your garage?
I've currently got 2 in the garage - one is a Ford Racing Puma which is a Tickford modified one that's now 20 years old. The other car is a 1968 Series 3 Lotus Elan Fixed Head. That's what we've got but I have a list of about 50 that I would like to own. Choosing one is unfair! I'd love a '64/'65 Mustang Fastback in white with red interior. A '63 Corvette Stingray - split rear screen obviously. A Willy's Jeep. Fiat 500. A Daimler Scout Ferret armoured car. Ginetta G4. There's thousands of different cars that I'd like to own. I can't do one car because I want too many!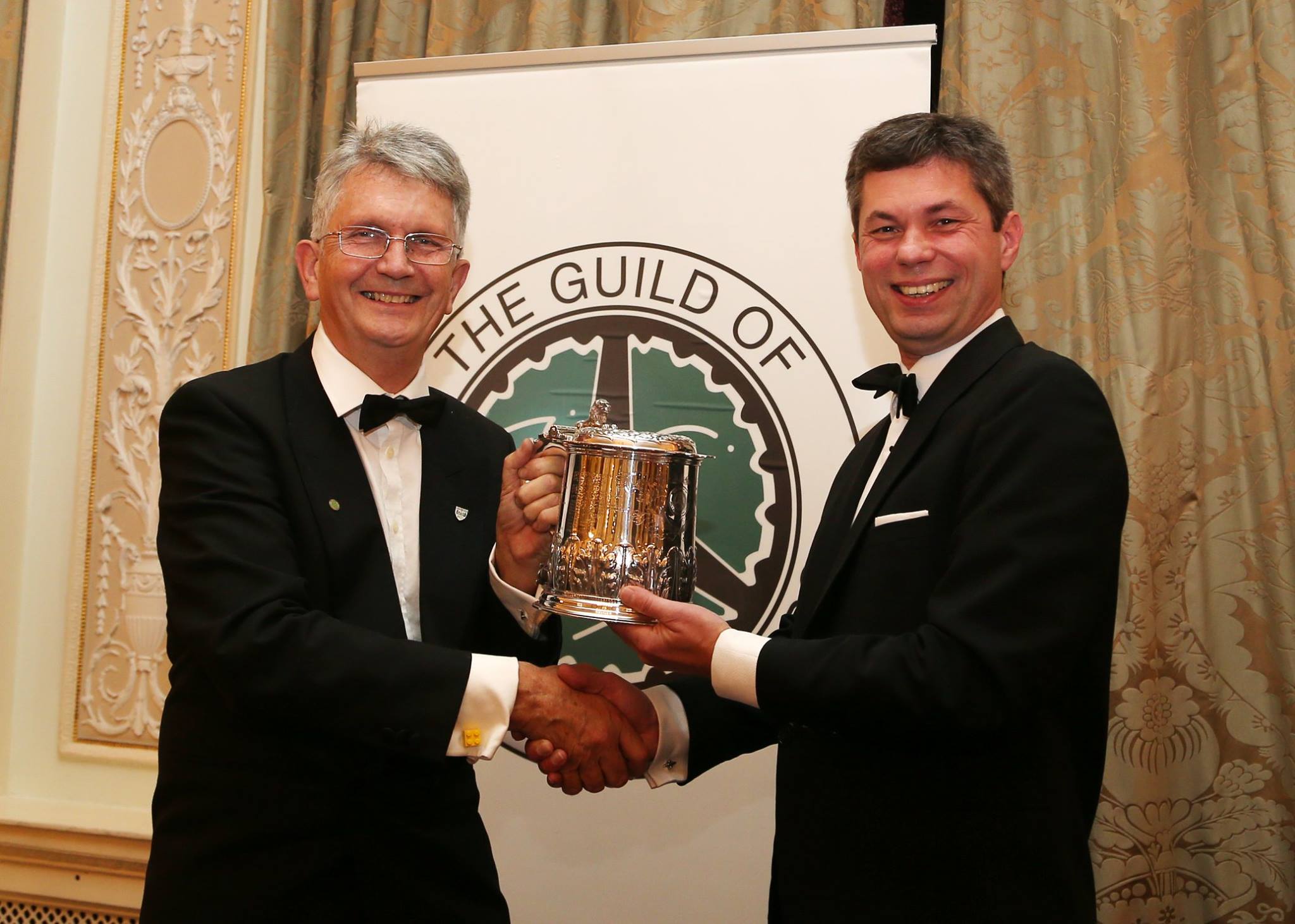 ---
To get in touch with Jeff or to purchase prints of his photographs, please visit his website at www.jeffbloxham.com.
---
---