Wonderful, Dangerous Years: Behind the Wheel with Peter Sutcliffe
This week The Apex interviews Peter Sutcliffe, a racing driver who had a remarkable career during the golden age of racing in the 1950s and '60s, including four editions of the 24 Hours of Le Mans and racing some of the most iconic and desirable competition cars ever built. Whether it's going flat out along the Mulsanne Straight in the beautiful Ferrari 330 P4, hurtling backwards in a D-Type at a rainy Snetterton, or simply rocketing past the Aldershot guard room in a Frazer Nash Le Mans Replica, his experiences behind the wheel are the stuff of dreams for many an aspiring privateer. We spoke to him about his beginnings in motorsport, some of the great (and less great...) cars he has owned and competed in, and his memories of the fun and camaraderie of a brilliant period in motor racing history.
Charles Clegg interviews Peter Sutcliffe for The Apex by Private Collectors Club. Recorded and Produced by Jeremy Hindle & Demir Ametov.  Transcribed by David Marcus. Edited by Hector Kociak.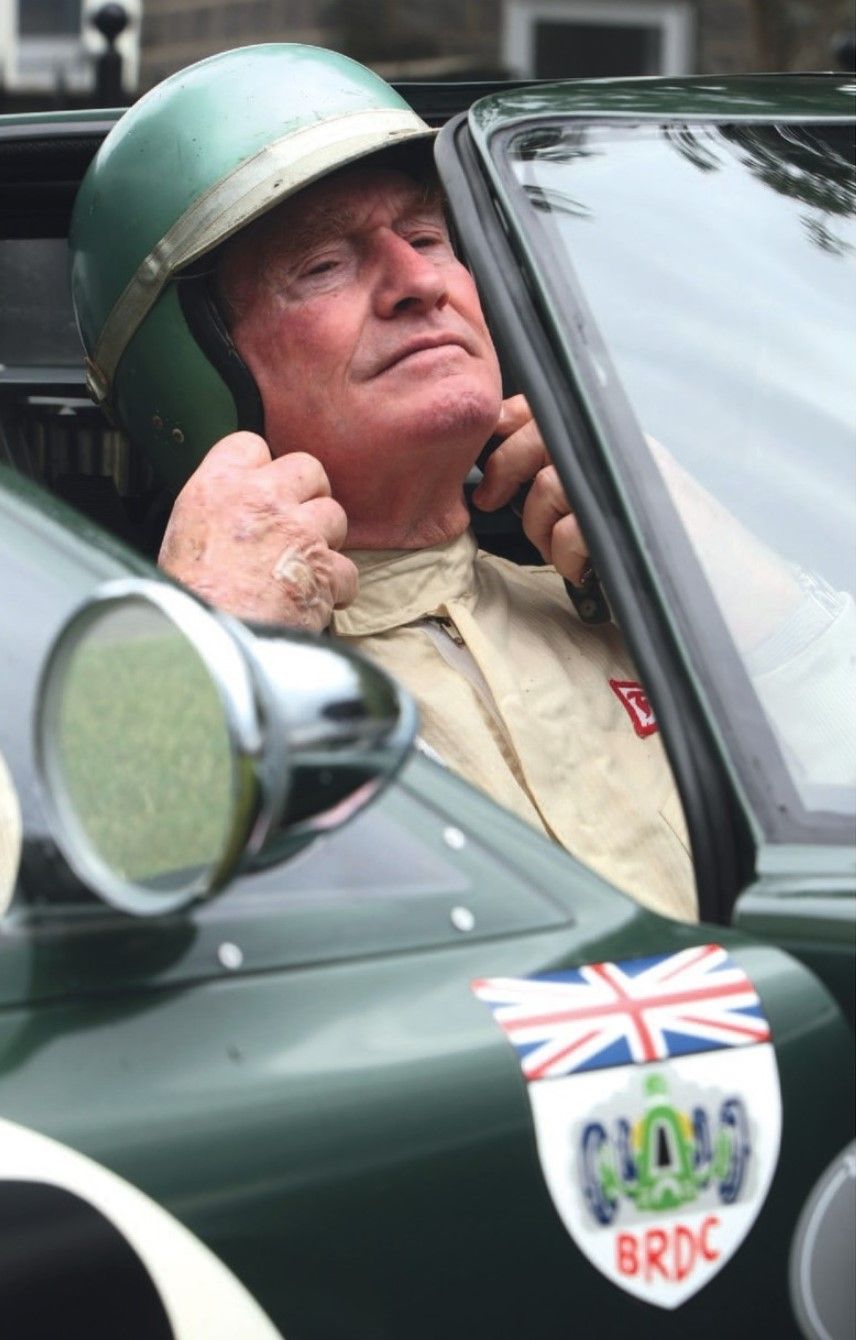 You started racing in the mid to late 1950s in an MG and a Frazer Nash Le Mans Replica. How did you first get into racing, and was motorsport something you were interested in from a young age?
Actually, no. I have to say that my first recollection of cars were my parents' two cars up on blocks in the garage during the war. My own involvement with them at that stage was finding a tin of red paint and painting a good part of my father's Standard Flying Twenty, for which I remember being sternly admonished (to say the very least). It wasn't until cars started to be seen out on the road again that I really became concerned about them.
What actually tickled my interest in motorsport altogether was finding a copy of Motor Sport magazine someone had left lying around at school. It must have been about 1952, and inside there was the most stirring picture of somebody going absolutely flat out in a pre-war Aston Martin, probably at a Club Silverstone meeting, and I thought, 'gosh, that looks like jolly good fun!'. It sort of woke me up to cars and driving, prompting a general move away from horses, in which my sister was very expert, and into which I'd been dragged almost as a supernumerary...
My father had just bought a 1951 Series I Land Rover, which in fact I still have here in the garage. In that I started driving around the fairly restricted grounds of our house in Yorkshire. It had a crash change from 1st to 2nd, which I got my hands and feet around eventually, and soon I'd mastered the techniques of actually handling a vehicle. From then on I was really seriously interested in cars. My parents had both bought the 2.6 litre Lagondas of the early 1950s (my mother had a Drophead and my father a Saloon), and those were the first performance cars, if you could call them that, that I ever drove - of course always under the strictest supervision. I seemed to fall into them quite easily, and that's how it all started.
When I left school and had to get to university over in Leeds from where I was living in Huddersfield, my parents bought me a second hand MG TD from a garage in Bradford. It was about two years old and had been fairly well thrashed, but we had a very good engineer who rebuilt the engine for me and that was my wheels for the next few years. Honestly I don't believe it was ever actually stone cold - I was just in it the whole time when I wasn't actually sitting at a desk or running around on a hockey pitch or whatever. It really taught me a great deal about road craft and car control too, because I was always going a bit too fast (although that's a relative concept when you're in a TD MG). I did spend what bit of money I had on making it go faster, and it was the very first car I raced at Aintree in the BARC club meeting in 1956. I had a super day out, came third in my race (which was won by a certain Innes Ireland in a Riley), and I was hooked.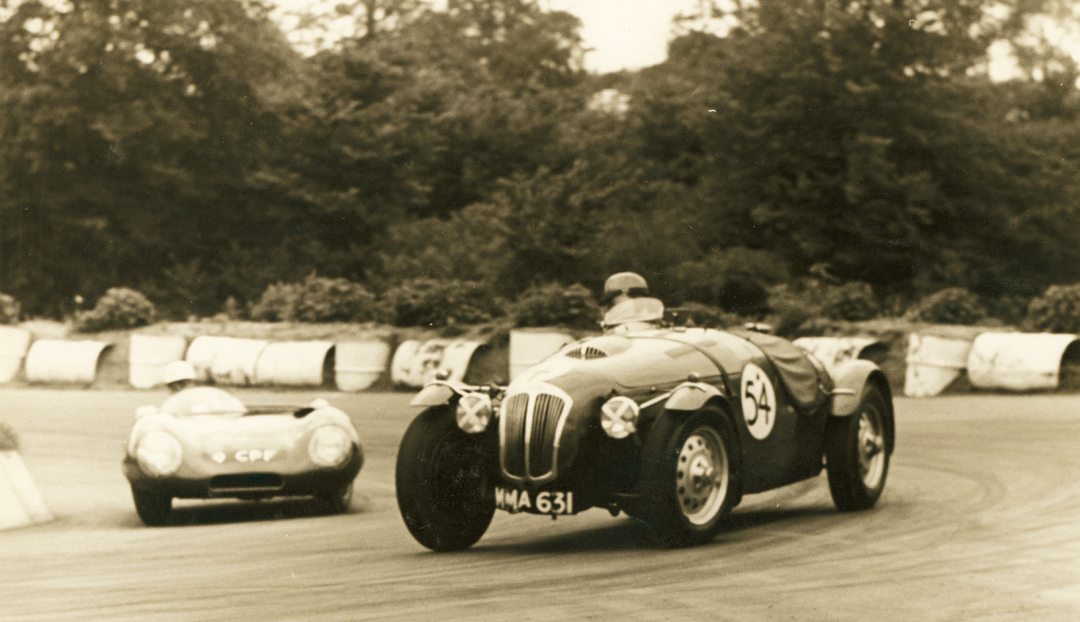 That's brilliant. How did you end up then getting the Frazer Nash?
Ah, that was actually a 21st birthday present from my parents - although they didn't realise it or choose it themselves... I had been competing against that car at a lot of small events, hill climbs and sprints and so on, and it was owned at that time by a chap who lived up North called Frank Elliot. I thought it was just the most amazing car, and I absolutely had to have it.
Cheeky little chap that I was, I did a deal with Frank over the phone and drove up to Middlesbrough with my TD, did a part exchange for it, drove it back to Yorkshire and arrived back in time for supper. My parents asked what that was outside and I said, 'that's my 21st present!'. Well, you can imagine the shock horror of that, but anyway, God bless my parents, they weathered that particular storm. That Frazer Nash was my one and only car for getting around everywhere, and it was just my wheels for two or three years - a wonderful car.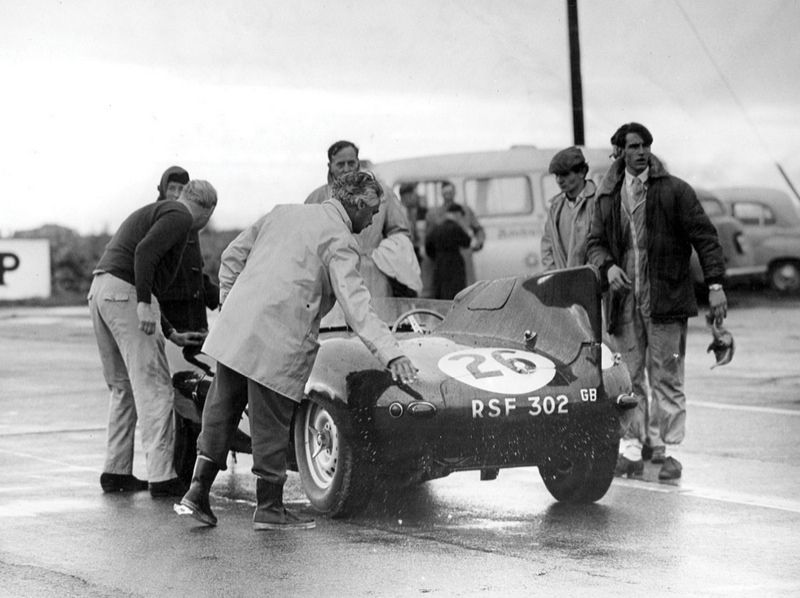 I understand you stopped racing for a couple of years in the 1950s to do your National Service, after which you bought a very historic car, the ex-works Ecurie Ecosse D-Type. How did that come about?
Well, prior to that, I swapped the Frazer Nash Le Mans Replica for one of three Sebrings that I found lying around on the upper floor at AFN Ltd in London. Knowing that the Sebring would be a faster car, I made a deal with AFN and raced it extensively in 1958-59, finally qualifying for the BRDC (which was one of my major aims).
I drove the Sebring as a road car, and during my National Service and the officer selection process down at Mons Officer Cadet School at Aldershot, it was the car that I used to drive out from the barracks if we were going up to London or wherever. The guards on duty were always quite enthused to see this amazing thing racketing past the guard room, but I did get quite a bit of flack from rather more senior personnel and told to kindly just ease off a little bit, if you don't mind. Anyway, I did post-officer training with my regiment in Germany, and while I was there, my step-grandmother died and left me a little bit of money. So when I came out of the army at the end of 1961, I thought I'd better look for something that's going to be much more exciting to drive.
At the time there were a few cars on offer that I fancied. There was an Aston Martin DBR 1 and a DB4 GT that were owned by a pig farmer over in Norfolk - a hell of a nice chap with lovely cars - and I went and had a look at those. The other option was Mike Salmon's D-Type Jaguar. I drove it on the roads around where he lived and thought it was absolutely great. So I bought it and drove it home - and what a wonderful road car it was! That was the famous ex-Ecurie Ecosse car; it had been the spare factory team car for Le Mans in 1955, so it was already quite old, but Mike had had a very successful club racing career with it and I thought well, that will do me just fine - and it did.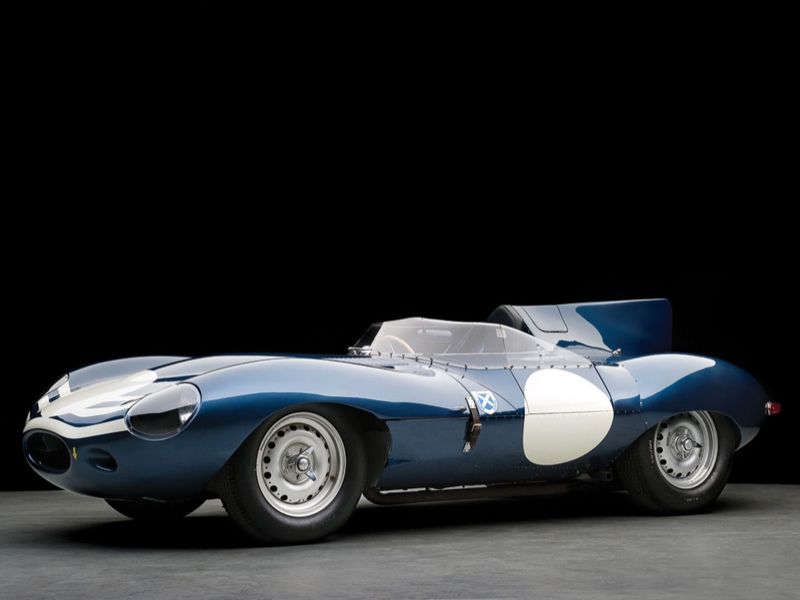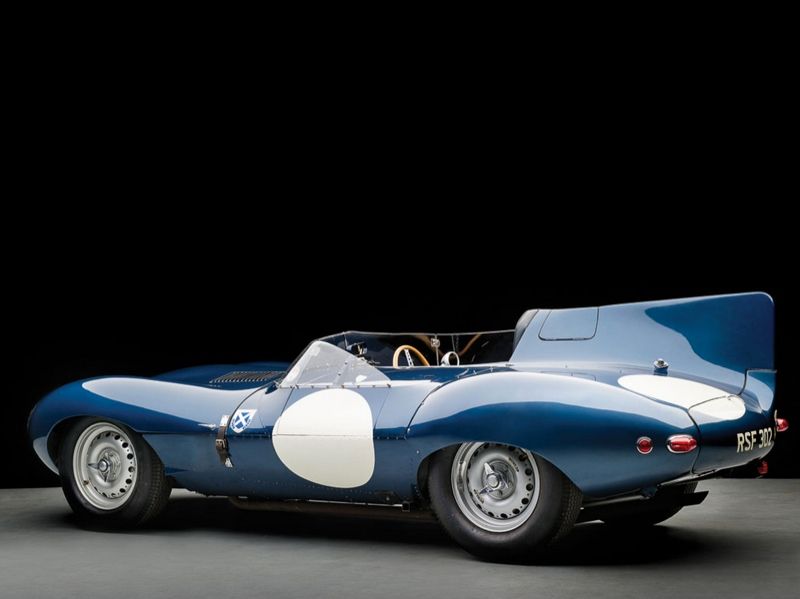 I can see you actually had quite a lot of success racing it at the time, although as you say, by the early 1960s it was comparatively quite an old car. I do believe it came to rather an unfortunate end at Snetterton in 1963 - is that right?
It didn't come to the end, but it did get, ahem, modified quite considerably. It was a long distance race held in the pouring rain at Snetterton, and the field had thinned out hugely. The only cars in front of me were Graham Hill in an E-Type and somebody else. I was third behind them and not threatened by anybody (and I wasn't threatening the leaders either); coming down the Norwich straight, a stream had suddenly broken through a large puddle and flooded the track, just at the braking point for the hairpin. So the rear of the car became light and got away from me, span round and charged backwards towards the infield. I remember looking over my shoulder and seeing that the car was heading straight for a marshal's post, which in those days was just a mound of earth with two chaps standing behind it. I remember quite plainly watching them shifting first to one side, then the other, as they tried to decide which side I was going to hit this thing from. I hit it backwards, still going pretty fast, and I was thrown out onto the track. I wasn't really hurt, although there was a crack on my crash helmet. The car barrelled off to the other side of the track and looked very sorry for itself...
Oh dear.
After the race I got driven back home by Jimmy Blumer, another well-known Yorkshire driver. A week later I went to pick the car up, loaded it onto a trailer, and drove it off to Jaguar in Coventry where I left it over the weekend with a note stuck on it saying 'please fix'. I had a phone call a few days later from Phil Leaver who was running the service on that side of Jaguar at the time, who said, 'Peter, I'm sorry, we haven't got the time or the parts or possibly even the skills to straighten this one out, but we'll give you all the extra bits and pieces that we've got from D-Types that we've assembled over various years'.  In the end I found some people to rebuild it for me, and it turned out to be a car that looked as though it had never been scratched in its life! I eventually sold it to Neil Corner, he had a great time with it, and it has had a series of lovely owners ever since.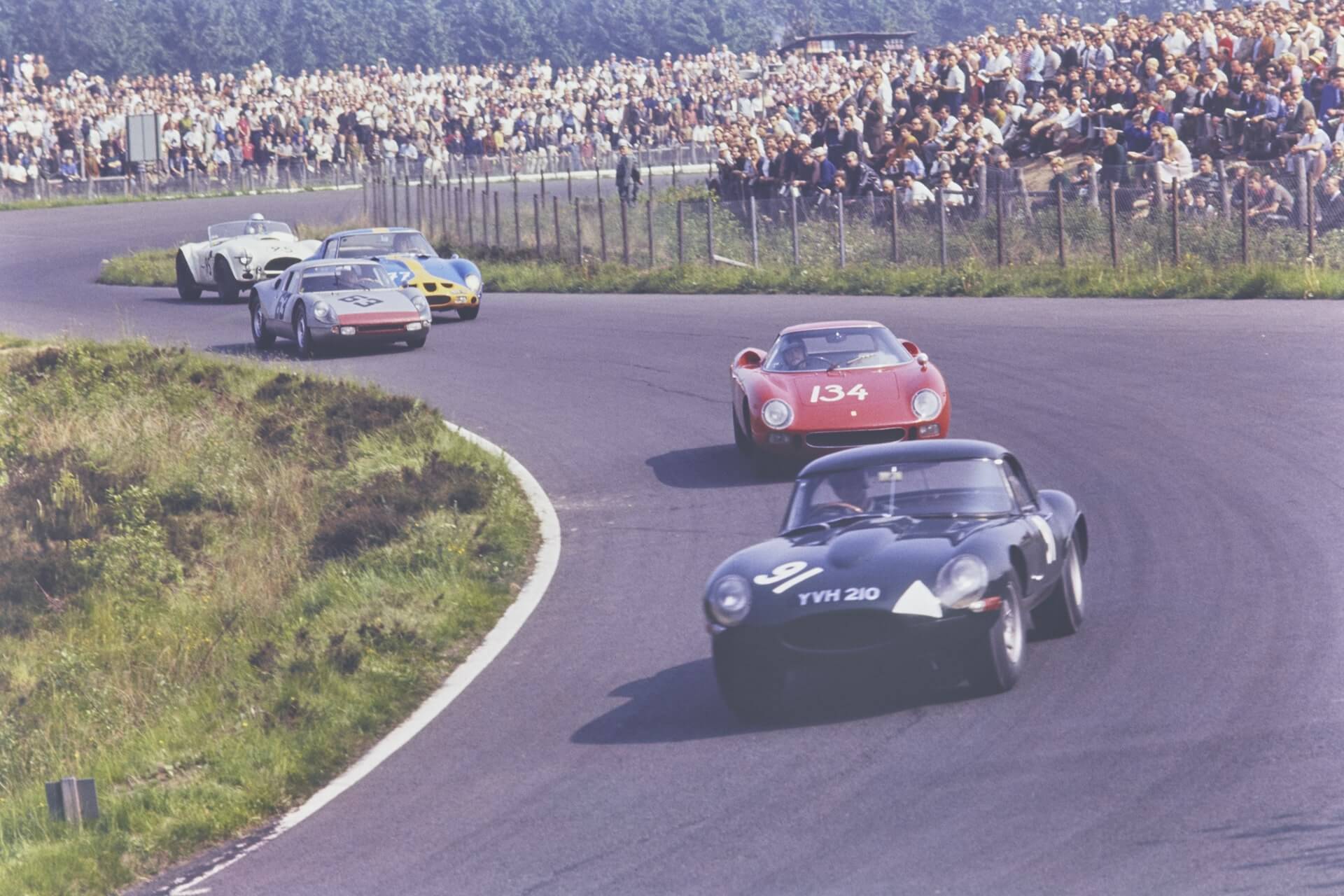 I believe soon afterwards you were offered one of the 12 factory Lightweight E-Types by Jaguar, which prompted a few years of unbelievably jam-packed racing with a lot of success for you, including outright victory in the 1964 Prix de Paris at Montlhéry. What was it like as a privateer racing at the time, and how did you make it all work?
Well, it was very nice that I was offered one of these Lightweights because I had already been entered for the Easter Meeting at Goodwood (which was when the British motor racing season started), and I was in the paddock but with no car to drive! Lofty England approached me and asked whether I'd be interested in having one of the lightweight cars. It was the time when Graham Hill was beating Mike Parks in the Ferrari GTO and I thought, well, yes please. They built one for me and I picked it up from the factory in the middle of the year. I was hugely happy with it.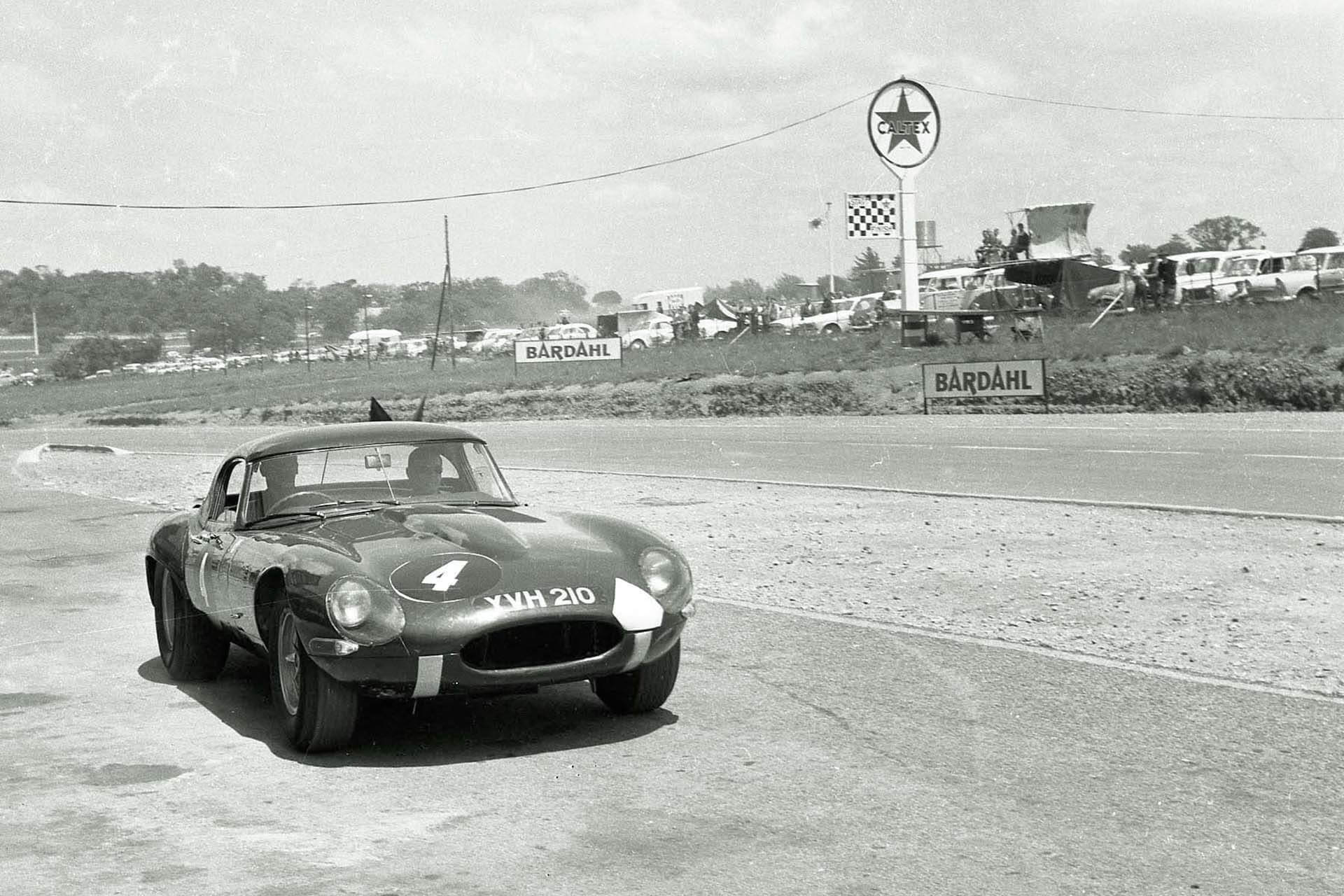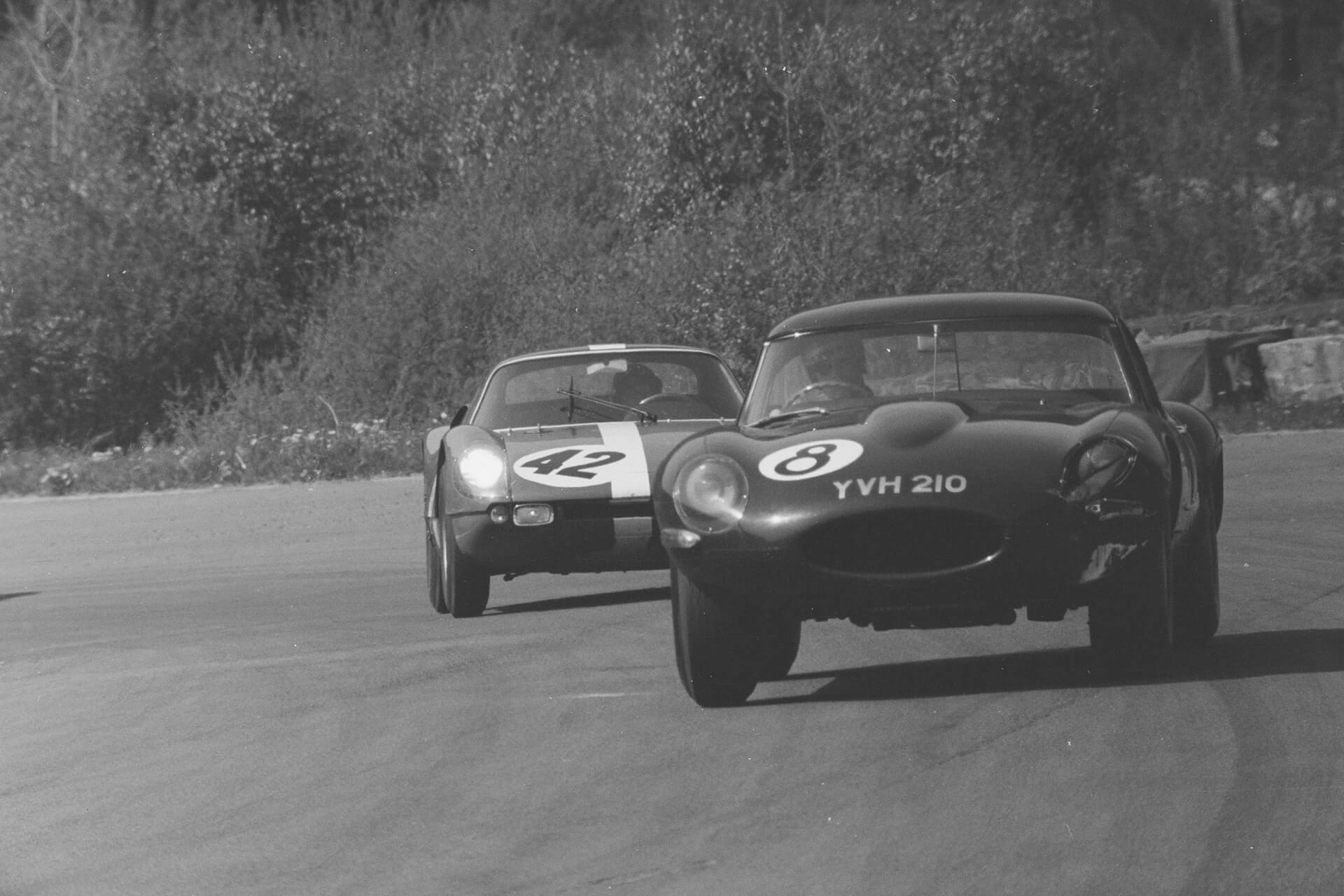 I remember looking at the statistics for when you were racing during that period in the Jaguar, and it was quite remarkable. You were racing pretty much every week around Europe and in the UK. What was it like going from race to race meeting like that, and how did it work with John Pearson helping you out on the mechanical side?
Yes, dear John Pearson was a hugely important part of my racing life ever since I got the D-Type Jaguar, because when I had my first race at Snetterton - not the one in which I bent it - John (whom I had no knowledge of) came up to me in the paddock and asked whether he could help me with the car. We got chatting and seemed to like each other. It then morphed into him being the chap looking after the cars when I wasn't, and always attending race meetings with me, whether in England or on the continent. I had bought a lorry, a Perkins B6 diesel Commer, which took the Jaguar very nicely and we drove all over Europe. It was a time when it was so easy to do that sort of thing.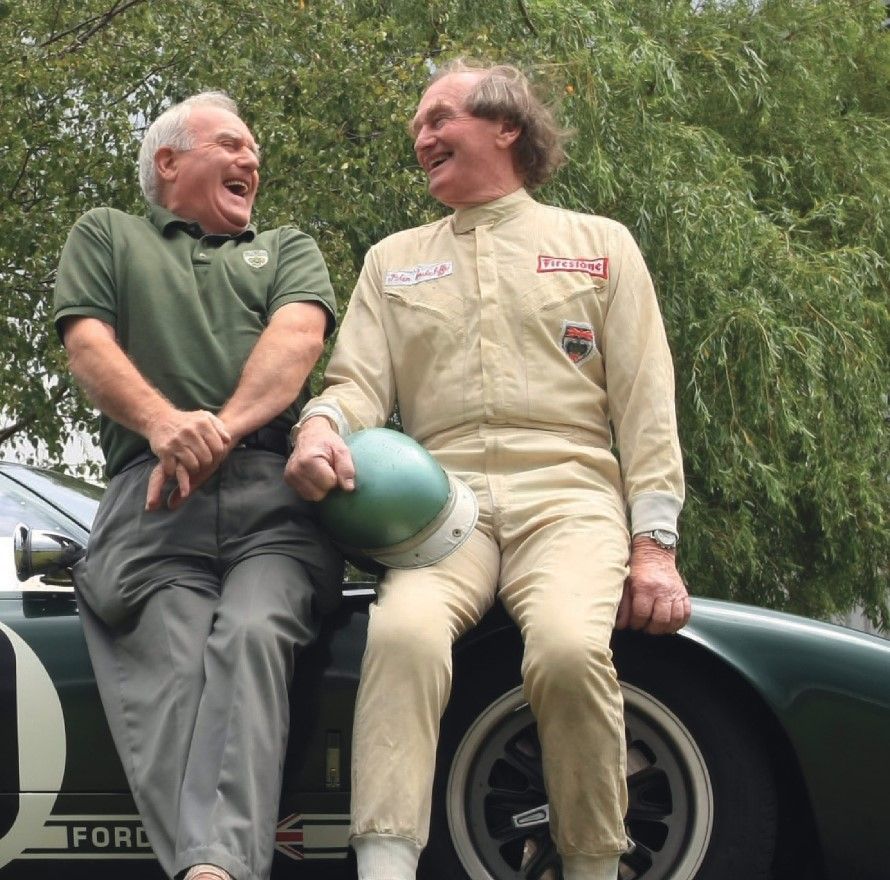 In the very earliest days of going onto the continent with the Frazer Nashes, we used to fly them over on the Channel Air Bridge from Southend to France, but in the lorry it was onto the ferry across the channel, and off we would bounce at 55 miles an hour around Europe with the Jaguar in the back. It was a wonderful privateer's car; strong, reliable, easy to fix, and with beautiful handling. That was how I was able to have the measure of success that I did. With things like starting money and prize money, and not living a wildly extravagant life, it was even possible to have something in the bank at the end of the year.
How times have changed now - I think you would be lucky to have money in the bank as a privateer in any form of motor sport, but there we go!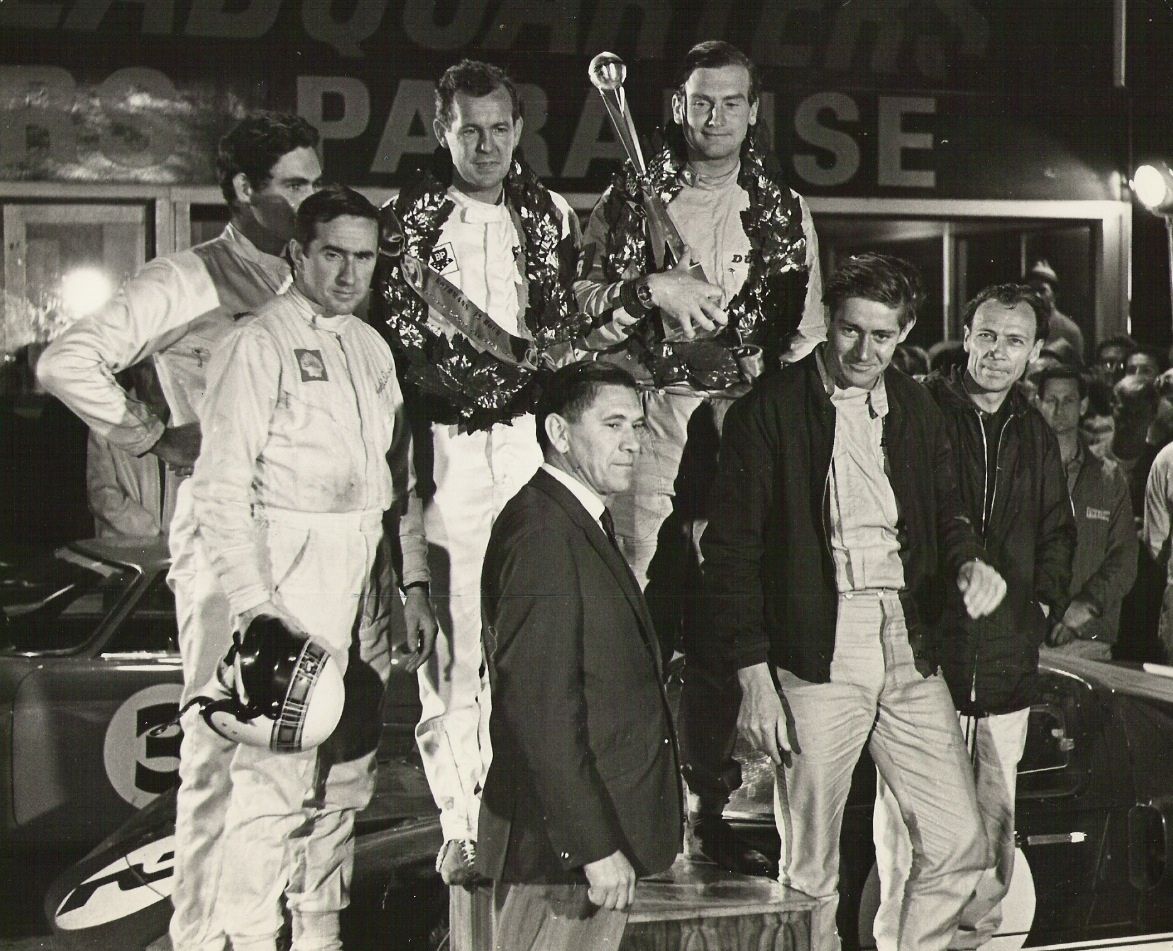 Racing in Africa has also been a key part of your career. You had a lot of success out there, including a class win and second overall partnered with Dicky Stoop in the Kyalami 9 hours. What made racing in Africa so special for you?
It all came about through David Piper, who I was consistently coming across in all the English and some of the European races that I was in with the E-Type. He went out for the 9 hours one year to Kyalami and the chap who ran the whole show, Alex Blignaut, was asking whether he could find three or four more people to come out and do the 9 hours and maybe stay on and do the Springbok Series, which David actually had never done. So Alex ended up being put in contact with me and we did a deal. I put the car on the boat and out to Africa it went.
I had no previous experience of Africa, but I had such a wonderful time when I was there, they were so hospitable, so kind, so relaxed and yet efficient and effective about the way they ran things that I thought it was a wonderful way to go motor racing.
So much so that you ended up permanently moving there back in 1967...
That's right. I had decided by then that I wasn't going to go back into the family textiles business that I could have been involved in, and so I decided to make a life in South Africa. I went out there, got a job at an engineering company, and said goodbye to racing, other than acting sometimes as an official at Kyalami for their racing days so as to keep abreast of the few people I knew in racing in South Africa.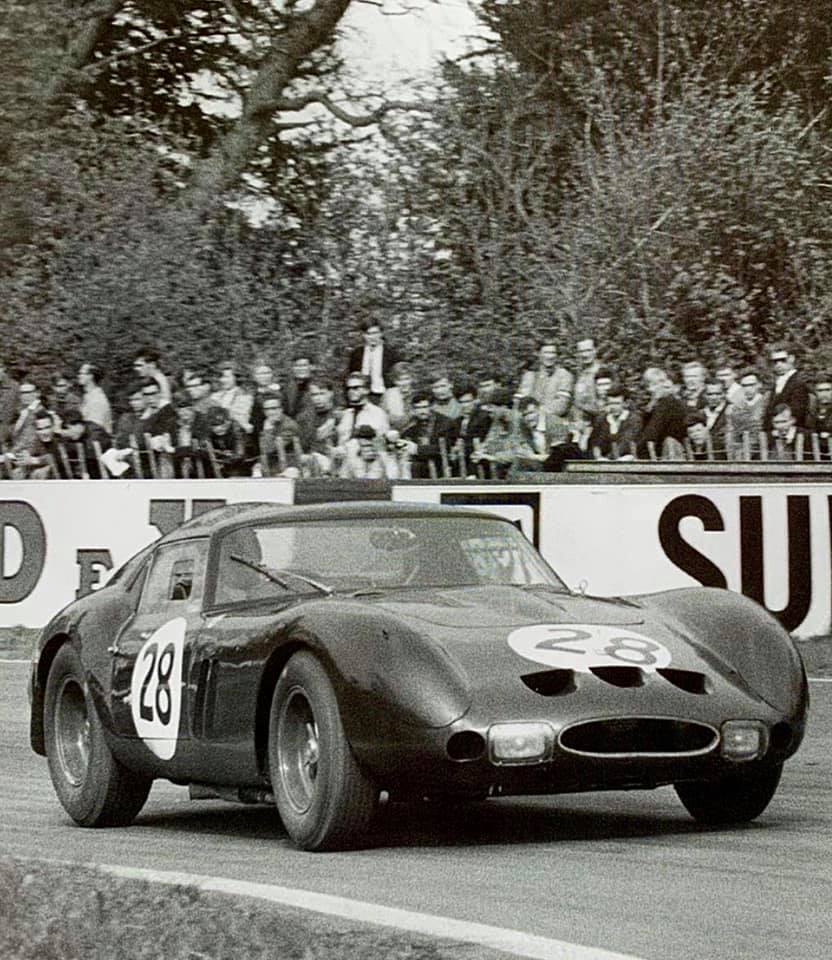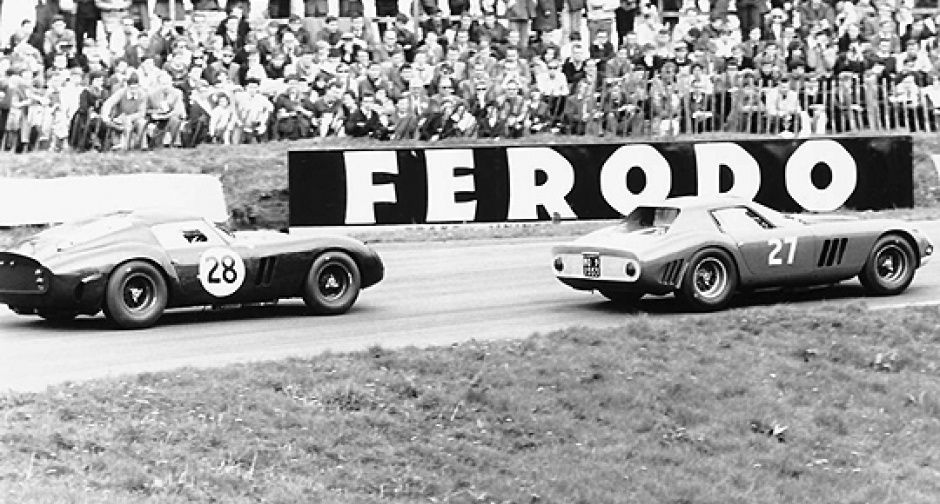 You mentioned David Piper earlier. After your E-Type I believe you bought perhaps my favourite Ferrari 250 GTO, chassis 4491 GT, which was previously his. I love how much of a hot rod it looked in your usual dark green with a lowered roof and with the headlight covers. What was it like racing that GTO in period?
It was a lovely car. It was David's second car and it was very fast. Everything that he had done to it improved it. He had his amazing mechanic called Fairfax Dunn who I think was ex-Etonian or Gordonstoun, although you wouldn't have realized it... he was a chap with a very hot turn of temper, but he was a fastidious mechanic and his cars were always beautifully prepared and ran extraordinarily well. David never had any sort of problems with his cars.
Having never been able to quite catch up while in the lightweight E-Type, I thought, 'if you can't beat them, buy them', so I had a good offer for the Jaguar from Edward Nelson, and I bought David's Ferrari.
It was such a beautiful car to drive and so easy to maintain. John Pearson soon got his hands around it and was able to sort out the few things that needed doing from a race maintenance point of view, and I had many successes with it, particularly in Europe. I think that was where Ferrari probably spotted that I could be useful, because I did gain them a lot of the GT points which they were always going for.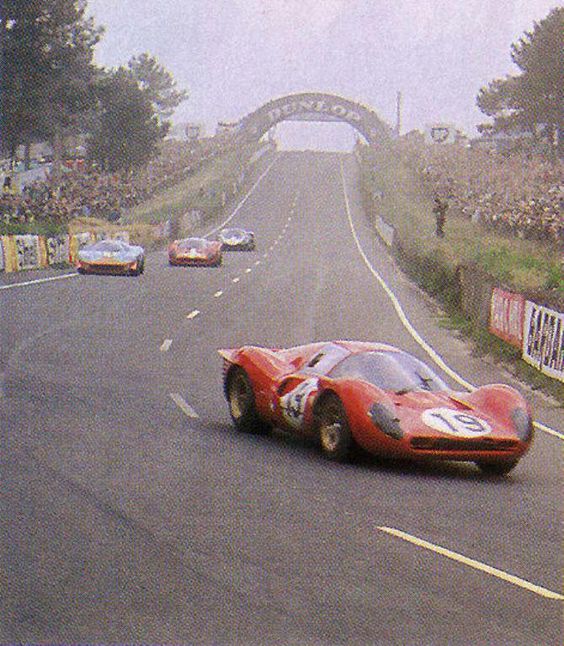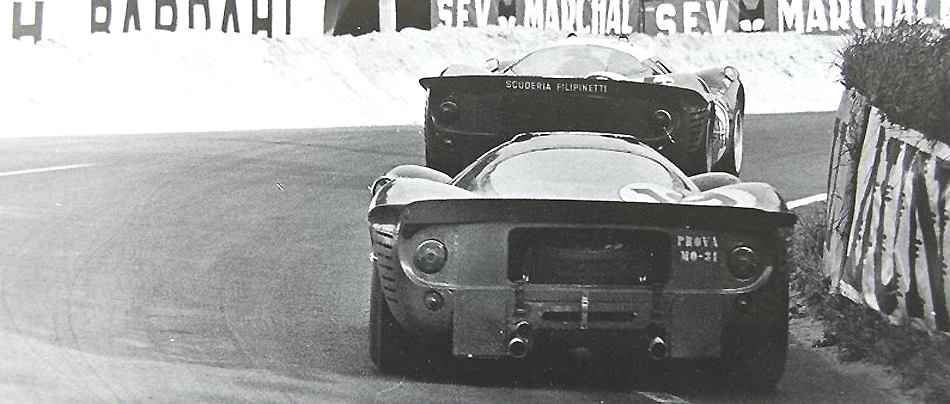 Indeed, and I believe that you got to know Enzo Ferrari personally prior to racing for the Ferrari team at Le Mans in 1967 in the beautiful 330 P4. What were your memories of Enzo Ferrari, and what was it like racing for Scuderia Ferrari or SEFAC as it was known at the time?
I never met Ferrari at a race because he very seldom went to race meetings. It was an extraordinary event if he did, so the first time I met him was after I had had a phone call from Signore (Franco) Gozzi, his lieutenant, who asked me whether I'd like to come and talk to them about driving their car at Le Mans. I hopped on a plane to Italy and they picked me up from the airport and whisked me up to the factory.
The first time I actually met Enzo Ferrari was in his office. He didn't enjoy speaking English, although I'm sure he could. At the time my French was fairly sound, so we chatted away in French. Apparently he didn't ever really want to employ anyone to drive his cars unless he had met them and sized them up. I must have ticked enough of his boxes. While it wasn't quite like him throwing me the keys of a P4, he eventually said, 'okay - off you go to Le Mans!'.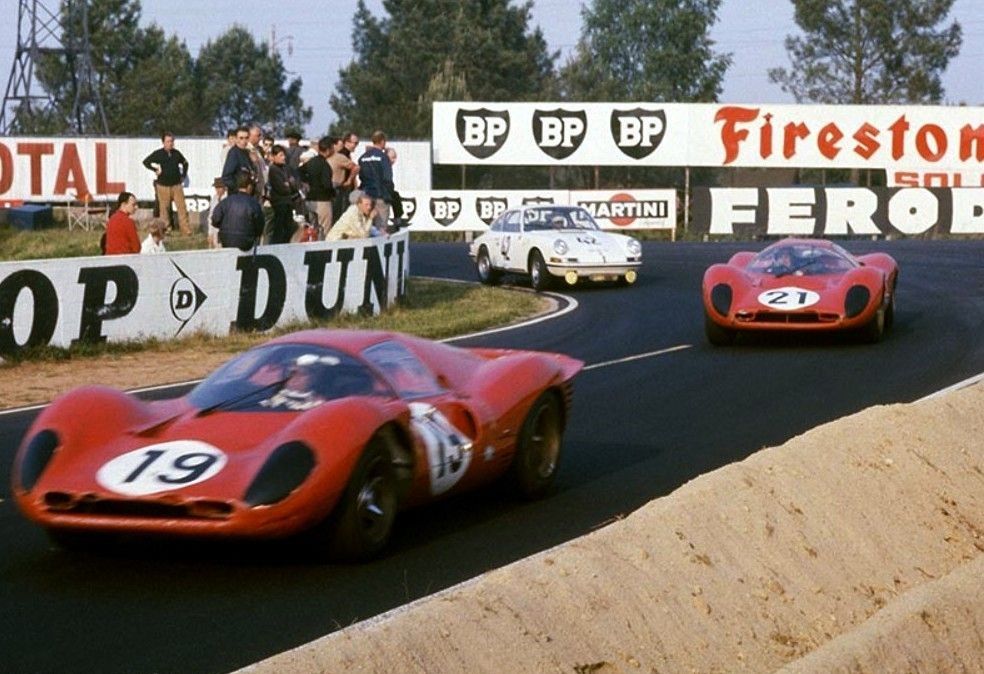 So I flew up to Calais to pick up my Aston Martin, drove it to Le Mans, and sat in the P4 for the very first time, surrounded by all these brown-overalled Ferrari mechanics whom I'd seen at so many of the meetings to which I'd been in Europe. Suddenly there I was in the pits discussing things with them and deciding what, if anything, I wanted or thought might be changed - which probably was a bit cheeky. In the end I don't think they changed anything, but it was a car I found I could handle quite easily.
SEFAC was a very nice set up to work for. Franco Lini was the chef d'equipe; he was a very well-known Italian motor writer and he followed motor racing in a big way, Ferrari especially, of course. The little team of people around him was a huge pleasure to work with. Günter Klass was my co-driver, or rather, I was his. Unfortunately he crashed the P4 badly trying to avoid a car that got in his way during practice; overnight Ferrari flew up a 14-man team of panel beaters and mechanics from the factory and they put it all together so well you would hardly know that it had been bent. It was pretty damaged around the front, and this took them a fair old time to repair, but they got it together and the organisers then allowed Günter to take it out on the morning of the race - which is normally unheard of - just to make sure it was running in a straight line and would go around the circuit.
What they hadn't done unfortunately, as mostly happened after cars had been well exercised in practice, was to change engines, so that you had a new one for the race. But they didn't do that with ours, and that ultimately was the reason for its demise in the race, because the engine failed. That is most unusual in those sorts of cars, but one of the timing wheels that drove the cam-shaft train had been incorrectly hardened and it failed, and it was a cam-shaft that also drove the fuel injection pump, so that was the end of the engine. Günter was driving when it happened and it wasn't anything that either of us drivers could have done anything about, but I was hugely disappointed to have not finished, because we were doing well. But it was huge fun.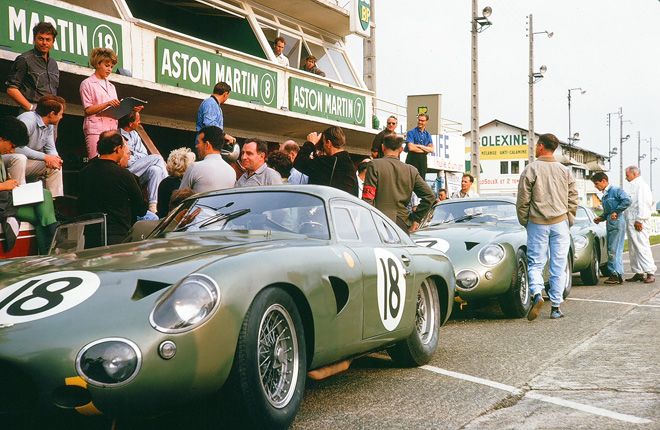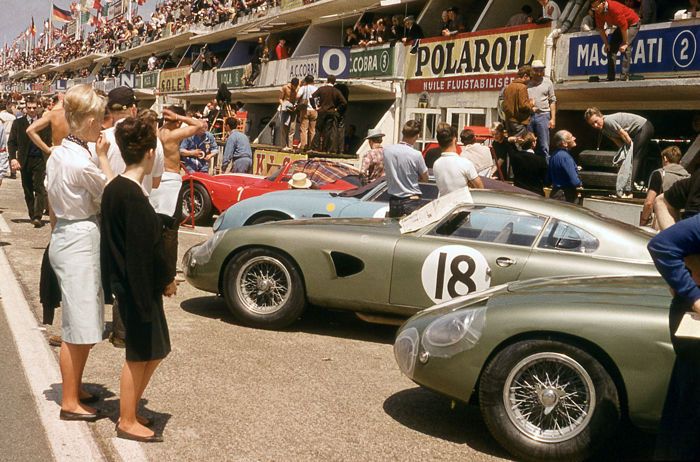 I can imagine! Obviously before 1967 in the Ferrari P4, you had raced in the three previous years as well, in some of my absolutely favourite cars. First was in '64 in the Aston Martin Project 214, again a glorious car, then after that it was the Scuderia Filipinetti Shelby Cobra Daytona...
Ah, a dreadful car!
...and then the Scuderia Filipinetti GT40 in '66. I've raced Le Mans four or five times just in historic cars, and it really is a pretty magic place. Was there a particular year that stood out for you, and what made Le Mans such a special event for you?
It is a special event. It's an astonishingly rigorous test of a machine, and you've got to be both fast and mechanically sensitive to get a car around Le Mans for 24 hours. It's almost impossible just to get into a car and thrash it flat out for 24 hours around Le Mans. It just is so unforgiving; it is or was, in those days, the most wonderful circuit and amazingly fast in all sorts of super places. I did 200 miles an hour down the straight in the Aston Martin DP214, which was a pretty good effort for the Aston Martin. The Ferrari P4 actually wasn't that much faster but it was faster around the circuit; it was just technically more up to date.
But there is just an atmosphere to Le Mans that is sort of intoxicating. You've got to be careful that you don't get carried away by it all, of course, but just being on track with a quarter of a million people watching the race, and studying the form and the challenge of driving a superb car and keeping it going for 24 hours, is to me absolutely captivating.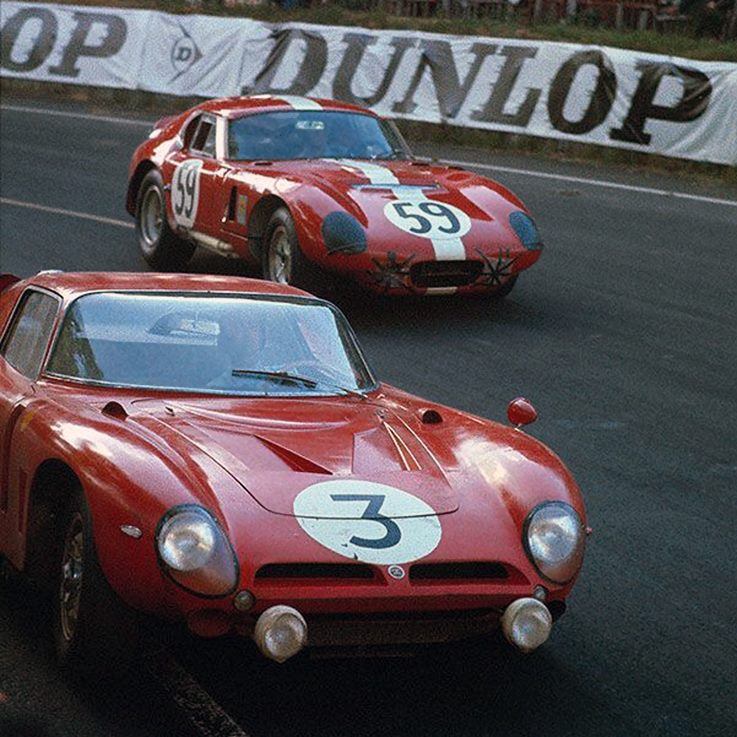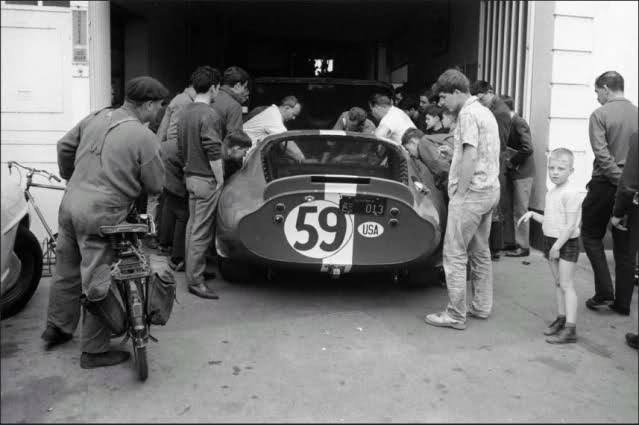 I have got to ask, because I have got a Cobra myself and I'm a big fan of the Shelby Cobras… why was the Shelby Cobra so bad?
It was awful Charles. It was absolutely awful. It was before Shelby and his team had tamed what they called the Cobra. It was a savage thing. It was just an awful drive - like a brick. Very fast but it didn't have any of what the Americans would call 'roadability'. So you came to a corner and you were all at sea - dead steering, stiff suspension. It was so stiff that the car would hop around, and it was probably the car that I least enjoyed racing.
I have to say I was delighted when it blew up in the middle of the night when my co-driver was driving it, so I didn't even have to walk home! It was a Filipinetti car which had been organised for me by Ford, and so Filipinetti asked me to drive his GT40 the following year, which is how I got to Le Mans in '66 with the GT40.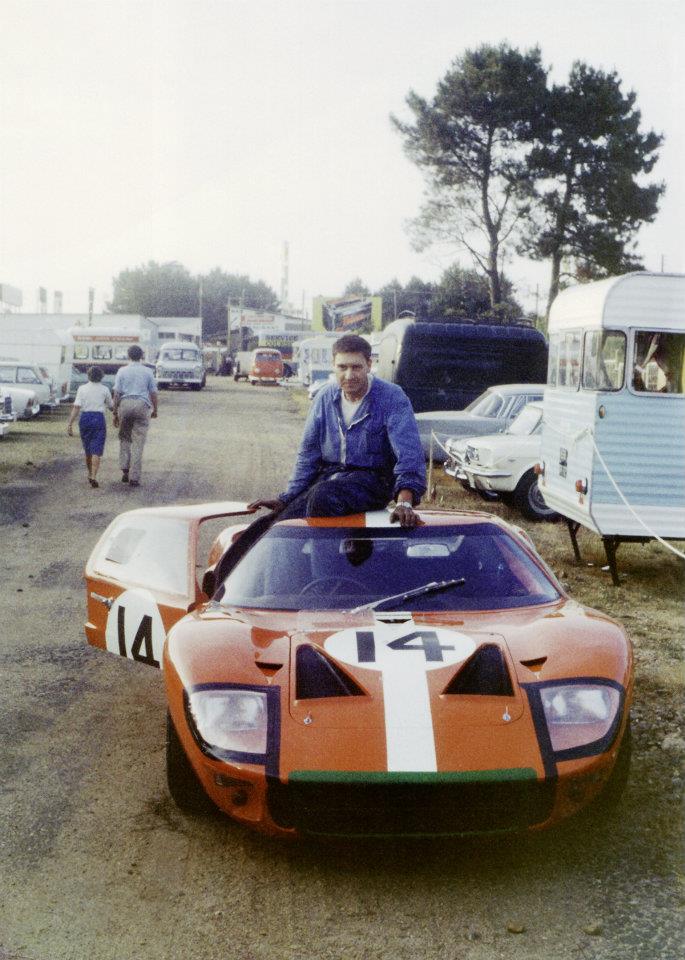 I believe that you owned two different GT40s yourself, and again had quite a lot of success in them?
Yes I did. They were a wonderful privateer's car because, again, they were so strong. They were lovely cars to drive. Unfortunately the one problem with them, their Achilles' heel, was the Ford 289 engine, which in those days had not been adequately developed to withstand the sort of stresses that we were trying to put through it. You were always having to drive with your eye on the gauges to work out when things might have been starting to go wrong. But they were cheap to fix if anything went wrong in those days. I dread to think what it would cost to get one re-engineered now.  
I very much enjoyed the first GT40 which was a conventional coupé. I went to Ford Advanced Vehicles the following year and saw one of the open-topped cars abandoned in the workshop. Of course they made three of those in 289 configuration, and I proposed that they prepare one for me. So they did, and I drove it in all the prototype races because it was classed as a prototype. It wasn't much faster than the closed one, and in fact it didn't handle quite as well because it wasn't quite so rigid, not having the roof to it. We took it to Spa, which is a very tough circuit as you know. I fitted a sort of roof over the top of it to make it a little more streamlined, and Brian Redman and I had great success with it there in the pouring rain.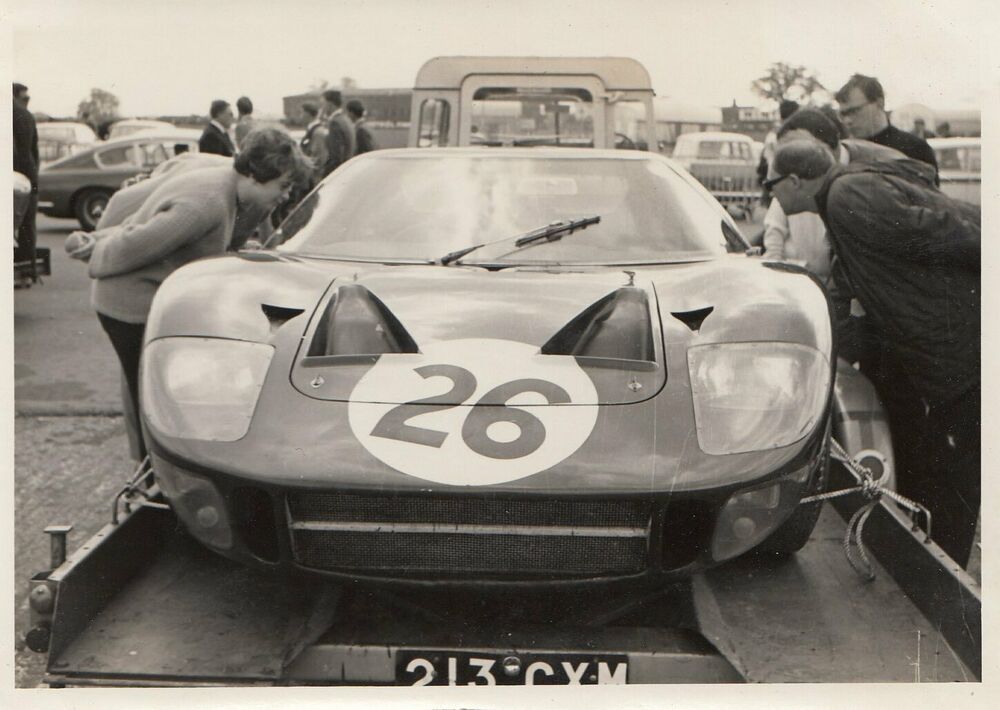 After that there were no more races for the prototype category, so I bought an old tub from Paul Hawkins who was a good mate coining the market in GT40 bits, cut the top part of it off, and grafted it onto the chassis of 112 to make it into a conventional GT40. I had an interest in a panel beating shop in Yorkshire where I was living, and we put all the panels that came off the open car up in the roof, which later on would have been worth a lot of money, but then the whole place burnt down, so that was the end of that little financial present!
That was a car that I finally finished up racing on my own account. I was leaving for South Africa at the end of the year and my parents quite rightly said, look - you can't leave this thing here, you must get rid of it. Nobody actually really wanted it so I gave it away to some people up in the North who raced it subsequently and I'm not quite sure where it is now. Off I went to South Africa; Ferrari had asked me if I wanted to drive for them the next year but I'm 30 now or 31, and I said, look, I've got to get back to work.
I've had a wonderful life with cars. It was a brilliant period, those 10 years from '57 to '67; wonderful, dangerous years, which for me was the excitement. Sanitised motor racing doesn't appeal to me at all, but the casualty was of course that we lost a lot of people and I lost a lot of friends. But, you know, that was the flavour of the time.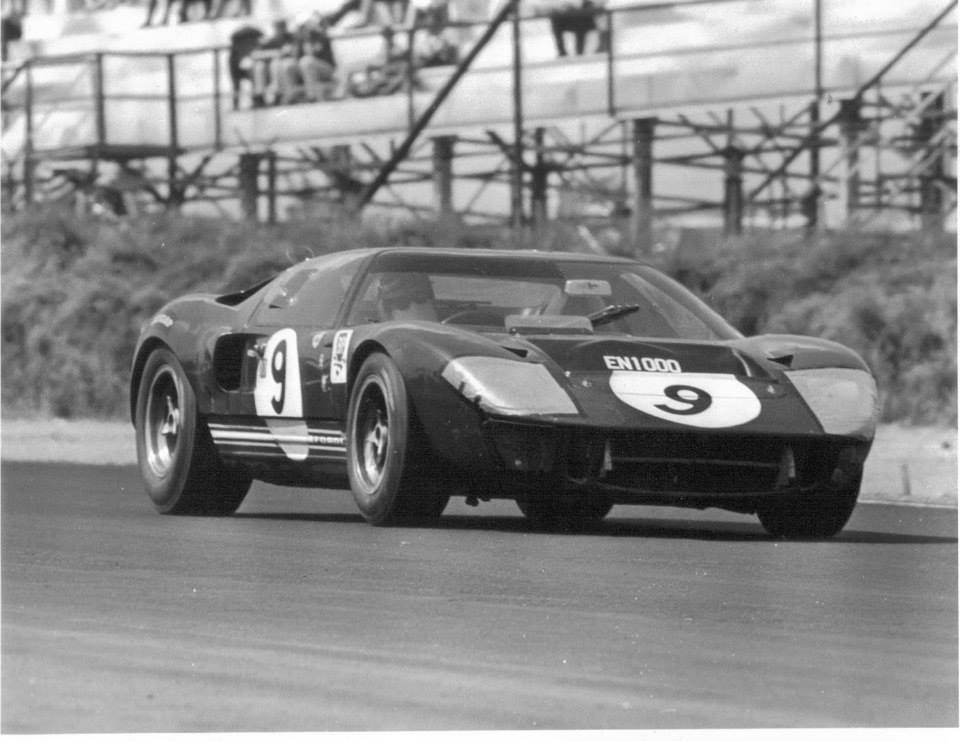 It's interesting to hear you talk about it. It sounds like there was a lot of camaraderie and fun with the other drivers and mechanics, beyond the actual racing itself. Who were your favourite contemporaries back then, and do you have any good stories that stand out?
Not what I call good stories, but there was a very nice atmosphere with the people whom we met usually only at race meetings, what you would call your car friends. The chances of socialising with them on a more general basis was difficult, because between us we were living all over the world. Some of the English ones like Mike Salmon and David Piper of course, and Mark Konig, were people who I would see sometimes in England between races or testing when we would get together, probably in London, and have a good evening out. With the rest, we enjoyed ourselves at the race meetings.
Racing was still the important thing, we weren't going out and getting drunk at night or anything like that. We were determined to do our best on the day. The nice thing about it was they were all people whom you could trust on the track. There were a number of cowboys around, but all the people that I really liked, and that I met a lot, were all people who you could be certain would do the right thing in any given situation. I was never frightened of the people against whom I was racing.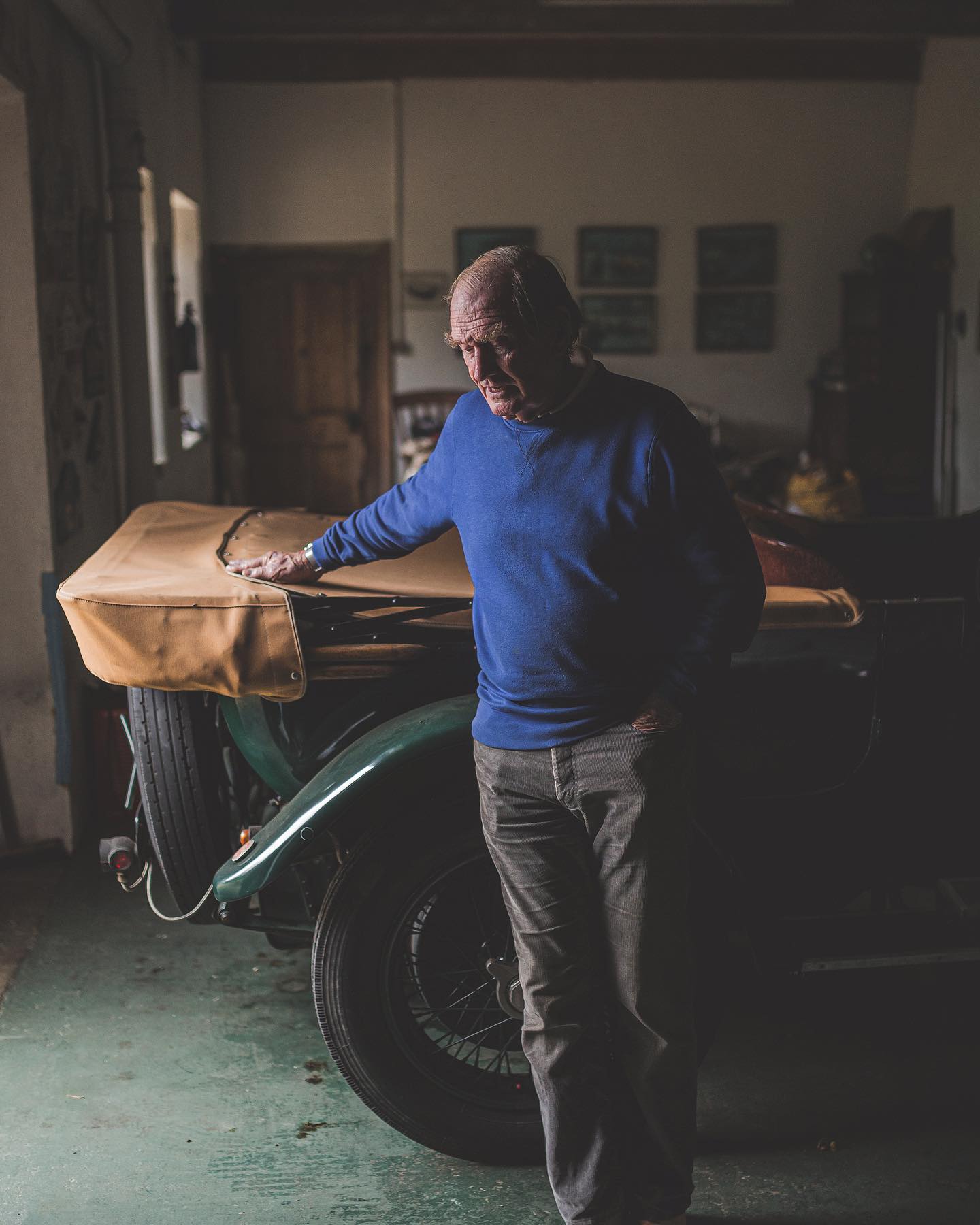 To end with we have some quick fire questions. Firstly, what cars are currently on your driveway or in your garage?
Well there's the old Land Rover. There's almost the last DB6 Mark II. There's a 1924 Bentley 3 litre, and there's a 1964 Alfa Romeo Giulia Spider. All cars which are eminently practical, and each of them does something different, but between them they completely cover all my current interests in driving!
So you don't have a modern car?
No - Liza has a 325 BMW cabriolet, which is a wonderful car to which she is absolutely devoted. It's a car suitable for every day.
And what's your favourite circuit?
The Nürburgring. It has got to be the Nürburgring. I drove around it first with my regiment in Germany in 1961. Our MO Dick Raines had a Porsche 356 or something, and one day we decided to go to the Nürburgring as it wasn't all that far away from where we were stationed. So we went in his car. I didn't take the one I had, and I never particularly enjoyed driving Porsches, but we whizzed around paying our 10 marks a lap, and I just knew it was a magnificent circuit.
Astonishingly, I learned it almost perfectly in those four or five laps which I did, which stood me in huge stead when I first went there with a racing car two or three years later. It's a wonderful test of car and driver. I loved Spa too because it was so incredibly dangerous, and it really kept you sharp.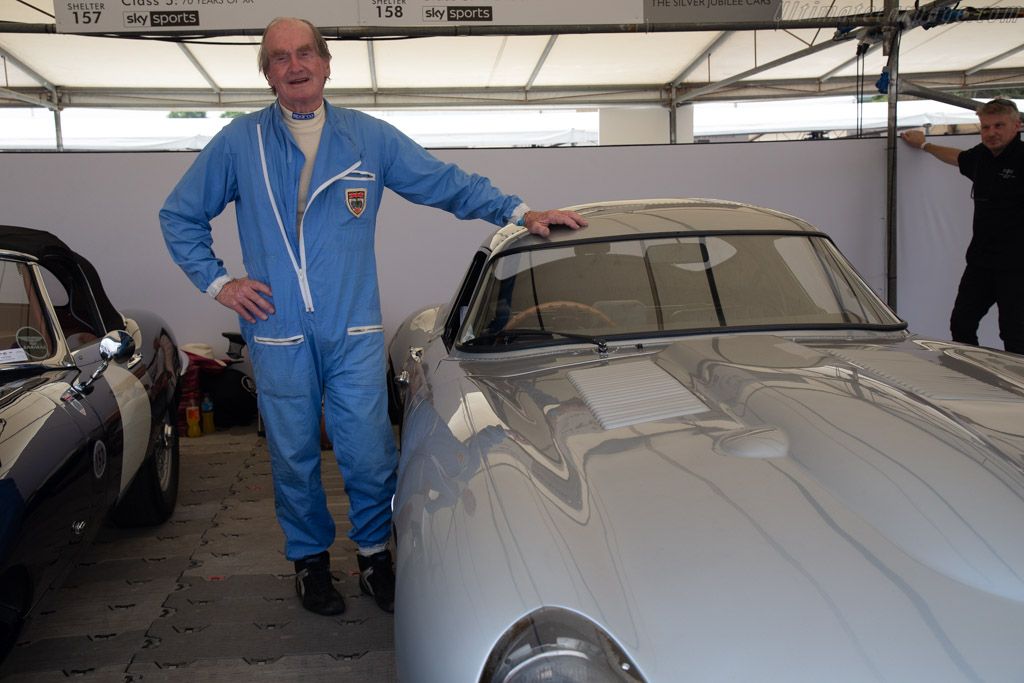 I think of all the people we've interviewed, almost everyone has given Spa as their favourite circuit, which is interesting. I think our next question you've answered - it sounds like the worst car you've ever raced is the Scuderia Filipenetti Shelby Cobra (!) -  but what's the best car you've ever raced?
Gosh, that's a tricky one. Look it's a toss up, I mean I loved the Lightweight E-Type, I loved the GTO, they were both wonderful cars which, according to your skill, you could get absolutely the most out of and they wouldn't let you down. You would always subconsciously know what each of those cars was going to do in any given situation, and that it would keep you safe. I loved them both and I would love to still have them both, but I'd be living in slightly more luxury than I am if I'd kept them for rather longer than I did, the GTO particularly! It was sold a few years ago for the most enormous sum of money, but there you go.
Racing was a wonderful experience in my life. I was lucky to race when I did in such an exciting time, and be able to achieve it without spending a great deal of money. In all of the years I was racing I never had very much money involved and suddenly, when I gave up in 1968, the sort of money I had tied up in my little team would probably have just about paid for a gearbox rebuild in cars which had suddenly became astonishingly complex and expensive, and required high levels of maintenance. I just escaped that, and that was just by good fortune.
Well certainly in my eyes you managed to race in the absolute golden era of that GT period of the early 60s, which was just superb. My last question then: what's your most memorable racing moment?
Probably the first time I stood on top of the podium, and heard the national anthem played for me. That, I think, was at Spa.
In which car?
It was either the E-Type or the Ferrari, I can't remember which now. It's a long time ago Charles!
Hah! Well Peter, thank you so much for your time, it's been great hearing some of your stories and I have to say I'm horribly envious, in a good way, of your racing in that period. Those are the cars I love these days, and I only wish I could have been around to perhaps tag along to some of your racing back then. Thank you so much, it's been absolutely superb, and I hope to see you again soon.
---
---