No Time To Drive: Our Favourite Obscure Bond Cars
Film fans around the world were recently left shaken, if not stirred, by the news that the latest James Bond film has been delayed yet again to April 2021. With the prospect of waiting another six months until we can see Daniel Craig in his final, grumpiest outing as our beloved British super-spy, the Apex team were sent on a mission to uncover some of the more interesting four-wheeled machines which have shared the screen with Ian Fleming's greatest literary creation.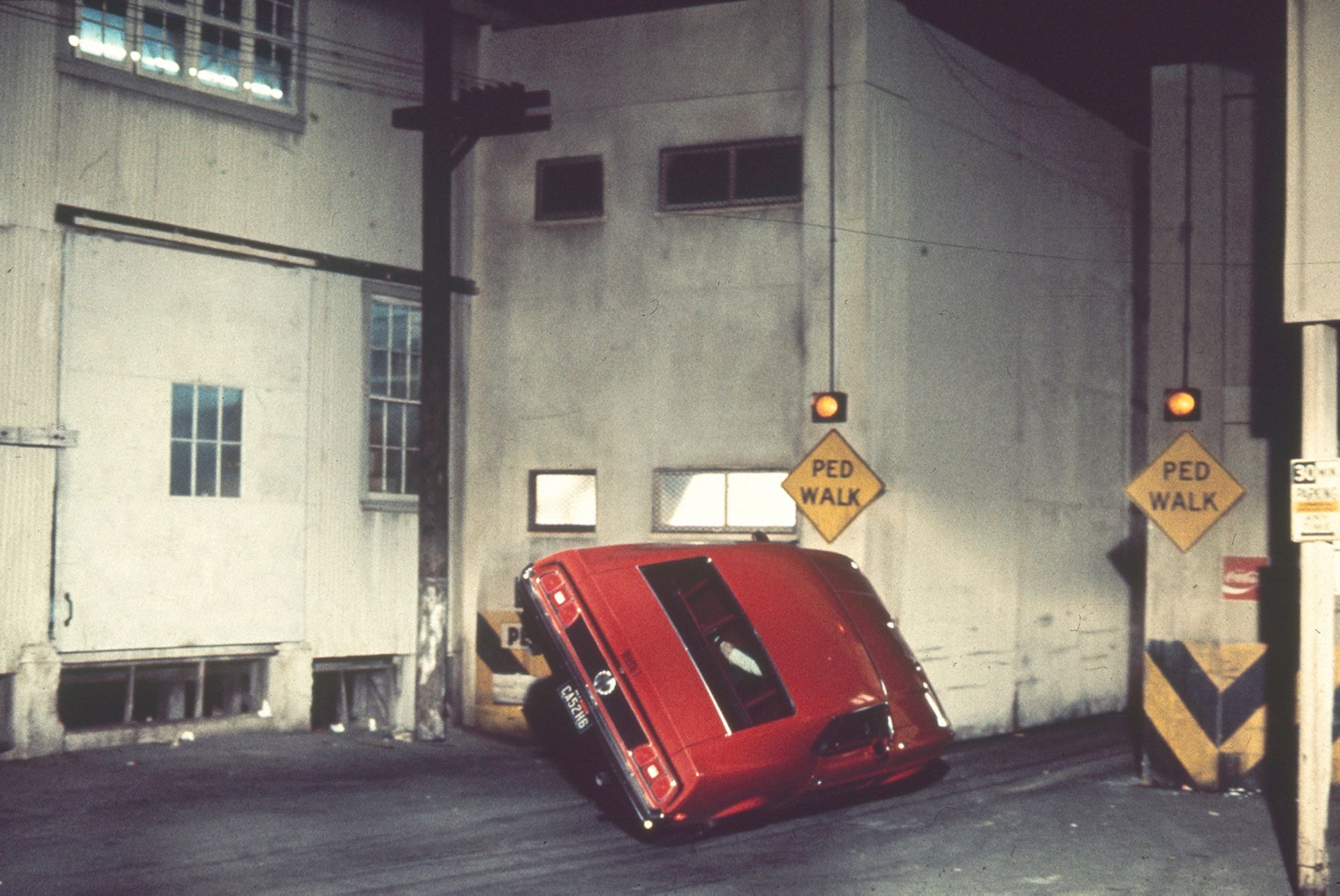 We aren't concerned with flashy motors here, however. While an Aston Martin blowing smoke from its rear end may make you a few friends at the Royal Automobile Club, it is hardly clandestine. On the contrary, we have turned a golden eye to the conveyances whose starring roles in the Bond saga were more humble, and whose contributions it is easy to overlook. So here, for your eyes only, are the Bond vehicles we think are the very best kept secrets of the franchise.
Written by Hector Kociak for The Apex by Private Collectors Club. Edited by Charles Clegg. Produced by Demir Ametov.  
Alfa Romeo GTV6 - Octopussy (1983)
In one of the best car sequences of the film, Roger Moore steals an athletic Alfa Romeo GTV6 fastback coupé from a German woman and proceeds in a tail-happy manner towards Octopussy's circus, pursued by a pair of West German BMW 518i police cars and a BMW R100 motorcycle. Filmed around Pinewood Studios and RAF Upper Heyford, the segment involves fantastic stunt driving and is one of the only times when James Bond has commanded an Italian automobile.
The GTV6 was a successful combination of the sonorous V6 2.5l engine from the Alfa 6 (albeit with Bosch L-Jetronic fuel injection) and a gran turismo body. With great reviews from the motoring press and an attractive design by Giorgetto Giugiaro (of Lotus Espirit fame), its appearance in Octopussy's chase sequence cemented the reputation of the GTV6 a desirable everyman hero car. Its racing pedigree was already being proven at the time of release, with wins in the European Touring Car Championship as well as Andy Rouse's successful 1983 BTCC season - and it would even go on to win multiple class victories at the hands of Yves Loubet in the Tour de Corse from 1983 - '86.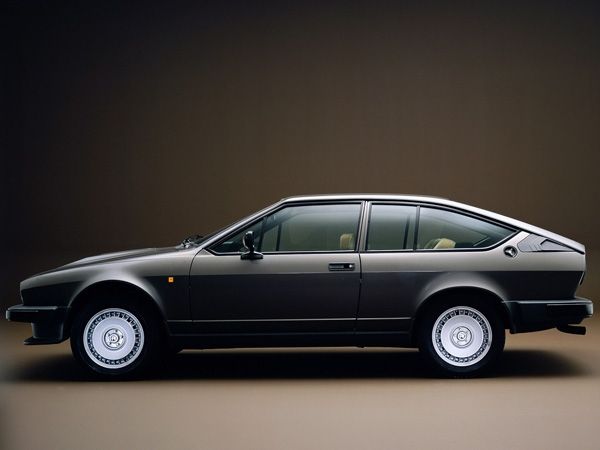 Today, despite an occasionally crunchy transmission, it remains a coveted drivers' car for Alfa Romeo enthusiasts, and a lasting reminder that when it comes to performance cars, boxy really can be beautiful.
AMC Hornet - The Man With The Golden Gun (1974)
The AMC Hornet is known mainly for its unlikely appearance in one of the best driving stunts of the Bond franchise. The British hero liberates a 1974 Hornet X Hatchback from a Bangkok dealership and, with the ebullient and somewhat annoying Texan Sheriff J.W. Pepper in tow, makes a terrifying ramp-to-ramp pirouette across a local river during a car chase.
The stunt was in fact first performed by US racing driver Jay Milligan in 1972 at the Houston Astrodome as part of his car show. Surprisingly, it had its roots in a road safety project. The details of the stunt were calculated by scientists from the Cornell Aeronautical Laboratory (later Calspan Corp.) as part of their computer simulation work for the US Bureau of Public Roads. To prove the robustness of their vehicle dynamics simulations, CAL had worked with stunt drivers to test the limits of their matrix algebra and programming abilities. Jay Milligan's travelling automotive circus had a promotional agreement with AMC at the time and AMC Javelins were the first cars used in early performances; once Bond producer Albert Broccoli got wind of the whole setup, he hired Milligan as stunt coordinator and the 'Astro Spiral Jump', featuring the new Hornet in a prime promotional spot with Loren "Bumps" Willard behind the wheel, was transplanted into the film almost wholesale. Extraordinarily, the jump itself was completed in one take.
While the production Hornet suffered from a diluted identity (offered in two and four door variants, as a station wagon and hatchback with a wide range of engines), it will forever be associated with its pioneering river stunt. The Apex team can also confirm that we are seeking the prosecution of the rogue individual on the sound design team who decided that the best thing to accompany the jump was a lone slide whistle.
BMW E38 750iL - Tomorrow Never Dies (1997)
In 1997's Tomorrow Never Dies, James Bond takes delivery of the only official four-door Q-car, a BMW 750iL, from Q himself, disguised as an Avis car rental salesman. While regular car rental customers are left wondering what Bond had originally reserved for himself, luckily for him the 750iL was the defining luxury autobahnstormer of the day, with a 5.4l M73 V12 shared with the Rolls-Royce Silver Seraph and the first European car to offer satellite navigation, xenon headlights, curtain airbags and (optional) television screens. The 750iL was BMW's second outing as provider of an official Bond car after the damp squib of a Z3 in the previous Goldeneye; unfortunately for potential 750iL buyers, Q's roof-mounted rocket launcher and caltrops were not an option available to the general public.
Putting aside the idea of James Bond in an executive saloon, the BMW's showpiece chase takes place in the parking garage of the Atlantic Hotel in Hamburg, where Bond (armed with an Ericsson mobile phone with which he controls his car from the back seat) takes on Elliot Carver's henchmen in two Mercedes S Classes, a Ford Scorpio Mk1 and an Opel Senator Mk2. Seventeen silver BMWs (in fact re-badged 740iLs) were used to film the destructive sequence, with four cars adapted with video screens and a secondary steering wheel to allow driving from the rear footwell by stunt driver Steve Griffin. Eagle-eyed viewers will note that the number plate of the 750iL, 'B-MT 2144', is also very similar to the plate on Bond's Aston Martin in Goldeneye, 'BMT 214A'.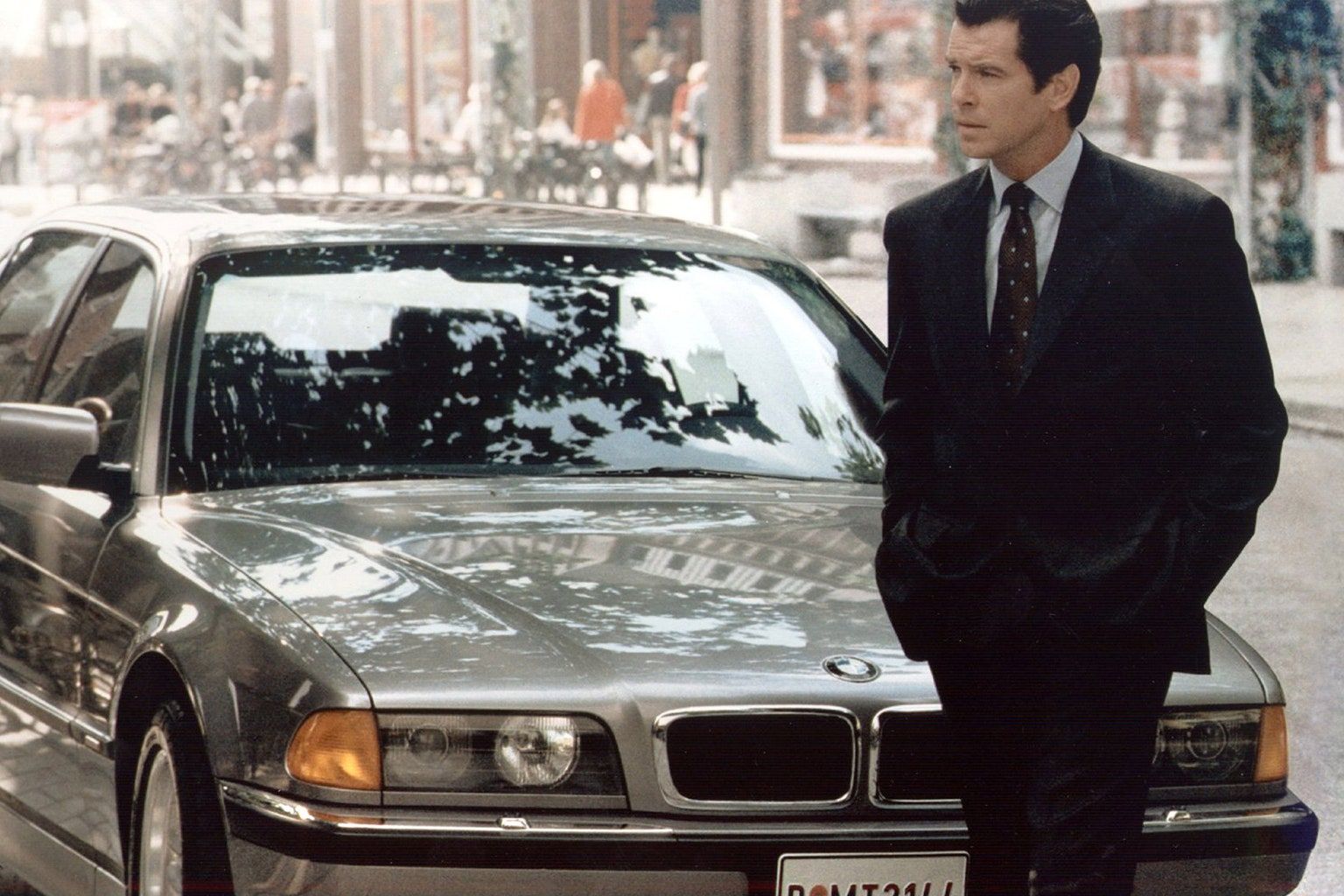 Rather unromantically, the interior scenes for the chase were shot at Brent Cross shopping centre in London, although the 750iL's untimely end, being dropped-off through the front window of an Avis car rental office, happened on location just across the road from the Hamburg Hauptbahnhoff. Our friends in the luxury car rental industry assure us that this is not a recommended form of return, even for well-attired Englishmen abroad.
Ford Mustang Mach 1 - Diamonds Are Forever (1971)
Fittingly, James Bond's first American car chase takes place in nocturnal Las Vegas. Sean Connery, hot on the heels of a diamond smuggling ring, leaps into a rented Ford Mustang Mach 1 and outwits a gang of corrupt cops chasing him across Sin City. After wrecking a number of police cars through smart driving, Connery finally defeats the Sheriff himself, squeezing his Ford through an alleyway on two wheels. Amusingly, a continuity error sees Bond's muscle car emerge balanced on the opposite side, a gaffe which later required patching in post-production with a shot of a frowning Connery leaning over as the camera rotates in the opposite direction.  
Ford insisted that Bond drive their flagship Mustang Mach 1, regardless of any concerns for subtlety. The Mach 1 performance designation had first appeared in 1969, as Ford's response to the threat of improving competitor cars such as the Dodge Charger, Plymouth Barracuda and the Chevrolet Chevelle. While the alley stunt car appears to be 5.8l 351cu version, the top of the line model had a 7.0l Super Cobra Jet Ram Air V8 putting 375bhp through Goodyear Polyglas tyres. It was a serious street racing contender, with its fastback 'Sportsroof' configuration also giving it a muscular road presence.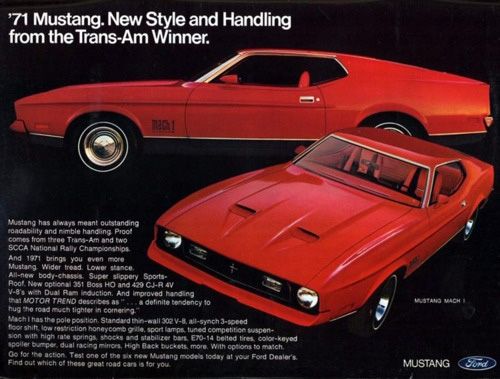 When it came to filming, however, the production team had difficulties in capturing the Mach 1 performing the iconic two-wheeled stunt; four cars were written off in the process. Buzz Bundy (later a regular driver on shows like Knight Rider and Dukes of Hazzard) and his Mustang Auto Daredevils were given a call and tempted away from their Tournament of Thrills to do the job. Putting an end to the stream of Mustang write-offs which were beginning to concern Ford executives, Bundy nailed the stunt immediately. Today, the Mach 1 models of the 1969-'73 period are held in high regard by collectors - albeit rarely driven on two wheels.
AEC Regent III RT Bus - Live And Let Die (1973)
In the 1970s, if you needed a man who was capable of ramming a 15 ft double-decker across a crocodile infested island, throwing it into a 180-degree skid in the middle of a sugar cane plantation and then forcing it under a 12ft bridge to shear the roof off, London's Chiswick Works bus garage was the obvious first port of call. That is where Eon Productions found the fearless Maurice Patchett, a London bus driving instructor who could command an AEC Regent III RT like no other. After displaying his prowess on the skid pad, Patchett was flown to Jamaica along with his bus to stand in as Roger Moore's stunt double for the famous bus chase scenes in Live And Let Die.
Powered by a 9.6 litre inline-6 diesel engine with 125hp under the bonnet, the Regent III was capable of a 45mph top speed - which makes its sterling performance against pursuing Chevrolet Novas only slightly less dubious than the plot of the film.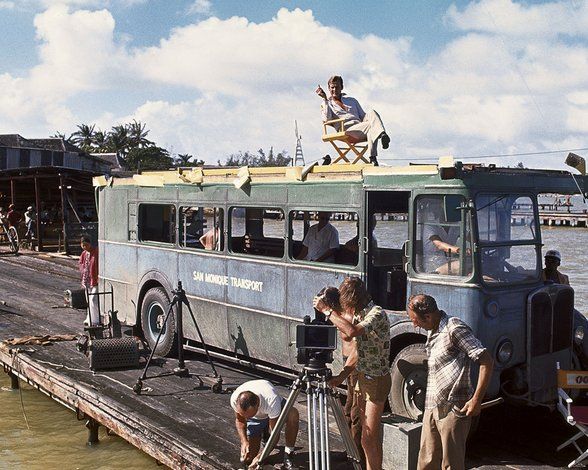 However the sight of the roofless Regent III contentedly trundling through town to the rousing tones of the theme tune warms even the stoniest of hearts; a fitting tribute to the predecessor of the better known AEC Routemaster bus, which would serve Londoners until the early 2000s. As for the Regent III, enthusiast forums in far corners of the internet still echo with praise for the machine, singling out in particular the engine's melodious contralto in first and second gear, and rich deep tenor in third.
Rapport Huntsman Range Rover Convertible - Octopussy (1983)
While Octopussy is not one of the finest films in the Bond canon, it did contain a number of curious cars which developed a cult following. The Rapport Huntsman was one of them - an achingly cool 1982 Range Rover in Russet Brown, modified into an open-topped vehicle with bench seating. Able to seat 8 occupants, and combining utility and luxury, the Huntsman was promoted by creators Rapport International as 'stylish and practical...demanding rugged, all-terrain motoring'. The car appears in the intro chase sequence of the film, towing a horse box with a very inert-looking horse's behind which, of course, conceals a small jet aeroplane in which Bond makes his escape from some henchmen.
Rapport International also had the perfect backstory to be featured in a Bond film. Started in 1978 by three students, and with a team largely under the age of 26 making sales out of a plush Mayfair showroom, the company specialised in outlandish luxury Range Rover conversions directed at the wealthy Middle Eastern and African markets. After doing a roaring trade in the late '70s and early '80s the company eventually collapsed due to spiralling costs. Other highlights of the Rapport range included the Excelsior, an off-road limousine with a grille from a Rolls Royce, a six-wheeler 'Quadraporte' with long-range fuel tanks, and a 'droop snoot' off-roader based on the Range Rover with (inexplicably) a Ford Granada front. Sumptuous interiors, armour plating and powerful turbo engines were available for the company's expensive 'Middle East Specials', which also included such gadgetry as bullet-proof tailgates and rear-facing CCTV. Talk about art imitating life!
---
---